Comics
Published October 14, 2022
Artist Paco Medina's Marvel Origin Story
The acclaimed artist—and contributor to the latest 'Marvel's Voices: Comunidades' special—joined us for a look back at his storied career.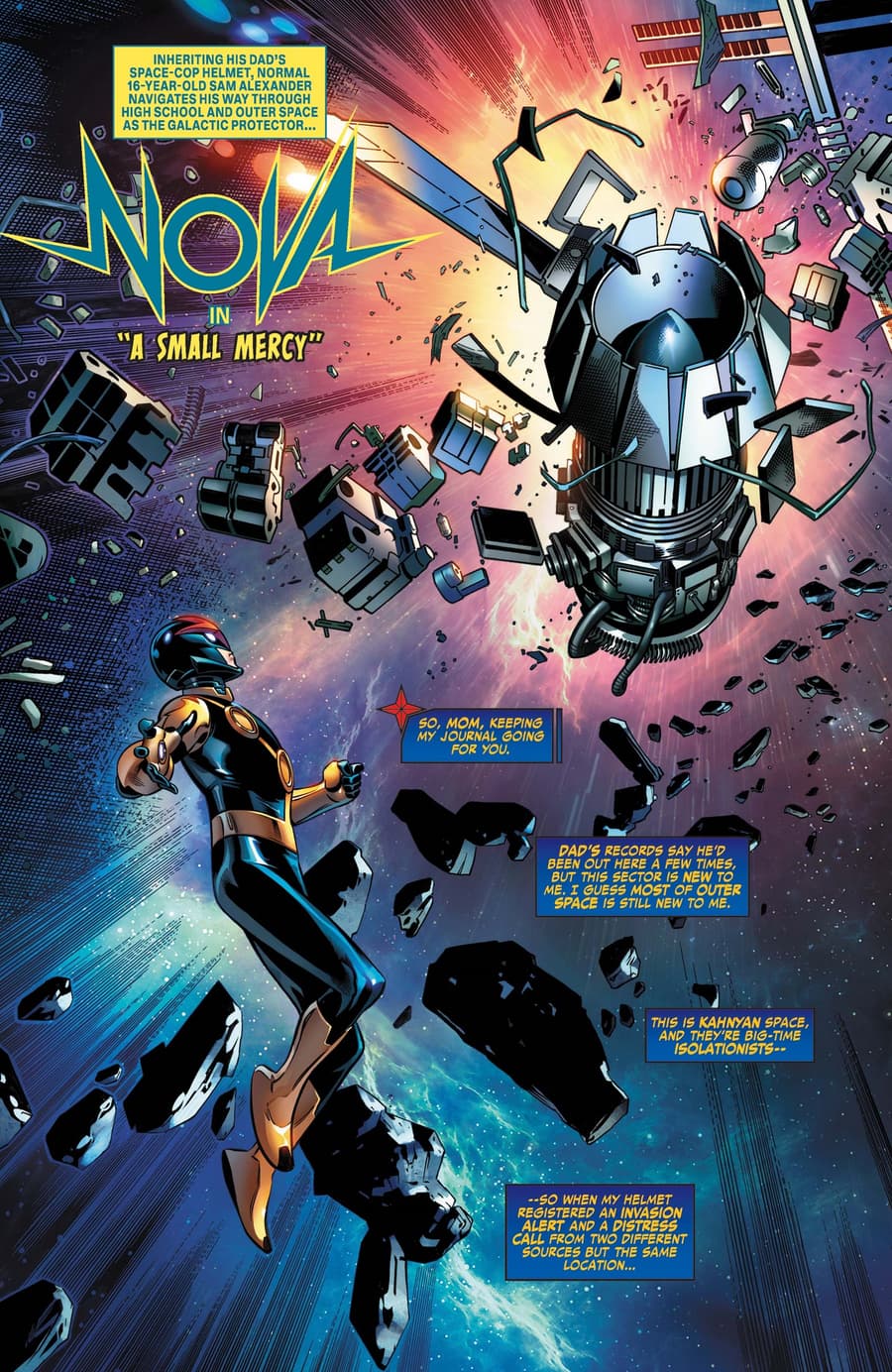 What are your earliest memories of reading comics?
PACO MEDINA: I remember in my early childhood I used to wait excitedly for my father to come home from work in the evenings. It was exciting because Dad was my hero in those early years and he always came home with newspaper and comic magazines. That was my first contact with comics. I'll tell you how I also met Jack "The King" Kirby during those years. Very early on Sunday mornings on TV in Mexico they would show reruns of The Marvel Super Heroes [animated series] from 1966. It was amazing for me to see each episode and get to know one-by-one Marvel characters illustrated by Kirby. I swear it was a unique experience for me and my brother. My favorite episodes were the ones starring Iron Man and I also remember having an Iron Man toy that was my favorite above all others. Later in my adolescence I became a budding collector of Spider-Man and X-Men.
Who were your favorite Marvel characters and creators growing up?
PACO MEDINA: My favorite reads in my younger years were John Byrne on UNCANNY X-MEN and the Spider-Man books by John Romita Jr., Sal Buscema, Todd McFarlane and Erik Larsen. Then Joe Quesada and Jim Lee came along and blew my mind.
When and how did you decide to pursue comic book art as a career?
PACO MEDINA: I was always interested in painting and because of that interest I met friends who were super-fans of comics. I think that thanks to those good friends that I still have, my path turned towards the art of comics. The most important and decisive person to embrace the industry was my friend and brother Juan Vlasco. He infected me with his enormous love for comics and definitely became a mentor. Thank you for that dear Juan!
What was your early work in comics like?
PACO MEDINA: My first works were in some publications that I did independently with those old friends in high school, so little by little I started to get involved in other publications with larger print runs such as a wrestler's comic book and other small [contributions] for Mexican publishers.
How did you first get on Marvel's radar?
PACO MEDINA: If I tell you maybe you won't believe me. I think I was very naive and at the same time too daring in those years, and I'm talking about the early 2000s.
I had been working at DC for a few years. I had had a bad run of work, and also in my personal life I think I was at a somewhat complicated crossroads. So just like that I took a Marvel comic book and wrote down the address on an envelope with copies of my work along with a letter to Joe Quesada. Months later I received an invitation from Joe himself to join the Marvel family. You can imagine that not only was I surprised that he knew me, but I loved the way Joe [treated me] and his kindness.
What was it like working on NEW X-MEN with writers Craig Kyle and Chris Yost?
PACO MEDINA: Oh yeah! That was a time, you know, full of many emotions. On the one hand things were not quite right at home, I was going through a complicated situation, but again Juan Vlasco was the one who supported me a lot. The scripts were fantastic and I remember that Juan and I, we spent a lot of time together talking while we worked, we talked about what we should do. It was a nice process because Craig and Chris' scripts were perfect to narrate [visually]. Thanks for that, guys!
What do you think was the first high profile launch you worked on for Marvel?
PACO MEDINA: I think it was X-MEN #1 from the "Curse of the Mutants" arc with Victor Gischler. I think that was the first time I felt a greater responsibility and it was the first time I felt I had to surpass myself by doing more and better things. I remember sleeping on the carpet near my desk to continue working after a few hours of sleep.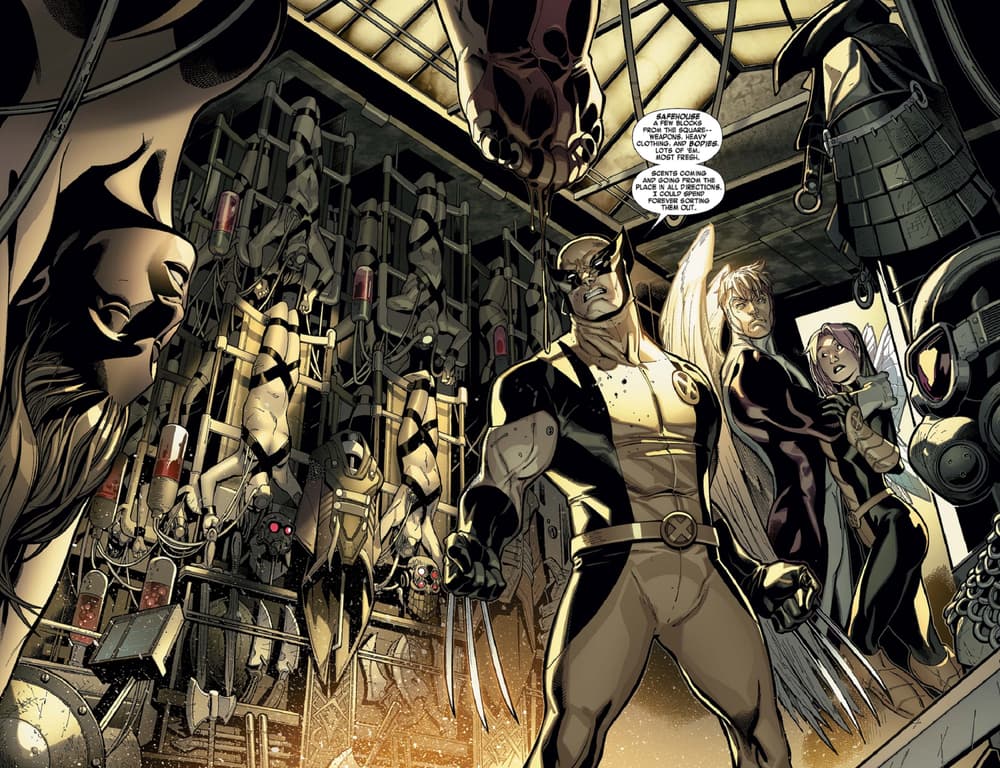 You've come back to the X-Men a number of times over the years—what changes every time you return?
PACO MEDINA: Going back to the X-Men books from time to time is like visiting the house of your relatives or grandma's house. The adults have more stories to tell you, the little ones have grown up and you hardly recognize them, and there is always the face of a new member who has joined the family. Cyclops is always a present figure for me in all these years, I always feel that he is the one who opens the door and takes me to the table. Wolverine, I've always loved that guy! Every era is different in X-Men.
When I think of characters you're closely associated with, Deadpool, Star-Lord and Nova all come to mind.
PACO MEDINA: Yes, yes, yes! You definitely hit the mark! All these characters and my time doing their books have been at different and important times in my life, by some synchronicity. For example, Deadpool touched me at a time where I was finding myself in the best way. I was a lonely man but with a crazy life and Deadpool was my partner in adventure. Imagine Deadpool on your right shoulder saying "Do it!" while on the other side another Deadpool whispers "Definitely DON'T do it." Great! Years go by, I go to the movies, and I see a full scene from one of those books that Daniel Way and I did now live. Whoa.
Sadly, I started drawing the first Nova book in the hospital when my mother got sick and later passed away. Sam Alexander was my partner in that tough battle.
On the other hand, time passed and I was already doing the LEGENDARY STAR-LORD book, and now, accompanied by my wife and my daughter, I went to the movies to see Guardians of the Galaxy. There was another endearing moment when I saw the first sequence where [Peter Quill's] mother gives him that wonderful cassette. I was totally shaken, I felt that my own mother was saying goodbye in the best way that could have existed. You know I could never talk to her again after a stroke.
That's how I think I live next to these characters and that's how they are all part of my life and my memories. From the first one to the most recent on my desk.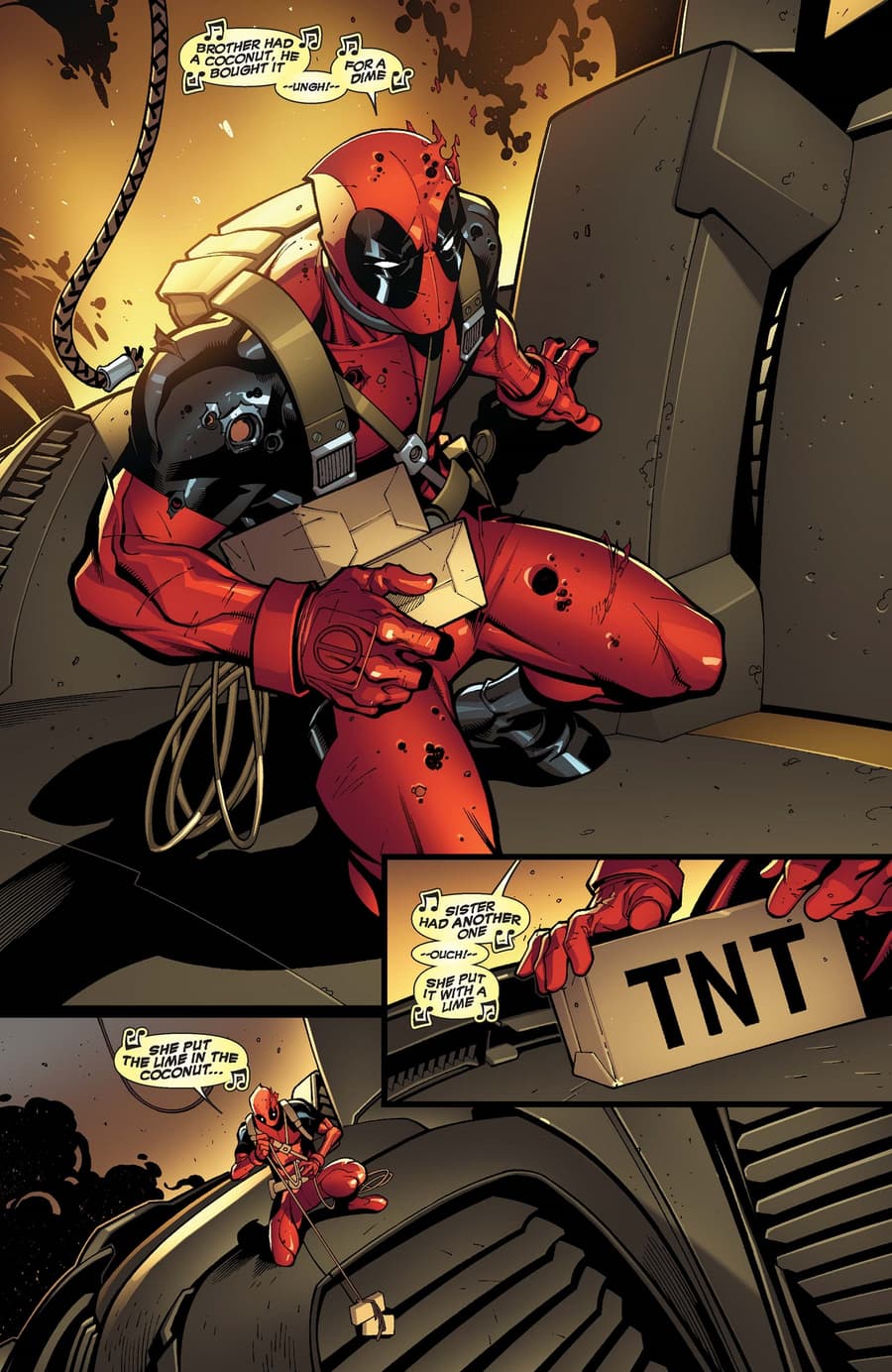 Who have been your favorite Marvel characters to draw?
PACO MEDINA: I love ambiguous characters who end up doing the right thing at the end of the day. Deadpool and Wolverine–those are my guys!
How important is creating original characters for you versus working on classic ones?
PACO MEDINA: Creating a new character is always a wonderful opportunity, you never know how far that potential will go. On the other hand, having a classic character in your hands becomes the opportunity to give life to the character you love or the character you discover.
I recently designed the character of Chimera [for MARVEL'S VOICES: COMUNIDADES] and it has been incredible to see the reactions of people who debate and are interested in the character and its characteristics and give life to a being that is born on a sheet of paper. I recently saw the cosplay of my Miles-Wolverine design... amazing.
As for the classic characters, a couple of years ago I drew an Iron Man armor that was the same as that toy in my childhood years. That, my friend, that's simply a once in a lifetime privilege.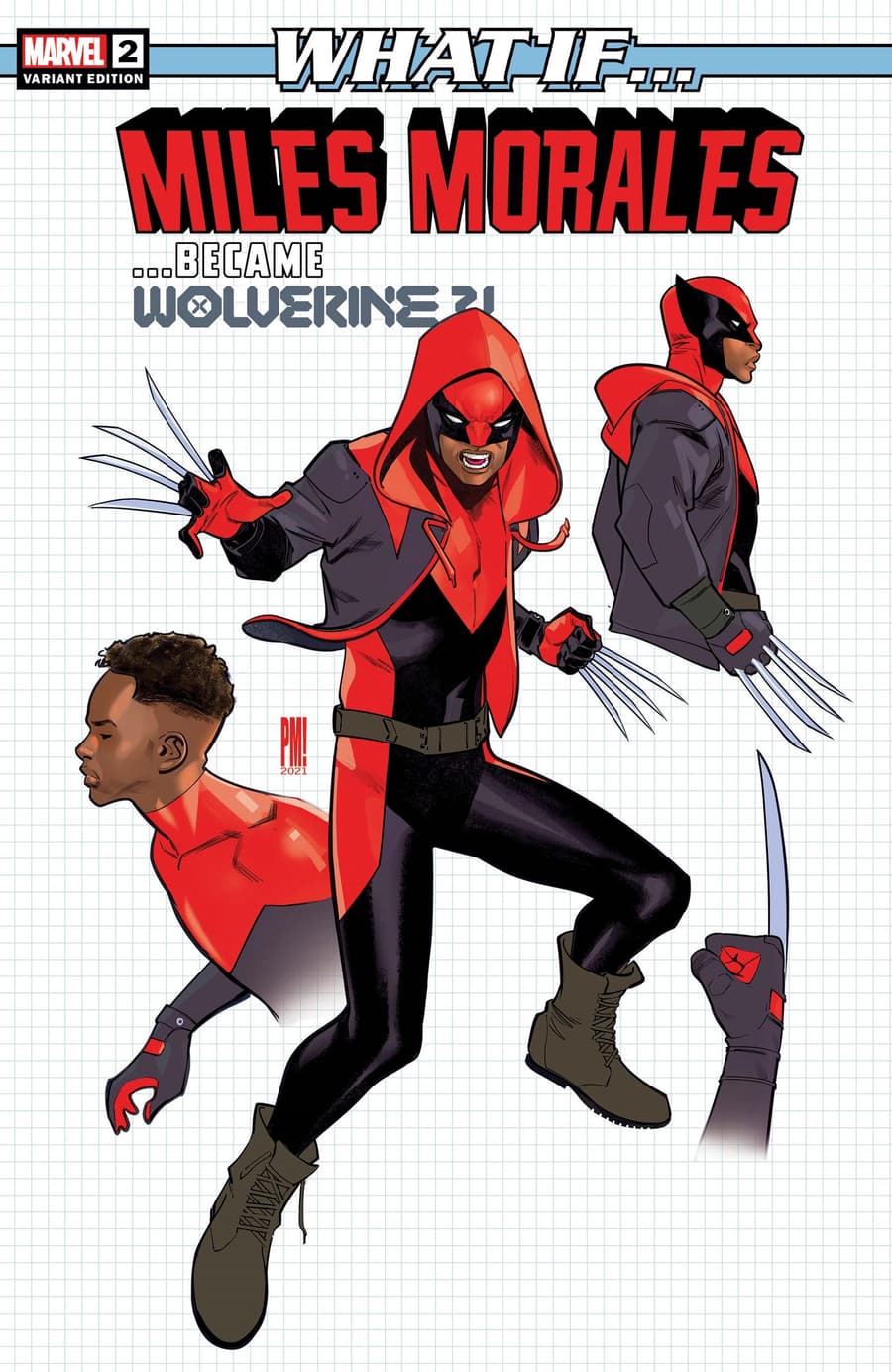 What Marvel characters are left that you still haven't gotten to work on?
PACO MEDINA: I think Apocalypse is one of those characters that I've never been able to develop. On the other hand there's Namor, I'd love to do something with a new Aztec-inspired version [from Wakanda Forever]. In fact now that I think about it, an adventure that would take place in Mexico City, that would be amazing too.
What writers and editors have you learned the most from?
PACO MEDINA: You know it is difficult to answer that because to name one is to leave out many. I will tell you that all the writers have been my teachers; their technique is always different and learning to maneuver each work is always a challenge.
On the other hand my dear editors. They are all my mornings by the coffee in the first e-mails, sometimes I say good morning to them before my wife when I wake up. [Laughs]
What do you think have been the biggest changes to your art style over the course of your career?
PACO MEDINA: I can think of several moments when I've demanded new things from myself. I could think of a first stage that started in my first CAPTAIN MARVEL book up to X-MEN #1. I feel that in "Curse of the Mutants" I started to work differently and from there until the AVENGERS: NO SURRENDER saga I went through another stage.
It was in AVENGERS: NO SURRENDER when I shared the stage with my friends Kim Jacinto and Pepe Larraz that I began to exploit much of what I was learning over the years. I began to design and elaborate a more complex technique, making a mixture of digital art and traditional art, while looking for a cleaner narrative language.
Today I take care of inking much of the art I do and that allows me to create with more control over the effects I want to cause through the textures, shadows, and line.
You know, I love what I do and I'm always looking for new things because I think I would get bored of always trying to achieve the same result. It's a process that takes years to polish and develop, but in the end experimentation always leads you to results you can't imagine.
What's next for you?
PACO MEDINA: I think my biggest ambition is to do what I haven't done and that is to be able to surprise myself with a page that I myself can feel satisfied with and proud of. I'm like many artists who are never completely satisfied with their work, I always think I can do more.
I also hope one day to be able to have a book that will be part of the great classic Marvel stories. You know I am very fortunate to be able to tell stories with the characters of my childhood. I just hope in the future I can continue to tell more and more great stories.
Look for Paco Medina's latest work in MARVEL'S VOICES: COMUNIDADES available now, and catch up with his greatest hits on Marvel Unlimited!
The Hype Box
Can't-miss news and updates from across the Marvel Universe!