Comics
Published May 8, 2019
Asian Heroes from 'Marvel Future Fight' Make Comic Book Debut with 'New Agents of Atlas'
Featuring the Marvel Comics debut of Luna Snow, Crescent & Io!


Today, in stores at your local comic book shop and on sale digitally is WAR OF THE REALMS: NEW AGENTS OF ATLAS #1! We can't think of a better way to celebrate your love of Marvel heroes, Marvel Comics, MARVEL Future Fight, and Asian American & Pacific Islander Heritage Month (AAPIHM) than picking up this issue!
In addition to the debut of three new heroes—China's Aero and Sword Master, and Filipina sensation Wave, we also have the Marvel Comics' debut of Luna Snow and Crescent & Io, who all made their debut in hit mobile RPG game "MARVEL Future Fight"! Plus, the series features the new "modern" suit inspired from MFF for White Fox. "MARVEL Future Fight" is available worldwide on the App Store® and Google Play™. 
Written by Greg Pak with art by Gang-Hyuk Lim, in WAR OF THE REALMS: NEW AGENTS OF ATLAS, a four-issue limited series, spinning out of the events of WAR OF THE REALMS, former S.H.I.E.L.D. agent and now leader of the Atlas Foundation Jimmy Woo recruits young heroes Kamala Khan (Ms. Marvel), Amadeus Cho (Brawn), Cindy Moon (Silk), and Shang-Chi, the Master of Kung Fu, to join the rest of Atlas to neutralize Malekith's forces on Earth. Our heroes must unite to protect the Pacific Rim as Sindr, Immortal Queen of Muspelheim, and her legions of Fire Demons march on Asia.
Marvel.com had the opportunity to speak to all the creative minds surrounding this project!
"Working with Bill Rosemann, Danny Koo, and the rest of the folks at Marvel Games to bring Luna Snow and Crescent and Io from Marvel Future Fight into the comics has been a dream. The characters are so much fun -- an ice-powered superheroine who also happens to be a K-POP STAR? A kid taekwondo prodigy who's got a giant MAGIC BEAR? I absolutely love comics that just GO THERE with big, bold characters and ideas, so I thrilled we're bringing Luna Snow and Crescent and Io right into the heart of the Marvel Universe in the middle of the year's biggest comics event with WAR OF THE REALMS: NEW AGENTS OF ATLAS #1!" — Greg Pak, writer
"It's really great seeing the team grow and include game-favorite characters like Luna Snow, White Fox, Crescent and Io. They have a huge following and their fans are gonna love seeing them interacting in the Marvel Universe. In this series we've introduced a new character called Wave created by Greg Pak and Leinil Yu. She's created a lot of interest and we'll be revealing her secret origin soon. Stay tuned for details." — Mark Paniccia, Marvel Senior Editor
"Hey True Believers! By picking up WAR OF THE REALMS: NEW AGENTS OF ATLAS #1, you'll witness the very first appearance of the world's first K-pop crime fighter, Luna Snow, and the delightful duo of Crescent and Io in a Marvel comic book. Continuing our efforts to deliver characters that resonate with a growing global audience, these all-new original heroes were created as the result of a special collaboration between the Marvel Games team and our friends at Netmarble for the action RPG mobile game MARVEL Future Fight. Not stopping there, MARVEL Future Fight also introduced the all-new action suit worn by secret agent White Fox, which also makes its Marvel comics debut in this issue! Now that you've met these cool Korean characters, you can play as them by downloading MARVEL Future Fight for free in the App Store® and Google Play™ Store! Okay, enjoy the comic book, play MARVEL Future Fight, and rember: Always Aid Atlas!" — Bill Rosemann, Marvel Games VP & Creative Director
"One year ago, we collaborated with Netmarble Monster team to debut all-new original Marvel creations - Luna Snow, Crescent & Io in MARVEL Future Fight. Now, they finally made their comic books debut! Yay! I'm really proud and fortunate to be able to work with such great talents like Greg Pak, Gang-Hyuk Lim, Mark Paniccia and team on this. Not only Greg is able to surface the personality of our original characters, he's able to introduce them to the comics world with an action-packed story! Gang-Hyuk's art on this is absolutely stunning. I look forward for more future collaborations with our original characters!"  — Danny Koo, Marvel Games Senior Producer
"It was a pleasant surprise when I heard the news that Luna snow, Crescent & Io are making their comics debut. Creating these original characters was a team effort among Netmarble, Netmarble Monster & Marvel Games. Marvel Games trusted our creativity and wanted us to go crazy. We tried to push the boundaries of what it means to be a Super Hero and that's how we came to introduce new characters based on K-Pop and Korean shamanism inspiration, which you don't see too often in other games (or even comics). We hope people outside the game gets to meet Luna Snow, Crescent & Io from Marvel Future Fight. I hope our characters are well-received by a bigger community as they were by MARVEL Future Fight fans." —  Joe Lee, Executive Producer, Netmarble
"I can proudly say that everyone on the MARVEL Future Fight art team is die-hard Marvel nerds indeed. Our favorite Marvel characters are all different from one another but we all truly enjoy working on original characters for our game. Getting a chance to actually create brand new characters for the Marvel Universe was even more exciting. As we were drawing Luna, Crescent & Io, we kept picturing how they would stand out among other well-established characters. We all thought hard to come up with the unique appeal that would still fit the rest of the existing heroes. The fact that our own Luna, Crescent & Io are making their comics debut is the best news we had recently. I, for one, am excited to see how their stories unfold in the New Agents of Atlas!" — Jeehyung Lee, Art Director, MARVEL Future Fight, Netmarble Monster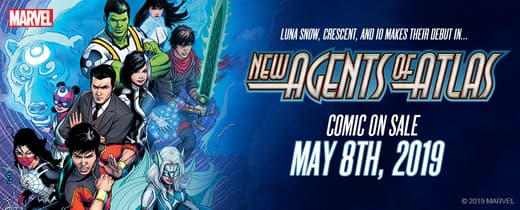 Hailing from Korea, Luna Snow—A.K.A. Seol Hee—is the second original character to be created for "MARVEL Future Fight." When A.I.M. ambushed a Stark Industries event where Seol was performing, Seol bravely attempted to defend the attendees, resulting in A.I.M. soldiers locking her in a hi-tech storage freezer. While trying to escape, Seol was exposed to the contents of an advanced cold-fusion energy experiment, which unexpectedly granted her control over frozen elements. Using her newfound powers to fight back, Seol surprised and defeated the A.I.M. forces' attack. Dubbed "Luna Snow" by the press, Seol's heroic actions made her an overnight sensation, and she now uses her talents and powers as a K-pop star and Super Hero! Learn more about Luna Snow here!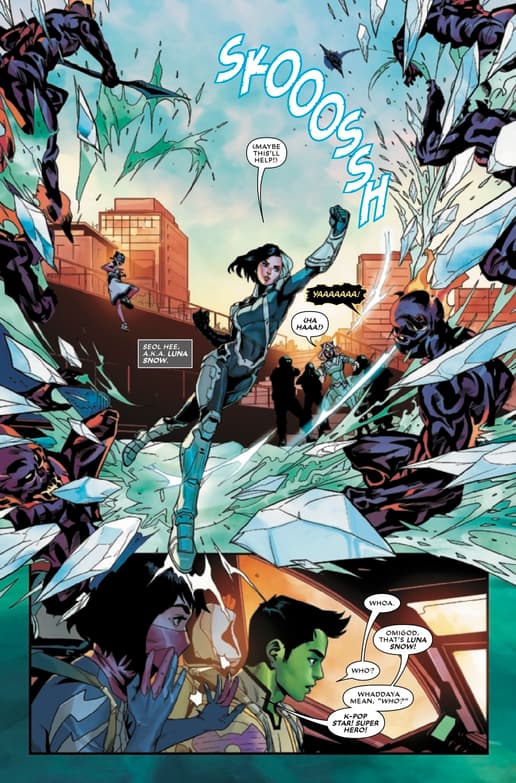 Crescent & Io, a super hero duo that fights for justice, are the third original creation for "MARVEL Future Fight." Crescent—A.K.A. Dan Bi—is an independent but dutiful ten-year-old Korean girl raised by her father, a kind and wise antiques dealer. One day, after returning home from school to an empty house, she is confronted by thugs who claim that her father is hiding something of great power in their home. Running from them and cornered, she stumbles against a mysterious mask which, upon her touch, unleashes a 12-foot-tall glowing "half-moon" bear, which roars to her defense. Crescent quickly realizes she can control the actions of the bear which she names Io (after Jupiter's moon with the highest density) and, is now bonded to this mighty protector. Learn more about Crescent & Io here.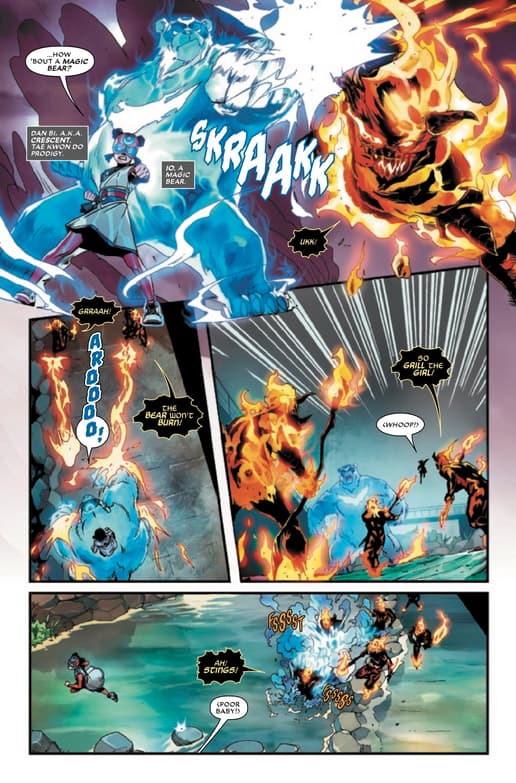 White Fox—A.K.A. Ami Han—a character first introduced in the Korean "Avengers: Electric Rain" webtoon, is an agent for the South Korean National Intelligence Service. Ami is also the last of the Kumiho, which grants her the mystical powers of the shape-shifting nine-tailed fox.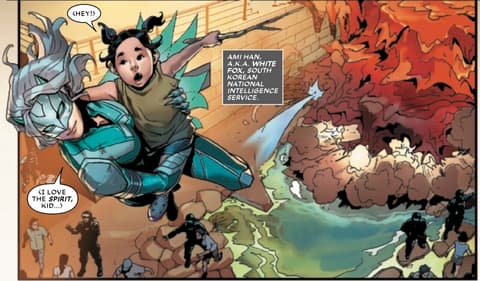 Pick up WAR OF THE REALMS: NEW AGENTS OF ATLAS #1 and pre-order WAR OF THE REALMS: NEW AGENTS OF ATLAS #2 at your local comic shop now! Then stay tuned to Marvel.com for more WAR OF THE REALMS updates!
Also, experience Luna Snow, Crescent & Io, White Fox, and others in "MARVEL Future Fight," available worldwide on the App Store® and Google Play™. 
The Hype Box
Can't-miss news and updates from across the Marvel Universe!