Games
Published November 15, 2018
Meet All-New Original Korean Super Heroes Crescent & Io in MARVEL Future Fight
Pre-register for the hit mobile game's third original character now!
You've previously met original Marvel characters Sharon Rogers, an alternate reality daughter of Steve Rogers and Peggy Carter who took up the mantle of Captain America, and Luna Snow, the ice-wielding K-pop star, in "MARVEL Future Fight." Get ready for a third original character to hit the roster soon—Crescent & Io, a super hero duo that fights for justice! Pre-register for the Crescent & Io event here: http://www.marvelfuturefight.com/crescent/
Together, Crescent and Io set off on a quest that will lead them into the dark and dangerous shadows of Morgan Le Fay's reach.
Marvel.com had the opportunity to discuss the young Korean hero and more with the creative minds behind the new character— Bill Rosemann, Marvel Games Executive Creative Director; Danny Koo, Marvel Games Senior Producer; Minkyun Kim, NetMarble Games Development Director; Yongjoon Cho and Yongho Cho, Netmarble Games concept artists; and Marc Sumerak, writer.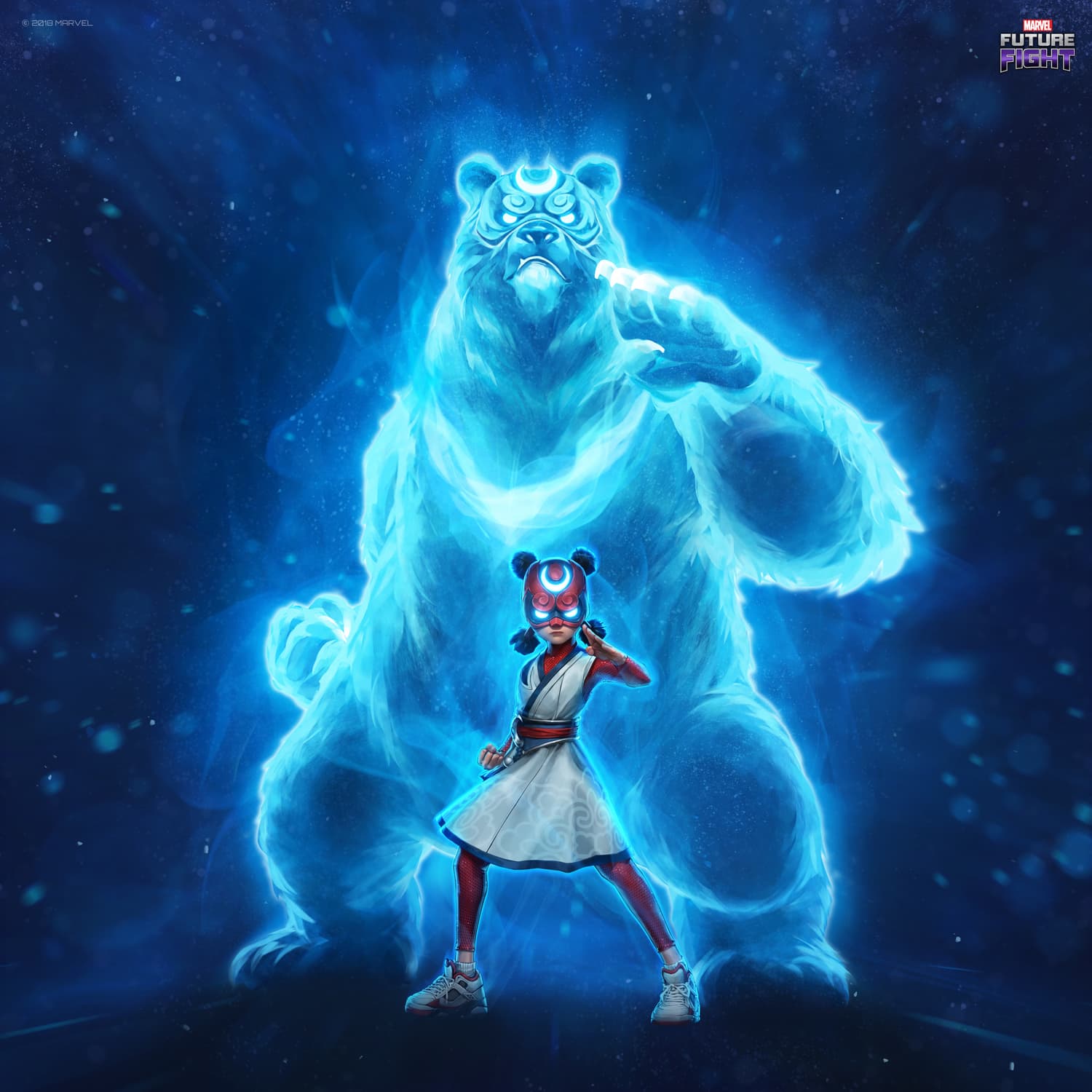 Marvel.com: Following in the footsteps of previous 'MARVEL Future Fight' original characters (Sharon Rogers Captain America and Luna Snow), can you tell us how the creation of Crescent and Io came about?
Bill Rosemann: Players reacted so positively to Sharon Rogers and Luna Snow; we knew we owed it to them to continue our yearly tradition of introducing all-new original characters in MARVEL Future Fight. Knowing our audience is smart and craving fresh surprises, we attempted to deliver something new and began with the idea of a small girl who could control a massive protector. Through multiple rounds of brainstorming sessions with our friends at Netmarble — during which we discussed everything from powers and gameplay to color scheme to symbols to personalities and backstory — we kept shaping the "clay" of ideas until finally Crescent and Io stood revealed as fully-formed characters. It was almost as if they were always there, just waiting for us to discover them!
Marvel.com: What can you tell us about Crescent & Io's backstories?
Yongho Cho: Crescent is a hero with dual identities – when Dan Bi, who loves Taekwondo, puts on a mask, she turns into a dynamic Super Hero. Io is Crescent's strong avatar and they share a strong and unique bond that allows them to be an incredible super-powered duo.
Bill Rosemannn: Crescent, AKA Dan Bi, has an origin inspired by classic Marvel storytelling. She's an independent but dutiful ten-year-old Korean girl raised by her father, a kind and wise antiques dealer. One day, after returning home from school to an empty house, she is confronted by thugs who claim that her father, who has been forced to provide mystical artifacts to the scheming sorceress Morgan Le Fay, is hiding something of great power in their home.
Running from them and cornered, she stumbles against a mysterious mask which, upon her touch, unleashes a 12-foot-tall glowing "half-moon" bear, which roars to her defense. Crescent quickly realizes she can control the actions of the bear which she names Io (after Jupiter's moon with the highest density) and, now bonded to this mighty protector, sets out to find her missing father and stop the dastardly plans of the immortal and evil Le Fay.
Marvel.com: What was the design process behind Crescent and Io?
Yongjoon Cho: Their design is unique – we wanted to make sure to be true to the Marvel Universe, but also to keep it authentic to Korean culture. The goal for Crescent's concept was to design an Eastern hero by giving Crescent a Korean traditional outfit and designing a traditional mask as well. Io was inspired by the Korean half-moon bear, which has a beautiful half-moon symbol on its chest. The same symbol is also on Crescent's mask, and we like their synchronized design.
Danny Koo: The first consideration that came to mind was, "What makes a Super Hero?" At Marvel, we have a rich, vast history of characters (Super Heroes and Villains) with natural talent that they are either born with it or via science accident discovering new powers. However, when a person without natural or accidental power hides behind a mask, what makes them a Super Hero?
Through everyday life, I have observed children put on Super Hero masks and declare themselves a Super Hero! Why not put a mask on a child and make them a hero? What if the child has a companion via the mask so they don't have to do it alone? With that basic premise, I had several discussions with Netmarble ranging from controlling robots, animals and even mythological creatures. Ultimately, we landed on the Asian Black Bear also known as the half-moon bear. The bear is a protective animal and if you look at it, it's just like a giant teddy bear that a child would carry around with them when they are young. We decided to have the mask summons a half-moon bear spirit that is ridiculously big as possible.
I'm always a big fan of Ms. Marvel/Kamala Khan's design; the colors and emblems are iconic. So, we have decided to create a flexible, durable, and modernized version of the traditional Korean clothing Hanbok that can be used for Taekwondo action and performing other heroic duties. We specifically choose primary colors to reflect her origin as well. With the half-moon theme, we designed the half-moon motif not only on the bear, but also on Crescent's mask. We expand that idea on her traditional Korean accessories that fits her personality. We named her Crescent, as you guess it, because of the moon theme. Io is also inspired by the astrological name for the moon that's accompanying Jupiter like a true companion. "Dan Bi", Crescent's civilian name is the Korean word for both "welcome rain after a drought" and "a big bear". We collaborated with Yongjoon Cho, Netmarble Monster's concept artist. For Io, we collaborated with Yongho Cho, another concept artist from Netmarble Monster's character concept art team as this bear is native to South Korea. We iterated on the character design and backstory for several months and we are extremely proud of the outcome!
Marvel.com: Following Luna Snow, Crescent & Io now join a growing group of Asian heroes in the Marvel pantheon. Can you tell us the significance of this for Marvel and Netmarble?
Bill Rosemann: Throughout our history, Marvel has always strived to show the world that everyone — no matter where you live or what nation you call home — can be a hero. As a creative team, we are always at our best when we invite fellow creators from around the globe to lend their voices to our song, to provide an opportunity for new perspectives to tell their story. By collaborating with our friends at Netmarble, our goal is to create heroes that not only feel authentically Marvel, but who are also relevant to our growing international community of True Believers.
Inspired by the legendary Stan Lee — who we dedicate the creation of Crescent and Io to — we hope to continue the mighty Marvel tradition of putting the human in the superhuman and thus connect with our worldwide family.
Marvel.com: In terms of power sets, what can Crescent and Io do? How do their unique abilities support each other? And how does it play out in 'Future Fight'? Can they both apply their abilities at the same time, or do they tag team it?
Danny Koo: When Crescent puts on the mask, she summons Io, the giant spirit half-moon bear. Crescent herself is a Taekwondo prodigy. Io is as tall as a Hulkbuster. Being a spirit, Io can phase in and out of spirit form and using physical mass to protect Crescent. In spirit form, Io can absorb energy attacks rendering them useless. With Io's super strength and supernatural roar, Io works alongside Crescent to tag team fighting off bad guys on their way to rescue Crescent's dad! With friendship and teamwork, Io also mimics Crescent's Taekwondo movement, making them a team that you don't want to mess with!
Marvel.com: When can players get their hands on Crescent and & Io? Anything else you'd like to share with Marvel fans?
Danny Koo: Players can play them in the next update! There are more fun stuff to complement Crescent and Io in this update. We hope you look forward to it!
Minkyun Kim: We hope you love Crescent and Io, who are brand-new to the Marvel Universe. Download MARVEL Future Fight to experience the power of Crescent and Io! Thank you!
Pre-register for the Crescent & Io event here: http://www.marvelfuturefight.com/crescent/
MARVEL Future Fight is available worldwide on the App Store® and Google Play™. For all the latest on "MARVEL Future Fight," stay tuned to Marvel.com and @MarvelGames on Twitter!
The Hype Box
Can't-miss news and updates from across the Marvel Universe!