Comics
Published April 13, 2023
'Avengers' Launches Earth's Mightiest Heroes into a Universe-Shaking Cataclysm
A new trailer for Jed MacKay and C.F. Villa's upcoming 'Avengers' series sends the team into action against Terminus, a towering villain who swats them away like insects.
Welcome to the Tribulation Events. We hope Earth survives the experience.
This May, superstar writer Jed MacKay and Marvel Stormbreaker artist C.F. Villa will assemble a new team of Earth's Mightiest Heroes for AVENGERS (2023) #1, which arrives on May 17. With a lineup led by Captain Marvel that includes Iron Man, Thor, Captain America, Black Panther, Scarlet Witch, and Vision, these Avengers will quickly find themselves pulled into the Tribulation Events, a series of grand-scale disasters that will spark upheaval throughout the known universe. 
As part of the Tribulation Events, the Avengers will face classic foe Terminus as well as the Ashen Combine, a group of bizarre new villains who delight in destroying cities. Unleashed by Kang during his desperate search for "The Missing Moment" in TIMELESS (2022) #1, the Ashen Combine and the Fall of the Impossible City are one of the many extraordinary challenges that the Avengers will need to overcome as they are tested to see if they truly are the greatest heroes of all reality.
Will the Avengers be able to triumph in the face of the Tribulation Events and learn the truth behind these earth-shattering threats? Or will they be reduced to mere pawns in an extraordinary scheme beyond their comprehension?
In a new trailer featuring never-before-seen artwork, the Avengers engage with a world filled with danger. The new team swings right into action against Terminus, a towering enemy that manages to swat these powerhouse Super Heroes aside like insects—and that's only the beginning of the dangers they'll face as part of the Tribulation Events.
"Putting her [Captain Marvel] in the big seat of the Avengers is a logical progression for the character, to my mind, and applying the challenges of leading a team like the Avengers to a character with the sensibilities of a brash fighter pilot has been a lot of fun," MacKay shared with Polygon.
"For me, it's about a question of scale—the bulk of my work has been on the scrappy, weirdo, street-level end where a guy with a mask and some goons is a major problem," MacKay told ComicBook.com. "With AVENGERS, we're looking at not one, but seven people who work at a much larger scale than Black Cat, Taskmaster, or Moon Knight do, and in a much bigger and louder way than Doctor Strange and Clea. So, going into AVENGERS, I've been restructuring how I look at a comic book—the stakes are higher, the threats are bigger, and the heroes are Earth's Mightiest."
"Jed is taking over and kind of going in a different direction, refocusing the Avengers back on the core team," Marvel Comics Editor in Chief C.B. Cebulski explained on This Week in Marvel. "I think fans have seen and they're going to know and love some of the beloved characters and they're going to be more earthbound this time, or not dimension-spanning, Multiverse-spanning—focusing on the Marvel Universe proper, protecting Earth and the surrounding galaxy which we all inhabit. I'm really excited."
"Jed's been doing some kick-butt work across all the books he's been on. His MOON KNIGHT is just spectacular. He just relaunched STRANGE, taking him in a different direction. Fans are clamoring for more Jed MacKay, so we're going to give it to them with Earth's Mightiest Heroes," he added.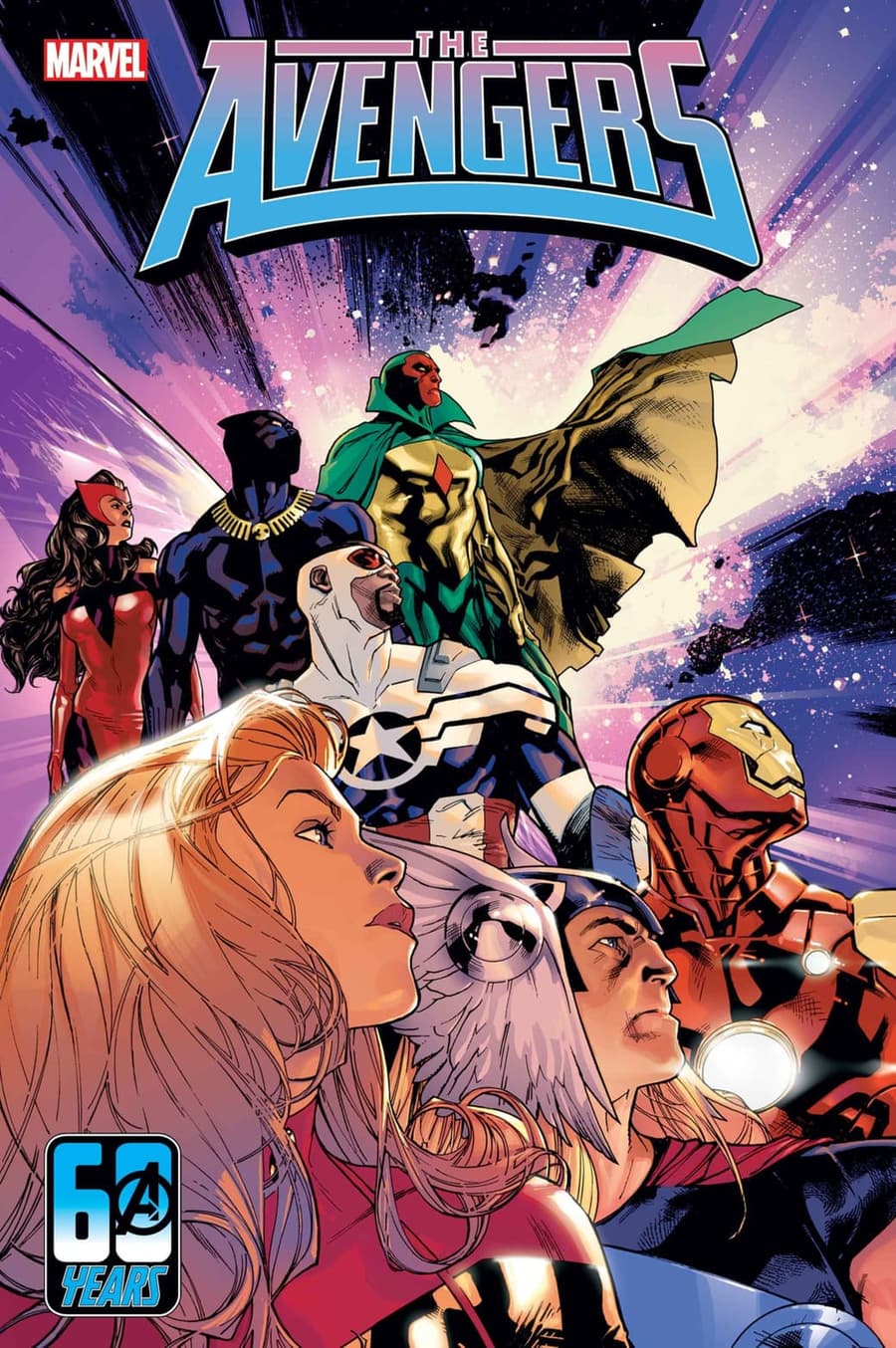 AVENGERS #1
Written by JED MACKAY
Art by C.F. VILLA
Colors by FEDERICO BLEE
Cover by STUART IMMONEN
Variant Cover by DANIEL ACUÑA
Variant Cover by KAEL NGU
Hidden Gem Variant Cover by PAUL SMITH
Scarlet Witch Variant Cover by DERRICK CHEW
Negative Space Variant Cover by JOHN TYLER CHRISTOPHER
Variant Cover by MARK BROOKS
Variant Cover by MARCO CHECCHETTO
Variant Cover by SKOTTIE YOUNG
On Sale 5/17
Check out the covers and interior art below, and don't miss AVENGERS #1 when it goes on sale May 17!
You can grab these comics and more digitally or at your favorite local comic book shop. Be sure to ask your local shop about their current business policies to observe social distancing or other services they may offer, including holding or creating pull lists, curbside pick-ups, special deliveries, and other options to accommodate. Find and support your local comic book shop at ComicShopLocator.com or by visiting Marvel.com/LoveComicShops.
For digital comics, all purchases in the Marvel Comics app can be read on iPhone®, iPad® and select Android™ devices! Our smart-paneling feature provides an intuitive reader experience, ideal for all types of mobile device and tablet users! Download the app on iOS and Android now!
The Hype Box
Can't-miss news and updates from across the Marvel Universe!