Comics
Published June 29, 2022
Kieron Gillen Sets Up the Avengers, the X-Men, and the Eternals for 'Judgment Day'
In a new interview, 'A.X.E.: Judgment Day' writer Kieron Gillen explains why the Avengers make this event accessible to everyone.
This July, the Marvel Universe is going to war. When the Eternals realize that mutantkind has achieved immortality, they will quickly move to attack Krakoa and stamp out this "excess deviation." However, the Avengers don't plan to take this lying down, and they will inevitably find themselves drawn into the conflict, thus launching Kieron Gillen and Valerio Schiti's upcoming event series A.X.E.: JUDGMENT DAY.
In an interview with Entertainment Weekly, Gillen set the stage for the event, explaining where JUDGMENT DAY finds the Eternals – who, as it turns out, are not monolith in their decision to wipe out the mutants. "Up front, I've black-hatted the Eternals," he said. "Not all Eternals are bad guys here, but mainstream Eternal society are the aggressors, and for very 'understandable reasons.' That's the first act, basically: The Eternals go to war, and then we build up from there. But the Eternals are a complicated group of people. Especially since I'm writing both the ETERNALS tie-ins and IMMORTAL X-MEN, I'm always writing the complexities."
Part of this division is due to the Eternals' recent election, wherein Thanos briefly served as the ancient group's leader. "I know it's a strange fantasy to imagine that, right? That democratic politics might possibly go wrong?" he joked. "One of my favorite bits in ETERNALS was that double-paged spread where we showed the gerrymandering of the Eternals. My favorite thing is when people go, 'The Eternals would never elect Thanos!' No, I've just shown you how they have, and the answer is 'Most people didn't turn up.'" (Curious to learn more about Thanos' election? Check out ETERNALS by Gillen and Esad Ribic, which just ended its epic 12-issue run!)
However, Gillen's previous ETERNALS series is not required reading for JUDGMENT DAY. "An event book comes from everything that's been built so far, but it's also a place people can jump aboard like, 'What the hell is this new blockbuster event of the summer?' So the Avengers not knowing as much as the other two players is great because they're reader surrogates," he explained. "They can come in and ask, 'Wait, you did what to who?'"
To bring this event to life, Gillen teamed up with Schiti, who will illustrated the six-issue event with colorist Marte Gracia. While JUDGEMENT DAY will be packed with serious super hero action, Gillen promised Schiti brings the same vivacity to all aspects of the book. "Showing someone fly through the air, from the ground, makes you put it in perspective. In JUDGMENT DAY, you have a Greek chorus of real people living their lives, and Valerio makes it all real. Then he draws 800,000-foot killing machines. He can literally draw anything and turn into a single aesthetic unit," he shared.
"One reason why this crossover is really interesting is the X-Men are new immortals, while the Eternals are very old ones," Gillen teased. "The Eternals are a really awful portrait of how Krakoa could end up. Magneto says something in the first issue like, 'Did you think the powers-that-be would give up eternity without a fight?'" 
And fight they will, starting in A.X.E.: JUDGMENT DAY #1, on sale July 20.
A.X.E.: JUDGMENT DAY #1 (OF 6)
Written by KIERON GILLEN
Art by VALERIO SCHITI
Colors by MARTE GRACIA
Letters by VC's CLAYTON COWLES
Cover by MARK BROOKS & SABINE RICH
On Sale 7/20
You can grab these comics and more digitally or at your favorite local comic book shop. Be sure to ask your local shop about their current business policies to observe social distancing or other services they may offer, including holding or creating pull lists, curbside pick-ups, special deliveries, and other options to accommodate. Find and support your local comic book shop at ComicShopLocator.com or by visiting Marvel.com/LoveComicShops.
For digital comics, all purchases in the Marvel Comics app can be read on iPhone®, iPad® and select Android™ devices! Our smart-paneling feature provides an intuitive reader experience, ideal for all types of mobile device and tablet users! Download the app on iOS and Android now!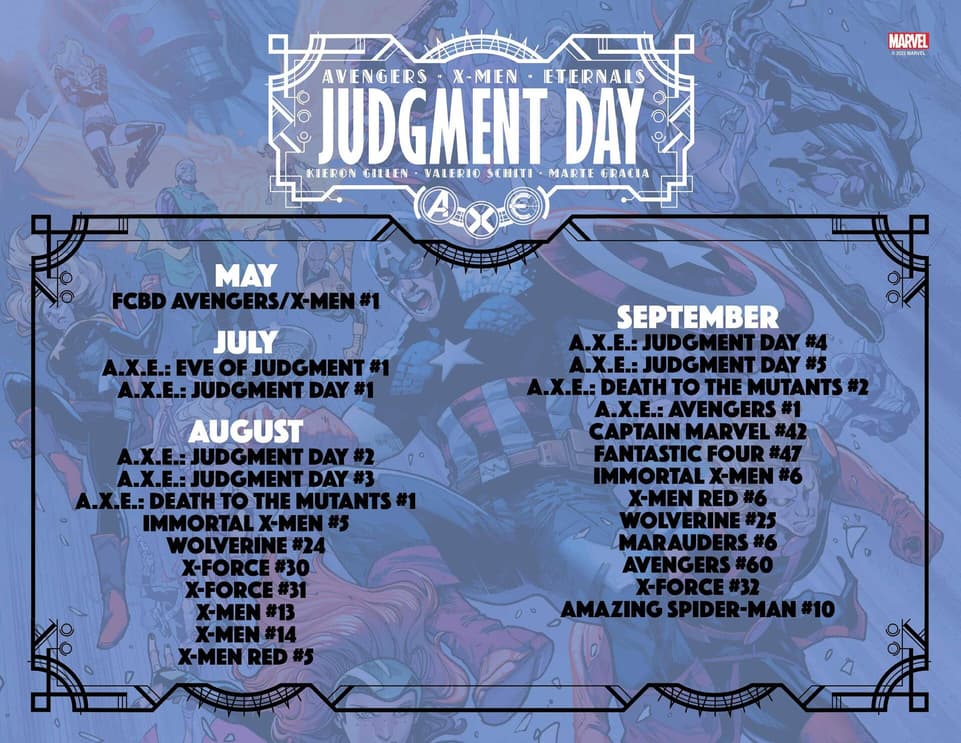 The Hype Box
Can't-miss news and updates from across the Marvel Universe!