Comics
Published June 17, 2022
'A.X.E.: Judgment Day' Artist Valerio Schiti Unleashes the Primordial Terror of The Hex
Valerio Schiti reveals his designs for several new Eternals characters and explains why mutantkind should be very, very afraid.
The Hex have awakened from their millennia-long slumber. In A.X.E.: JUDGMENT DAY, the Eternals have determined that mutantkind is "excess deviation," making it their unholy mission to wipe the mutants off the face of the Earth. When the Eternals set out to exterminate mutantkind, they won't be alone: they will summon the Hex to their aid, and mutants everywhere should be very, very afraid.
Speaking to Marvel.com, A.X.E.: JUDGMENT DAY artist Valerio Schiti unleashed his all-new Hex designs and offered some insight into what their arrival means for the upcoming event. He described the Hex as "unstoppable," "inevitable," and "primal," but also cursed by the fact they are only summoned to kill and destroy. He teased the brutal psychic poetry of Syne the Memotaur, as well as the threat the Hex pose to the mutant nation-state of Krakoa. He also explained writer Kieron Gillen's role in crafting their personalities, the reason why these characters lack "a proper face," and more.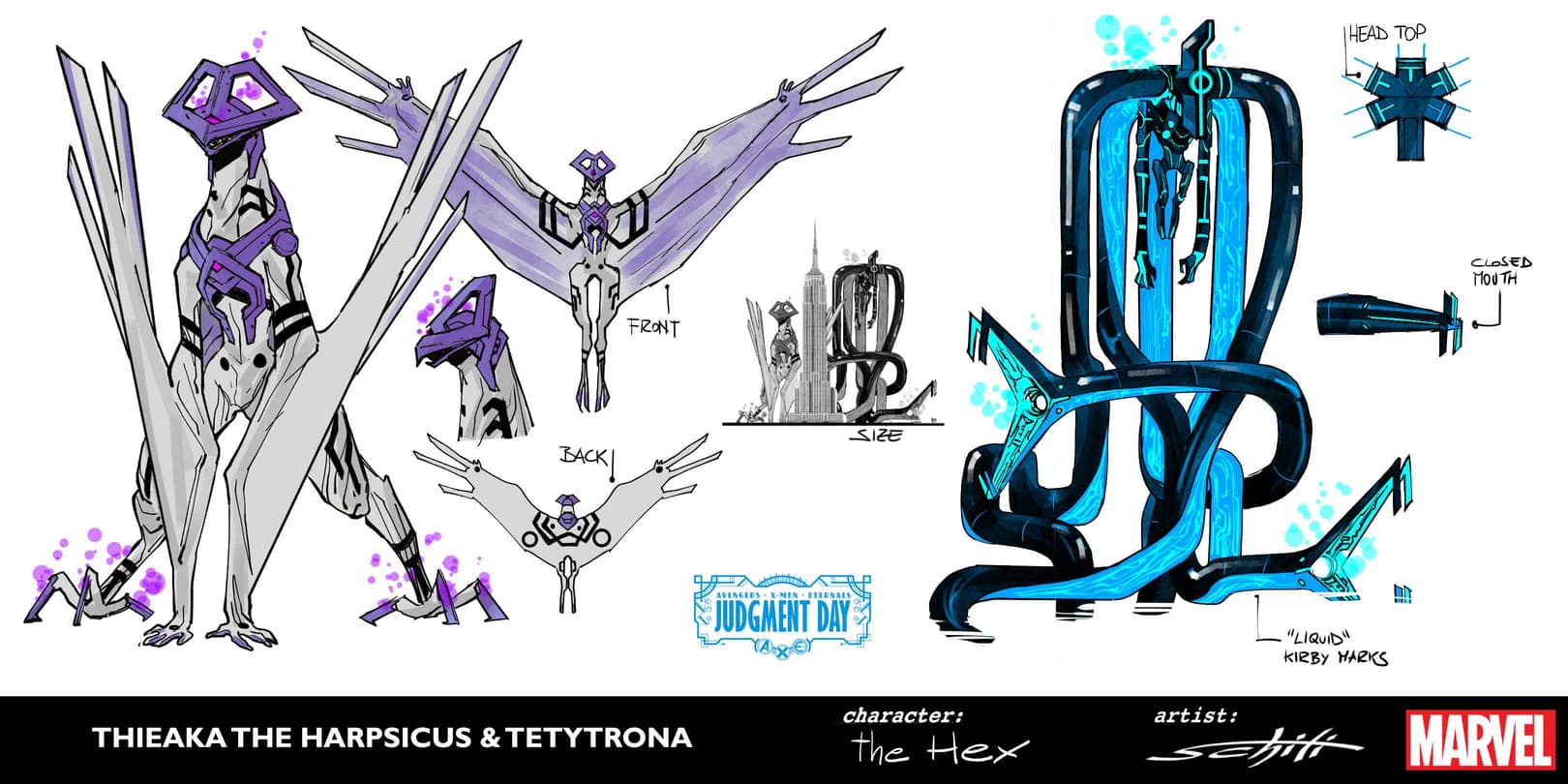 MARVEL.COM: Introduce us to The Hex. Without giving too much away, can you give us a hint about who they are and how they're connected to the Eternals?
VALERIO SCHITI: I don't know how much I can reveal about the Hex yet. I can say for sure that they are one of Eternals' greatest resources, their ultimate allies that can be summoned from their millennial sleep to join forces in their darkest hour.
The Hex are very powerful beings, alive for millions of years, with different shapes and skills. 
Yes, they're scary and built to destroy, but they also have personalities and even feelings that we can't understand. They're doomed to sleep for millennia, waiting to be summoned just to kill and destroy. That's their eternal curse.
MARVEL.COM: What is the very first thing that stood out to you about The Hex?
VALERIO SCHITI: The Hex are beautiful, clear, almost primal. When you have the misfortune to see one of them you know exactly what they do at first sight. Usually, nothing good.
Also, the Hex are unstoppable, inevitable, the embodiment of incoming destruction, that's why none of them have a proper face. Because they are terrible creatures with no clear emotions.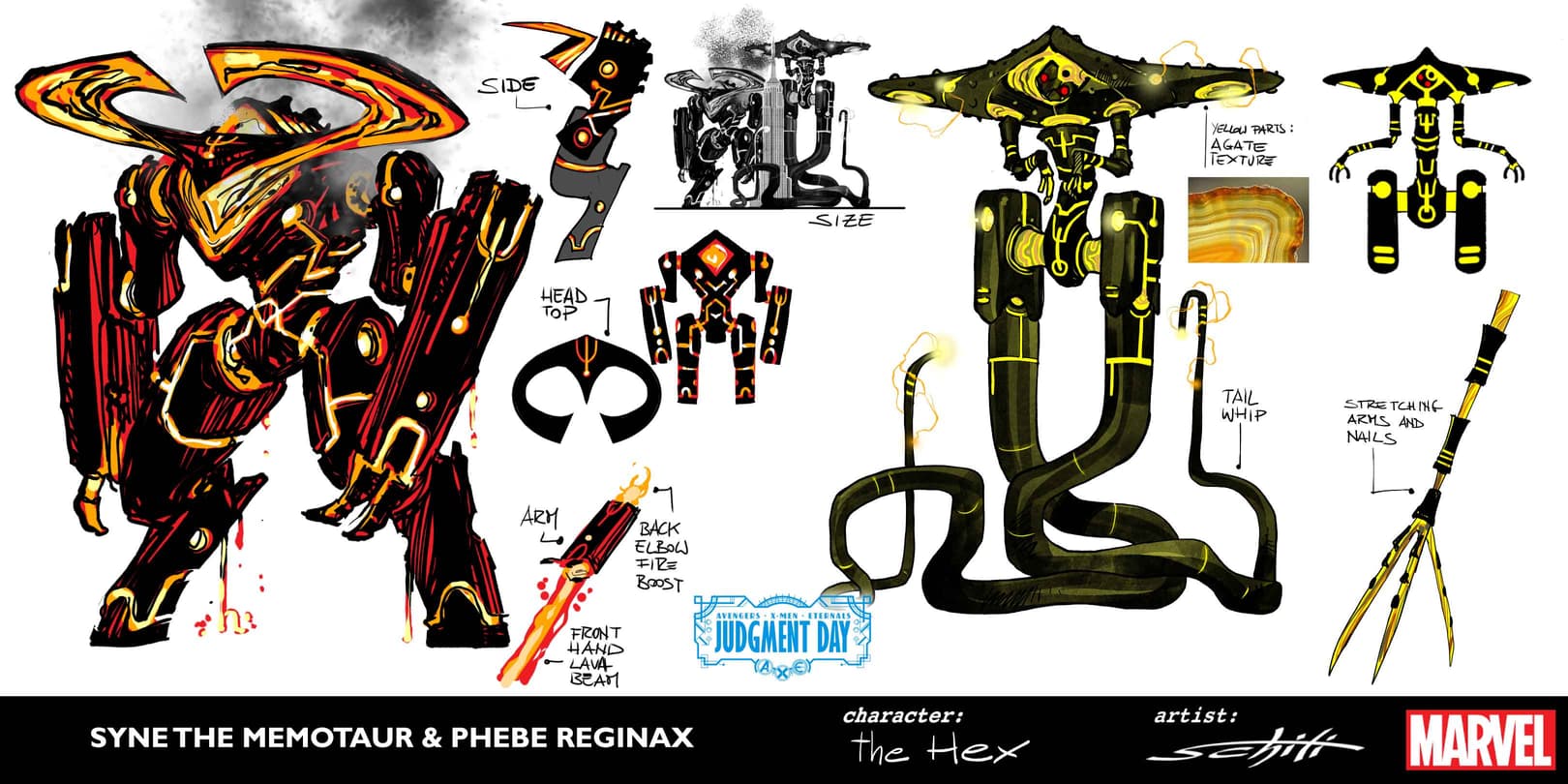 MARVEL.COM: How do these Hex designs reflect each one's personality? Which was your favorite to draw, and why?
VALERIO SCHITI: Kieron Gillen and I talked a lot about the look of the Hex, dozens of emails were sent to answer a simple question: what do they look like?
They should be archetypes, with a clear reference to the elements and to nature. I did a few preliminary sketches and Kieron wrote their personalities starting from there, then I defined the design a little more… and so on. We felt like two archeologists, digging, helping each other to discover the traces of those ancient creatures.
In the end, their final look remembers some classical creatures and monsters, but our idea was: what if it's the other way around? What if Eternals summoned them in the past and our ancestors saw them? To witness the existence of the Hex is fuel for nightmares and legends so maybe they're the very origin of some human myths, and consequently of a part of human culture.
They have unique anatomies, with strange joints and weird proportions, so it's always fun to draw them, but, if I have to pick one, I'd say that Rheaka the Centaurus is my favorite. I love those geometric shoulders! 
MARVEL.COM: Your character sheets include some of your sources of inspiration for these designs. Which one surprised you the most, and why?
VALERIO SCHITI: The Hex are fascinating creatures, a living enigma, that's why the most surprising to me is also the most ambiguous: Syne the Memotaur. 
She's one of the most dangerous and powerful of the Hex, every step she takes brings fire and destruction… and yet, hidden inside a faceless, scary head, there's a curious, creative mind.
Of course she alone can easily burn an entire island to the ground… let's say Krakoa, for example. I'll give you that. But also, she can compose beautiful, inspired psychic epic poems while she's doing it! Isn't she lovely?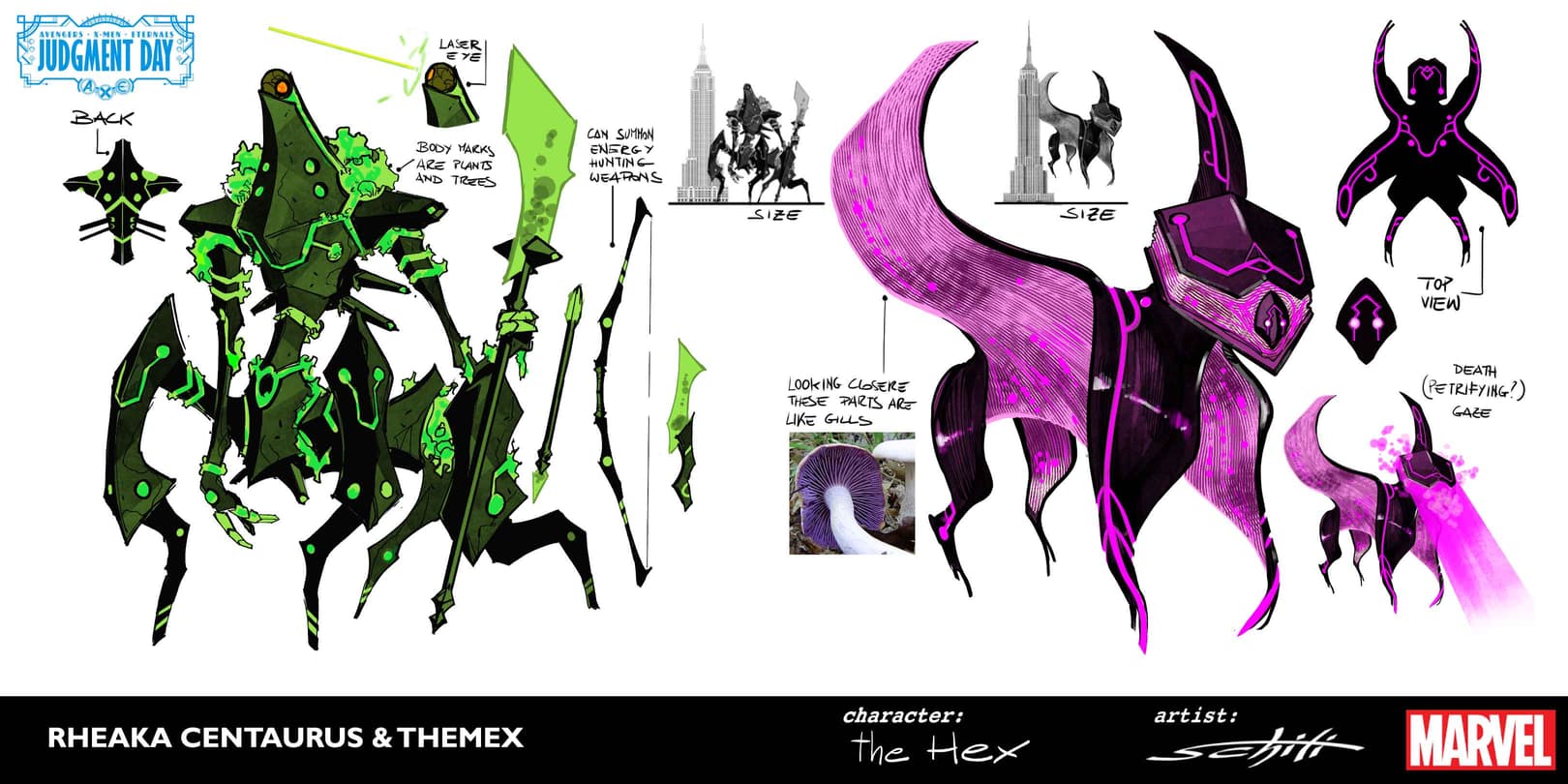 MARVEL.COM: On a scale of one to ten, how worried should we be about the Hex's arrival in AXE?
VALERIO SCHITI: There's no need to be worried about the Hex, believe me, not at all. Ok, yes they are huge, they're deadly and powerful enough to kill a god but I think that if you are just a flatscan… oops, sorry, we don't use that word anymore… if you're just a human, you should be pretty safe.
On the other hand, if you're a mutant, you are doomed. Seriously, you don't stand a chance, I am sorry.
Don't miss the Hex's debut in A.X.E.: JUDGMENT DAY, which begins in A.X.E.: EVE OF JUDGMENT #1 on July 13 and continues in A.X.E.: JUDGMENT DAY #1 on July 20. 
You can grab these comics and more digitally or at your favorite local comic book shop. Be sure to ask your local shop about their current business policies to observe social distancing or other services they may offer, including holding or creating pull lists, curbside pick-ups, special deliveries, and other options to accommodate. Find and support your local comic book shop at ComicShopLocator.com or by visiting Marvel.com/LoveComicShops.
For digital comics, all purchases in the Marvel Comics app can be read on iPhone®, iPad® and select Android™ devices! Our smart-paneling feature provides an intuitive reader experience, ideal for all types of mobile device and tablet users! Download the app on iOS and Android now!
The Hype Box
Can't-miss news and updates from across the Marvel Universe!