Comics
Published June 14, 2023
The Love Story of Ayo and Aneka
We spoke to Wyatt Kennedy and Sumeyye Kesgin, the writer and artist behind 'Marvel's Voices: Ayo & Aneka,' about their all-new story from the Infinity Comics anthology series.
Have you tried Marvel Unlimited yet? It's your all-access pass to over 30,000 Marvel comics at your fingertips. Sign up today and get one year for just $5 a month!
New on the Marvel Unlimited app: In a special one-shot from the Infinity Comics anthology series MARVEL'S VOICES, Ayo and Aneka, Wakanda's Midnight Angels, star in a love story for the ages! They met in training for the Dora Milaje, and together helped reshape the kingdom of Wakanda. Writer Wyatt Kennedy, artist Sumeyye Kesgin, and colorist KJ Díaz tell an entrancing tale of love, fear, and the battles we fight against both in all-new MARVEL'S VOICES: AYO & ANEKA!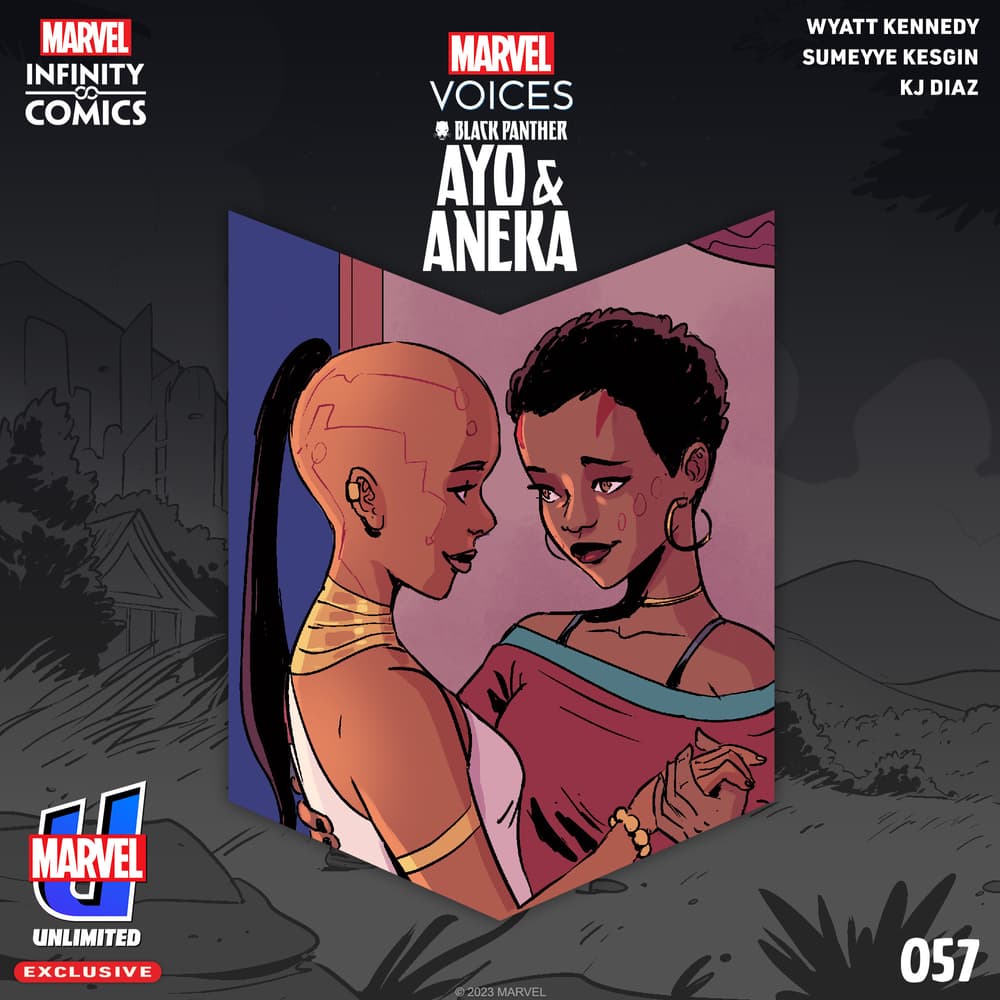 In a behind-the-scenes look at "Ayo & Aneka," we spoke to Wyatt Kennedy and Sumeyye Kesgin about their unique approaches to this story.
Why do you think Ayo and Aneka are such a well-matched pair?
SUMEYYE KESGIN: I believe that Ayo clearly sees and fixes the fragility behind Aneka's self-assured façade which helps them complement each other and overcome challenges.
WYATT KENNEDY: You know, like the best love stories, I think it was just meant to be. The stars aligned, and their compelling story needed to be told. Conflict, division, espionage, rebellion, and countless other factors play into their story, but above all else it's their deep, outspoken affinity for one another. In the elastic world of comic book romances, I genuinely envision them as each other's endgame.

Wyatt, "Ayo & Aneka" sets up some of the backstory covered in BLACK PANTHER: WORLD OF WAKANDA (2016). Were there any other comic stories you leaned into while scripting this issue?
WYATT KENNEDY: Well, the intent was to create something that slots incredibly well into the work and mythology from Ta-Nehisi Coates, Roxane Gay, and their stellar art teams, which is all fantastic. This might sound like a strange pull, but honestly, the most defining influence on the story and a lot of my work in general is AMAZING SPIDER-MAN (1999) #53 by J. Michael Straczynski and John Romita Jr.. There's this tender monologue that Peter Parker gives about a sleeping Mary Jane Watson that even reading it as a kid, left a profound effect on me.
Sumeyye, what was your collaboration with Wyatt and colorist KJ like?
SUMEYYE KESGIN: Wyatt's story is very graceful. It beautifully depicts an abstract enemy and the ways to stand up to it. KJ's colors have captured that mood perfectly too. I'm delighted to have worked with them both.
The acting in this issue is so moving. What was your approach to drawing such emotional scenes in a way that resonates with readers?
SUMEYYE KESGIN: I like to put myself into the characters' shoes. Illustrating a story is a bit like playing a role-playing game, it is fun. Also, empathy-wise, being of the same gender as the characters helps a lot.

There's a very different "Big Bad" in this issue. How did you come to focus on the threat of time as the main conflict?
WYATT KENNEDY: I mean, I'm a young(ish) guy currently in the throes of a serious romantic relationship. I love my girlfriend deeply, and a lot of this was pulled from how I feel about her and the fear of not being able to spend enough time with her. Plus, I think there's something inherently compelling about people who can fight gods, and monsters, and tsunamis, but when you find them in their quiet private time what are the most human things they're actually scared of? You take Thanos, for example, as a "person" that can be stopped, but you can't stop the literal concept of time, age, or the effects it has on us mentally and physically. I thought these two characters who irradiate love so tenderly and honestly would be the perfect avatars to explore this kind of story.
Read the complete story in MARVEL'S VOICES: AYO & ANEKA INFINTIY COMIC #57 on the Marvel Unlimited app.
Download the Marvel Unlimited app for iOS or Android devices now for more vertical comics starring favorite Marvel characters. You'll also gain instant access to 30,000+ digital issues spanning 80 years of Marvel Comics.
The Hype Box
Can't-miss news and updates from across the Marvel Universe!