Comics
Published November 22, 2022
Our Favorite Looks and Costumes from the 'Age of Apocalypse'
Return to the timeline from the classic X-Men event—now set during the Krakoan Age—in 'X-Men Unlimited Infinity Comic' #62!
Have you tried Marvel Unlimited yet? It's your all-access pass to over 30,000 Marvel comics at your fingertips. Start your 7-day free trial, or sign up with plans as low as $9.99 a month.
The AGE OF APOCALYPSE and HOUSE OF X/POWERS OF X were both game changing storylines for the X-Men, with radical reinventions of the leading mutant heroes and the world they live in. Kicking off this week on the Marvel Unlimited app, the X-MEN UNLIMITED INFINITY COMIC anthology series will unveil a new vision of the Age of Apocalypse…now set in the Krakoan age.
Writer Jordan Blum, artist Salva Espin, and colorist Israel Silva's six-part "World Without X" storyline will offer some fresh takes on familiar faces starting in X-MEN UNLIMITED INFINITY COMIC #62. What would the dawn of En Sabah Nur look like if his rise followed the House of X? Find out, as one dark potential future hinges on wiping out Professor Charles Xavier! To celebrate this fusion of the AGE OF APOCALYPSE and HOUSE OF X eras, Marvel.com takes a look back at some of the most memorable costumes from the original '90s event. And, if you're looking to revisit the story, the entire AGE OF APOCALYPSE saga is waiting for you on Marvel Unlimited!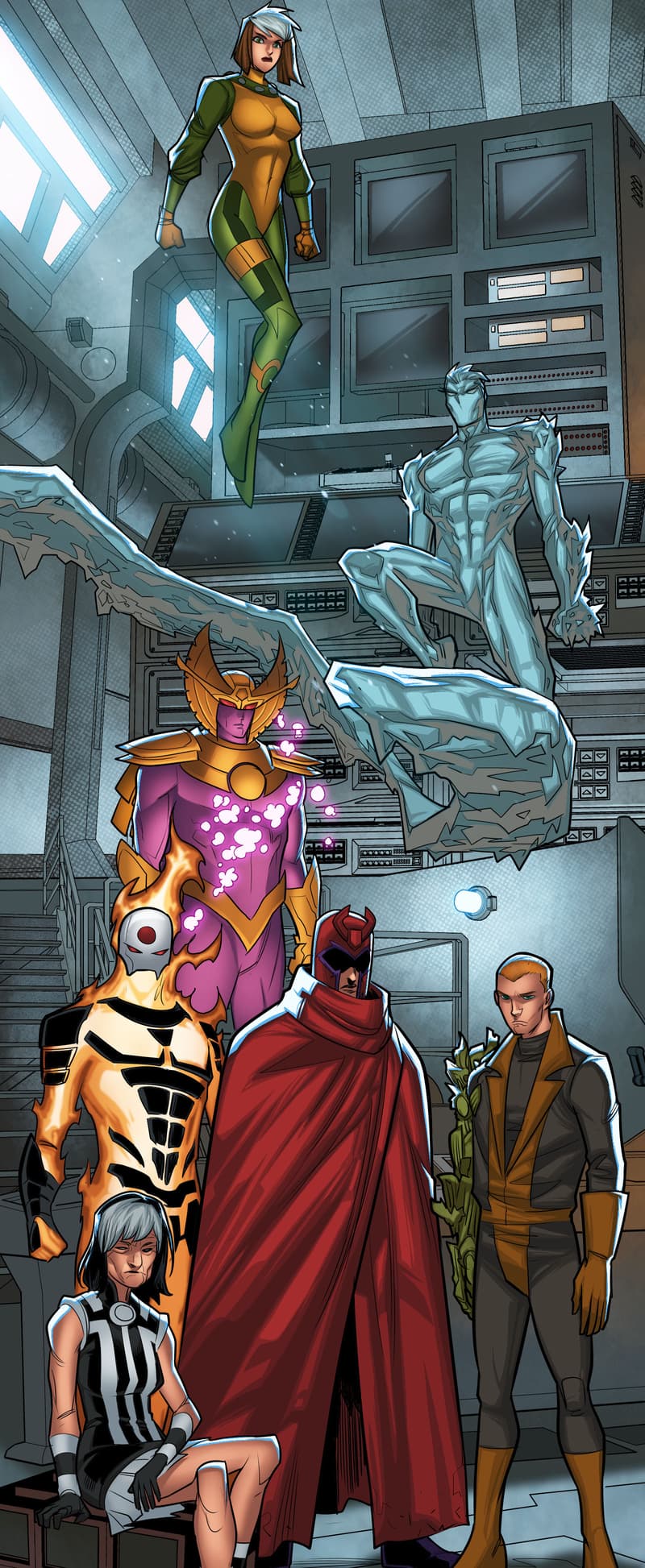 BLINK
Considering that Blink died at the hands of the Phalanx in X-MEN (1991) #37, she would have been a dark horse pick to become one of the fan-favorites in AGE OF APOCALYPSE. And yet the newly envisioned Blink not only reappeared with a terrific costume, she also had a more dynamic and heroic personality. Is it any wonder that she survived the AGE OF APOCALYPSE and became a teleporting team leader in EXILES (2001)? This girl kicks butt!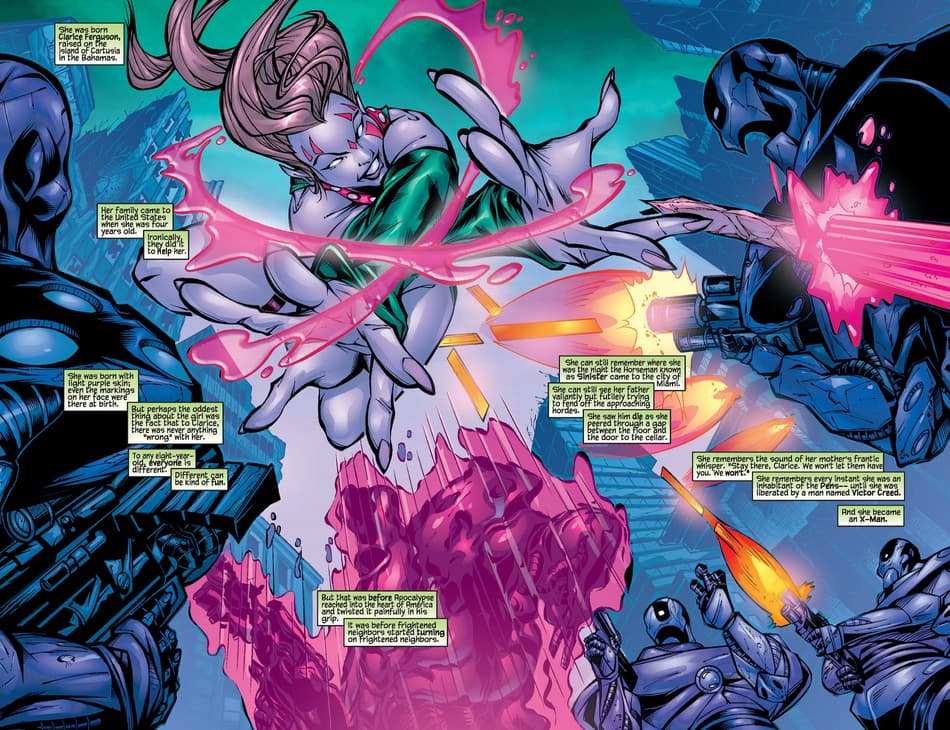 SUNFIRE
Among the major X-Men characters, Sunfire is the only one whose AGE OF APOCALYPSE costume has crossed over to the primary continuity—twice! It's simply a cool design that perfectly captures Sunfire as the walking nuclear reactor that he is. When Sunfire adopts this look, he's on the A-list.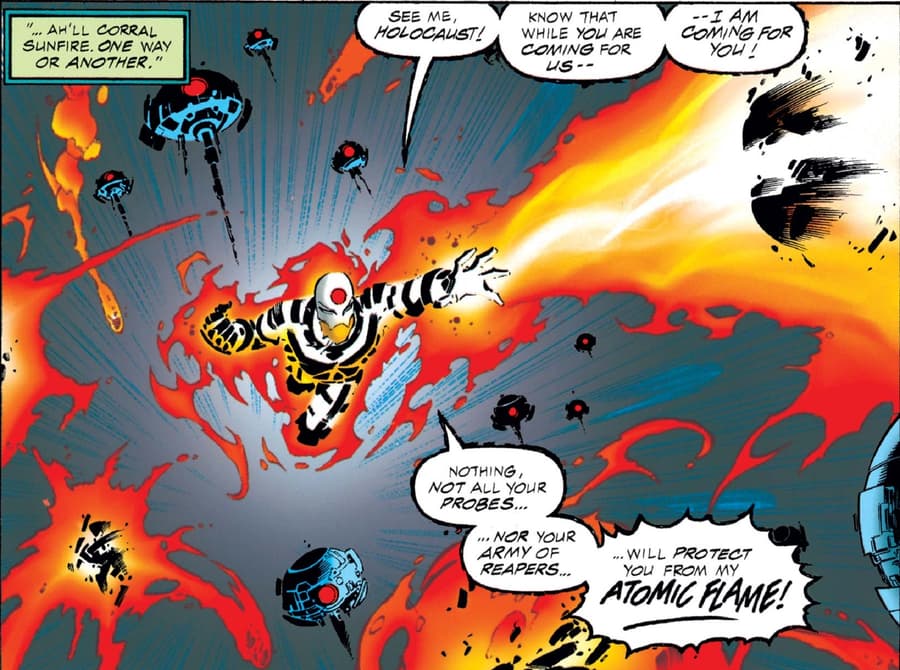 SHADOWCAT
GENERATION NEXT (1995) #1 showed fans a fiercer side of Kitty Pryde than she had ever shown before. In her AoA incarnation, Kitty fashioned her own Wolverine-style claws while adopting a short hairstyle and a sleek new costume. Certain elements from this look resurfaced in the alternate reality title, X-MEN FOREVER (2009). This outfit was the one that signaled to readers that Kitty was all grown up and ready for apocalyptic action.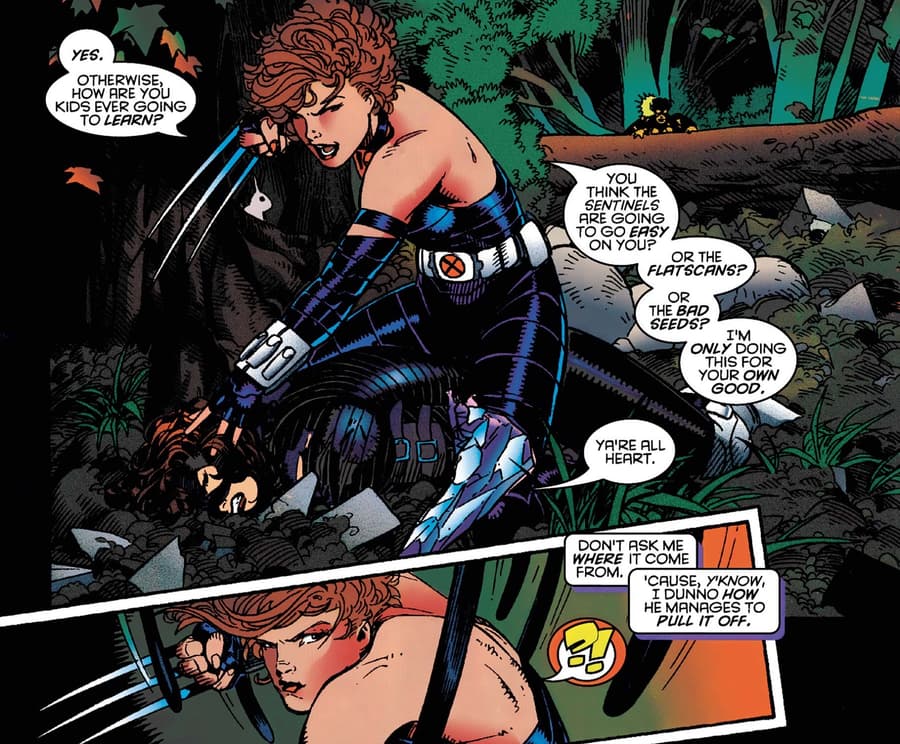 CYCLOPS
It may be hard to believe that the devoted and rule-abiding Scott Summers would be a tough biker-looking guy during the AGE OF APOCALYPSE. But with only one eye, long hair, and a fierce exterior, AoA Cyke is definitely more intimidating than his heroic counterpart in the primary Marvel Universe. He looks like he could beat you in a brawl even before unleashing an optic blast!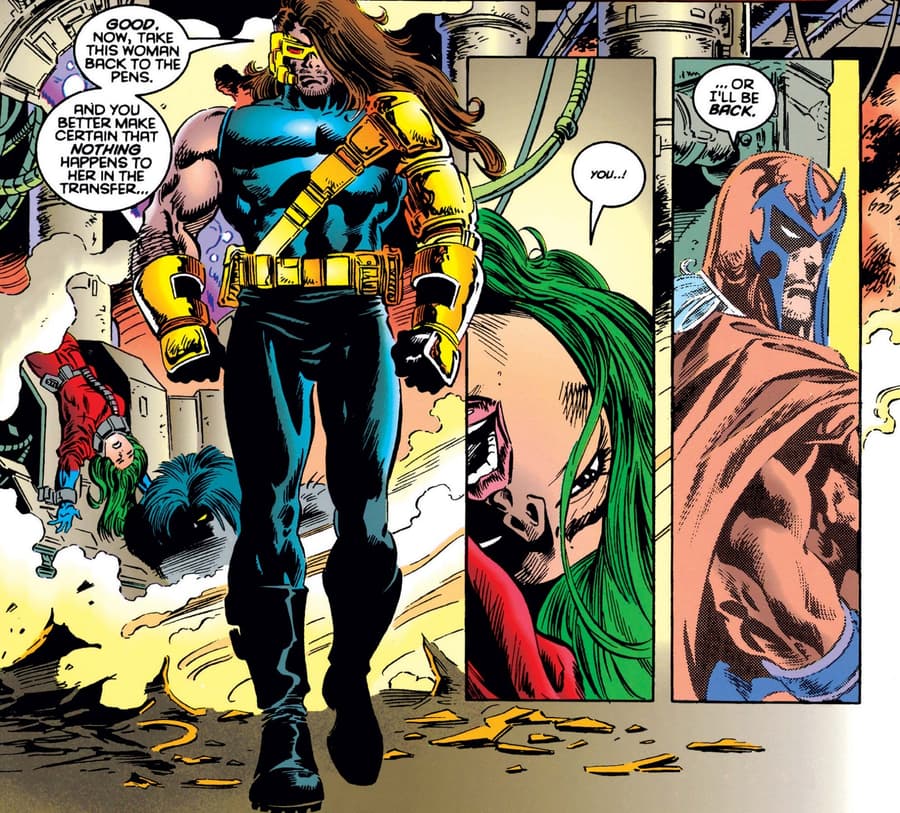 JEAN GREY
The former Phoenix tends to favor long hair and yellow and green outfits in the prime Marvel Universe. Regardless, AGE OF APOCALYPSE Jean Grey looks exceptional with this red and blue ensemble, as well as stylishly short hair. The facial tattoo came during Jean's brief period as a captive/hostage of Apocalypse's forces. Most of that time period was not explored on the page. But we do know that's where she met Scott Summers, who soon lost an eye when Wolverine came to rescue Jean.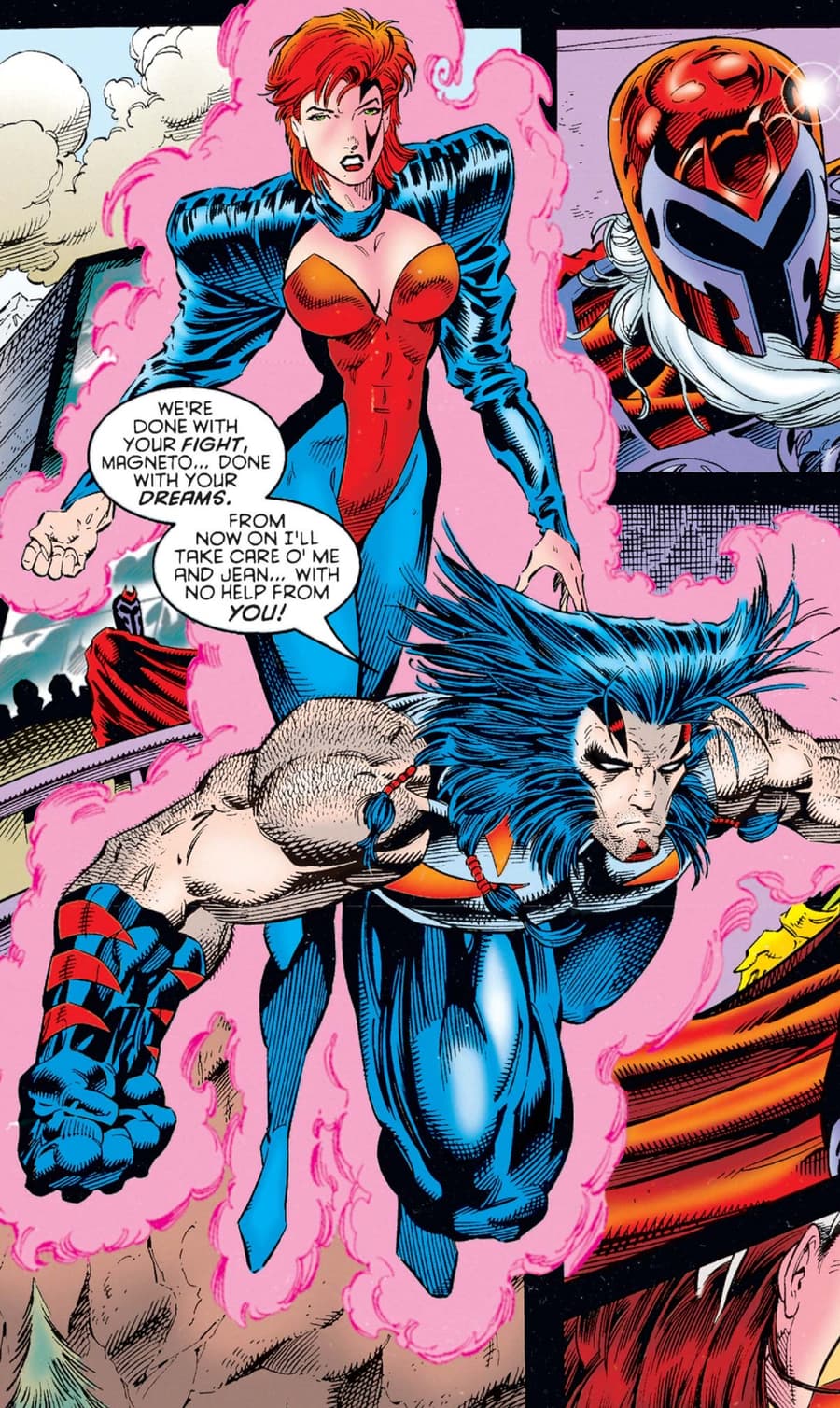 WOLVERINE
Logan paid a high price when he slashed Cyclops' face during the AoA. It cost Wolverine his hand, and yet he didn't miss a step as a steadfast warrior against Apocalypse. Without the need to hide his identity in this timeline, Logan ditched wearing a mask. His blue and red colors also act as a complement to Jean's outfit (which makes sense because they were romantic partners). And if you think that Wolverine's stump hand makes him helpless, think again. He's got a rather nasty surprise waiting underneath for anyone who gets too close.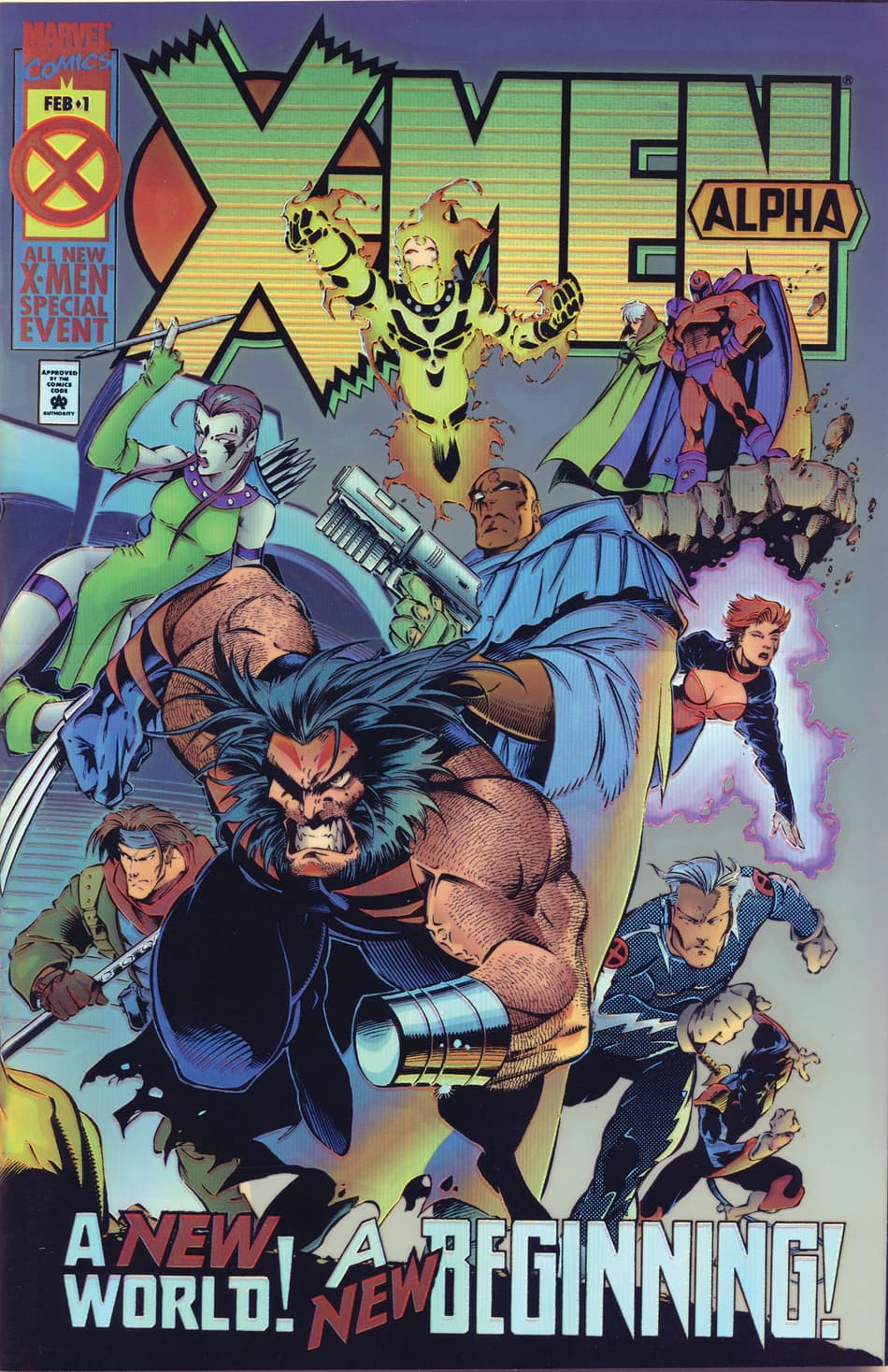 ROGUE
Rogue has had no shortage of great outfits in the Marvel Universe. But the AGE OF APOCALYPSE Rogue's costume seemed to solidify her status as the co-leader of the X-Men with her husband, Magneto. With a shorter hairstyle and a sleek costume, Rogue almost looks like an anime heroine in this incarnation. We like this look a lot!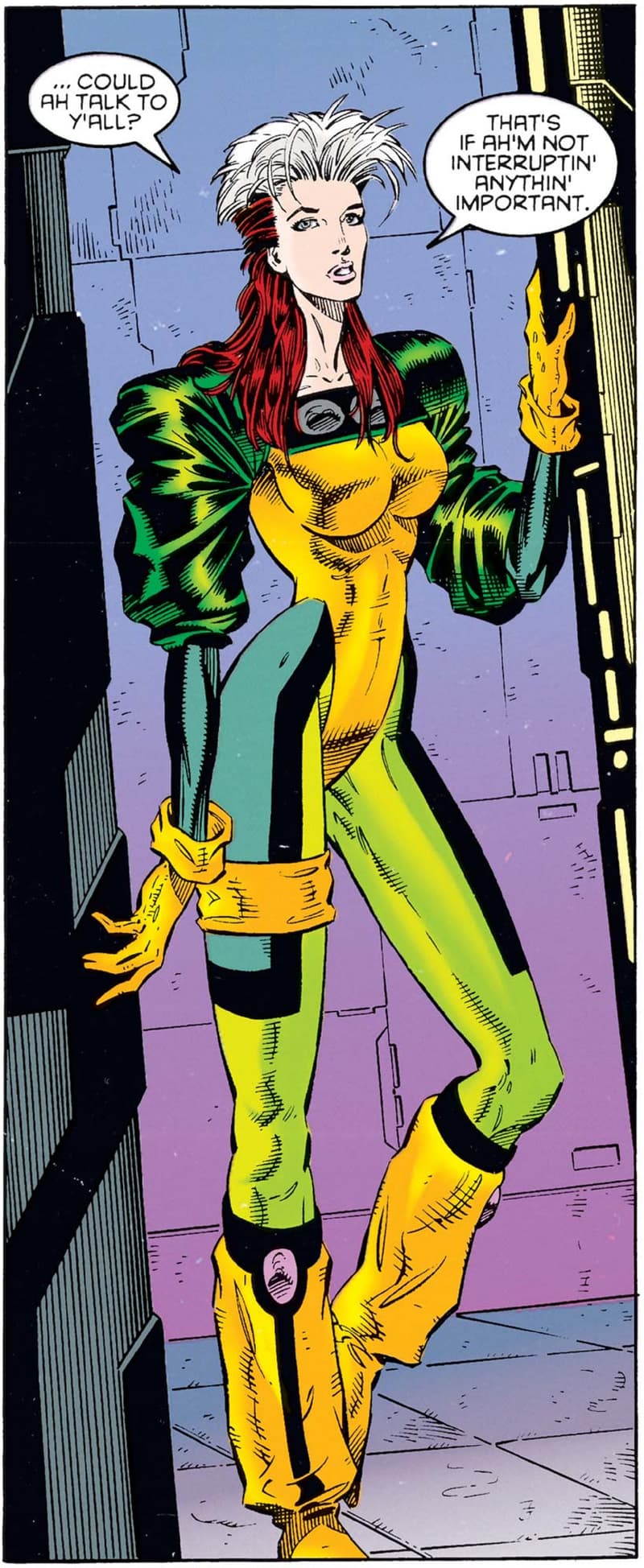 BEAST
In this reality, Hank McCoy is a completely amoral Beast. Much more so than his current counterpart in X-FORCE (2019). The Dark Beast of the AoA has a deceptively simple design that swaps out Hank's shorts for some sinister-looking pants and a coat of fur that invokes a definite sense of menace. Dark Beast was also one of the few villains who escaped the AGE OF APOCALYPSE and found a new home in the Marvel Universe.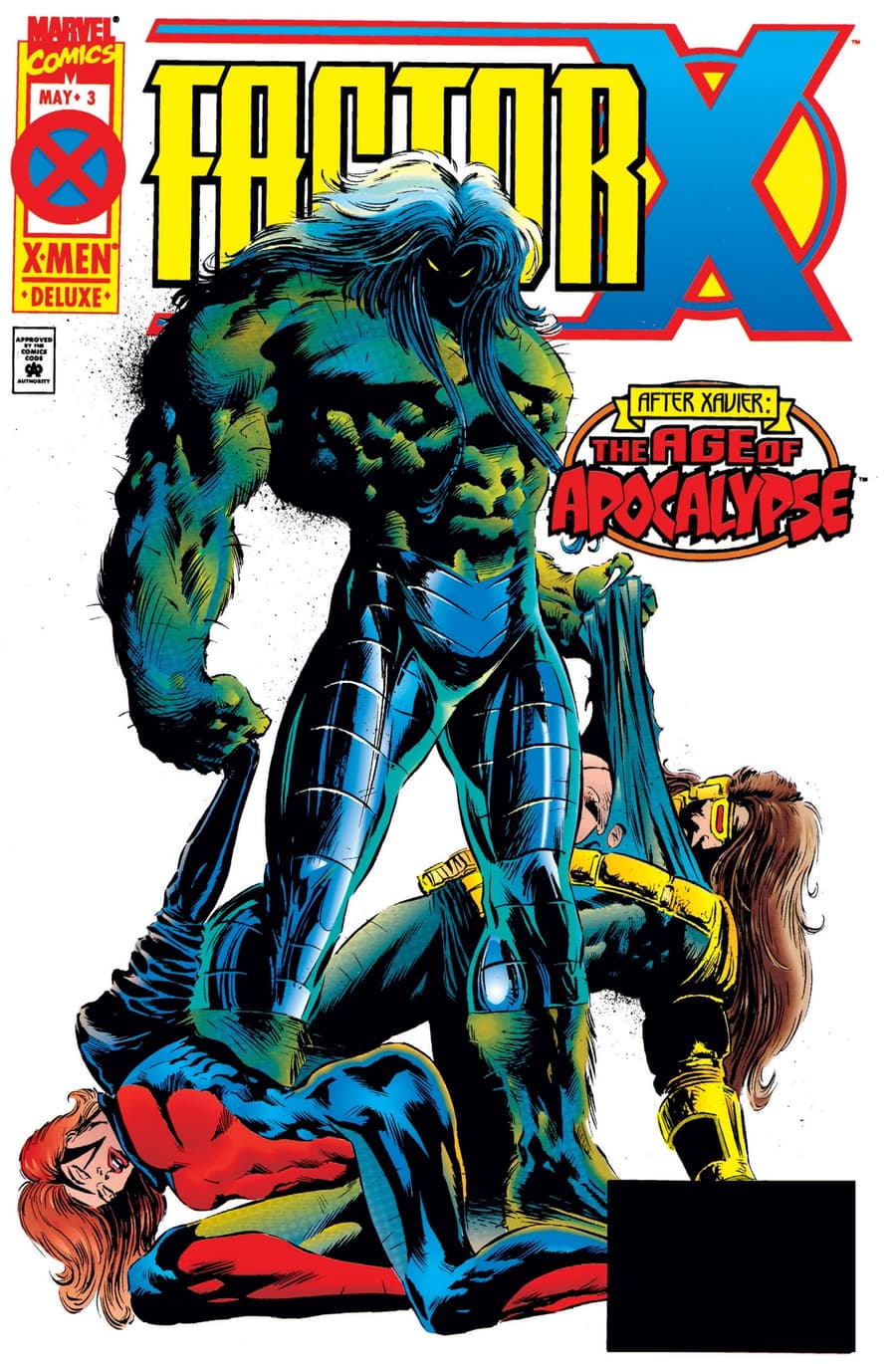 STORM
Storm has never been afraid to embrace her inner goddess. Yet there's something more relatable and down to Earth about her AGE OF APOCALYPSE design as a combatant on the frontlines of war. This Storm seems decidedly human, so to speak. The short hair and a far more utilitarian costume show that Ororo Munroe isn't one to be taken lightly in this reality (on any for that matter).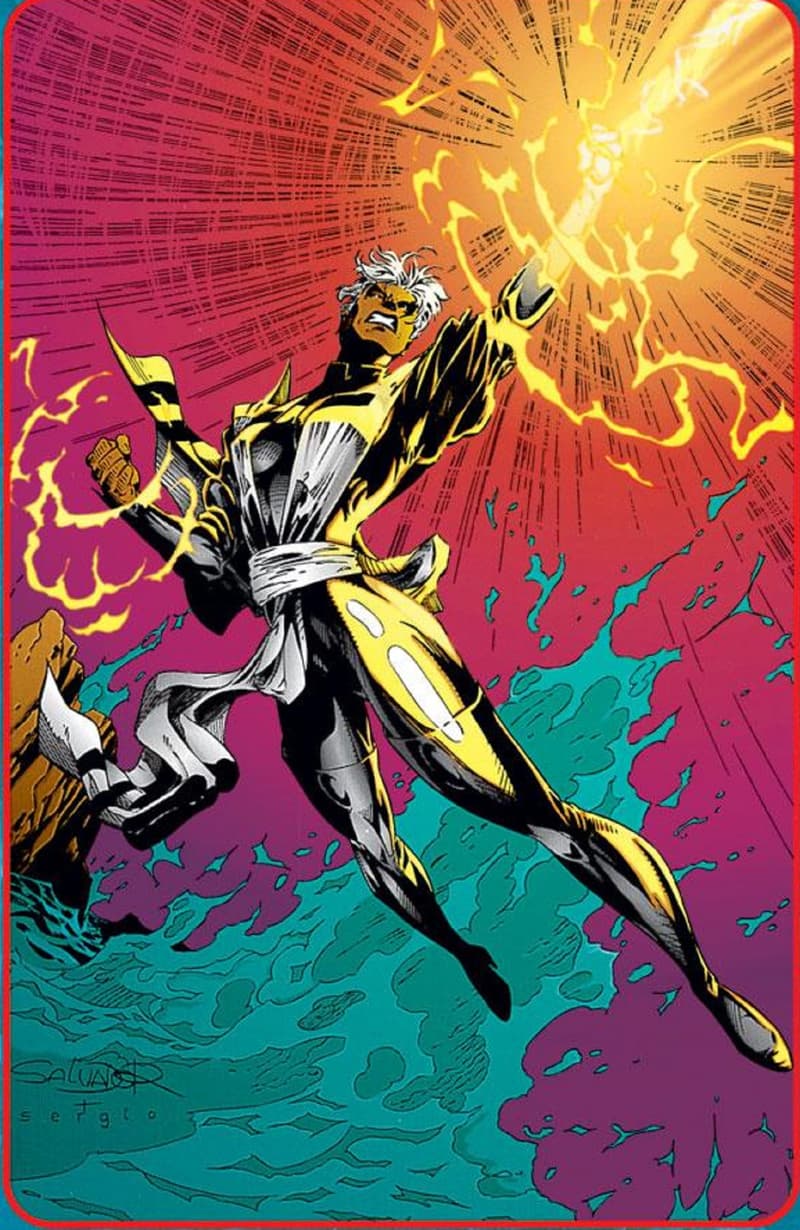 Download the Marvel Unlimited app for iOS or Android devices now for vertical comics starring favorite Marvel characters. You'll also gain instant access to 30,000+ digital issues spanning 80 years of Marvel Comics.
Follow Marvel Unlimited on Twitter and Facebook to stay tuned in to weekly announcements, articles, and more, all at @MarvelUnlimited. Follow us today to join the conversation with thousands of fellow fans, and let us know what you're reading!
The Hype Box
Can't-miss news and updates from across the Marvel Universe!