Comics
Published February 19, 2021
8 Marvel Heroes You Should Know This Black History Month
From Patriot to Blue Marvel, read these comic histories in full on Marvel Unlimited!
Have you tried Marvel Unlimited yet? It's your all-access pass to over 28,000 Marvel comics, available at your fingertips. Sign up now to get 50% off your first month.
This Black History Month, squeeze in some Marvel history too! You may have heard of these Black heroes, but do you know who they are?
Check out these eight hero profiles below, and continue with their first appearances and major comic runs on Marvel Unlimited!
Get to know:
BATTLESTAR: AKA LEMAR HOSKINS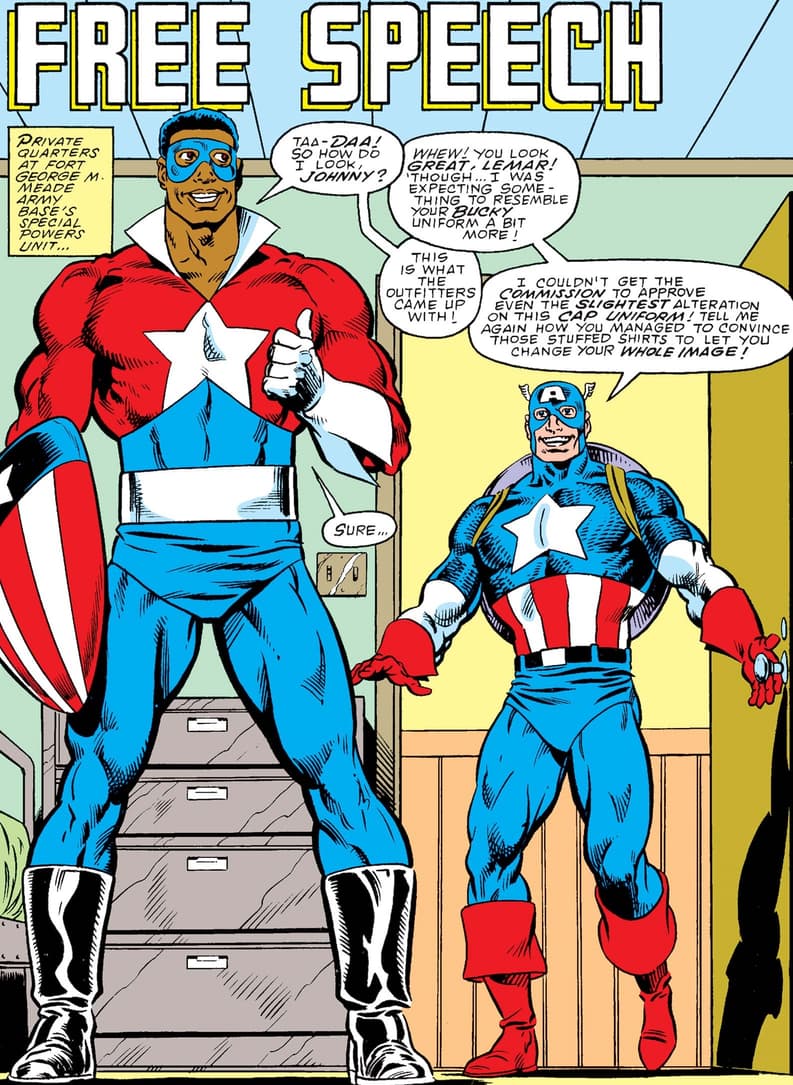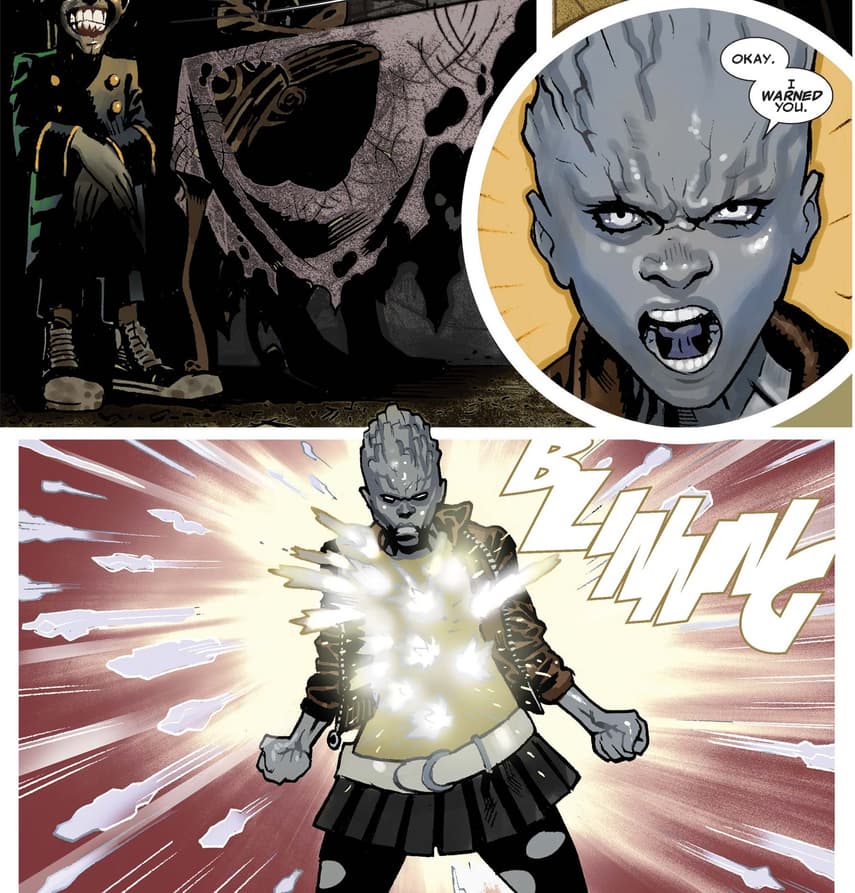 The daughter of music royalty Roy "Daddy Libido" Washington and Angel "Sexy Mutha" Depres, the mutant Bling! was always more interested in creating a life not defined by her parents' fame. And when her mutant powers first manifested, it was Roxy's chance to break out. Blessed with "bone marrow that can produce and expel diamonds of varying quality," Bling! can ricochet diamond shards at varying velocities. Plus, enhanced durability to boot!
A gifted student and a lifelong learner, Bling! was on one of Gambit's earliest training squads at Xavier's Institute (a bad time for her teacher), and would continue to hone her abilities under Rogue's guidance in X-MEN LEGACY.
Most recently, the X-Woman was a member of Psylocke and X-23's "vengeance crew" in FALLEN ANGELS, and her future on Krakoa is still being written.
BLUE MARVEL: AKA DR. ADAM BRASHEAR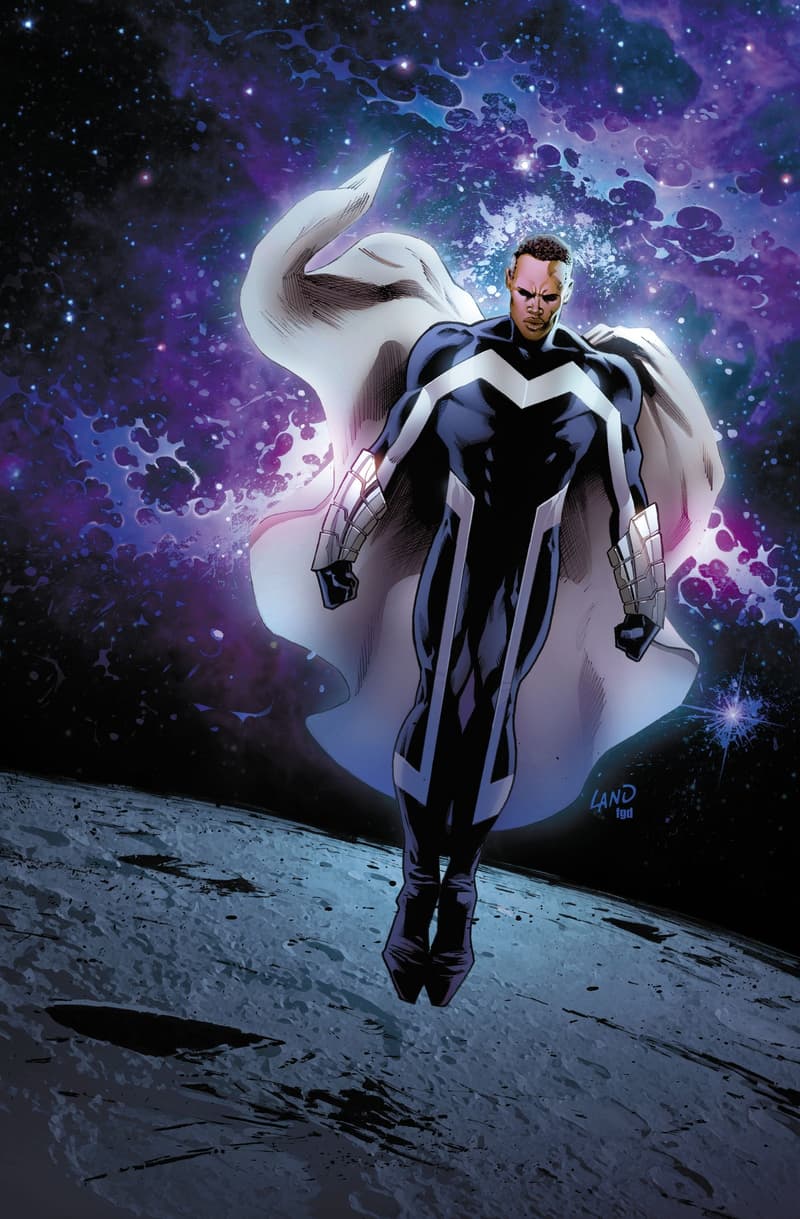 In 2008, creators Kevin Grevioux, Mat Broome, Kaare Andrews, and Roberto Castro introduced the world to Blue Marvel, a hero the world hadn't known since 1962.
Read his retro-meets-present-day origin, and learn who exactly is behind the mask of this human antimatter reactor: theoretical physicist and former U.S. Marine Corps Adam Brashear. After studying the infinite possibilities of energy and its manipulation, Brashear's inadvertent exposure to a core explosion granted him the power to absorb all manner of radiation. Rather than stay weighted to Earth, Blue Marvel flew to the cosmos and beyond to discover the full extent of his alarming new abilities.
As one of Marvel's premiere specialists in astrophysics and "superhuman rays," Brashear has lent his expertise as a member of the MIGHTY AVENGERS and the ULTIMATES. If it's crazy, cosmic, and as big as a universe, Blue Marvel is the hero to call.
[RELATED: Writer-Actor Kevin Grevioux on 'New Warriors' and Creating Blue Marvel]
DANIELLE CAGE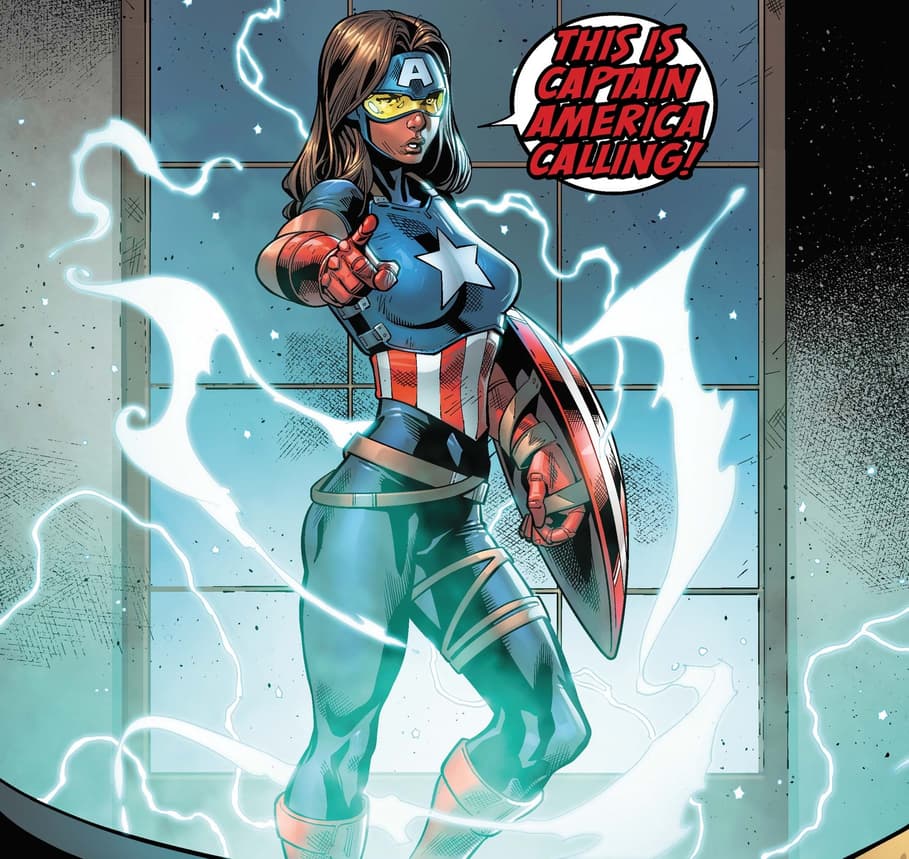 You know her famous Avengers parents, but do you know Danielle? The daughter of Luke Cage and Jessica Jones is still a toddler in the main Marvel timeline, but in an alternate future, we learn that she grows up to follow in their footsteps as a Captain America!
As the fearless Cap, Danielle Cage recently crashed through the timestream in U.S.AVENGERS (2017) to prevent the Golden Skull of her future from mucking up the Marvel present. She is the shield, both in values and in spirit.
DOCTOR VOODOO: AKA JERICHO DRUMM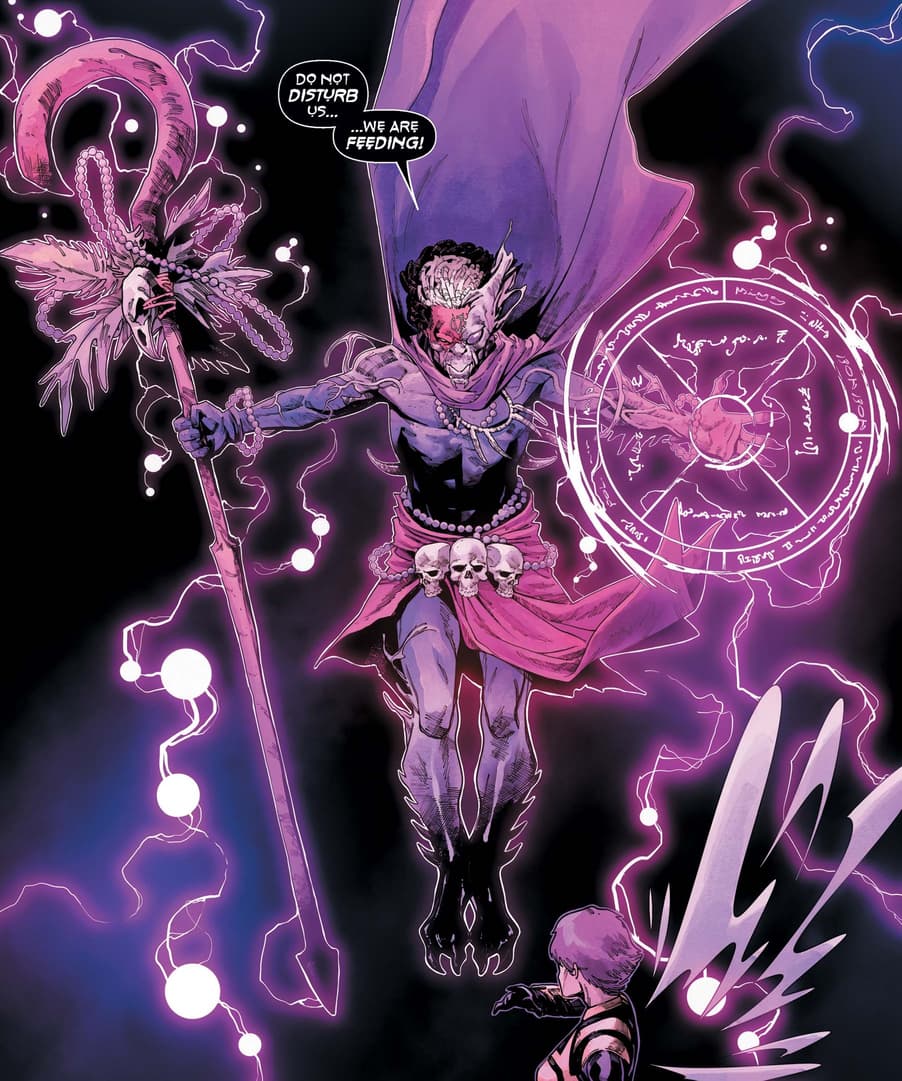 FIRST APPEARANCE: STRANGE TALES (1951) #169
A master of the mystic. Jericho Drumm always had a strong spiritual/psychic connection to his native culture, becoming a houngan (Haitian Vodou priest) after being led astray by a false god. Today he is a prominent Avenger and a supernatural healer. While he originally went by "Brother Voodoo," Jericho took on the "Doctor" title in NEW AVENGERS (2004) #54, the issue where he becomes the next Sorcerer Supreme!
Read his current run in STRANGE ACADEMY as principal to Marvel's school of mystic arts. A keeper of vast occult knowledge, Voodoo's role as teacher is sure to stick.
FRENZY: AKA JOANNA CARGILL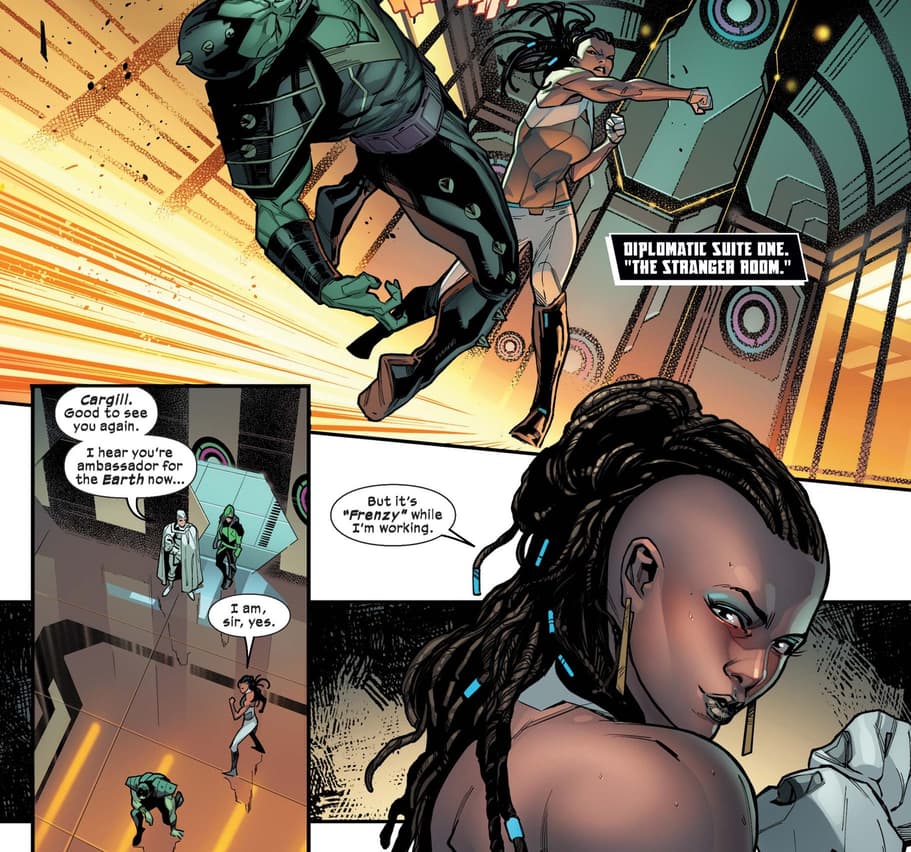 Frenzy acclimated to being a "good guy"—it did not come naturally. But since life is about the journey, she makes our list as one of the most complex and hard-won heroes. This mutant powerhouse debuted as a member of Apocalypse's "Alliance of Evil," taking down X-Factor in a memorable first appearance. A one-time radical who never accepted being under humanity's heel, Joanna found her next mercenary gig as one of Magneto's Acolytes. It took a few years and a cabinet position in Genosha for her allegiances to fully sway, but she did become a member and ally of the X-Men, most notably in X-MEN LEGACY.
Now, the sky is the limit. Literally. Frenzy has been appointed a "mutant ambassador to Earth" in S.W.O.R.D. (2020), the X-Men's intergalactic series that develops mutantkind's presence in Marvel's cosmic corner.
MONICA LYNNE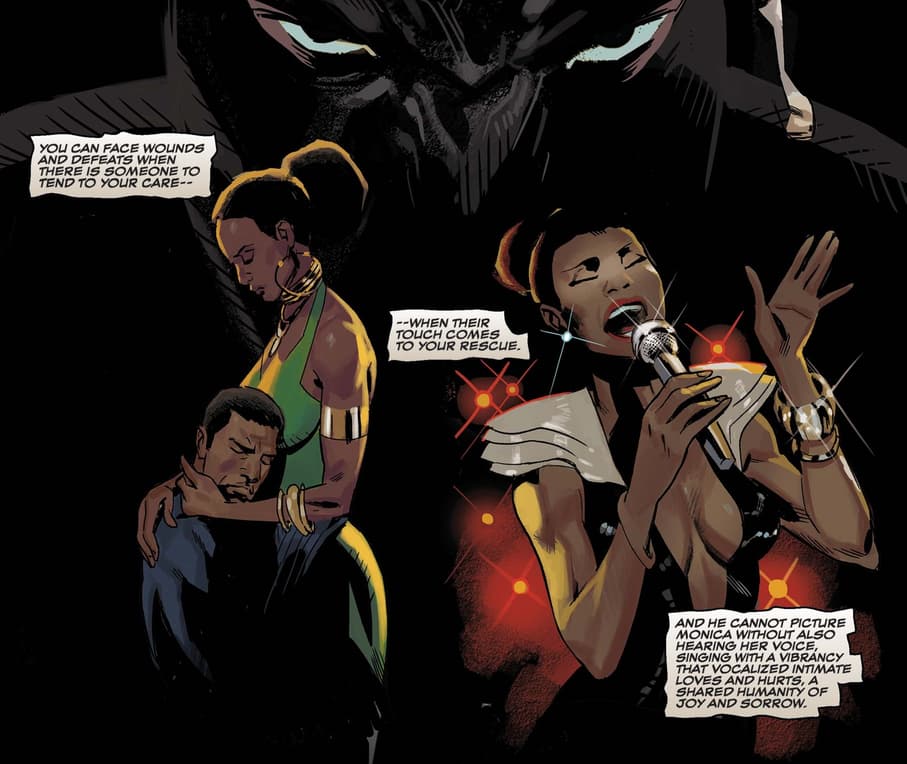 Not super-powered in the comic book sense, but Monica Lynne was powerful as the right-hand woman to T'Challa, AKA the Black Panther. A talented singer and performer, this humble gal from Georgia caught the eye of Wakanda's king, sticking by his side as girlfriend and fiancée during a notable period in the '70s.
While she met an untimely end to illness in BLACK PANTHER ANNUAL (2018) #1, we will always remember Monica for her vibrancy, warmth, and that extra-special something. Recap the life she lived here.
PATRIOT: AKA ELIJAH "ELI" BRADLEY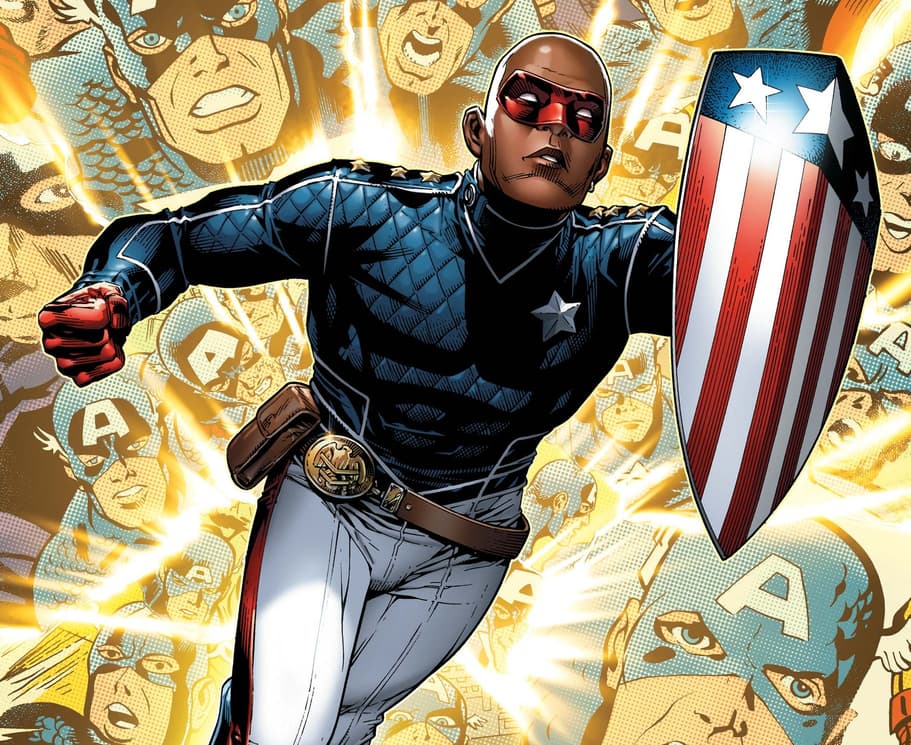 Elijah Bradley is Patriot, a young hero that shares a familial legacy with Super-Soldiers and even a Captain America! You can read up on Bradley family history here, including the origin of his grandfather, Isaiah.
In his opening arc as a Young Avenger, we had no idea who "the Patriot" actually was. In fact, all of the Young Avengers' identities were up for speculation. The team leader's past was teased out eventually, along with his ties to Captain America. Wearing a uniform modeled after Bucky Barnes' Golden Age era, Eli paid tribute to his grandpa's World War II tour. After a fatal injury in issue #11 during a (renewed) Kree/Skrull War, Eli received a life-saving blood transfusion from Isaiah. In addition to a miraculous recovery, Patriot discovered that he now has his grandpa's super-strength and endurance.
Want to uncover even more Black History and character debuts? Head over to our character spotlight here.
Follow Marvel Unlimited on Twitter and Facebook to stay tuned in to weekly announcements, articles, and more, all at @MarvelUnlimited. Follow us today to join the conversation with thousands of fellow fans, and let us know what you're reading!
The Hype Box
Can't-miss news and updates from across the Marvel Universe!