Comics
Published March 11, 2022
Caught in Spidey's Web: Who is the Foreigner?
Meet Silver Sable's ex-husband and the frequent Spidey foe!

In the next exploration of Spider-Man's impressive rogues' gallery, we're setting our sights on the low-key mercenary, The Foreigner (real identity unknown).
Created by Peter David and Mark Beachum, and fashioned after the actor Patrick McGoohan, The Foreigner made his debut over 35 years ago in 1986, and he's been a thorn in Spidey's side (as well as other Spidey foes) ever since.
Want to know about this master criminal? Keep reading!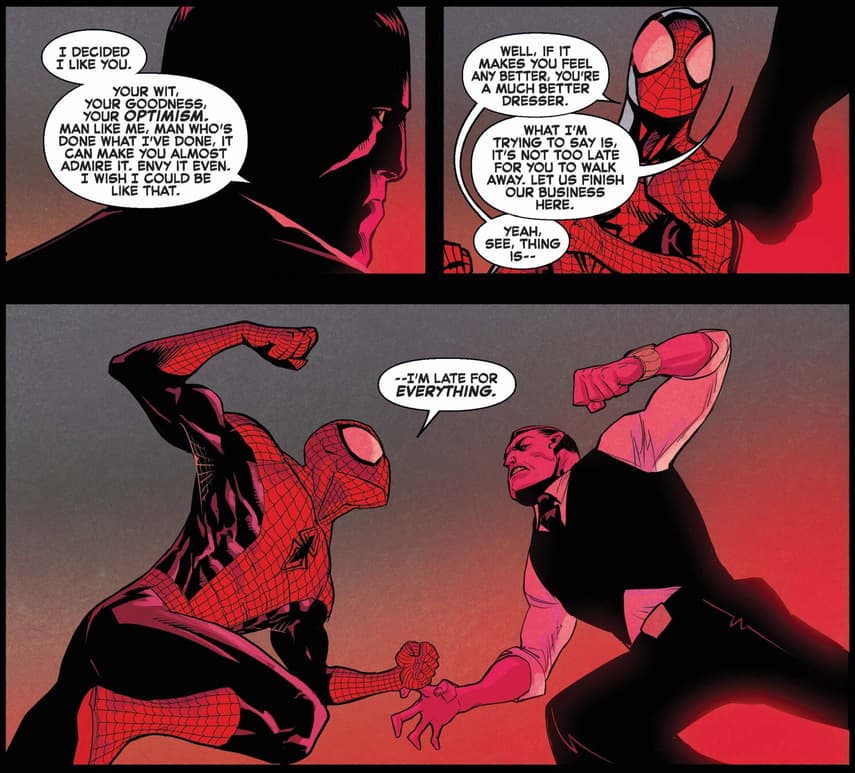 First Wager
While The Foreigner was created by Peter David and Mark Beachum, his first mention was in the pages of David Michelinie and Mike Harris' WEB OF SPIDER-MAN #15 in June 1986, after Peter David called in a favor with Michelinie to tease his creation. The mercenary, and gambling fiend, Chance spots Spidey swinging across the city interfering with his latest job. He calls his boss, The Foreigner, and wagers a $10,000 bet that he could kill the wall-crawler in 24 hours, which Foreigner gladly accepts.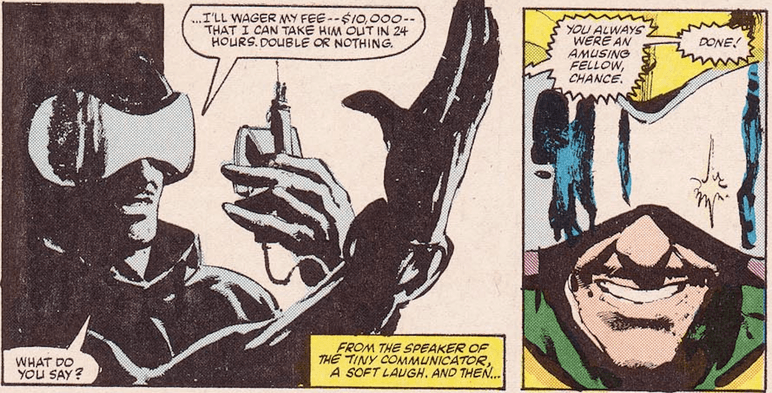 The mysterious Foreigner briefly appears again when he acquires a golden notebook. Meanwhile, Black Cat prepares to hit her next mark—Foreigner. She's heard rumblings that the man's "supposed to be the deadliest assassin in the world, 37 law enforcement agencies swear he doesn't exist." She makes off with a handful of gems, a couple hundred books, the solid gold notebook, and a pair of old shoes, in addition to a broken nose.
The Foreigner then makes his first full appearance in PETER PARKER, THE SPECTACULAR SPIDER-MAN #116, when Sabretooth pays him a visit looking for work and an invite to his world's top assassin operation, the 1400 Club. Government agencies such as the CIA, FBI, and Interpol, are not aware of the 1400 Club's existence nor its leader's. After all, The Foreigner is a man who flies under the radar, and Creed, however, sticks out wherever he goes what with his beastly hair, teeth, and lack of pupils. Sabretooth tries his hand at winning over his old mentor's favor by handling Black Cat for him, despite Foreigner's insistence that he doesn't need his help.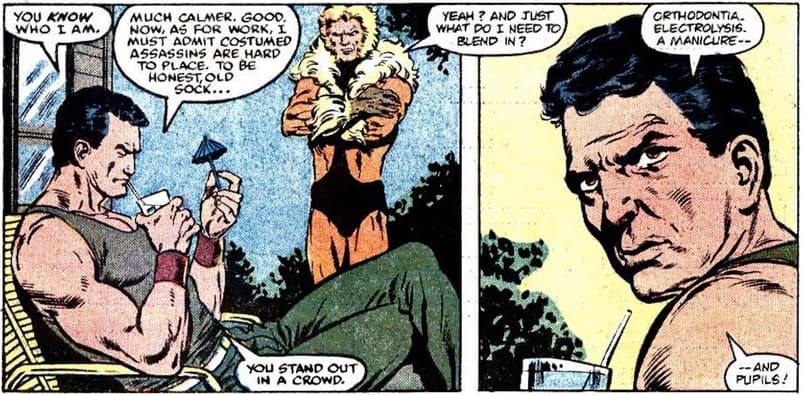 A year later, in the pages of PETER PARKER, THE SPECTACULAR SPIDER-MAN #129, we discover that The Foreigner had killed Lt. Keating and had been masquerading as the officer. He was responsible for killing the criminal Blaze and framed Spidey for the murder. It's then that Spidey discovers more about this illusive foe. He realizes that not only did he not know the score; he didn't even know the game.
foreign affairs
To Peter Parker's dismay, he discovers that his paramour and roommate Felicia Hardy aka Black Cat had been conspiring with The Foreigner. He interrupts Black Cat and Foreigner's romantic romp. In their sparring match, Spidey's senses prove no match as he discovers one of The Foreigner's ability—momentary hypnosis every time he makes eye contact causing his opponent to black out.
Throwing her former flame a bone, Black Cat provides the police with photographic evidence that Spidey is innocent and not responsible for Blaze's death—but Lt. Keating is. Back at his apartment, Peter receives a letter from Felicia explaining that she had conspired with Foreigner because she was upset with him for breaking up with her, and then for his interference with Sabretooth. She ultimately orchestrated the previous events to play both him and The Foreigner as suckers. However, because she accidentally fell in love with him, she made sure Spidey wouldn't be caught in Foreigner's affairs and sought to clear Spidey's name in the process. 
Licking his wounds from Black Cat's betrayal, Foreigner makes his escape thanks to an assist from his ex-wife…Silver Sable. After all, he's always had a weakness for women with silver, blonde hair.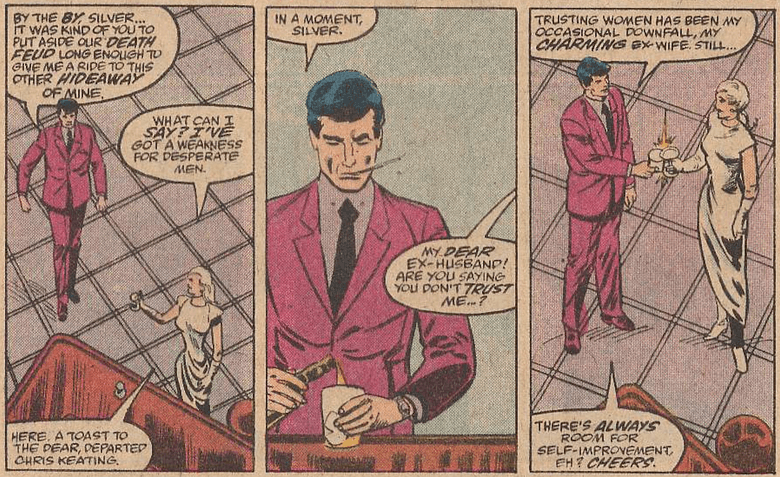 It's a Love/Hate Kind of Deal
The Foreigner and Silver Sable have had the tumultuous and torrid love affair. Once married, the former flame have been entangled in a game of trying to kill each other. Perhaps kill is a tad strong; let's going with forcefully, but not lethally maim one another. A marriage can't work once you discover the man you married was the one who offed your Uncle Fritz.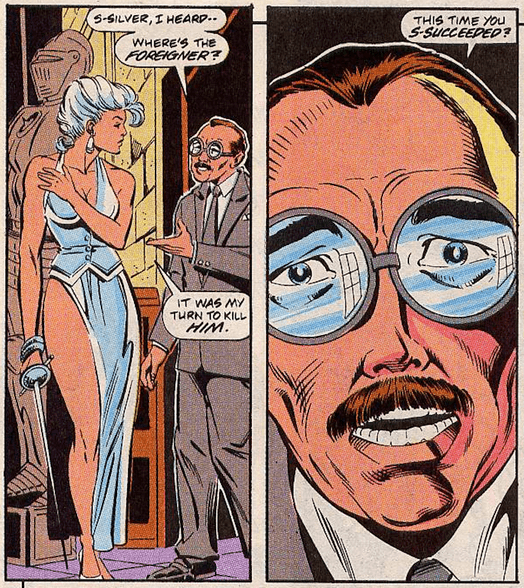 After an unfortunate run in with Rhino, Doc Ock, and the Sinister Six, Silver Sable was horribly injured, but rescued by her ex-husband, who provided her with an avatar to pursue her enemies. 
With her condition terminal, in order to heal her, they both sought after the Infinity Formula, getting in bed with Chameleon.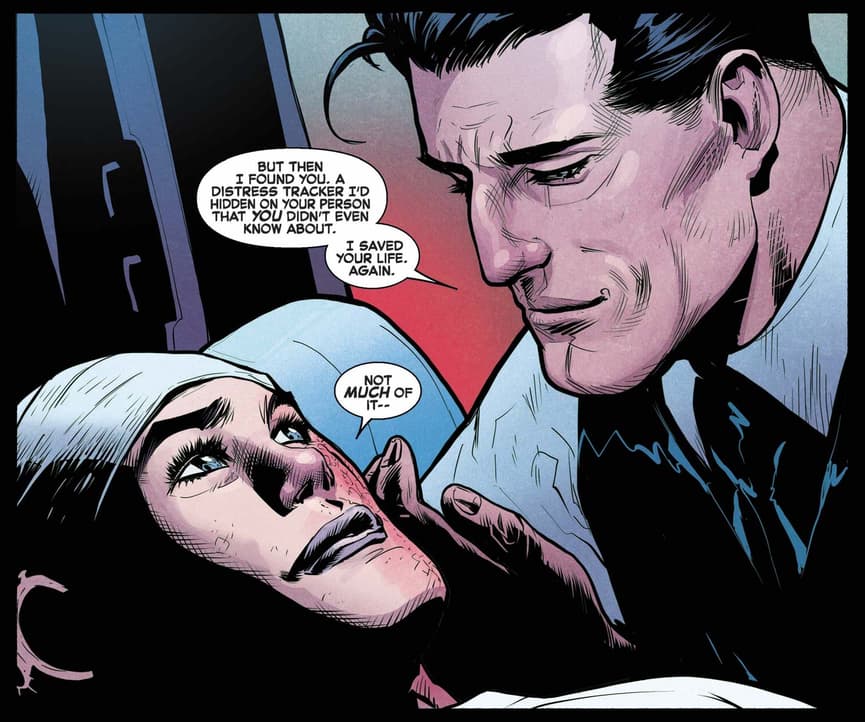 The heart's a tricky beast. While The Foreigner may love his former wife, he couldn't turn an invitation from Chance to visit the airborne Palace casino. A businessman such as himself couldn't not embed himself a criminal gambling enterprise. Not when all that money could easily line his pockets.
As Silver Sable recovered from her injuries thanks to the Infinity Formula, she couldn't help but notice that her ex-husband helping himself to the Symkarian government's treasury fund during her convalescence. Foreigner cooly explains, "Darling, I told you—what's mine is yours, and what's yours is mine."
While he was distracted with his own affairs, he didn't suspect his ex-wife restoring her country's treasury missing funds, but instead directed his ire towards Spider-Man and Ned Leeds.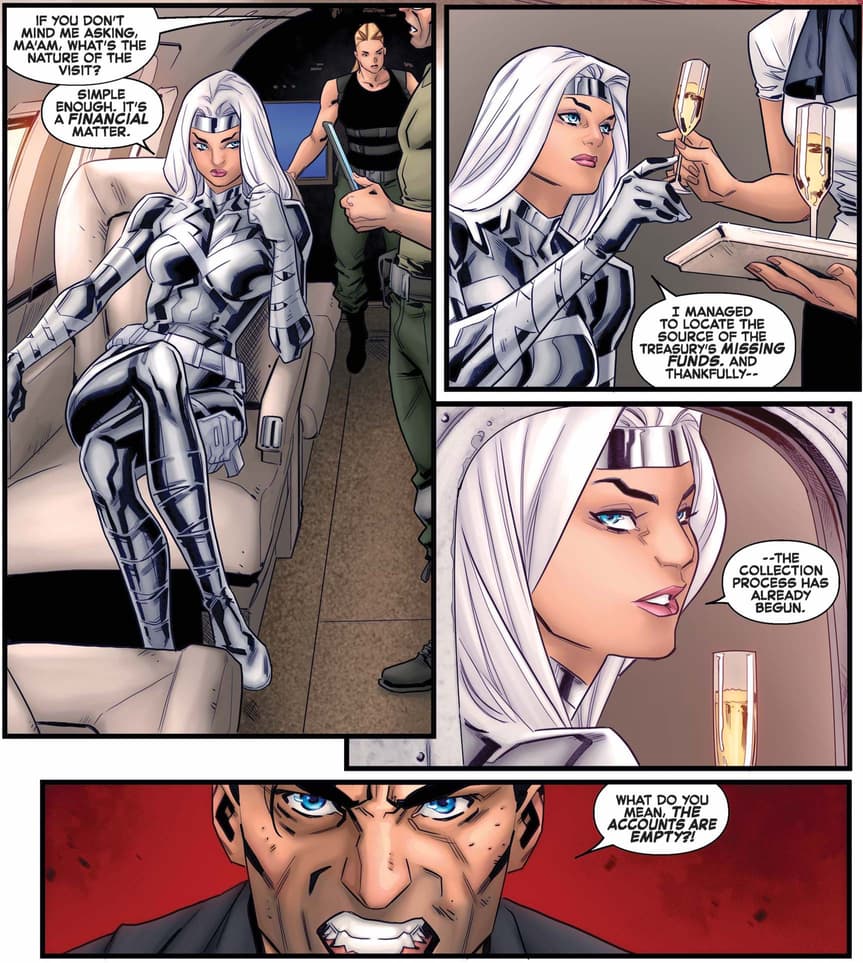 It's always better to sacrifice your opponent's men
Jason Macendale hires The Foreigner to eliminate a nemesis, which the assassin, leader of the 1400 Club, delivers with just a mere single phone call.
The Foreigner found himself sacrificing one of Kingpin's pawn—Hobgoblin—much to Fisk's annoyance. During their weekly chess game, "Willie" explains that their activities never interfere with each other. However, his assassination of Hobgoblin is a discourtesy and puts their delicate alliance in a precarious position. After all, "men such as ourselves must extend courtesy to one another if we wish to co-exist peacefully."
Redefining the rules of the game, Kingpin gives Spider-Man his entire dossier on the Hobgoblin, thinking he would find it most impressive. Peter spirals when he discovers the Hobgoblin's identity is none other than the recently deceased Ned Leeds. The Kingpin tells him The Foreigner and the new Hobgoblin (former Jack O'Lantern) are responsible for his death, while also giving up the assassin's location.
The Foreigner ultimately congratulates Kingpin on fooling both Spider-Man and Hobgoblin.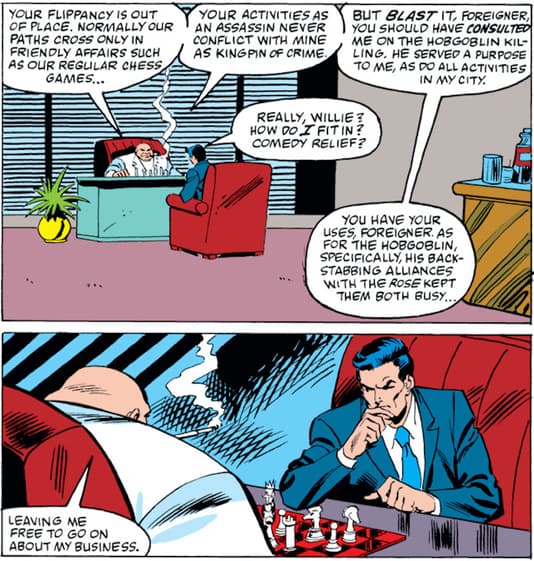 Power Vacuum
Steve Rogers, on a break from his Captain America persona, voluntarily turned himself in for the murder of Sharon Carter's boss Thunderbolt Ross, a murder he did not commit. Rogers now finds himself in the privatized prison Myrmidon run by Wolfgang Von Strucker.
With the help of the Daughters of Liberty, specifically the Dryad, Carter discovers Ross' true assassin—Foreigner and his 1400 Club. However, The Foreigner does not believe they've come across his existence on their own, and questions the very people who hired him—Power Elite's leaders Alexa and Aleksander Lukin. Unhappy with being called out, Aleksander hired Crossbones and Sin to clean up loose ends, who seemingly eliminate the assassin who was preoccupied with the Dryad.
Apparently, The Foreigner manages to lay low after receiving a tip from Kingpin about his former clients.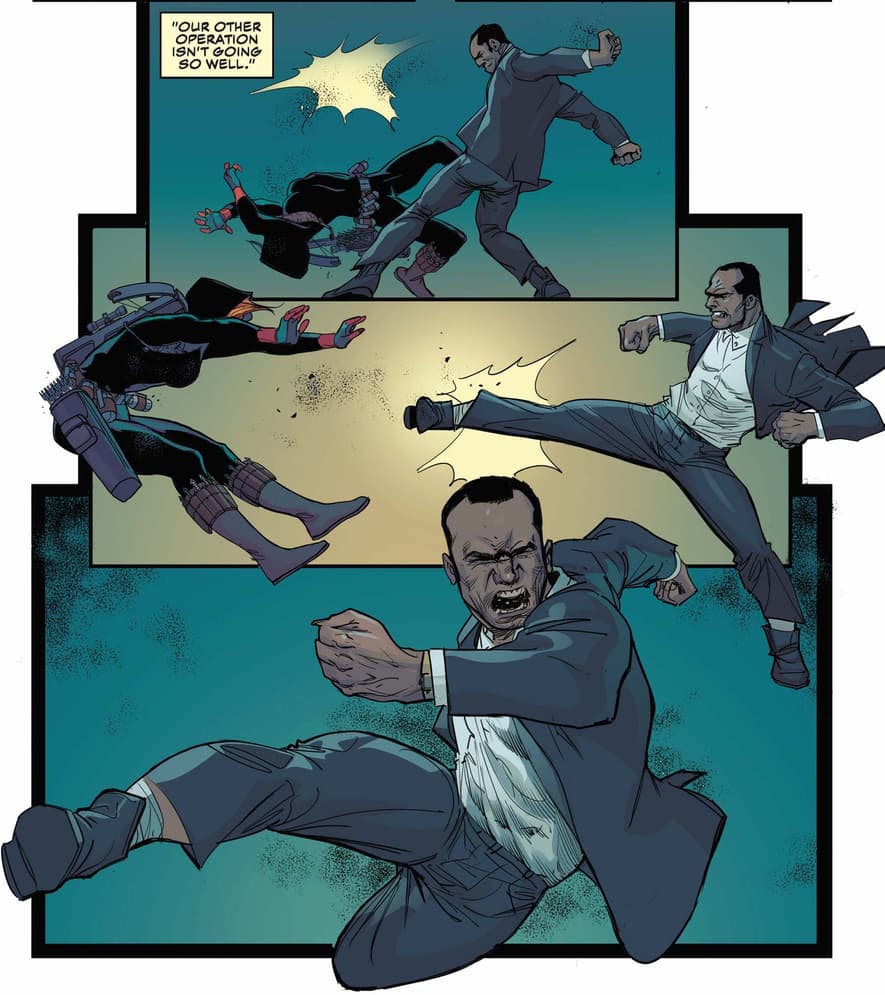 The Hype Box
Can't-miss news and updates from across the Marvel Universe!