Comics
Published May 17, 2023
Daredevil, The Hero Who Never Gives Up: Inside the Tradition of the Comics Writer Handoff
Tune into tomorrow's episode of the 'This Week in Marvel' podcast for breaking news about the all-new 'Daredevil' writer!
An important piece of Marvel history, outgoing creative teams have shared a tradition of leaving Matt Murdock, AKA Daredevil, in a difficult situation that their successors then have to untangle through an all-new story. Thanks to that tradition, Murdock is never more vulnerable than when his creative team changes, and each new run gives him the opportunity to prove that he's not only the Man Without Fear, but also the Man Who Never Gives Up.
On tomorrow's episode of podcast This Week in Marvel, current DAREDEVIL (2022) writer Chip Zdarsky will pass along the baton (or billy club) to an all-new, soon-to-be-announced writer—and the tradition of leaving Murdock in rough shape is set to continue. With that changeover on the horizon, we're breaking down the ways outgoing creative teams have left Matt Murdock in the past, and what's happened in the ongoing DAREDEVIL series so far.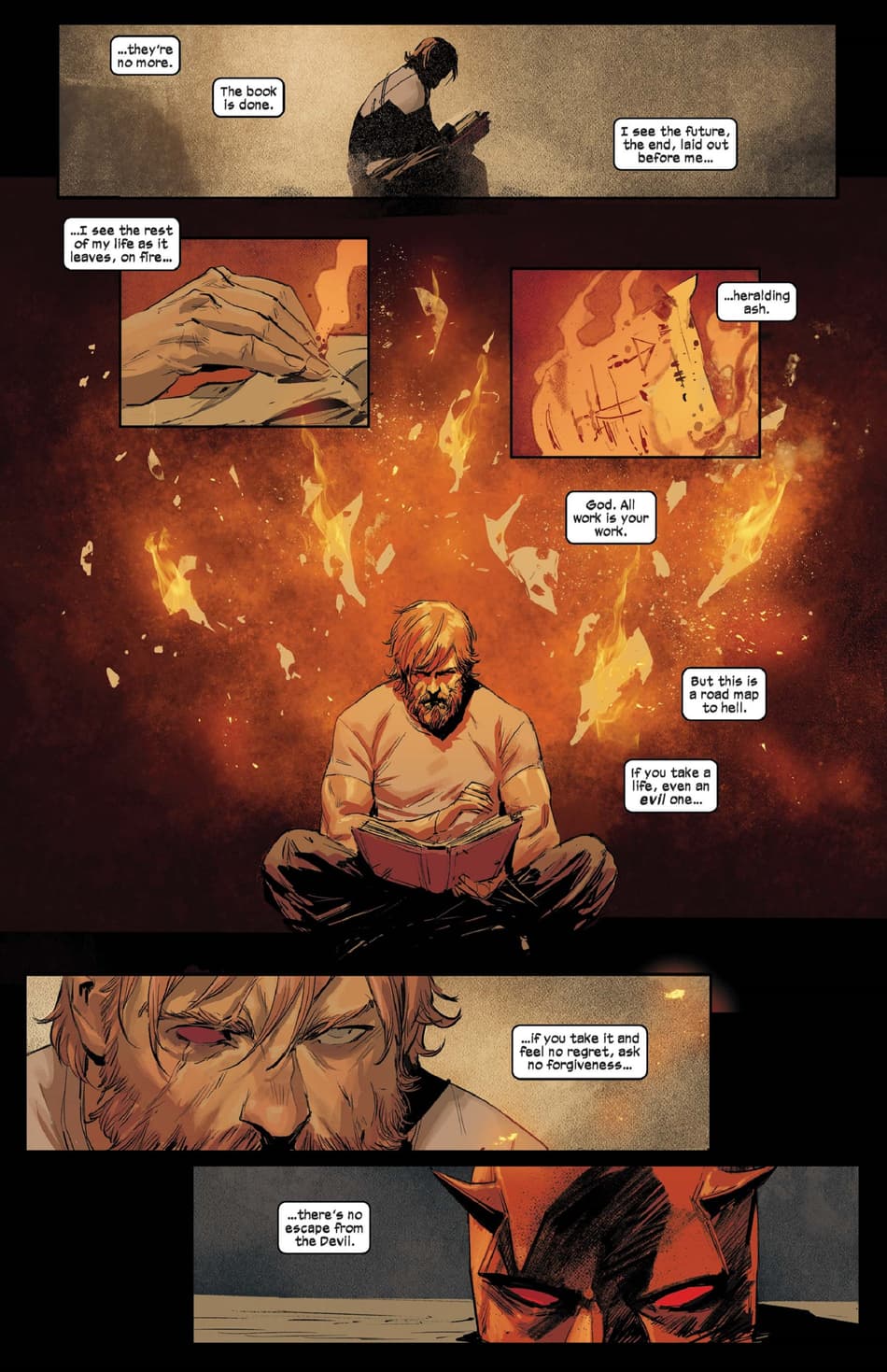 Daredevil's Dark History of Creative Team Changes
Following Marvel Comics' Marvel Knights relaunch, creators Brian Michael Bendis and Alex Maleev took over the Man Without Fear's solo series starting with DAREDEVIL (1998) #26. The duo sent Murdock in bold new directions, introducing characters and twists that influenced his stories for years. After Murdock battled accusations of being Daredevil for much of the run, Bendis and Maleev's final arc together, "Murdock Papers," saw Wilson Fisk, AKA Kingpin, strike a deal with the FBI that led to the arrest of Murdock for his vigilante activities as Daredevil. At the end of the arc, the FBI imprisoned Murdock on Ryker's Island.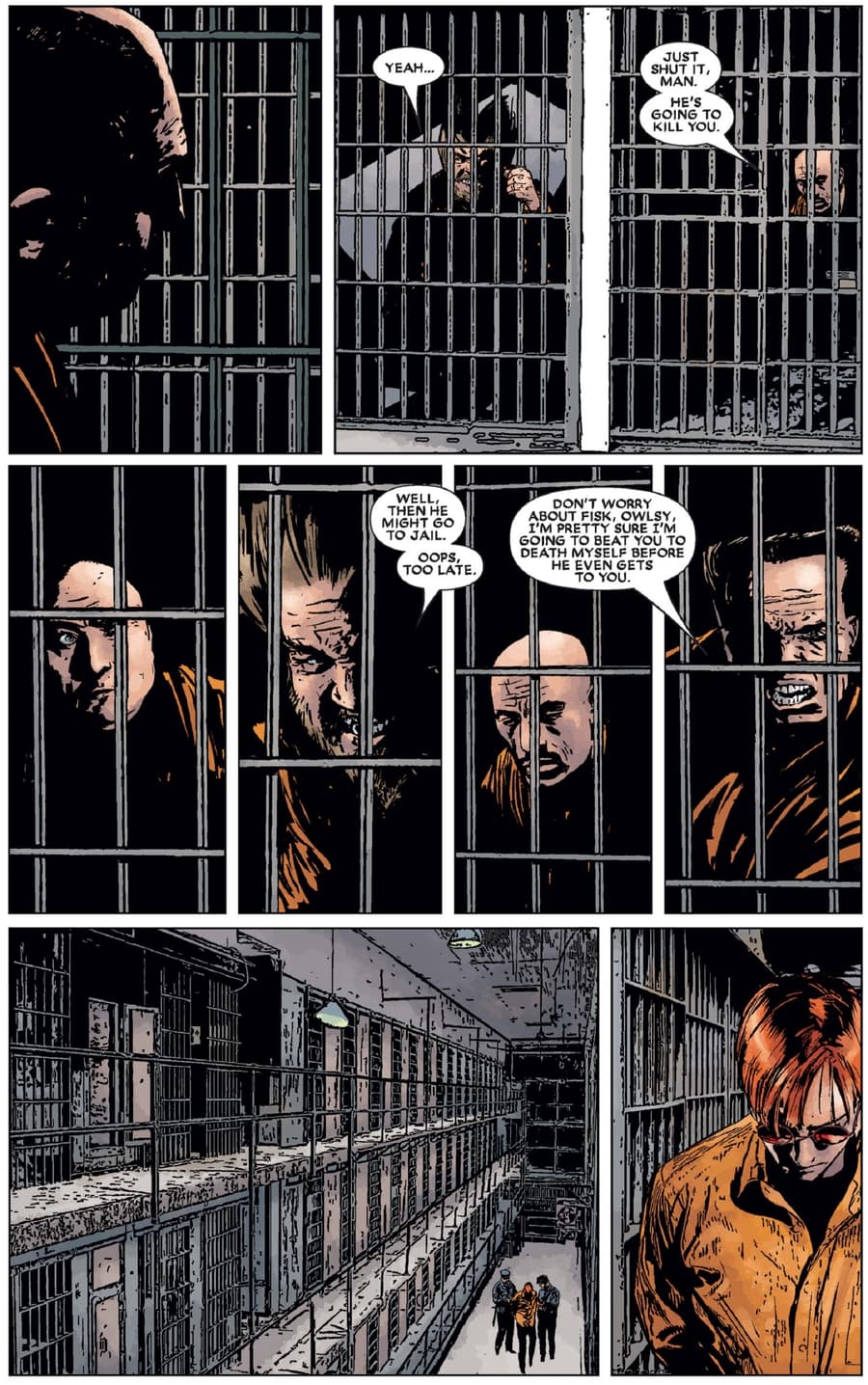 Creators Ed Brubaker and Michael Lark then took over with DAREDEVIL (1998) #82. Early in their run, Murdock escaped prison and confronted Kingpin's wife Vanessa Fisk, the person responsible for his predicament. Fisk helped exonerate Daredevil by making it seem as if FBI director Leland Drummond had framed Murdock. Still, while no longer on trial, Daredevil's enemies continued targeting Murdock in the belief that they were one in the same.
Considering what happened next, Daredevil might have preferred prison. Brubaker and Lark took Daredevil to some dark places, focusing on an attempt by the mystical ninja clan known as The Hand to turn him into their leader. The Hand systematically destroyed Murdock's life, and, in the end, the hero joined up with the group, hoping to use them for good.
Transforming The Hand from "evil" to "good," though, is easier said than done. After Brubaker and Lark's exit, Andy Diggle and Roberto De La Torre took over starting with DAREDEVIL (1998) #501. In their run, The Hand successfully corrupted Daredevil, and the Beast, a demon worshiped by The Hand, possessed him. This led directly into the SHADOWLAND (2010) event, in which Daredevil and The Hand fought against New York City's premier heroes. That story's conclusion saw Daredevil leave New York, only returning after he'd found some measure of redemption in New Mexico.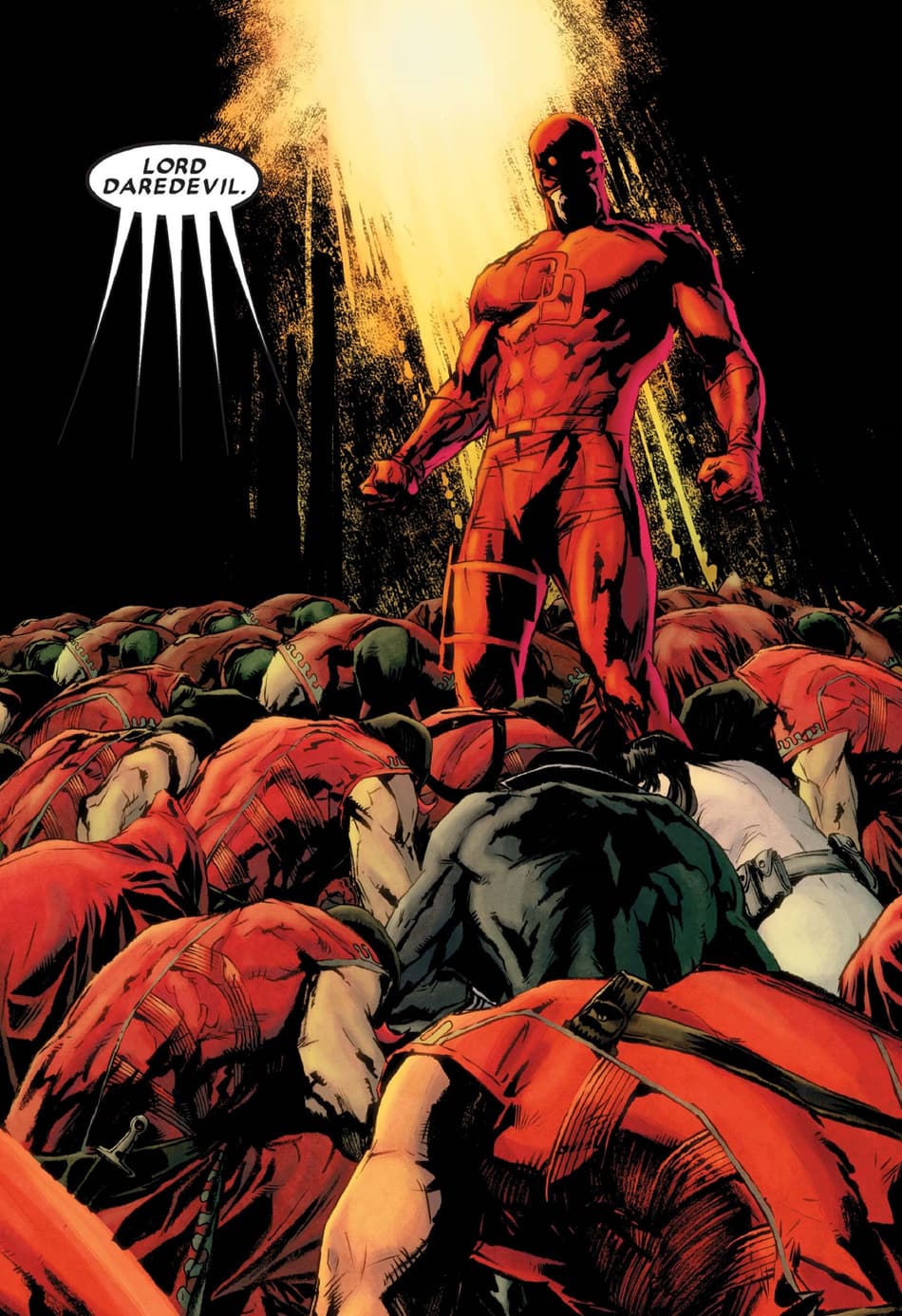 However, redemption is easier earned than recognized. DAREDEVIL (2011), a relaunch series by Mark Waid and such artists as Paolo Rivera, Marcos Martin, and Chris Samnee, dealt both with the fallout of SHADOWLAND and the public knowledge that Murdock was Daredevil. While Murdock initially denied he was the Man Without Fear, his life and legal career were threatened by the revelation. Eventually, Murdock told the world that he was Daredevil and moved to San Francisco with his new love interest, fellow attorney Kirsten McDuffie. DAREDEVIL (2014), another relaunch helmed by the same creative team, then explored Murdock's time in San Francisco but ended with him returning to New York City.
Although Waid and Samnee's final arc on 2014's DAREDEVIL didn't leave Murdock in his tightest pinch yet, when creators Charles Soule and Ron Garney took over in DAREDEVIL (2015) #1 there were still a lot of lingering plot threads. The biggest was that Daredevil's secret identity was public knowledge, putting those he cared about at risk. Soule and Garney tackled that problem by having the Purple Children use their powers to erase the collective memory that Murdock and Daredevil shared an identity. This allowed Murdock to work as an attorney again. There were also some negative consequences and, among other things, Murdock's relationship with McDuffie ended.
Despite the new creative team undoing the identity reveal that'd threatened Murdock since Bendis and Maleev's run, Soule and Garney's final arc on DAREDEVIL, "The Death of Daredevil," left him in dire straits…again. After being struck by a truck, Murdock suffered grievous injuries that nearly ended his life. Their run ended with Murdock in recovery, but still suffering the ill effects of his near-death experience.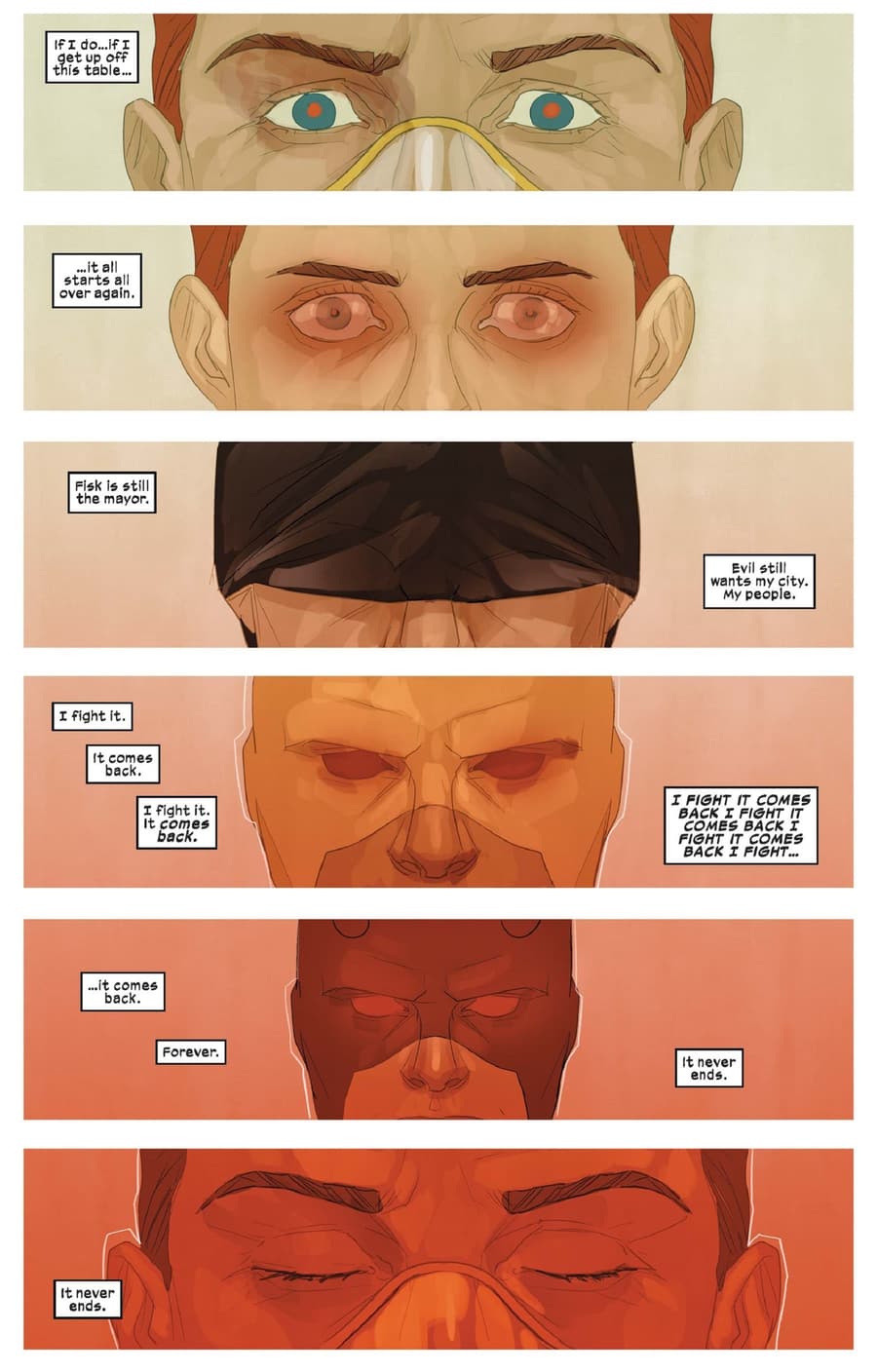 Zdarsky and Checchetto Save (and Damn) the Man Without Fear
Picking up from the circumstances established by Soule and Garney, Chip Zdarsky and artist Marco Checchetto took over in DAREDEVIL (2019). At the start of the duo's run, Murdock still wasn't in peak physical shape. This led to him accidentally killing Leo Carraro, a would-be liquor store robber. As one might expect, Murdock didn't take the revelation that he'd killed someone well, and for a time, he gave up being a Super Hero. Eventually, the police arrested Murdock for Carraro's death, and he went to prison. His identity, though, remained safe, as he was allowed to continue wearing his mask. With Murdock out of commission, Elektra Natchios—his longtime love interest—took up the mantle of Daredevil.
These various life-changing twists for Daredevil led to the DEVIL'S REIGN (2021) event, which saw New York City's mayor, Kingpin, outlawing costumed vigilantes, leading to battles between Super Heroes and his forces. Tapping into the hypnotic power of the Purple Man, Kingpin eventually remembered that Murdock was Daredevil and set out to kill him. However, he accidentally murdered Mike Murdock—Matt's twin brother—instead. This led to Fisk's incarceration.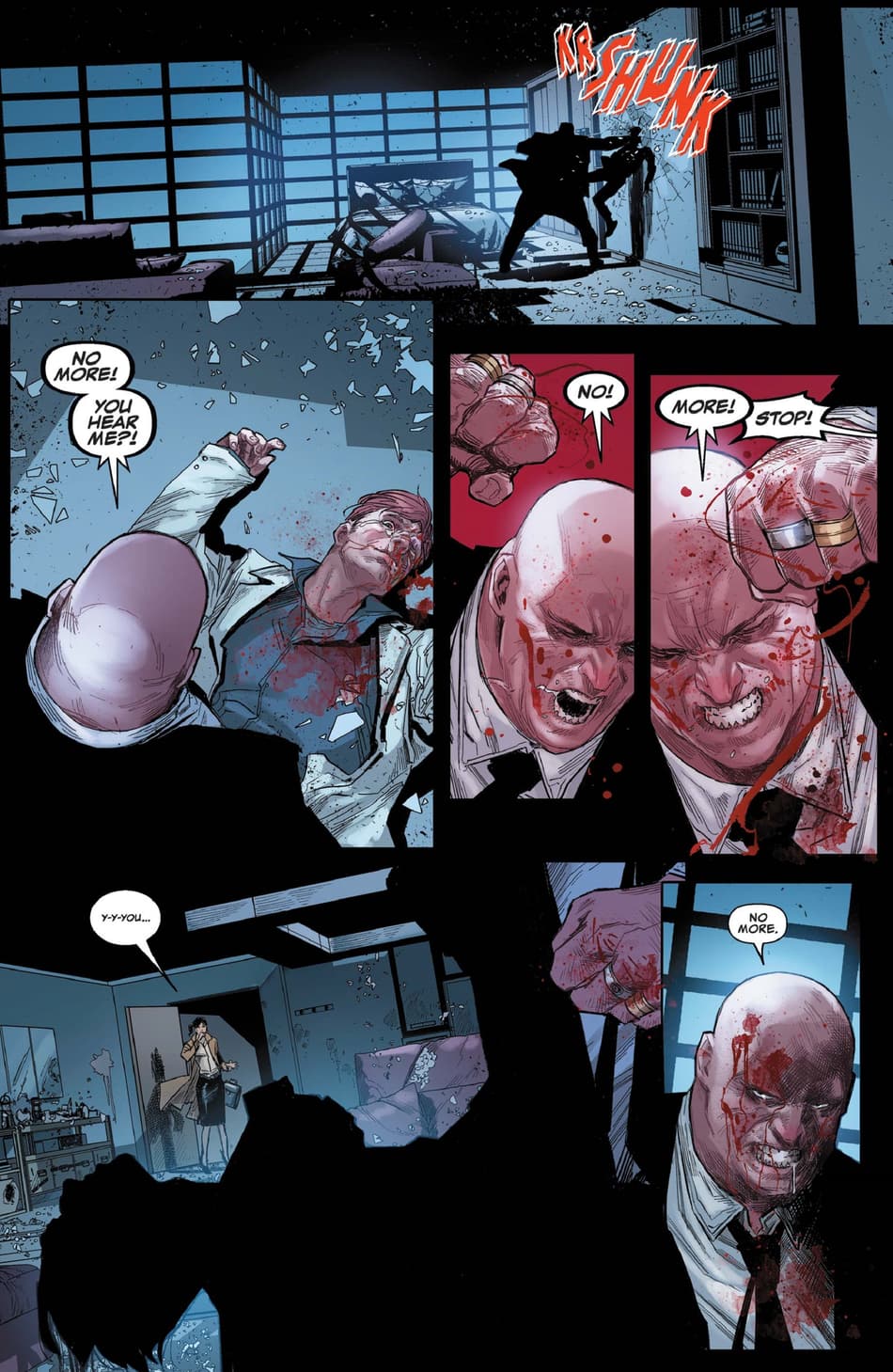 That's not all that's happened since Zdarsky and Checchetto took over on Murdock's solo book. DAREDEVIL (2022) launched from the ashes of DEVIL'S REIGN, and the series has continued to walk Murdock down a dark path. Early in the series, Murdock left New York with Elektra to head up The Fist, a group dedicated to destroying The Hand. Initially, their plans seemed successful. Murdock and Elektra even married, becoming the king and queen of The Fist in the process. However, The Hand has dealt them some major blows in recent issues. In DAREDEVIL (2022) #9, for example, Murdock discovered that his oldest friend, Foggy Nelson, and his mentor, Stick, were puppets of evil ninja, and they faded to dust. The Hand also did massive damage to The Fist, wiping the group out almost entirely.
[RELATED: Daredevil's Darkest Moments]
Most recently, Elektra and several members of The Fist ended up getting incarcerated. While Daredevil has since gotten them released from prison, there are still some major questions as to what happens next, and with The Fist effectively destroyed, how Murdock will proceed is a massive question. While Murdock has proven time and time again that he's a master of getting back up, there's no telling what will be left of Daredevil when a new writer comes in to pick up the pieces.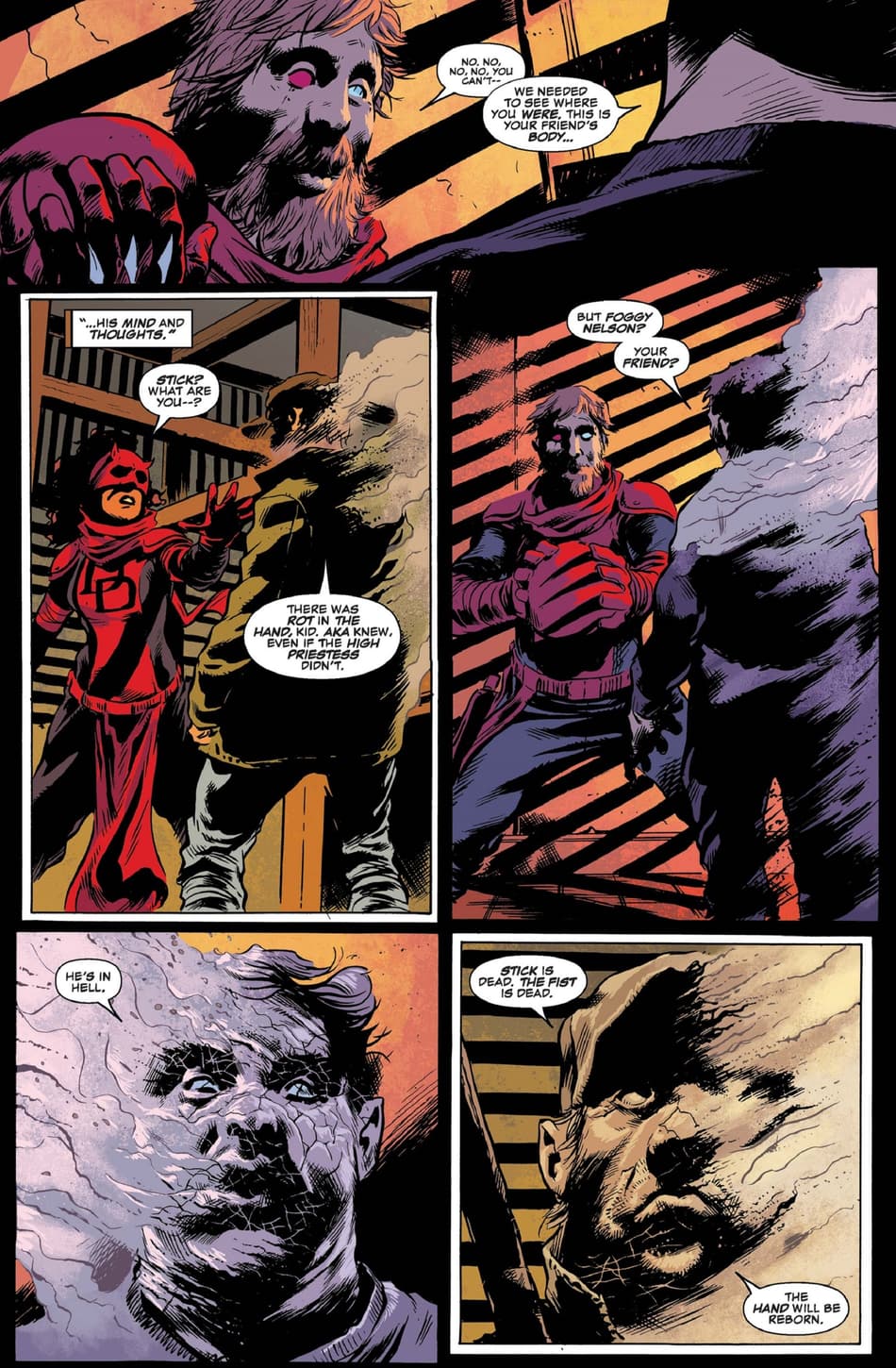 To find out more about what's going on with Matt Murdock and The Fist, pick up DAREDEVIL (2022) #11 in comic shops now! Then, tune into tomorrow's episode of This Week in Marvel to hear the big reveal behind the new writer of DAREDEVIL!
The Hype Box
Can't-miss news and updates from across the Marvel Universe!