Comics
Published August 2, 2021
The Madness of the Darkhold Grips Iron Man and Blade in New Tie-In Issues
'Darkhold: Iron Man' and 'Darkhold: Blade' arrive in October!
This September, a new mystical Marvel saga begins in DARKHOLD ALPHA #1!
Written by Steve Orlando with art by Cian Tormey, this extraordinary one-shot will kick off an all-new story centered around the Scarlet Witch and Doctor Doom as they prevent the recently resurfaced Darkhold text from unleashing chaos on the Marvel Universe. The highly-anticipated epic will be told through a series of one-shots, each centering on a different hero recruited to combat the Darkhold's horrifying effects. Two of these mind-melting adventures will release this October: DARKHOLD: IRON MAN #1 and DARKHOLD: BLADE #1!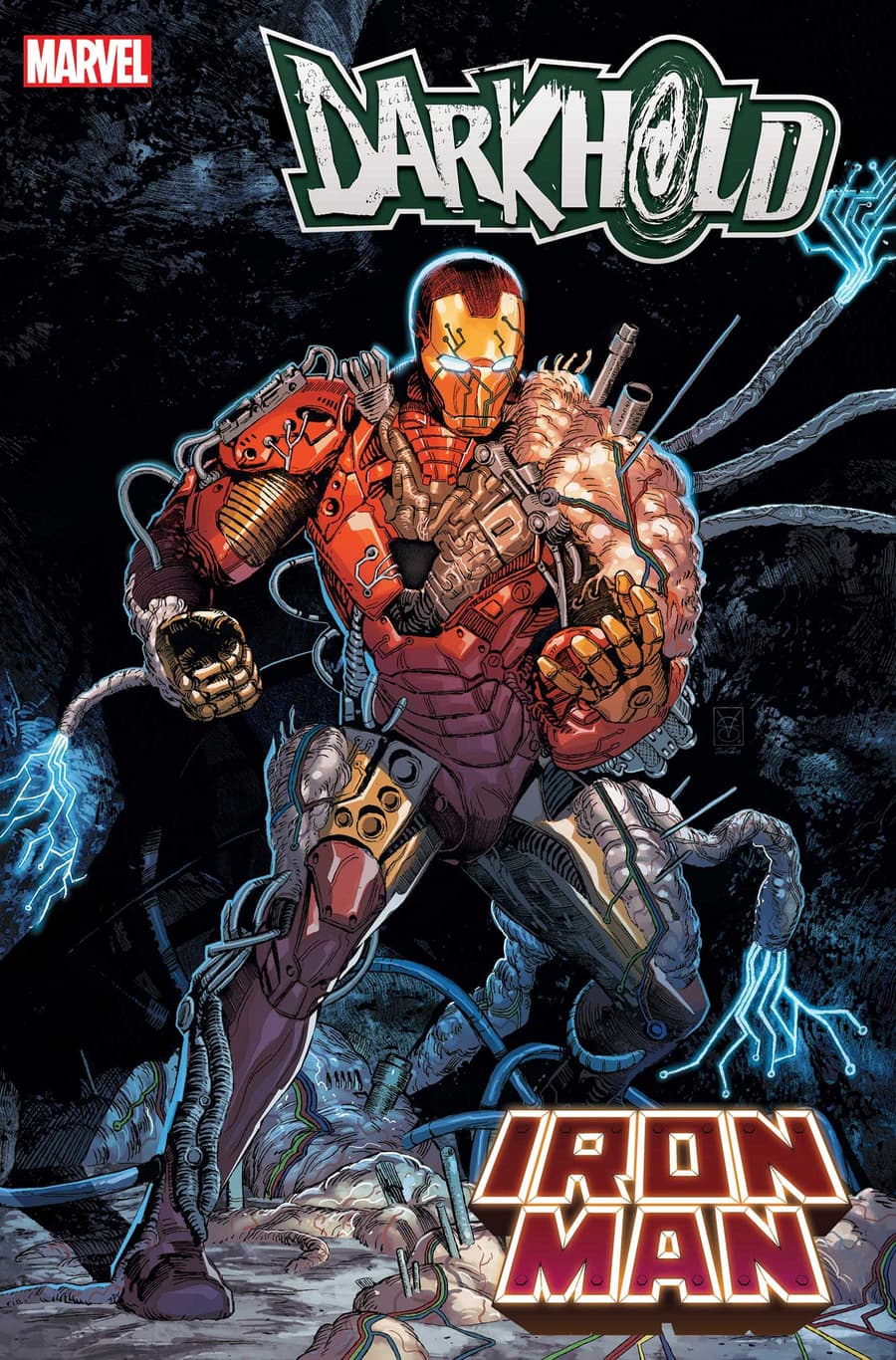 Ryan North, the brilliant mind behind THE UNBEATABLE SQUIRREL GIRL, teams up with artist Guillermo Sanna to bring you the body-horror tale of the century in DARKHOLD: IRON MAN! Called forth to face the dread god Chthon, Iron Man reads from the ancient ill-fated text known as the Darkhold…and it changes the course of his entire life. The armor that has saved him countless times is about to become a prison—one whose only escape is a fate worse than death.
Emmy-nominated writer Daniel Kibblesmith, known for his bold work on LOKI, and artist Federico Sabbatini will bring Marvel's resident vampire hunter into the action in DARKHOLD: BLADE! After reading from the cursed Darkhold, Blade attempts to enter Chthon's dimension and stop the ancient god from destroying the Multiverse. But reading the book has changed all their lives and histories…and for Blade, the consequences are far-reaching. Vampires rule the world, and he rules over them all. But there are some heroes left—and Blade is not as omniscient as he thinks.
Enter the Darkhold if you dare when this strange and terrifying saga begins this fall! Check out the covers above as well as well as Cian Tormey's "defiled designs" for Iron Man and Blade plus a sneak peek at DARKHOLD: ALPHA #1, on sale September 22!
THE DARKHOLD ALPHA #1
Written by STEVE ORLANDO
Art by CIAN TORMEY
Cover by GREG SMALLWOOD (APR200834)
Scarlet Witch Cover by GREG SMALLWOOD (APR200835)
On Sale 9/22 
THE DARKHOLD: IRON MAN #1 (AUG211096)
Written by RYAN NORTH
Art by GUILLERMO SANNA
Cover by VALERIO GIANGIORDANO
On Sale 10/13
THE DARKHOLD: BLADE #1 (AUG211091)
Written by DANIEL KIBBLESMITH
Art by FEDERICO SABBATINI
Cover by JUAN FERREYRA
On Sale 10/27
The Hype Box
Can't-miss news and updates from across the Marvel Universe!