Comics
Published October 19, 2022
Featuring New Music by Taboo, 'Deadly Neighborhood Spider-Man' Trailer Sends Peter Parker into a Waking Nightmare
Taboo, B. Earl, and Juan Ferreyra's 'Deadly Neighborhood Spider-Man' begins today.
Peter Parker's wicked West Coast adventure starts today in DEADLY NEIGHBORHOOD SPIDER-MAN #1!
Written by Taboo and B. Earl and drawn by artist Juan Ferreyra, DEADLY NEIGHBORHOOD SPIDER-MAN is a five-issue limited series that delivers a revolutionary dark take on Spider-Man that fans will never forget! The saga kicks off with Peter Parker swinging over to Los Angeles, but what he finds there are definitely not angels. Demons are waiting to prey on Peter's greatest fears and most haunting insecurities and bring them to life! In the process, Peter's dark side will awaken and send the hero spiraling into a waking nightmare where he'll emerge as the Deadly Neighborhood Spider-Man! 
Fans can see just how twisted and psychedelic Peter's battles will be in the all-new DEADLY NEIGHBORHOOD SPIDER-MAN trailer, featuring never-before-seen artwork of Peter's terrifying encounter with the central villain of this mystery: the infamous X-Men foe known as the Demon Bear! In addition, the trailer features Taboo's "Welcome to the Neighborhood," an original track by the Grammy Award-winning member of the Black Eyed Peas!
"It was an absolute 'Fanboy' dream come true for B. Earl and I to work with our amazing team made up of Juan Ferreyra, and editors Devin Lewis, Thomas Groneman, and Nick Lowe," Taboo said. "As a Native/Mexican kid from East Los Angeles, I never would have dreamed I would be creating stories with Marvel Comics—let alone getting to co-write and bring DEADLY NEIGHBORHOOD SPIDER-MAN to my city of Pasadena, California! This story is not only a crazy roller coaster of a read, it's also paying homage to the love that B. Earl and I have for the horror films of the 80s."  
"I remember the moment when we got the call to write Spidey. I was sitting at the breakfast table reading emails, and I saw one from C.B. [Cebulski]. Before I had even finished reading the email, my phone was ringing. Taboo was on the other line and all I heard was 'Bro. Spider-Man!'" B. Earl shared. "It's not every day you get to live your 11-year-old dream and play with Marvel's biggest toy in the toy box. To say it is an honor is an understatement. I will be forever grateful to C.B. for his trust in us and the team of Nick, Devin and Tom who have guided this journey."
"But as a writer, my purest joy is to give an artist the sandbox to play in and get really weird and wild," he added. "Juan has amazed us every time with his ability to not only elevate the story, but make it even more deadly than we ever could have imagined. I really hope the fans dig the crazy world we have created for Spidey since it's like nothing he has ever encountered!"
"As far as the inspiration for 'Welcome to the Neighborhood,' this is my way to say thank you to all our Spider-Man fans across the Marvel Universe who have read the comics, watched the movies and now get to listen to a song that came from ultimate love and appreciation for all those who will be rocking with DEADLY NEIGHBORHOOD SPIDER-MAN. SKODEN!" Taboo said of the song you can hear now in the trailer. "When creating 'Welcome to the Neighborhood,' I was inspired by songs like 'A Nightmare on My Street' by Jazzy Jeff & the Fresh Prince and 'Children's Story' by Slick Rick."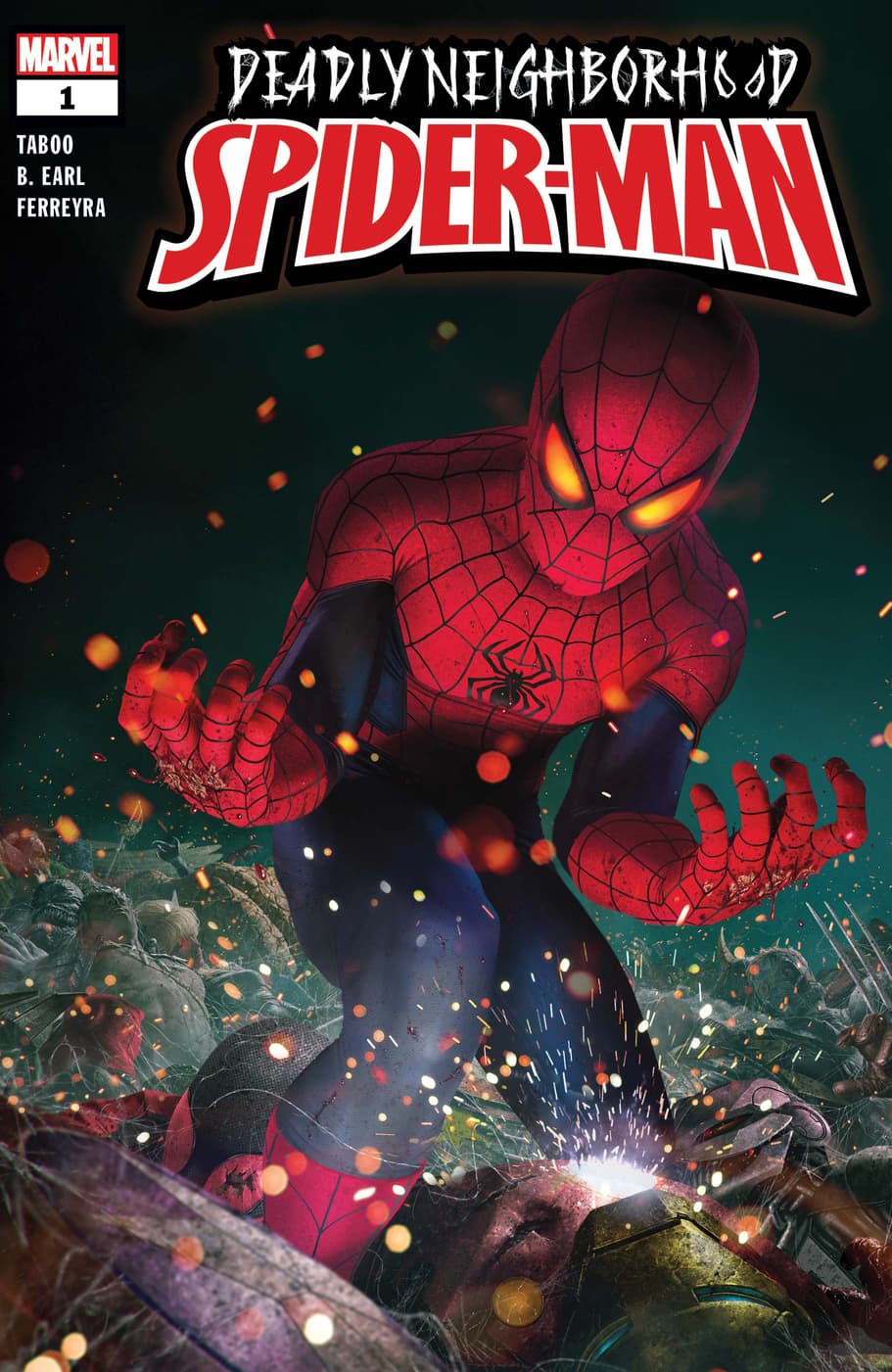 DEADLY NEIGHBORHOOD SPIDER-MAN #1 (OF 5)
Written by TABOO & B. EARL
Art by JUAN FERREYRA
Cover by RAHZZAH
On Sale 10/19
"Welcome to the Neighborhood"
Written by TABOO
Produced by DJ ARTEK (EDGAR SINIO)
Engineering by JOHN NORTEN
What is reality and what is dream? What is science and what is magic? These questions and many more will make Peter's—and your—head spin in today's breathtaking launch of DEADLY NEIGHBORHOOD SPIDER-MAN!
You can grab these comics and more digitally or at your favorite local comic book shop. Be sure to ask your local shop about their current business policies to observe social distancing or other services they may offer, including holding or creating pull lists, curbside pick-ups, special deliveries, and other options to accommodate. Find and support your local comic book shop at ComicShopLocator.com or by visiting Marvel.com/LoveComicShops.
For digital comics, all purchases in the Marvel Comics app can be read on iPhone®, iPad® and select Android™ devices! Our smart-paneling feature provides an intuitive reader experience, ideal for all types of mobile device and tablet users! Download the app on iOS and Android now!
The Hype Box
Can't-miss news and updates from across the Marvel Universe!