Comics
Published March 1, 2017
Deadpool: Bad Blood Brewing
Rob Liefeld returns to the Merc with a Mouth for a new graphic novel!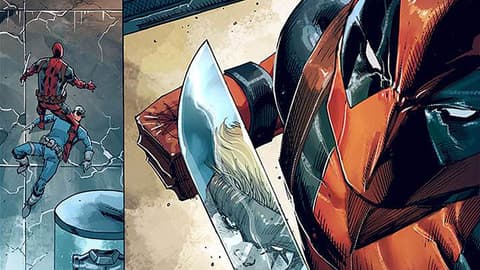 Deadpool fans, mark down the date May 17 on your calendars, as that's the day Wade Wilson's proud papa Rob Liefeld returns to the character he helped create with the DEADPOOL: BAD BLOOD original graphic novel written by Chad Bowers and Chris Sims.
We pinned down Liefeld for a conversation about Deadpool past, present, and future.
Marvel.com: So we've just passed Deadpool's 25th anniversary and he's more popular than ever with the film and games; what do you think it is about his character that has made him endure for as long as he has?
Rob Liefeld: Deadpool [and] his origins, are steeped in my absolute envy of everything Spider-Man, and the fact that my buddies Erik Larsen and Todd McFarlane were blazing through the pages on that beautifully full masked character. Upon being handed the reins of writing the stories for NEW MUTANTS, I had to follow up Cable, which at the time, that character had taken the comic book world by storm, and taken [the New Mutants] to new heights. The book started to fail so when Marvel handed it to me, they said I could do whatever I want.
Getting back to the Spider-Man of it all, I went back to Marvel and pitched them Spider-Man with guns and swords because I am obsessed with gear and weapons, which is not an accident because my favorite comic book character of all time is Wolverine. He was the first X-Man to have weapons. Now at the same time, my favorite team was the Avengers, and they [all] had weapons, and these were some of the most popular comic book characters of all time so I knew it resonated somehow. At the time Todd was doing much darker storylines; Spider-Man was a much darker character, his marriage with Mary Jane was on the rocks, Peter Parker was unsure of himself and lost in the world—he wasn't the fun loving Spider-Man I grew up with, you know, the guy who would make fun of you while he kicked you in the face. I think what works so well about that is everybody loves a smart-ass.
And I think that's why everybody resonated with Deadpool so well because he was a funny smart ass, and overtime he has become the loveable and formidable smartass. Those kinds of characters resonate because they are fun, and Deadpool has never been more necessary as ever as the world gets more out of control. I think having that smart ass character to make everyone laugh is amazing because everyone needs a time to laugh and if Deadpool can make you laugh while shooting bullets through people's [heads] then that's a bonus for all comic book fans; that's just great action. And again, at that time you had Cable who was the one driving sales for the comics: he was the straight-edge, serious commander type and Deadpool came in within the first month and deconstructed everything and just slapped him around so it was definitely a huge change of pace that people loved back then and still love today. In addition, with Marvel's amazing publishing, sales, and marketing teams they really took care of him and pushed him to popularity; there were Deadpool action figures and trading cards within the first nine months of his publishing. I think it's safe to say that everyone loves the badass ninja.
Marvel.com: Where do you find inspiration for Deadpool?  I mean, he's done so much, it must be hard to put new stuff together.
Rob Liefeld: Actually it's not hard; I look to exploit the areas that have been left alone.  Deadpool's past has largely been left alone. When I pitched him to Marvel back in the day, I asked, "Can I have him be a part of Weapon X?" and when they obliged I asked, "is the X a roman numeral? And if so have we seen weapons [one through nine]?" So I made him Weapon IX meaning that he wasn't put together correctly so that's kind why he's so screwed up. So when I examined his past history, I realized they still haven't done a lot of it. In DEADPOOL #900 I flashed back to him briefly to him in Catholic school, and did a lot of story with him in junior high and high school. I was raised in the Chris Claremont school of soap opera engagement and storytelling because X-Men was the best soap opera ever presented to me as a kid, so for me I always wanted to add layers and have stuff to reveal later on to keep the twists and turns coming. So the opportunity to build out Deadpool's past and to bring back characters from his childhood and so on, was a big appeal for me. I was always sketching characters in my sketch book and thinking of ways to add them into Deadpool's life.
Marvel.com: What was it like for you to return to the character for his first original graphic novel, especially at the height of his popularity?
Rob Liefeld: Well first I asked "why a graphic novel?" I was a little suspicious; [Marvel] said that they considered a really privileged format, and I considered it that way since you had no next issue breaks, you don't have to catch people up. I was also lucky enough that Marvel once again gave me free reign to pretty much do whatever I want with the [story]. I sat down and really carved out a path for where the story was going for this. A week or two later Chad Bowers and Chris Sims came in and started to work with me; it was Chad, actually, who told me that he really lobbied for this thing. I was really excited to work with them because they were teenagers when this character first came out so you know they grew up with him and fell in love with the character same as I.
Marvel.com: Speaking of Chad and Chris, they've done some great work with X-MEN '92. What has your working relationship been like with these two?
Rob Liefeld: Oh the back and forth between those two have been tremendous. You know like I said coming into the project I was like "The Old Man and the Sea" and they were the young fish so it has been amazing to hear what fresh ideas these guys have brought with them. They know their stuff. We were jamming immediately, discussing everything about the character. I've worked with other creators before who said they were assigned the project and you could tell they weren't as enthused, but when it came to Chad and Chris it was like magic. They brought so much—I was proof-reading the book last week and I was howling with laughter, and working with them was easy because I would want to expand on their stuff and go in a certain direction and they were all for it.
Marvel.com: In BAD BLOOD, Deadpool is going to be taking on a new baddie named Thumper. What can you tell us about the matchup between those two?
Rob Liefeld: Well I don't want to reveal too much, but Thumper is a character from Deadpool's past that has a shared backstory and where they split and where they come together is a major part of the story. I really want to give the character something that resonates with the reader. With Thumper, this is your introduction to him and his story and oh man the last quarter of the book I really feel like we nailed the journey. Two of the goals given this format, stems from how I was raised in a time where treasury editions were a big deal, Marvel did a lot of them, co-published with DC two of my favorites being HULK/BATMAN and SUPERMAN/SPIDER-MAN; they went bigger with the action and bigger with the detail and thinking of those treasury editions I wanted to go bigger with both in this format as well. It's a fun journey, a lot of familiar faces and some new faces are in the issue.
Marvel.com: We now know BAD BLOOD is going to be released on May 17. What are you most excited for fans to see when they finally get their hands on it?
Rob Liefeld: Well again, it's going to be a lot of fun. We had a lot of fun creating the action bits and the comedy bits. I approached my artistic collaborator on this, [colorist] Romulo Fajardo; he is an amazing painter. I went with him because I am a huge fan of Frank Miller and his work that he did [on ELEKTRA LIVES] with [colorist] Lynn Varley and the painted look, and I went to Romulo and [said] "Listen man, if we are going to go in this format we got to step it up" and he showed me some work and went "Like this?" and I went "Holy crap!! Yeah!" He is an outstanding painter; he is an essential part of the look of the book. For 30 years I've been putting together comics and creating comics and creating these journeys in different formats, and it's so rewarding when you have this collaboration with guys like Chris and Chad and Romulo, and to see it put together. I'm just hoping that the printing press comes through for us and prints all those brilliant hues and tones because it really has a great atmosphere. I went around and met a whole bunch of different people at conventions and such, and I've [listened] to them, and without going too much into the journey of the book, I've put a great deal of what I've heard from fans into the book, in relation to comedy and action and I've also given [them] some new storylines that they won't see coming. I'm excited to get my hands on it and go out there and promote it.
Look for DEADPOOL: BAD BLOOD from Rob Liefeld, Chad Bowers, Chris Sims, and Romulo Fajardo on May 17!
The Hype Box
Can't-miss news and updates from across the Marvel Universe!