Comics
Published April 5, 2019
Deadpool Brings His Shenanigans to Domino's Hotshots
This isn't the first time Domino and her posse have run into the Merc with a Mouth!
In this week's DOMINO HOTSHOTS #2, six of the world's most highly trained female spies , mercs, and fighters – Domino, Outlaw, Diamondback, Atlas Bear, White Fox, and Black Widow – are hunting a device that has the power to change life as we know it. And, oh yeah – Deadpool is tagging along? What exactly is Wade's history with Domino and her cohorts? What kind of shenanigans has he gotten them into in the past, and how might that influence their current mission?
Getting off on the wrong foot
These days, Deadpool and Domino might be, dare we say, friends? But that wasn't always the case. In fact, way back in the day, Deadpool and Domino both appeared for the first time in 1991's NEW MUTANTS #98. Wade had been hired by Mr. Tolliver to kill Cable, and Neena saved the day by "killing" Deadpool. Not the friendliest way to start a relationship, but at least things got a bit better (eventually).
Mercs for Money
Deadpool's not the only one who has put together a mercenary team. In 2016's DEADPOOL & THE MERCS FOR MONEY, Neena assembled her own merc group. They found out that Deadpool was trying to save Negasonic Teeange Warhead from some super shady evil scientists, and they showed up to help. It's a gesture that demonstrates to Wade that Neena sees his good side (awww).
Partaaay!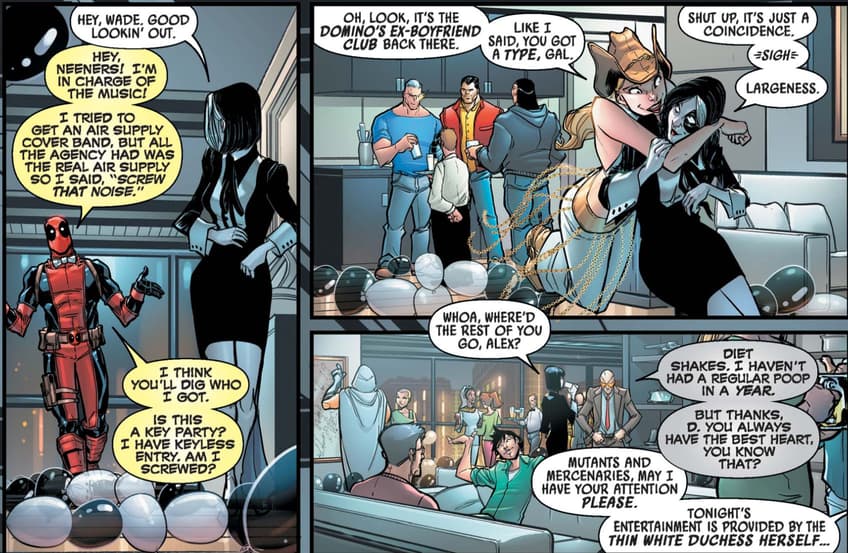 Things are definitely less frosty between Wade and Neena these days. In 2018's DOMINO #1, Outlaw and Diamondback threw Domino a surprise birthday party and lots of big names in the Marvel Universe were in attendance – including Deadpool. So, if he got an invite to the b-day festivities, that must mean he's considered a friend at this point.
A friend in need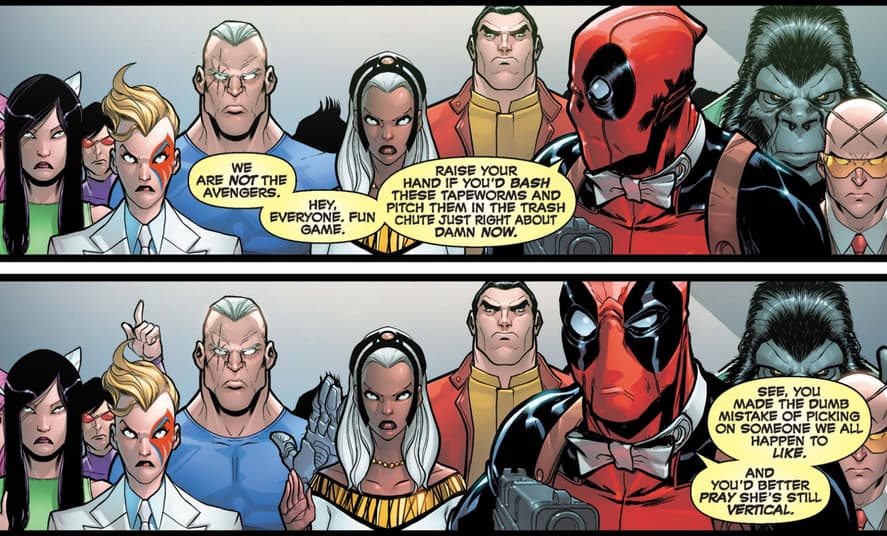 Deadpool actually showed up more than once during DOMINO's run. In DOMINO #2, when Neena temporarily loses access to her luck powers, Wade was there along with Diamondback and Outlaw to lend a helping hand. Throughout the series, Wade served as an ally. It's actually pretty sweet how far these two have come over the years!
Outlaw and Deadpool, sittin' in a tree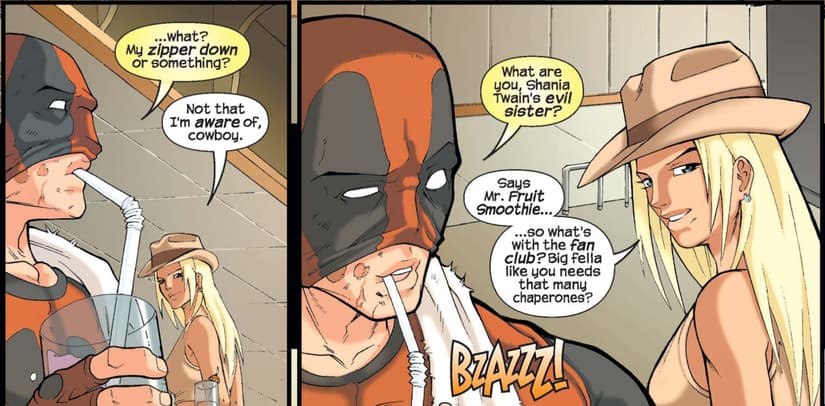 As a merc herself, Outlaw and Deadpool have traveled in some of the same social circles and even had a brief flirtation. Inez Temple first appeared in 2002's DEADPOOL #65 when she and Wade were pursuing Black Swan along with Agent X and Sandi Brandenburg. There's also that time Deadpool remodeled Outlaw's house after it was trashed during a fight with the Punisher. See, Wade really does understand romance.
B.A.D. Girls, Inc.
Diamondback, along with Black Mamba and Asp, once upon a time made up a trio called B.A.D. Girls, Inc., a group of adventurers who would sometimes help out Captain America. They showed up in CABLE AND DEADPOOL #20, where they first fought Wade for technology they thought he had stolen, then helped him when they realized it was actually stolen by someone else. Like most people, Rachel Leighton's relationship with Wade has had some ups and downs.
Too many Black Widows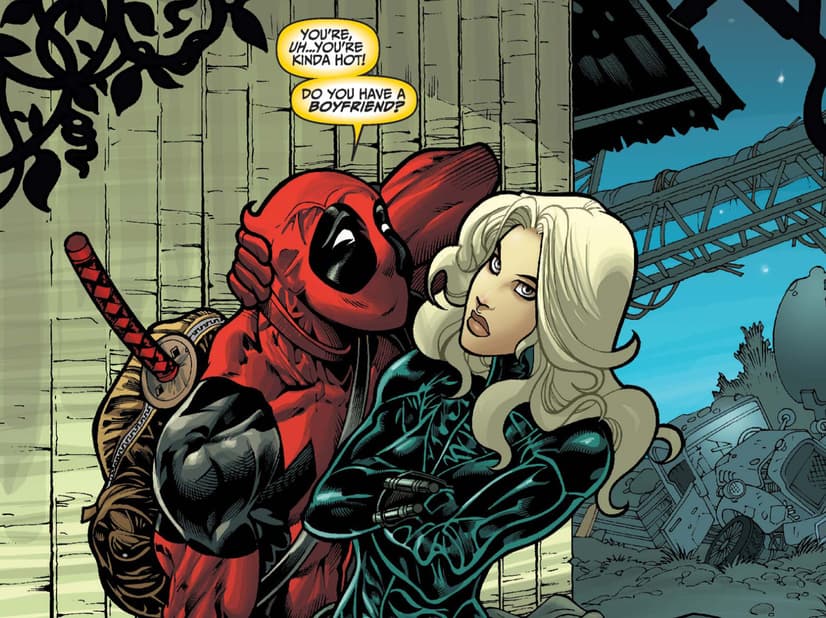 During events in 1997's DEADPOOL and THUNDERBOLTS #129-131, Wade had a flirtation with a Black Widow named Yelena Bolova. After being decapitated as the result of some Green Goblin-related nonsense, a woman he thinks is Yelena helped him by smooshing his head back onto his shoulders. It was a nice moment between the two of them – but it turned out that it wasn't Yelena after all. It was Natasha Romanoff who helped Wade with his noggin while trying to take down Normon Osborn herself. Nat and Wade crossed paths at other points over the years, and Wade predictably tried to make a pass at her, at which point she promptly punched him in the face.
Clearly, Wade has some history with the impressive women of the Hotshots. Some of that history is good, some of it not so great, but all of it is pretty dramatic, and we'd expect nothing less from the Merc with a Mouth. How will this affect the Hotshots' latest mission? You'll have to read to find out!
DOMINO HOTSHOTS #2, written by Gail Simone with art by David Baldeon, is available now online and at your local comic shop!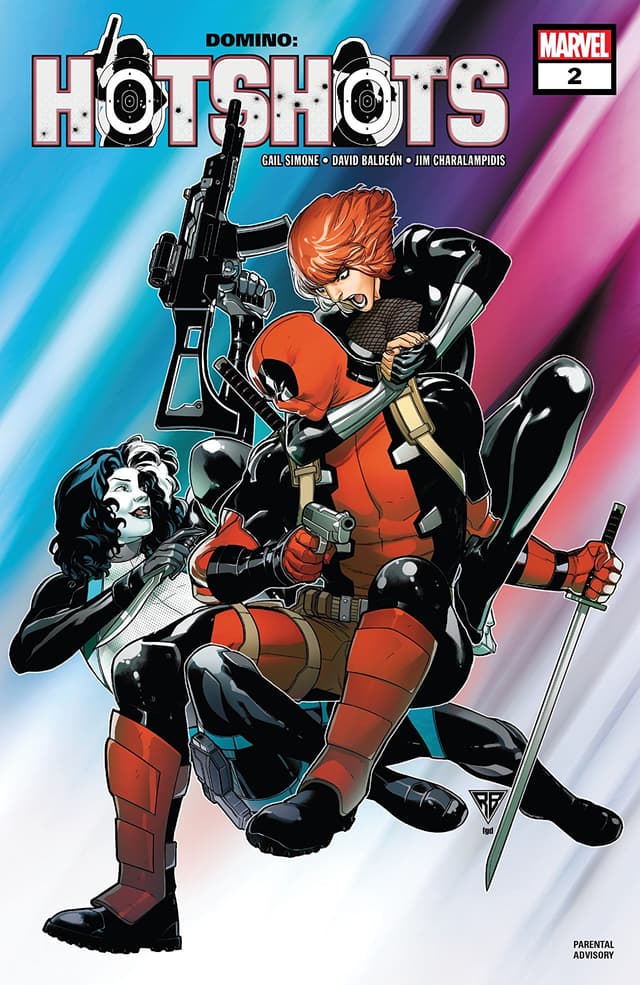 The Hype Box
Can't-miss news and updates from across the Marvel Universe!