Comics
Published May 12, 2017
Deadpool: Going All In
Gerry Duggan helps us overthink Wade Wilson's next move!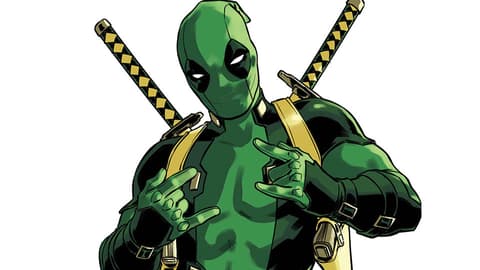 Wade Wilson returns to Earth on June 14 in DEADPOOL #32 written by Gerry Duggan with art by Matteo Lolli, and we're all wondering if he'll be adding that Hydra green to his could-be Christmas-themed wardrobe. Unfortunately for us Duggan remains stoically tight lipped about what's in store for the Merc with a Mouth as Secret Empire creeps its way over, but he did let slip a few cryptic pieces of information that we will, of course, read way too far into.
First we set the scene: Wade and Steve Rogers showcase almost polar opposites. On the one hand you have the original Captain America, whose father died young but his loving mother raised him. Plagued by a sense of duty and honor he went on to participate in a super soldier program leaving him the epitome of an American hero: strong, handsome and just. While on the other hand, Wade rebelled into delinquency until he became a mercenary and, eventually, a participant in a super solider program that left him horribly disfigured.
But Wade has always looked up to Captain America and Duggan says the upcoming issue bridges that gap, showing readers what happened leading up to Secret Empire that affects Wade. "His moral compass definitely spins sometimes and he uses Steve as his true North," explains the writer, "I think they'd both agree that he is at his best under the guidance of Captain America. That may not be the case forever, but right now he has no reason not to trust Captain America." But what if Steve doesn't point true North anymore?
Leading us to our first clue, Duggan let slip that Deadpool has already made some decisions that will prevent him from going back, if he chooses to do so, once Steve Rogers has his big Hydra reveal. "He understood there would be good days and bad, recently there have just been more bad, but he hasn't realized that he bet on the wrong horse," he reveals, "When Captain America says jump you don't even ask how high, you just jump."
Duggan continues, "We know Steve Rogers is a bad guy, but you can have more than one bad guy. We'll see how it goes with our choice of bad guys." Oh man, I think that means another seemingly good guy but actually a bad guy mastermind lurks behind everything. You could assume that applies to Deadpool, "His best friend's name is Hydra Bob, so if anyone would be comfortable with a status quo shift it would be Deadpool," notes Duggan.
And our last cliffhanger: "The country is changing. Captain America is changing. We're using the opportunity to change Wade's life in a very big way," tease Duggan, mysteriously adding, "You're going to have to retitle the book."
I can't even begin to imagine what this means…it's a self-titled book. Is Deadpool not actually Deadpool…do we find out that Wade Wilson died and someone has been pretending to be him? "He has a mutant daughter now so that can affect his decision making," Duggan concludes. "The big thing about Secret Empire is what you're willing to do for family; Ellie will factor in."
Your guess is literally as good as mine in this case, so be sure to check out DEADPOOL #32, out June 14, and find out just what Gerry Duggan and Matteo Lolli have in store for us!
The Hype Box
Can't-miss news and updates from across the Marvel Universe!