Comics
Published August 30, 2017
Deadpool: Killing Spree Concludes
Cullen Bunn brings Wade Wilson's latest murder marathon to a close!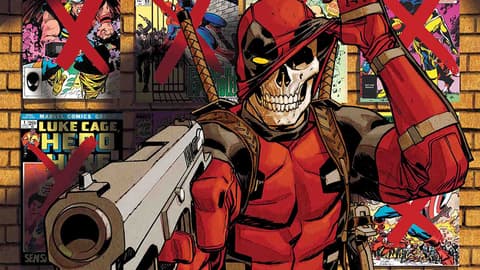 Another one of Wade Wilson's homicidal rampages comes to an end in issue #5 of DEADPOOL KILLS THE MARVEL UNIVERSE AGAIN, out September 27. The limited series from writer Cullen Bunn and artist Dalibor Talajic came as a follow-up to the duo's wildly popular DEADPOOL KILLS THE MARVEL UNIVERSE from 2012.
Bunn has big plans for the finale this time around and it's chock full o' villains. We caught up with Cullen to discuss the specifics of the last issue, why killing Spider-Man hit a high point and how the bloodshed has just begun for the Marvel Universe.
Marvel.com: The last DEADPOOL KILLS THE MARVEL UNIVERSE concluded with Wade entering our world to take vengeance on the real-life Marvel editors like Jordan D. White. What kind of epic ending can we expect this time around?
Cullen Bunn: The ending of this story will be vastly different [from] the tale we told before. We're not having Wade break through the ultimate fourth wall here. The final issue of the series will see Wade facing off against a number of villains, including those who corrupted his mind and set him against the Marvel heroes in the first place. We'll be seeing some pretty intense encounters with the likes of Magneto and The Red Skull. The ending of this series, I think, is much more tragic than the end of the previous tale.
Marvel.com: Did you consider any other conclusions than the one you settled on? Can you give us an example or two of rejected ideas? 
Cullen Bunn: I always had this ending in mind. As most readers have guessed, this story takes place in the same world as the classic Wolverine tale, "Old Man Logan"—at least, it takes place in a version of that reality. In this world, Logan killed off most of the X-Men, but Deadpool had a big role to play in the deaths of many of the other heroes as the villains finally got organized and made a play for world domination. At one point, I thought of ending this series with an encounter between Logan and Deadpool in the ruins of the world, but I decided against it, saving that for some time later, maybe. 
Marvel.com: What about this limited series will you miss the most after the release of issue #5?
Cullen Bunn: I love working with Dalibor. He's such a great collaborator, and I like his dark take on Deadpool. I'll miss the way he draws Deadpool's masks and eyes, if that makes sense. I'll also miss playing with the idea of different comic book formats. Comparing Deadpool's current adventures to a manga style world or a horror comic or even an ad for pastries was a lot of fun for me, and it was like a walk down memory lane of all the types of comics that have influenced me over the years.
Marvel.com: What are your top three deaths of this series and why?
Cullen Bunn: The death of Peter Parker in issue #2 is a favorite, because it is just so terribly dark. For the same reason, the death of Spider-Woman is dark, but for different reasons. Both of those deaths played so well with the theme of Deadpool seeing sort of light-hearted and zany adventures even though he was doing something awful. And the deaths of Moon Knight and Punisher was fun for me, because Moon Knight put up one hell of a fight.
Marvel.com: Do you think there's any way Deadpool could come back to kill the Marvel Universe for a third time? If so, how would you go about writing it?
Cullen Bunn: Sure! There's probably a way to do a similar story in a few years. One of the nice things about this series is that the Marvel Universe has changed so much since the original tale. There's no telling how much the Marvel Universe will change over the next few years! As for how to write it, I'm not sure just yet. It would have to be vastly different than either of the other stories, and I think I'd have to up the ante in terms of horror and brutality, which may be tough.
DEADPOOL KILLS THE MARVEL UNIVERSE AGAIN comes to a close on September 27 thanks to Cullen Bunn and Dalibor Talajic!
The Hype Box
Can't-miss news and updates from across the Marvel Universe!