Comics
Published December 13, 2018
Deadpool's 5 Weirdest Team-Ups
Look back at Wade Wilson's five strangest team-ups.
Deadpool loves team-ups. Here's a rundown of the strangest team-ups Deadpool has ever had a hand—or disembodied zombie head—in.
Deadpool & Thanos
Thanos loves Death—the cosmic entity herself, not just the abstract idea—who has some romantic history with Deadpool. This has never sat quite well with the Mad Titan, but when the duo discovers that their honey has vanished, rendering everyone in the universe incapable of dying, Thanos begrudgingly agrees to work with the mercenary to save Death—the cosmic entity and the abstract idea.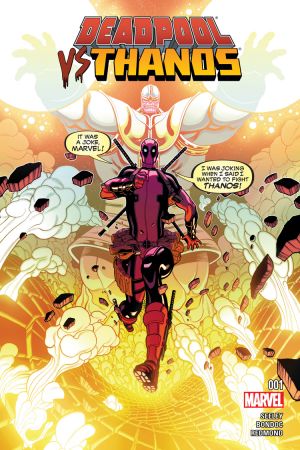 Deadpool & Galactus
Low on funds, Deadpool turns to the classifieds to find some work. Surprisingly enough, he stumbles on an ad looking for a "Herald" and suddenly finds himself before Galactus. Wade receives the Power Cosmic and helps the World Devourer chow down on a few planets, but his endless chatting annoys the Big G so much that he strips him of his power and sends him back to Earth.
Deadpool & Hellcow
Captured by a scientist looking to cure his own deadly ailment using DP's healing factor, the merc teams up with fellow inmate Hellcow, the vampiric cow formally known as Bessie. Together, they escape the facility, but as they stepped into the sunlight, the golden rays turned Bessie into a hamburger—which Deadpool promptly ate.
Deadpool & the Avengers
When Steve Rogers put together the Unity Squad, they needed a source of funding, and with Tony Stark out of the question, that left them with few options outside of Deadpool. The newly-popular hero capitalized on his fame with mass merchandise and proved more than happy to funnel that money into his new team. This didn't work for everyone, though: Spider-Man quit the group after one outing.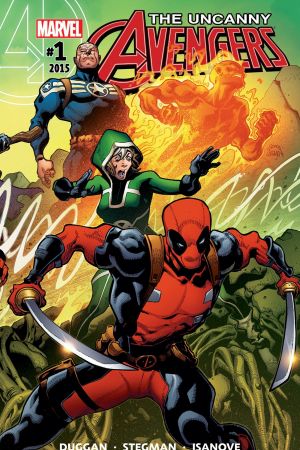 Deadpool Corps
Perhaps Deadpool's most out-there team-up came with a group of alternate universe versions of…himself. When the Contemplator decided this motley crew stood as the only means of stopping a threat to the entire multiverse, Wade gathered up Lady Deadpool, Kid Deadpool, Dogpool, and Headpool to battle the Awareness, a being who sought to strip the consciousness from every being in every universe.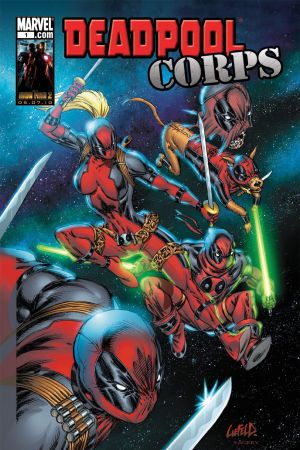 The Hype Box
Can't-miss news and updates from across the Marvel Universe!