Comics
Published December 3, 2018
Deadpool Vs. The Marvel Universe: Everyone Who Has Butt Heads with the Merc with a Mouth
Deadpool may not get along with everyone, but his chaos makes for great comics!
Writer Daniel Kibblesmith stopped by This Week in Marvel to talk about BLACK PANTHER VS. DEADPOOL. So, we took a look at other "vs" books starring Deadpool.
What better way to dive in than chronologically?
Released in Summer 2014, it's written by Cullen Bunn, with art by Salva Espin, colors by Veronica Gandini, letters by VC's Joe Sabino, plus rad, gross covers by Glenn Fabry. Carnage is on the loose and goes on a killing spree. Deadpool sees weird signs and thinks he's the only one who can stop Cletus Kasady. We get to see Shriek, Carnage's sometimes gal pal, who many '90s fans will specifically remember from the "Maximum Carnage" crossover. One of my favorite moments in the story is in the second issue when Deadpool uses destructive sonic power against Carnage in the form of dubstep. Horrifying. It turns out Carnage is going after four symbiotes, trying to destroy them – which you know means Deadpool will get himself some symbiote action. This is a twisted and violent story, as I'm sure you'd imagine, but I just want to stress that a bit more. It's dark and brutal. But, there are also cameos from Dogpool, Pandapool and more. And it ends on a sweet, nice moment with a dog. I'll leave it at that.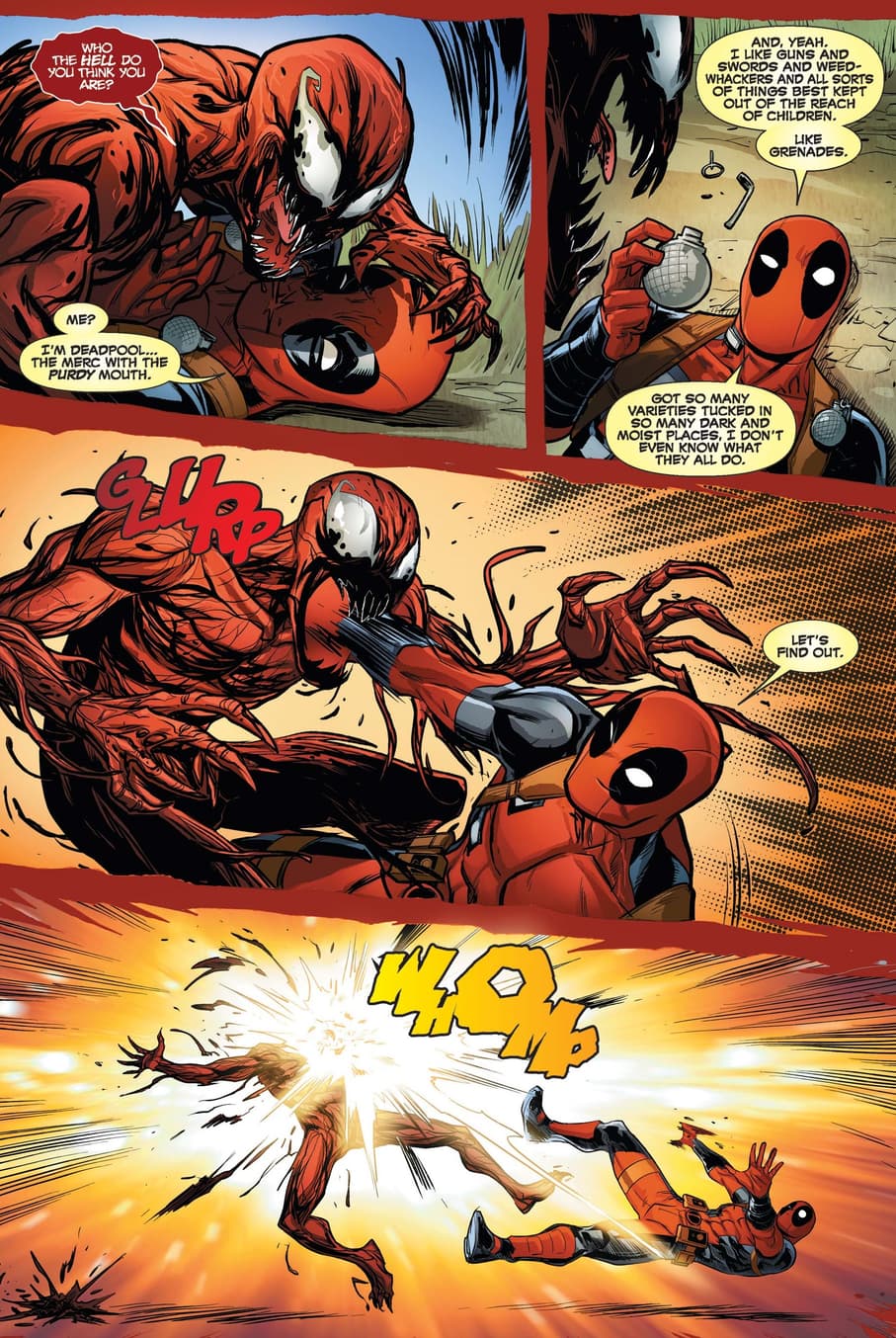 By Duane Swierczynski, Pepe Larraz, Nolan Woodard, and Joe Sabino. Pepe is one of our Young Guns, an incredible artist, and this is one of the older gems in his career. At that point when this first came out in Fall 2014, he's already so damn good. This is a fun time-travel romp with Cable and X-Force going after Deadpool. Well, not quite X-Force since this takes place before NEW MUTANTS #98, Deadpool's first appearance, and when DP meets Cable. Also, at that point, the team was still the New Mutants. But… X-Force! The story goes from America during the Revolutionary War, to the Civil War, to China in 1900, to Deadpool going to protect a young Hitler… which is weird and a result of Deadpool being tricked by an evil rich dude. The last page is a twist on Deadpool's first appearance in NEW MUTANTS #98. 
This is a five-issue limited series but only goes to issue #4. I don't remember why we did that. It's written by Gerry Duggan, with art by Matteo Loli, Jacopo Camagni and more. This mixes two of my favorite eras for these heroes: Deadpool trying to be a dad and a not-jerk and hanging out with Life Model Decoy S.H.I.E.L.D. Agent Preston and Hawkeye being a Brooklyn brownstone landlord. The art is really fun and quirky, with very emotive faces and acting. Plus, it has some of the great visual cues from the Matt Fraction and David Aja HAWKEYE series. My favorite sequence is maybe in Issue #2, when Wade, Clint, and Kate are hanging out in one of Deadpool's safehouses. Playing a kart racing video game, eating, planning, and then seeing naked ghosts. As you do. There are actually tons of really funny visual gags and silly moments throughout. It's probably the funniest book on this list, while also being serious and full of intense action and drama and guilt and sad bits. Good ol' Gerry! There's Black Cat as a major villain, brainwashed bruisers, S.H.I.E.L.D. agent private lives on the line, mystery and more. Maybe my favorite of the lot!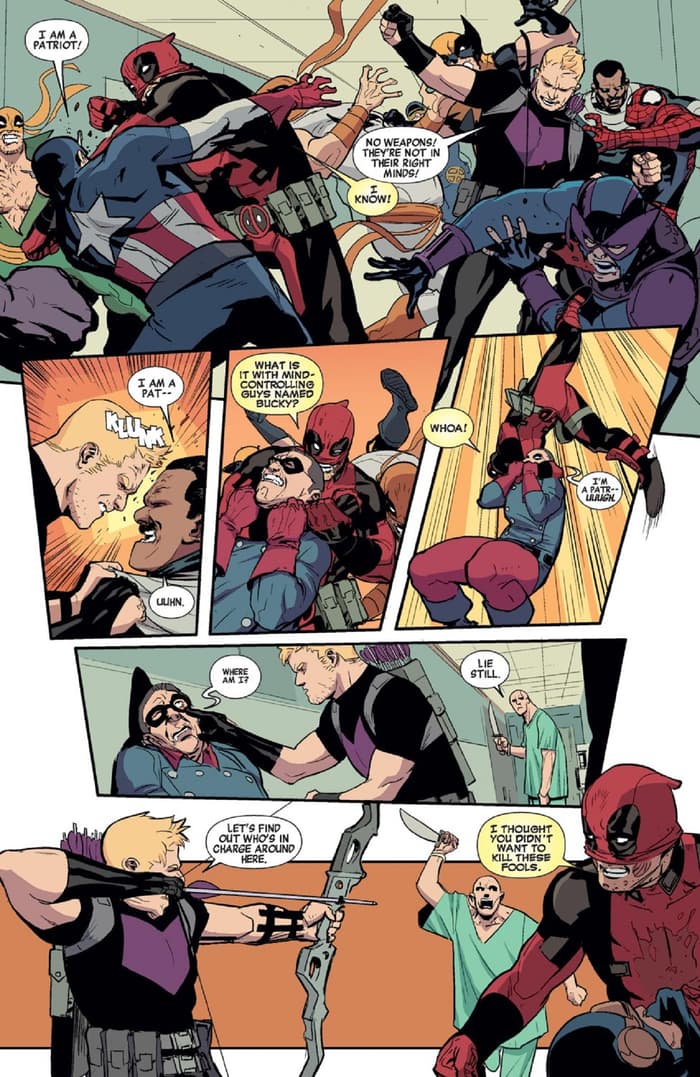 About a year later, at the end of 2015, DEADPOOL VS. THANOS came out, around the same time that Secret Wars was going on, which is one of my favorite series ever. This was set before Gerry Duggan and Brian Posehn kicked off their run of DEADPOOL in 2013. This one's by Tim Seeley, Elmo Bondoc, Ruth Redmond, Joe Sabino and more, and like the other books here, it's more of a team-up than a full-on throwdown. Though, they do fight. Or, rather, Thanos beats the snot out of Deadpool a bit. But they team up because Death is imprisoned and in danger and her true loves—Thanos and Deadpool—are the only ones who can save her. This is also the second of these to make a joke and reference of Queen's "Bicycle Race" song. While the X-Force book is set across time, this is set across the universe… and beyond. Thanos and Deadpool fight the Guardians of the Galaxy, hang out with low-level Earth magician Black Talon, go to Hell and get caught up in a Hell War, and end up outside of all existence—Thanos and Deadpool vs Eternity, the manifestation of reality. I love the last issue, which hits on life and death and love and the cores of Thanos and Deadpool. It's fun, and big and answers the question, "Is Eternity ticklish?" You'll have to read to find out!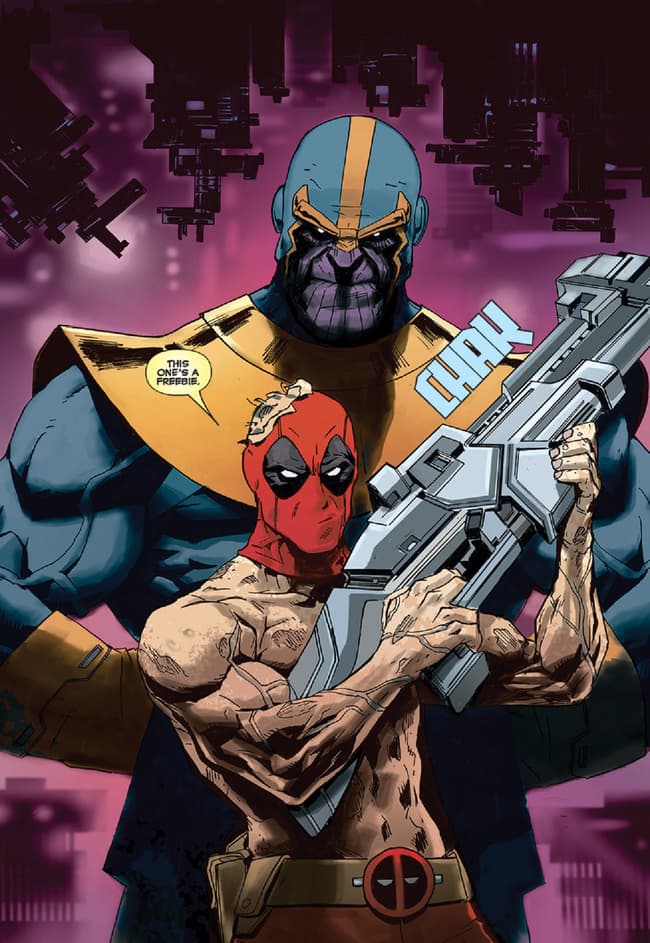 This is on the list, even though it's not a "vs." series. It's a "v." And there's a subtitle: "The V is for Vs." There may have been a film or something else that was titled two characters battling with "V" instead of "Vs." I'm sure you can figure it out. This one is by Ben Acker and Ben Blacker, art by Dailo Beyruth, colors by Cris Peter and letters by Joe Sabino. If you think the title is a goof reference on something, this whole book just goes to town on stuff, having fun at the expense of Hamilton, Destiny's Child, Brooklyn hipsters. At one point, Deadpool imagines Scrooge McDucking into a money bin. Absorbing Man is at a BBQ and absorbs a hot dog and then yells "It's Weinerin' Time." The boys meet up with Doctor Voodoo and Fat Cobra, one of the Immortal Weapons from Iron Fist lore, Loki, She-Hulk, and more. One of the characters here is called Scrambler, and Issue #4 is pretty much all about him, his origins, working with the Marauders, and how he ties into why Gambit and Deadpool are doing all their wacky stuff. It's wacky, and the last issue is a big free-for-all as everything comes together.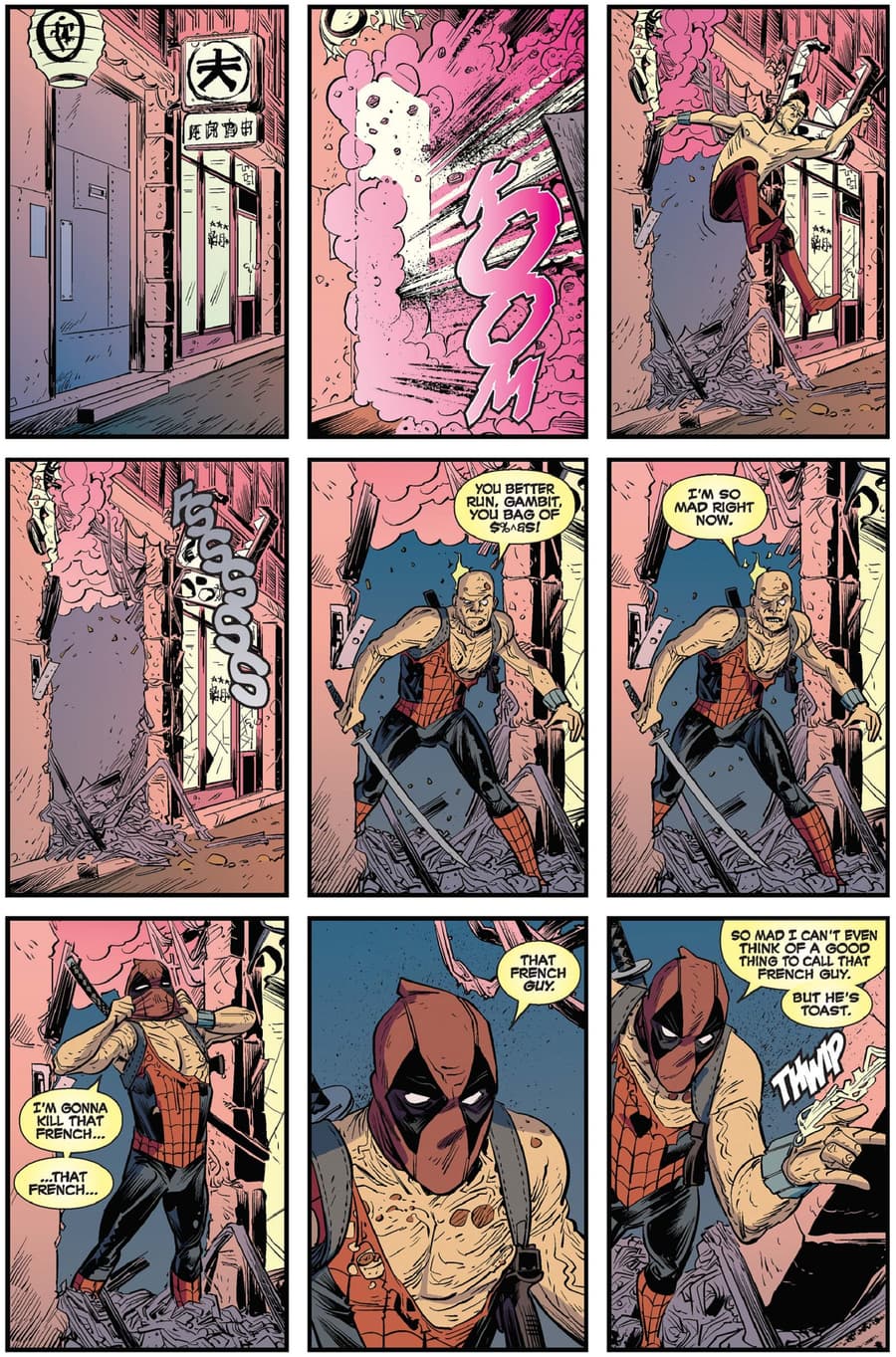 Written by Fred Van Lente, with art by Pere Perez, colors by Ruth Redmond, and letters by ya boy Joe Sabino, this one's a bit of a heartbreaker. There's a guy called Bank—because he takes care of all kinds of financial accounts. Deadpool's visiting Bank when the Punisher also gets there. Deadpool's even more connected to Bank's wife and kid. The family is seemingly killed and that sets things off. Punisher and Deadpool team up, but moreso it's Punisher who keeps shooting Pool in the head and then tricking him into working with him, using Deadpool like a weapon. There are funny moments—Pool goofin' with Punisher, silly Deadpool wackiness—but there's a moment when Deadpool gets angry, when the curtain is raised on what's really going on. It's so intense. Big ups to Pere Perez who did the art on the great ROGUE & GAMBIT series. There's one page in Issue #4 that's 40 panels. 40 Panels! Oh man, there's also a Martha bit at the end that is just like a knife twist. The ending is sad, a little funny, and pretty damn appropriate.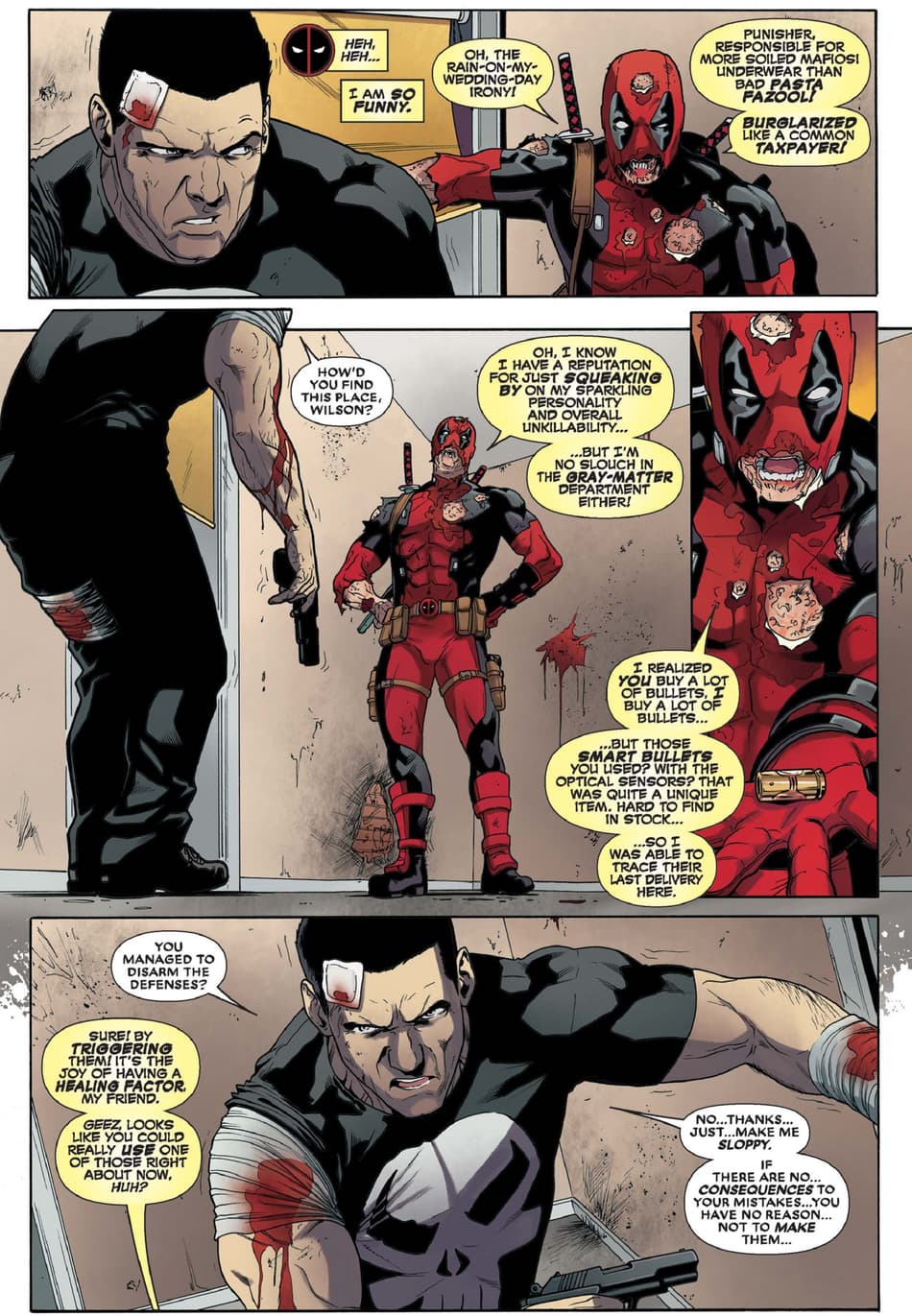 The last limited series wrapped up in 2018—AND IT WAS GREAT! It was written by our friend Declan Shalvey with art by Mike Henderson, who's doing the art for DEAD MAN LOGAN #1, which also came out this week! Declan also does covers here, and he did covers on the DEADPOOL VS. PUNISHER series. Old Man Logan, if you don't know, is broken down Logan from a future wasteland universe who's lost everything. This book starts with a few pages of Logan and Deadpool running, as flaming vehicles fall on their heads. The two of them are trying to rescue a young mutant from a secret organization that's testing and experimenting on her. She has power to transport things, which is a neat power, though it has some major side-effects. The visuals for the book are really spectacular because Mike's work is phenomenal and vicious, but also because writer Declan is also a top-level artist in his own right. He knows how to pace and set a book to get amazing visuals. There's a moment here where Deadpool gets claws. It's so fun and disgusting and just one of the many reasons to check out the series. Oh, and the Logan berserker rage sequence? Horrifying and awesome. Ultimately, it's kind of a Super Villain origin story. I hope we see more!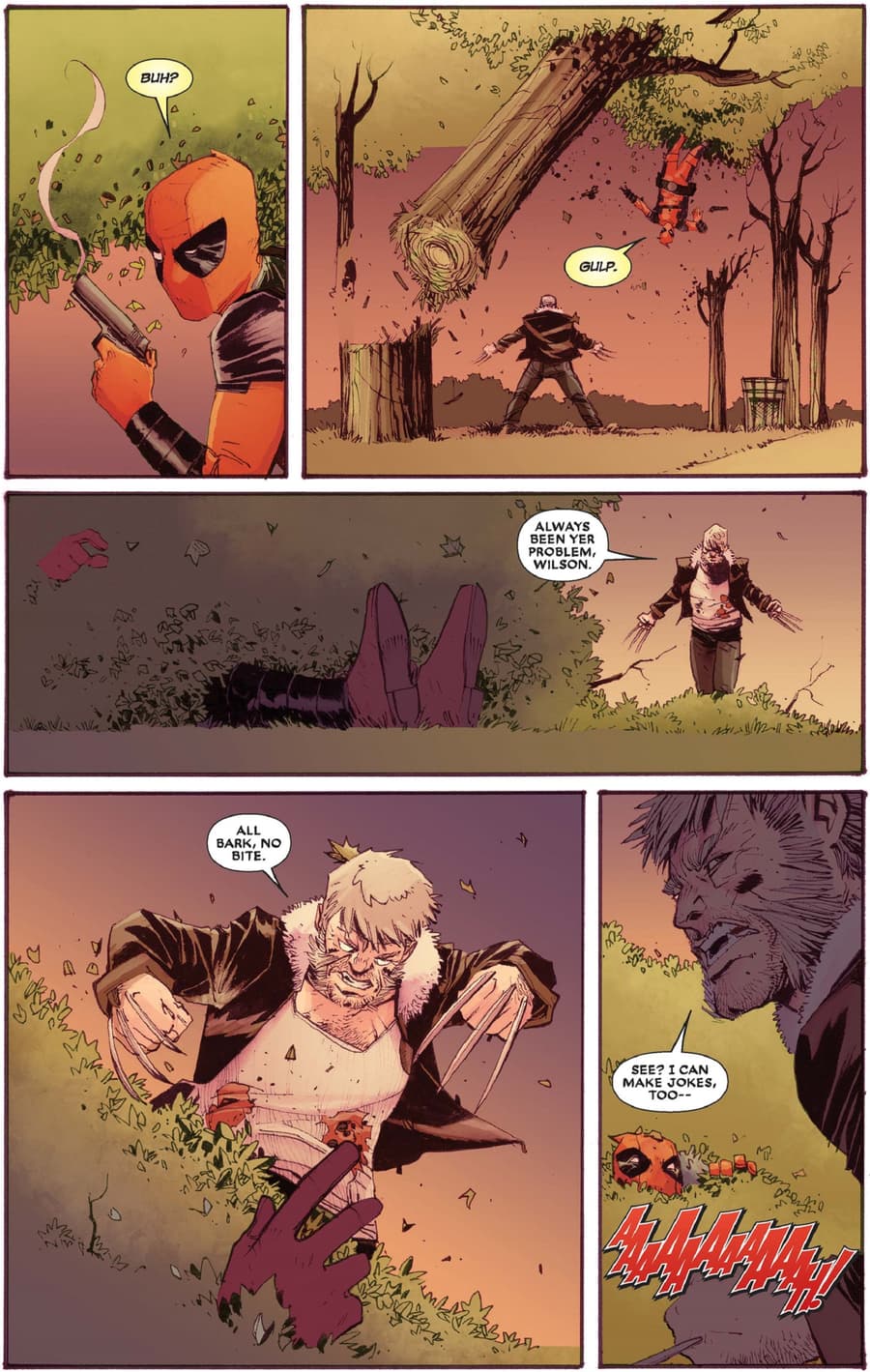 One of my favorite series is SPIDER-MAN /DEADPOOL, which began in 2016 as a team-up book by Joe Kelly and Ed McGuinness who did one of the greatest runs of Deadpool comics in the '90s. But from Issues #23-40, the book was called SPIDER-MAN VS. DEADPOOL, with Spidey and Deadpool mostly at odds. The "vs" issues, and now while it's back to the slash, have been written by Robbie Thompson. Art has been done by a ton of people—Chris Bachalo, Scott Hepburn, Matt Horak and more. This "vs" run is incredible. It has talking murder sharks who love Netflix, future alternate universe stories where Wade and Pete are old best friends, tons of Life Model Decoys, heartbreak, fourth wall breaking, jokes, and so much more. It's the best.
You can listen to the whole conversation about "Deadpool Vs." on This Week in Marvel! Download the full audio here.
Subscribe to This Week in Marvel on Apple Podcasts or download the episode from Marvel.com/podcasts! 
With new episodes every Friday, This Week in Marvel delivers all the latest Marvel discussion and news about comics, TV, movies, games, toys, and beyond! 
The Hype Box
Can't-miss news and updates from across the Marvel Universe!