Comics
Published October 31, 2019
Ed Brisson and Mike Henderson Give Logan "the Ending He Needs" in 'Dead Man Logan' #12
The creators also expressed their heartfelt thanks to readers.
Creators Ed Brisson and Mike Henderson have long said that Logan is going to die, and now his ultimate demise in DEAD MAN LOGAN #12 has arrived.
But before the issue went on sale this week, we spoke with Brisson and Henderson about some of their favorite moments in issues #1-7. They've returned for another chat to detail the pages that made them most proud over the series so far and reveal some Easter eggs that readers might have missed!
In issue #11, we saw Logan, Bruce Banner Jr. and Dani Cage cornered by Sabretooth and his clone cronies but from the last page. It looks like Dani became worthy of a notable Asgardian hammer and just maybe… they'll all get out of this alive? Except Logan, of course. What can you both tell us about building up the tension of this key moment?
Ed Brisson: Interestingly, having Dani pick up Mjolnir was not in the early plans for DEAD MAN LOGAN. The plan to elevate her within the series and give her a larger role was always there, but it was my third or fourth pass in the planning stage where I thought: WHAT IF DANI PICKED UP THE HAMMER? I mean... she did dedicate the last seven years caring for and protecting Bruce Jr. She's given herself to the task selflessly, so it just fit.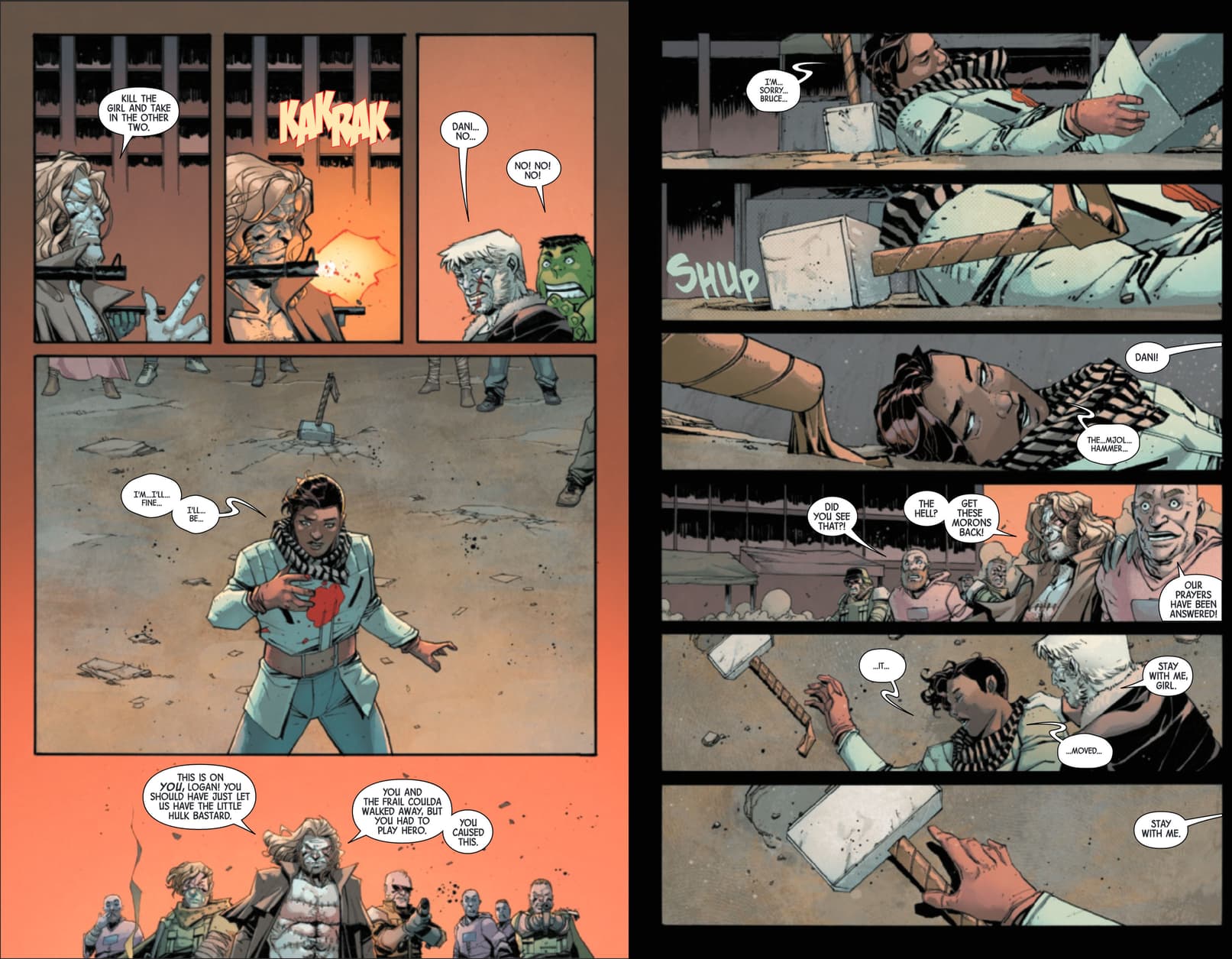 But, that said, we didn't really want to show our hand here. We really wanted to shock people with it, so we didn't drop hints. The tension really had to come in that moment, where Dani puts her life on the line for her friends and potentially pays the ultimate price... before being deemed worthy.­
Mike Henderson: Dropping the hammer a few issues beforehand turned out to be a really fun red herring. It felt like set dressing at the time, to give the reader a frame of reference for where we were, but who else in that crew was going to pick it up?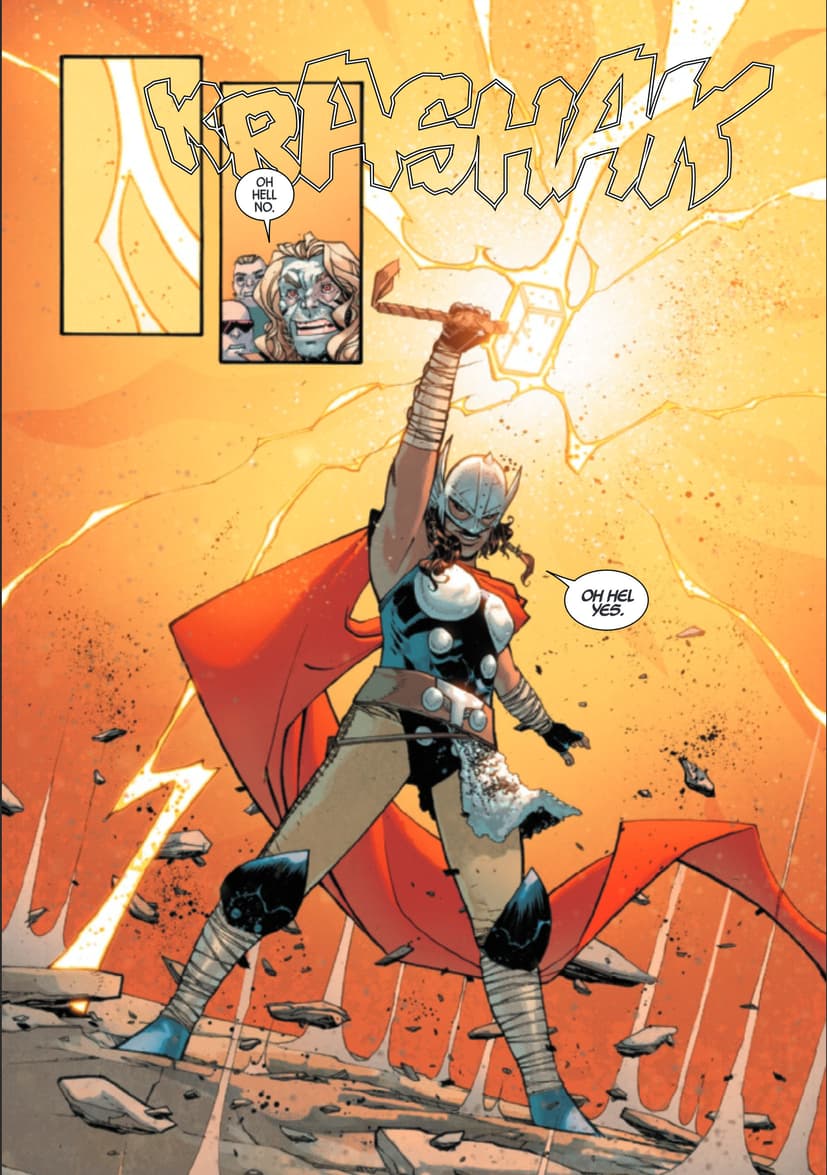 What were the most fun parts or characters to work on in this latter half, issues #8-12?
Ed Brisson: For me, it was getting Logan back to the Wasteland and playing around in that sandbox. It only felt right that if we were going to kill Logan off, that we do that back where he belongs, so that he can die where his family is.
On top of that, being able to expand the world and add in some new "Old Man" characters was a lot of fun. I mean, Old Man Speedball! Just the idea of putting him in the run gave me tingles.
Mike Henderson: I'd been chomping at the bit to go back to the Wastelands for our own little western showdown from the very start, and having built all that tension and pathos on the way made it all that much more rewarding. But once we were there, drawing Old Man Speedball (especially that scene) and the Terminator-esque Sabretooth hunting our heroes were special thrills.
What are you both most proud of in this series so far?
Ed Brisson: On a creative level, I'm so happy that we were able to maintain the same creative team throughout the entire run. You don't get that too often in comics these days, so I'll be forever grateful that we were able to pull it off. Both Mike and Nolan were the perfect collaborators and I'm already desperate to work with both again.
In terms of story, I'm really happy with the way that the series wraps. It's not often that you're given the task to send a character out and know (hope) that their death is going to stick. I'm proud of it all, but am really happy with how the last issue played out especially. I'm happy with where we're leaving the other characters at the end as well, especially with Dani's new status quo!
Mike Henderson: Apart from the reaction of all the readers we've heard from about what we did with the series, working with Ed, Nolan, Chris and the rest of this team was the most seamless and utterly professional experiences I've ever had in comics. Getting to stay together for the entire run of this special series is something I'm also very proud of. It's such a rarity in comics these days that it makes it that much more memorable. I can't wait to work with them all again.
How do you both feel now near the end compared to the beginning of DEAD MAN LOGAN?
Ed Brisson: We've been working on this for over a year now, yet it feels like we just got started. Mike, Nolan, and I work so well together that there was never any moment where it didn't feel like we were completely in sync. I feel just as hyped about it now as I did when we started and could easily go for another 100 issues – though, tough to do after Logan's dead. But, I'm sure we'd make it work!
Story-wise, I think we gave Logan the ending he needed. We tied up some loose strings and got in his proper goodbyes. I feel really good about it.
Mike Henderson: I admittedly had some apprehension early on about doing justice to the final tale of this character that so many people feel so strongly about and had followed all these years, but after a few issues that had transformed into excitement. By the time I'd started the final stretch though, the response had been so warm that I knew we only had to keep doing what we were doing, and make sure to crank it up to 11.
What scene or page(s) in any of the published issues so far could you break down and discuss its process from idea to page? What challenges did it present to you as creators, and were there any easter eggs that folks might have missed?
Ed Brisson: I think our opening salvo here is the first page to #7. We opened up with a splash that was an intentional mirror to the original WOLVERINE: OLD MAN LOGAN series by Mark Millar/Steve McNiven. We wanted to echo their start in an attempt to bring the reader right back into that world. Make it feel familiar.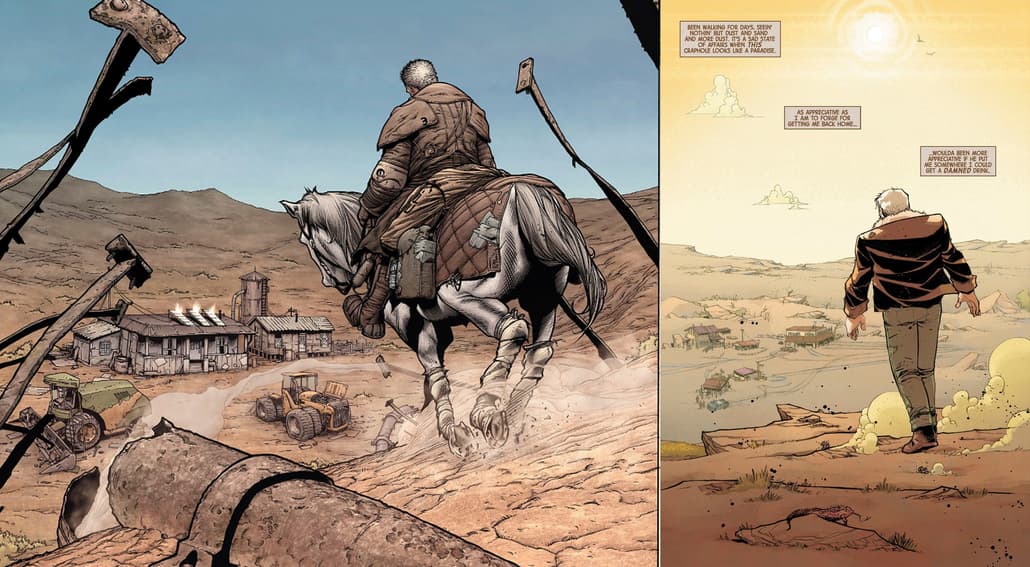 As for easter eggs... well, the news is out now, so I can say that I've been seeding a follow-up series to this. I love the world of the Wastelands and had an idea partway through the story that we could spin another tale out of this one. One about hope and the rebuilding of this world that's been destroyed.
With Bruce Jr., we have a Hulk. Dani is now Thor. The Ant-Man kid from the original OLD MAN LOGAN series is now a man... and Ant-Man. We have the makings of an Avengers team and thankfully Marvel was on board to let me explore what it might mean for a new team to rise up and try to rebuild that broken world.
Mike Henderson: The opening scene mirroring the original Old Man Logan was interesting to set up, certainly. Ed wanted to mirror the original Old Man Logan and we discussed using similar shots to bring long time readers back, while I tried to add a sense of chaos.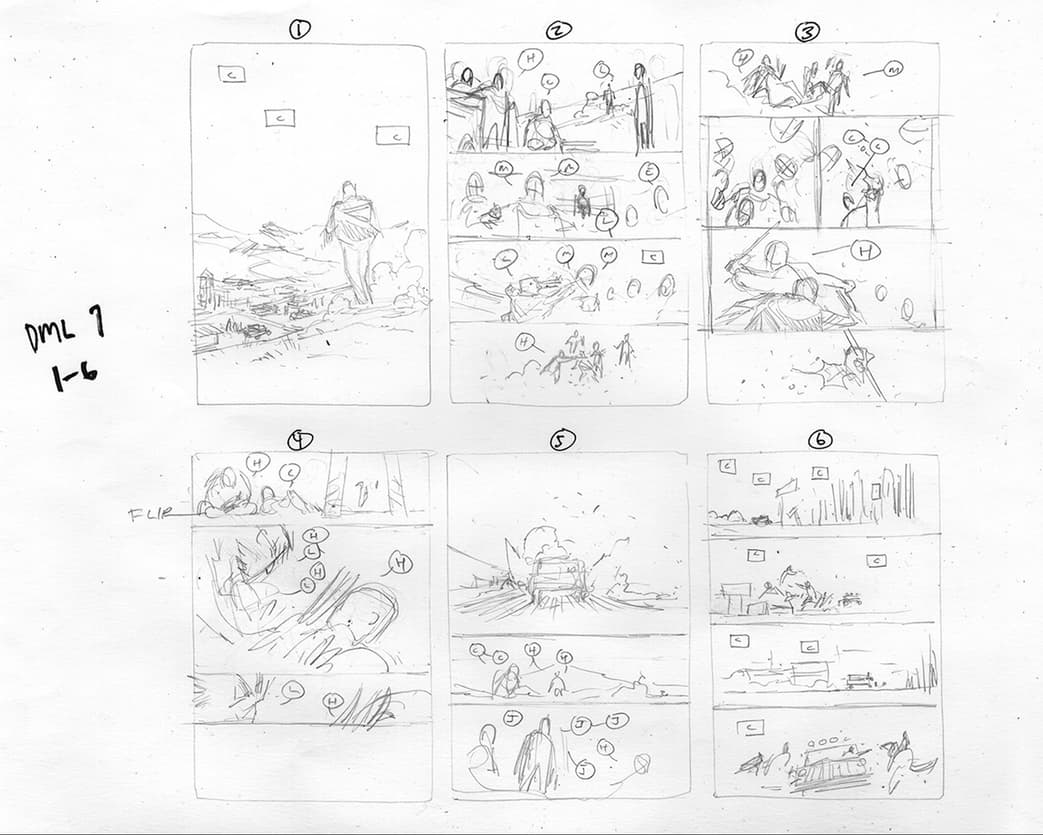 Unexpectedly for me, the scene developed a weight of looming dread all its own as I drew those pages, and I tried to use the chaotic nature of the setting to foreshadow the level of craziness things were about to take on.
What can you tell readers heading into DEAD MAN LOGAN #12?
Ed Brisson: We weren't joking. Logan dies.
Mike Henderson: Dead. So very, very dead.
What do you want to say to readers for sticking with DEAD MAN LOGAN through to the end?
Ed Brisson: Thank you. I'm glad you all stuck with it and I hope you enjoy the final issue as much as I enjoyed writing it. I hope you shed at least half as many tears as I did.
Mike Henderson: Thank you. Thank you for coming along for this ride. I hope it's as satisfying and gut-punching for you to read as it was for me to draw. It's a work I'm immensely proud of.
DEAD MAN LOGAN #12, written by Ed Brisson with art by Mike Henderson, is on sale now online and at your local comic store!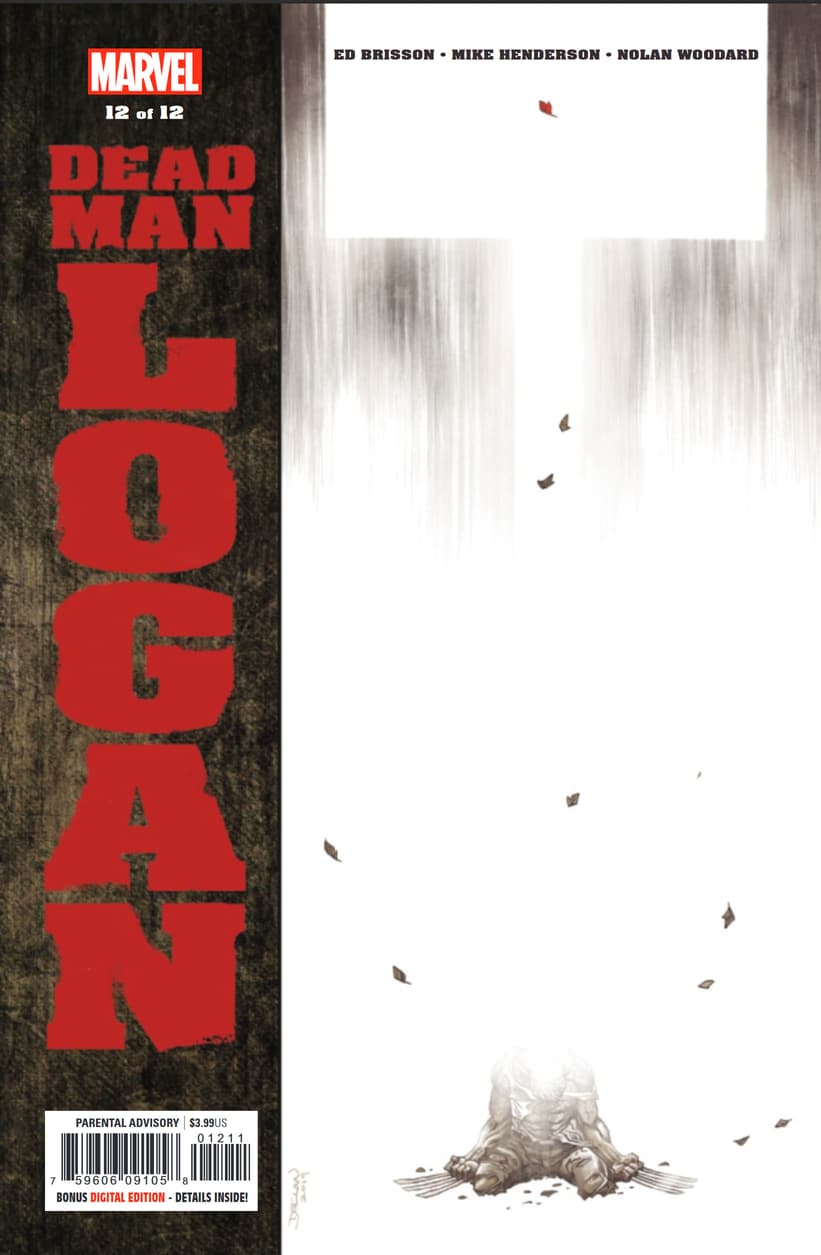 The Hype Box
Can't-miss news and updates from across the Marvel Universe!