Comics
Published August 24, 2020
'Empyre': Who is R'Klll?
One of the true villains behind Empyre has been hidden in plain sight for years.
Al Ewing, Dan Slott, and artist Valerio Schiti have given readers several memorable surprises within the pages of EMPYRE, from the reveal of the Cotati's true intentions to an unexpected wedding between two of Marvel's Young Avengers. But one of the biggest shocks was the emergence of R'Klll, the former empress to the Skrulls. She was believed to have perished several years ago when Galactus destroyed the Skrull homeworld. Instead, we've recently learned that R'Klll has secretly been working for the Kree as Tanalth the Pursuer.
As Tanalth, R'Klll helped bring the Skrulls and the Kree together in the Alliance, while installing her grandson, Hulkling AKA Dorrek VIII, on the throne. But rather than securing her grandson's legacy, R'Klll has assumed Hulkling's identity and ordered the destruction of the Earth!
It will all come to a head on Wednesday, September 2 with the release of EMPYRE #6. But ahead of that monumental conclusion, Marvel.com is taking a look back at the Empress who may yet emerge with two powerful empires at her command.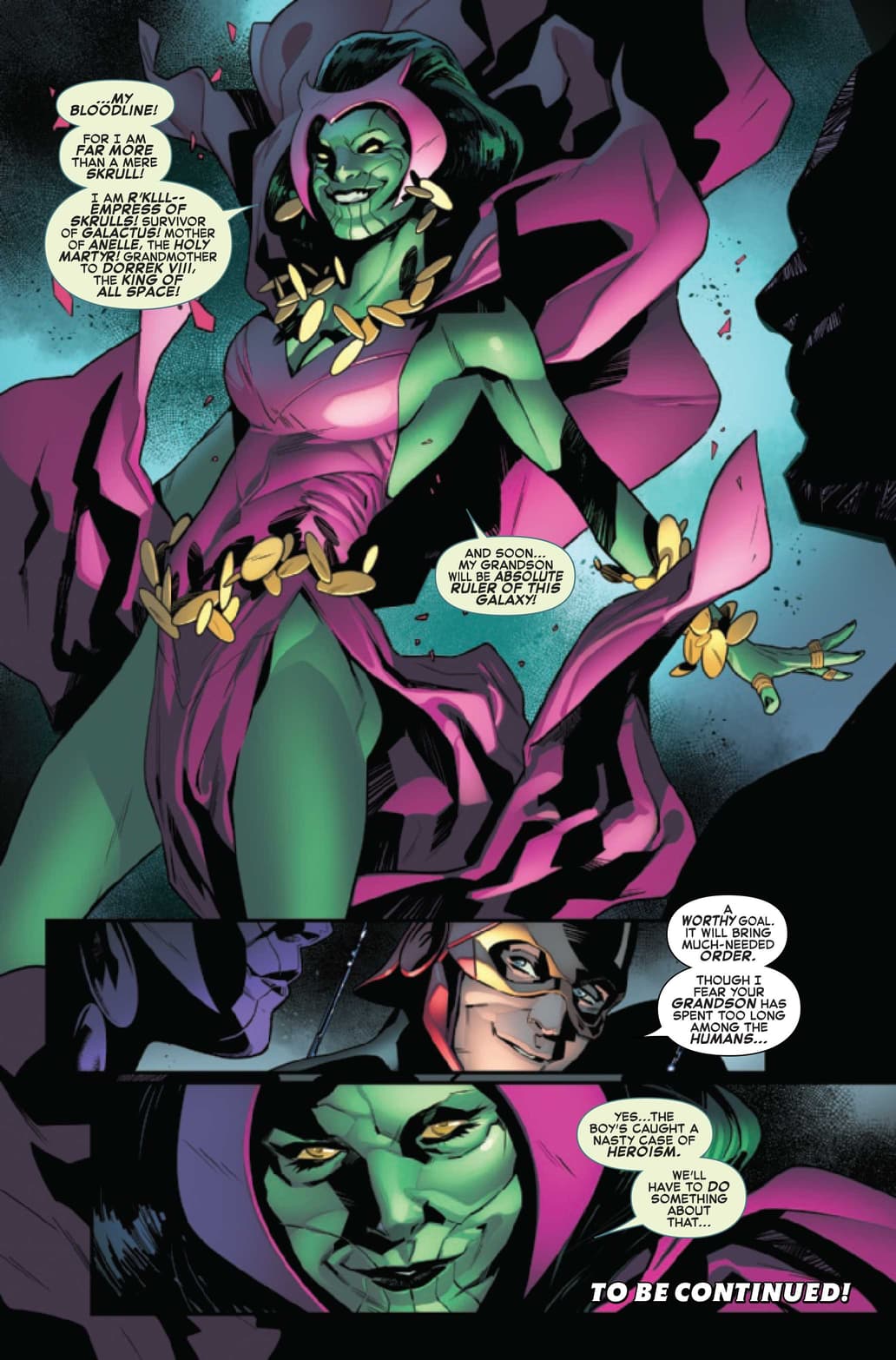 Hulkling's grandfather, Dorrek VII, played a pivotal role in the classic Kree/Skrull War storyline. Dorrek's actions in that tale eventually led to the romance between his daughter, Princess Anelle, and Mar-Vell of the Kree. To protect their child, Anelle sent Hulkling AKA Teddy Altman to live on Earth.
As for R'Klll, she made a big splash in her first appearances in FANTASTIC FOUR (1961) #206-209. Those issues established that the union between R'Klll and Emperor Dorrek VII was only for political purposes. Secretly, they were plotting to kill each other, and there was no love lost between them. But only R'Klll had the opportunity to act on her plan when Dorrek VII displayed cowardice during a battle with Xandar. With Dorrek VII dead by her hand, R'Klll became the new empress.
Unlike her late husband, R'Klll displayed a willingness to coexist with the Kree when it suited her purposes. During UNCANNY X-MEN (1963) #137, R'Klll and the Kree Supreme Intelligence both sent observers, Bel-Dann and Raksor, to ensure the death of Phoenix. In FANTASTIC FOUR ANNUAL (1961) #18, R'Klll and the Supreme Intelligence both agreed to abide by a duel between Bel-Dann and Raksor that would definitively end their war. The Fantastic Four and the Inhumans tricked Bel-Dann and Raksor, which led to both of them being declared the winners. That incident paved the way for the Alliance, but Bel-Dann and Raksor's stories came to an end in last year's INCOMING! one-shot.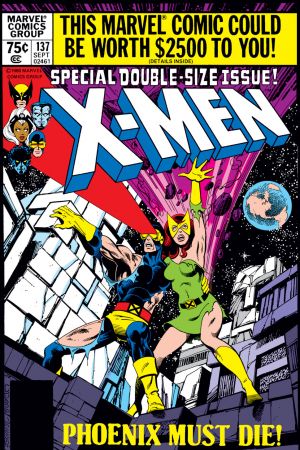 As for R'Klll, she and her daughter Anelle were trapped on the Skrull homeworld when Galactus devoured it in FANTASTIC FOUR (1961) #257. The secret of R'Klll's survival is one of the biggest mysteries to come out of EMPYRE. But now that we know R'Klll is still alive, it begs the question about if there was ever a real Tanalth. R'Klll's disguise is so thorough that not even the advanced Kree or Skrull sensors can detect her true race. That's also why R'Klll's deception and her subsequent coup of her grandson has yet to expose her. The only dead giveaways to R'Klll's performance are a complete lack of compassion towards Earth and a quick dismissal of Hulkling's husband, Wiccan. The real Hulkling would never have acted that way.
In EMPYRE #4, R'Klll claimed that her purpose among the Kree was to build up their empire. Marvel fans witnessed some of those actions in ALL-NEW INVADERS (2014) #1-5, when she went up against Captain America, Namor, and the original Human Torch to get her hands on a Kree super-weapon called the Gods' Whisper. If not for the efforts of the reunited Invaders, the Kree would have conquered the galaxy.
Now, R'Klll stands on the brink of ruling the twin empires of the Alliance. She only had to set up the imminent destruction of Earth to see her goals to fruition. It's going to take the Avengers, the Fantastic Four, and maybe more heroes to prevent the end of their world. But they may not be able to completely thwart R'Klll's ambitions. We'll find out what's next when EMPYRE #6 hits stores next week!
You can pick up EMPYRE #6, written by Al Ewing and Dan Slott with art by Valerio Schiti, at your favorite local comic book shop or digitally on Wednesday, September 2! Be sure to ask your local comic book shop about their current business policies to observe social distancing or other services they may offer, including holding or creating pull lists, curbside pick-ups, special deliveries and other options to accommodate. Find and support your local comic book shop at http://comicshoplocator.com or by visiting http://marvel.com/lovecomicshops.
For digital comics, all purchases in the Marvel Comics app can be read on iPhone®, iPad® and select Android™ devices! Our smart-paneling feature provides an intuitive reader experience, ideal for all types of mobile device and tablet users!
The Hype Box
Can't-miss news and updates from across the Marvel Universe!