Comics
Published October 13, 2017
Falcon: Patriotic Duty
Writer Rodney Barnes puts Sam Wilson's protégé to the test!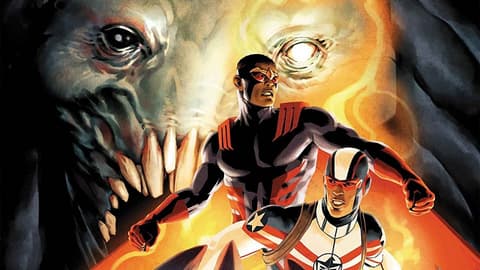 Rayshaun Lucas has already survived a trial by fire, having flourished, unexpectedly, during the harrowing events of Secret Empire.
How will he fare, however, with a trial by hellfire? In FALCON #2, he might find out.
On November 8, writer Rodney Barnes and artist Joshua Cassara line Falcon and Patriot up against the son of Mephisto, Blackheart.
We spoke to Rodney about the duo's relationship, their new role in Chicago, and how they'll handle the demon's power.
Marvel.com: Describe the relationship between Falcon and Patriot—Sam and Shaun. How do they view one another?
Rodney Barnes: Sam embraces the role of mentor and Shaun has an awareness that he has a long way to go in regards to becoming an Avenger. But there's a friendship under it all that my run looks to ground. Oftentimes these relationships feel one sided—the heavy telling the underling what to do and the latter doing that without question. That doesn't describe this relationship.
Shaun isn't afraid to disagree or speak his mind. That doesn't mean he's right [Laughs], but he certainly doesn't act as the silent student. The principle that glues their relationship is honor. They believe the same things but come from two different places when expressing those beliefs. But in the end they end up side by side.
Marvel.com: How does Shaun feel about being a costumed hero?
Rodney Barnes: Great question. Shaun tends to see the bright lights first. But he's learning that the concept of being a hero can be bigger than just the task laid before him. As he goes deeper into that idea, he'll get better at the hero game.
Marvel.com: How does it affect Shaun to face "everyday" criminals in Chicago? People who aren't super villains or Hydra agents.
Rodney Barnes: His desire to join this fight came from wanting to help the gang situation and stop violence in the street. So he has an emotional connection to the task at hand; were it a daily patrol-type scenario, then yes, Patriot might push back [in frustration]. The parallel to your question in the opposite direction would be, "What happens when I think I'm fighting gangs and a demon pops up?"
Marvel.com: How does Joshua Cassara's artwork help illuminate Patriot coming to grips with this new life?
Rodney Barnes: Josh extends the boundaries. The seamless transitions between the streets and dark realms ground the believability factor. Shaun's never dealt with anything like this, so whereas Sam can just dive in, Shaun has to digest the reality before him. Josh brings that reality to life beautifully.
Marvel.com: How does Sam approach the duo's new demonic enemy?
Rodney Barnes: Sam's father, having been a religious leader, plays a role. But that said, he's seen it all: gods, aliens, and monsters.
The biggest vulnerability for Sam will be that Blackheart can play on Sam's doubts of late—Steve, his role in the riot, his mentorship of Shaun. He's a demon, so anything will be fair game. That said, Sam doesn't back down—regardless of what gets put before him.
Marvel.com: How does Blackheart prey on the relationship between Falcon and Patriot?
Rodney Barnes: Well, Sam doesn't know Blackheart's role in this from the start. Once he does, it starts to make sense. But Sam's doubt takes his eye off of Shaun's training, so there might be moments where the student's doubts start to fester. But being a hero comes from an intrinsic place, so Shaun will have to find it within himself to stay the course. Which I believe he will.
Shaun's tougher than he knows. But aren't we all?
Rodney Barnes and artist Joshua Cassara's FALCON #2 tests the team-up on November 8!
The Hype Box
Can't-miss news and updates from across the Marvel Universe!