Comics
Published January 5, 2023
Catch Up on Fan-Favorite Stories and Best-Sellers from 2022
The Marvel Comics app is offering incredible savings on recent digital comics—and collections—all month long!
Now on sale in the Marvel Comics app! Catch up on an entire year of stories with the best-sellers—and top favorites—of 2022! Relive the events of DEVIL'S REIGN, experience X LIVES/X DEATHS OF WOLVERINE, start She-Hulk's critically-acclaimed series, and try Black Panther's latest run too! Now's your chance to save up to 67% off on over 90 modern classic collections and fan-favorites from the past year!
And, Marvel Insiders who shop this sale through January 30 will earn 1,000 Insider points (limit once per sale) for any purchase. Learn more about becoming a Marvel Insider, and see what rewards are available to redeem just by being a Marvel fan! (Membership US only.)
Read more about our top picks, great starting points for new readers or longtime comic fans looking for that next great read.
Academy Award-winning writer John Ridley (12 Years a Slave) and Marvel Stormbreaker artist Juann Cabal launch an all-new BLACK PANTHER series with an action-packed espionage story that will upend everything in T'Challa's life—and have ramifications for the entire Marvel Universe! Secrets from the Panther's past have come back to haunt him. Freshly returned from his travels in space, T'Challa receives an unexpected and urgent message from a Wakandan special agent. The Panther has the help of his brilliant sister, Shuri, but the assassins they face seem to always be one step ahead. Now T'Challa must race the clock not only to save his agent, but also to keep his true agenda under wraps!
Collects BLACK PANTHER (2021) #1-5.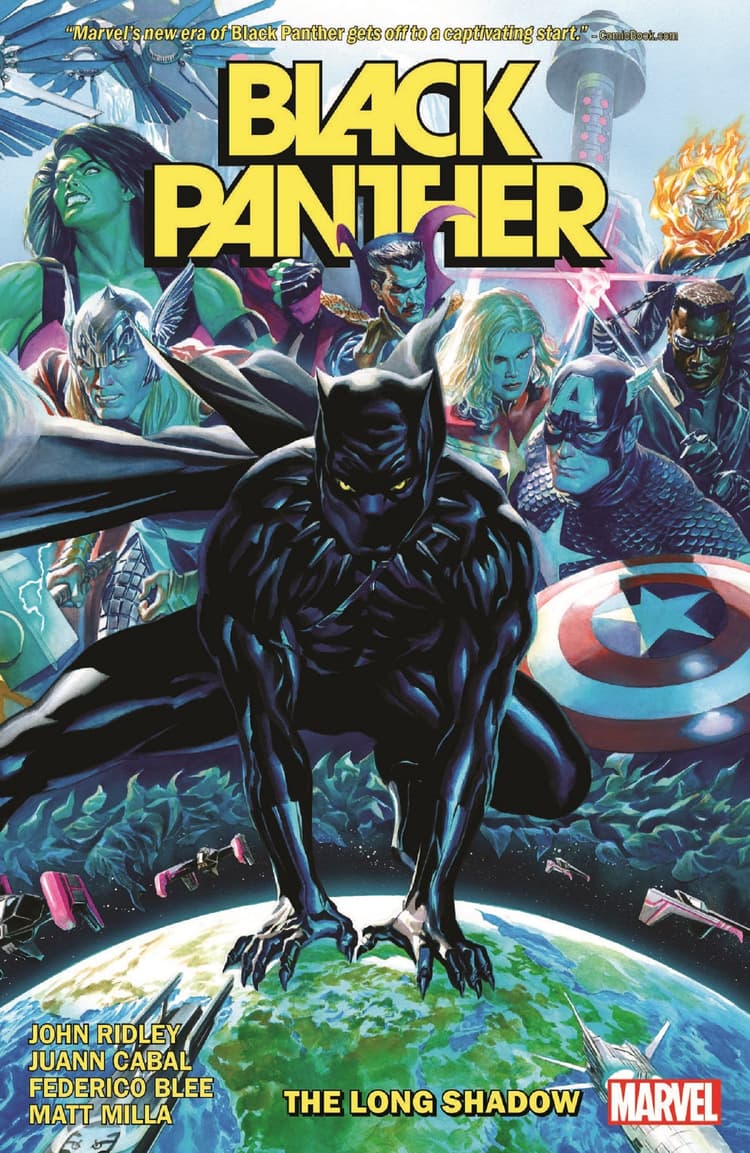 The most expansive Wolverine story of all time! Logan. James Howlett. Weapon X. The mutant known as Wolverine has lived many lives under many identities, but never before has the fate of the future been so entwined with his past! To prevent a terrible tragedy, Logan must travel to various points in time to prevent the death of a key figure in mutant history. But that's only the beginning—because for every life, there must be a death! Fan-favorite eras are explored anew, along with never-before-seen periods in Wolverine's century-long life! But while Logan saves the past, his extended family must step up to protect the present! Benjamin Percy presents a time-shredding saga across all of Wolverine history—and futures yet to come!
[RELATED: The Past, and Future, Wolverine]
Collects X LIVES OF WOLVERINE (2022) #1-5 and X DEATHS OF WOLVERINE (2022) #1-5.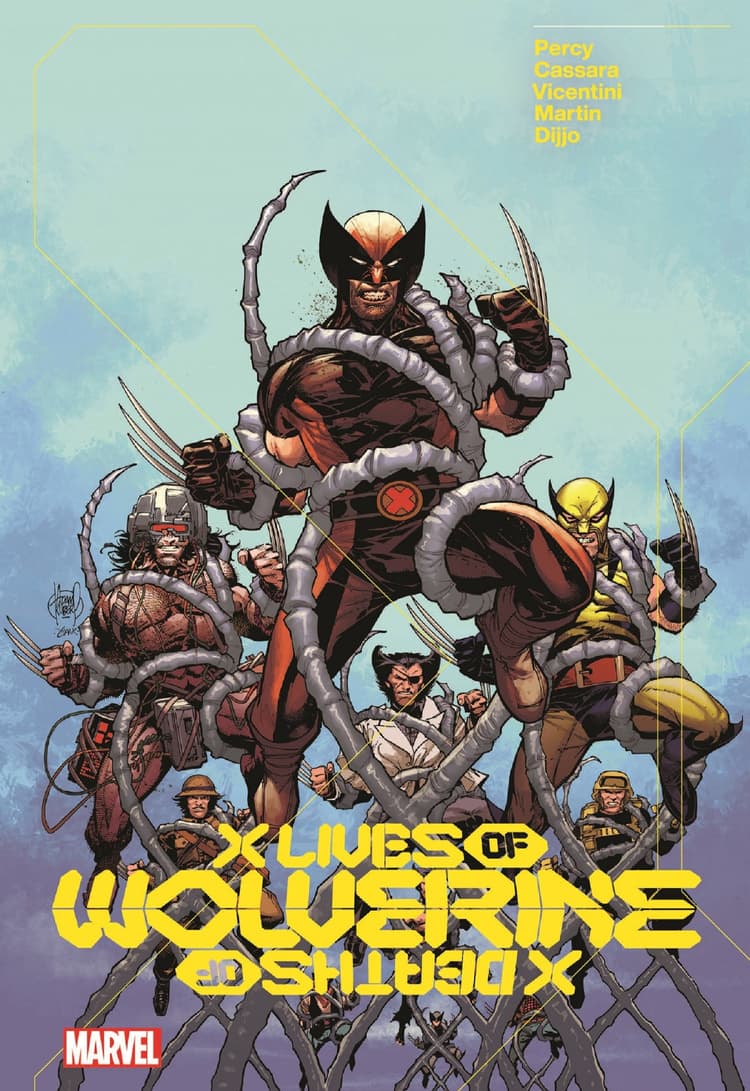 A new era of AMAZING SPIDER-MAN begins! Peter Parker is on the outs with the Avengers. He's on the outs with the Fantastic Four. He's on the outs with Aunt May! No one wants to see Spider-Man—except for Doctor Octopus. Doc Ock is on Spidey's tail, and the Master Planner has something truly terrible planned for when he gets his tentacles on Peter. But what did Spider-Man do that has alienated him from everyone? And what moves is the gangster called Tombstone making? Spidey and Tomby are about to have their most brutal battle ever, and the worst damage to Peter might not be physical! Just in time for Spider-Man's 60th Anniversary, blockbuster artist John Romita Jr. returns!
Collects THE AMAZING SPIDER-MAN (2022) #1-5.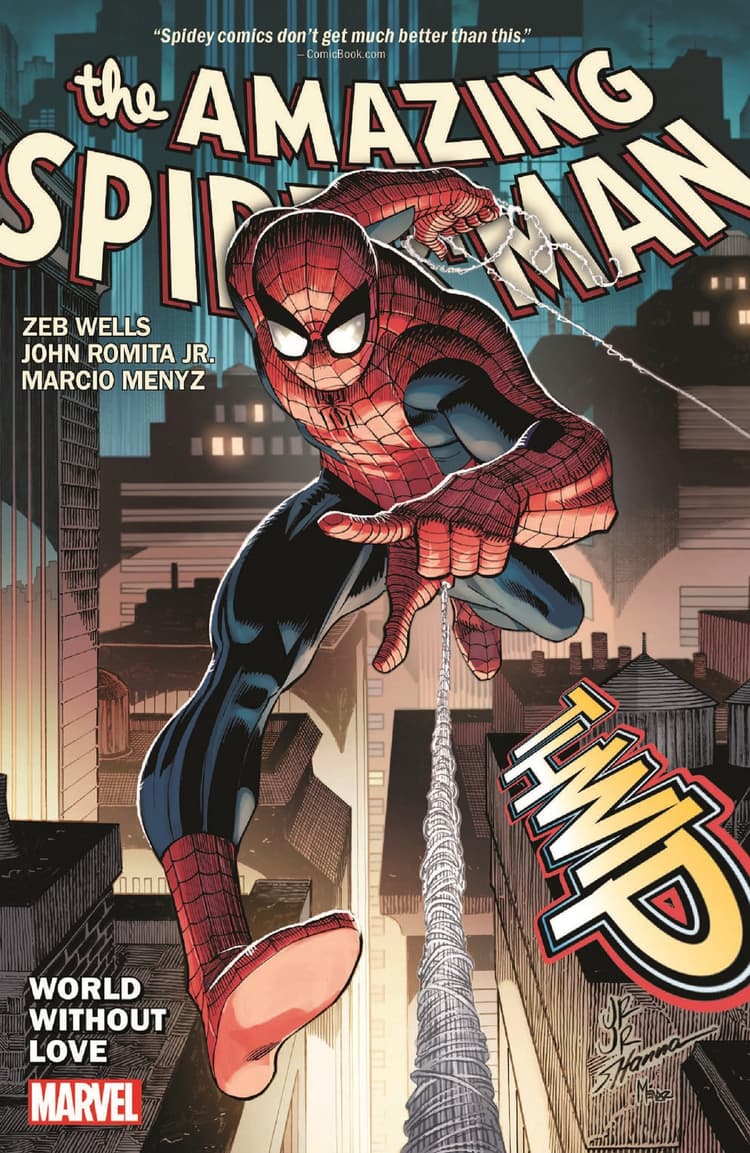 The story that's been building for years is finally here! Wilson Fisk has risen from Kingpin of Crime to mayor of the biggest city in America. Now he's going to bring his full criminal and political power to bear on the Super Heroes who call New York City home! The man who once destroyed Daredevil has targeted the Fantastic Four, Iron Man, Captain America, Spider-Man, Jessica Jones, Luke Cage and more. Fisk has an army of Super Villains at his command—including Crossbones, Taskmaster, Typhoid Mary, Shocker, Whiplash, Rhino and Kraven—and that's just his opening salvo. Wait until you meet his Thunderbolts! But Mayor Fisk isn't the only one with ambitions—and you know what they say about honor among thieves. From the blockbuster creative team of DAREDEVIL comes the final act in Wilson Fisk's master plan!
Collects DEVIL'S REIGN (2021) #1-6 and DEVIL'S REIGN: OMEGA (2022) #1.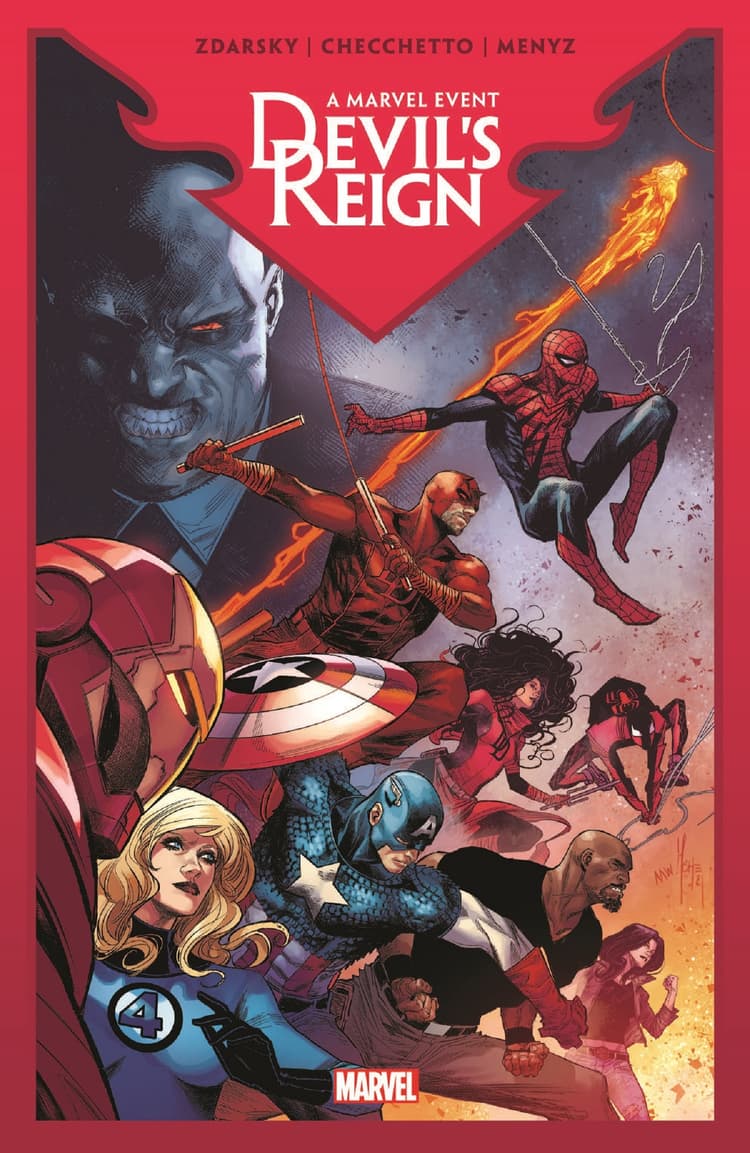 These comics and collections are available to read on the Marvel Comics app for iOS and Android, on sale through January 30. Grab the full list of sale titles here:
AMAZING SPIDER-MAN BY WELLS & ROMITA JR. VOL. 1: WORLD WITHOUT LOVE
AMAZING SPIDER-MAN BY WELLS & ROMITA JR. VOL. 2: THE NEW SINISTER
AVENGERS BY JASON AARON VOL. 10: THE DEATH HUNTERS
AVENGERS BY JASON AARON VOL. 9: WORLD WAR SHE-HULK
AVENGERS FOREVER VOL. 1: THE LORDS OF EARTHLY VENGEANCE
BLACK PANTHER BY JOHN RIDLEY VOL. 1: THE LONG SHADOW
BLACK PANTHER BY JOHN RIDLEY VOL. 2: RANGE WARS
CAPTAIN CARTER: WOMAN OUT OF TIME
CAPTAIN MARVEL VOL. 7: THE LAST OF THE MARVELS
CARNAGE VOL. 1: IN THE COURT OF CRIMSON
DAREDEVIL BY CHIP ZDARSKY VOL. 7: LOCKDOWN
DAREDEVIL: WOMAN WITHOUT FEAR
DEATH OF DOCTOR STRANGE
DEATH OF DOCTOR STRANGE COMPANION
DEFENDERS: THERE ARE NO RULES
DEMON DAYS TREASURY EDITION
DEVIL'S REIGN
DEVIL'S REIGN: SUPERIOR FOUR
DEVIL'S REIGN: VILLAINS FOR HIRE
DEVIL'S REIGN: X-MEN
ETERNALS VOL. 2: HAIL THANOS
EXCALIBUR BY TINI HOWARD VOL. 4
EXTREME CARNAGE
FANTASTIC FOUR VOL. 10: RECKONING WAR PART I
FANTASTIC FOUR VOL. 11: RECKONING WAR PART II
GHOST RIDER VOL. 1: UNCHAINED
GHOST RIDER: THE RETURN OF BLAZE
HAWKEYE: KATE BISHOP
HELLIONS BY ZEB WELLS VOL. 3
HULK BY DONNY CATES VOL. 1: SMASHTRONAUT!
HULK VS. THOR: BANNER OF WAR
ILLUMINATI
INFERNO
IRON FIST: THE SHATTERED SWORD
IRON MAN VOL. 3: BOOKS OF KORVAC III - COSMIC IRON MAN
KANG THE CONQUEROR: ONLY MYSELF LEFT TO CONQUER
KA-ZAR LORD OF THE SAVAGE LAND
MAESTRO: WORLD WAR M
MARAUDERS BY GERRY DUGGAN VOL. 4
MILES MORALES VOL. 6: ALL EYES ON ME
MILES MORALES VOL. 7: BEYOND
MOON KNIGHT VOL. 1: THE MIDNIGHT MISSION
MOON KNIGHT VOL. 2: TOO TOUGH TO DIE
MS. MARVEL: BEYOND THE LIMIT BY SAMIRA AHMED
NEW MUTANTS BY VITA AYALA VOL. 2
NEW MUTANTS BY VITA AYALA VOL. 3
NON-STOP SPIDER-MAN: BIG BRAIN PLAY
PHOENIX SONG: ECHO
SABRETOOTH: THE ADVERSARY
SAVAGE SPIDER-MAN
SHANG-CHI BY GENE LUEN YANG VOL. 2: SHANG-CHI VS. THE MARVEL UNIVERSE
SHANG-CHI BY GENE LUEN YANG VOL. 3: FAMILY OF ORIGIN
SHE-HULK BY RAINBOW ROWELL VOL. 1: JEN, AGAIN
SILK VOL. 2: AGE OF THE WITCH
SILVER SURFER REBIRTH
SPIDER-GWEN: GWENVERSE
SPIDER-MAN 2099: EXODUS
SPIDER-WOMAN VOL. 3: BACK TO BASICS
SPIDER-WOMAN VOL. 4: DEVIL'S REIGN
STAR WARS VOL. 4: CRIMSON REIGN
STAR WARS: BOUNTY HUNTERS VOL. 3 - WAR OF THE BOUNTY HUNTERS
STAR WARS: BOUNTY HUNTERS VOL. 4 - CRIMSON REIGN
STAR WARS: CRIMSON REIGN
STAR WARS: DARTH VADER BY GREG PAK VOL. 4 - CRIMSON REIGN
STAR WARS: DOCTOR APHRA VOL. 4 - CRIMSON REIGN
STAR WARS: HAN SOLO & CHEWBACCA VOL. 1 - THE CRYSTAL RUN PART ONE
STAR WARS: THE HALCYON LEGACY
STAR WARS: THE HIGH REPUBLIC - TRAIL OF SHADOWS
STAR WARS: THE HIGH REPUBLIC VOL. 3 - JEDI'S END
STAR WARS: THE MANDALORIAN VOL. 1 - SEASON ONE, PART ONE
STRANGE ACADEMY: WISH-CRAFT
STRANGE VOL. 1: I BELONG TO DEATH
SYMBIOTE SPIDER-MAN: CROSSROADS
THE DARKHOLD
THE LAST ANNIHILATION
THE MARVELS VOL. 1: THE WAR IN SIANCONG
THE MARVELS VOL. 2: THE UNDISCOVERED COUNTRY
THE THING: THE NEXT BIG THING
THE UNITED STATES OF CAPTAIN AMERICA
THOR BY DONNY CATES VOL. 4: GOD OF HAMMERS
VENOM BY AL EWING & RAM V VOL. 2: DEVIATION
VENOM BY AL EWING & RAM V VOL.1: RECURSION
VENOM: LETHAL PROTECTOR - HEART OF THE HUNTED
WASTELANDERS
WAY OF X BY SI SPURRIER VOL. 1
WHAT IF...? MILES MORALES
WOLVERINE BY BENJAMIN PERCY VOL. 3
X LIVES & DEATHS OF WOLVERINE
X-CELLENT: NEW BLOOD, NEW WORLD
X-FORCE BY BENJAMIN PERCY VOL. 4
X-MEN BY GERRY DUGGAN VOL. 1
X-MEN BY GERRY DUGGAN VOL. 2
X-MEN RED BY AL EWING VOL. 1
All purchases in the Marvel Comics App are added to your personal library, and can be read on iPhone®, iPad® and select Android™ devices! Our smart-paneling feature provides an intuitive reader experience, ideal for all types of mobile device and tablet users! 
The Hype Box
Can't-miss news and updates from across the Marvel Universe!