Comics
Published February 2, 2018
Flashback Friday: Black Widow
See how the spy defected from Russia and became an Avenger!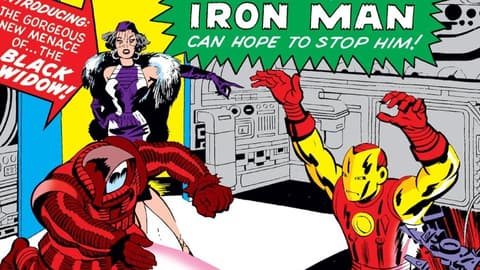 Every Friday, we use the powers of Marvel Unlimited to look back at the very first appearance of a major character, place, or object that made waves this week.
Is Natasha Romanoff really dead?
Hawkeye and The Winter Soldier have been wrestling with this question in spite of themselves throughout the pages of TALES OF SUSPENSE. In the wake of the events of Secret Empire, in which Romanoff, A.K.A. Black Widow, met her demise at the hands of Hydra Captain America, her two former friends—and sometimes love interests—have been following a strange trail that seems to have been left by the heroine.
As the mystery surrounding Natasha swells in the current run of TALES OF SUSPENSE, readers may recall that the character actually made her debut in issue #52 of the series back in 1964. In that story, by Stan Lee, Don Rico, and Don Heck, Natasha Romanoff worked for the Russian government as a spy alongside a man known only as Boris. The duo was tasked with breaking into Tony Stark's facilities, grabbing defected scientist Professor Anton Vanko, and reclaiming the highly advanced Crimson Dynamo armor.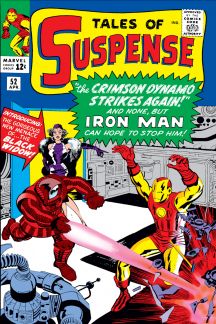 To facilitate their mission, they took on cover identities as a brother-sister duo visiting Stark's lab in order to learn about the technology and bring it back to teach children in the Ukraine. Stark responded positively—and even asked Madame Natasha out to dinner while Boris finished his tour. Alone now, Boris managed to find not only find Vankov, but also the Dynamo armor! After donning the suit himself, Boris destroyed the Stark compound.
Hearing about the attack, Tony cut dinner short and raced back to his headquarters with Natasha at his side. Once there, he ran off to put on his Iron Man armor, leaving Black Widow to utilize her spy training to distract the Armored Avenger from taking out her comrade. Vanko, seizing a moment of opportunity, destroyed the Dynamo armor and himself in the process. The Widow used the resulting explosion to make her escape before returning in the next issue to make up for her failed mission. Though she claimed never to fail a mission twice, that's exactly what happened as she once again missed out on killing Tony Stark.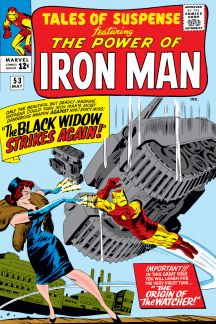 Romanoff, disgruntled at her recent losses, changed her tactics and manipulated circus trick shot archer Clint Barton, A.K.A. Hawkeye, into attacking Iron Man. Though, after Natasha's Communist handlers disrupted the plan, Hawkeye saw reason, vowing to use his abilities for good. He joined the Avengers soon after.
Natasha, back in Russia, was brainwashed once again and tasked with destroying the Avengers. She entered the mission alongside fellow baddies Swordsman and the first Power Man, but eventually her indoctrination wore off, she defected, and joined Barton in the name of good.
FLASH FORWARD
The Black Widow actually trained with the Winter Soldier as far back as the 1950s—she joined her fellow Russian operatives to retrain Bucky Barnes as an agent of the Soviet Union. The two began a brief romance, but the Russians had lingering worries about Bucky's programming, so they decided to freeze him and thaw him out only when necessary.
After regaining his memories thanks to Captain America and the power of a Cosmic Cube, Bucky also managed to recall his time with Natasha. The heroes restarted their relationship, but the star-crossed lovers were foiled once again when a Russian sleeper agent brainwashed Black Widow, clearing her mind of her relationship with Barnes in the process.
The Hype Box
Can't-miss news and updates from across the Marvel Universe!