Comics
Published June 23, 2017
Flashback Friday: Ego
The Living Planet clashes with Thor in his earliest incarnation!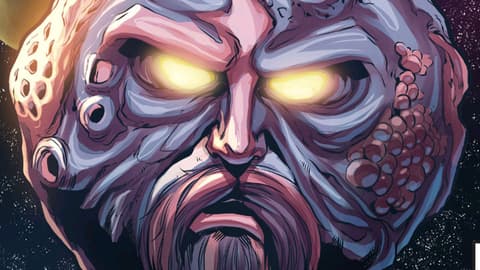 Every Friday we use the powers of Marvel Unlimited to look back at the very first appearance of a major character, place or object that made waves this week.
In the pages of this week's ULTIMATES 2 #8, Al Ewing and Aud Koch brought two powerful cosmic entities into conflict once again as Galactus faced off against his old foe Ego. We're not going to spoil how that encounter ended, but we will talk about the Living Planet's first recorded bout!
Stan Lee and Jack Kirby introduced readers—and the title Asgardian warrior—to Ego on the very last page of THOR #132 back in 1966. You might wonder what brought the God of Thunder into outer space at the time. In THOR #131, Jane Foster's former roommate Tana Nile revealed her true identity as a Space Colonizer. Since no one else cared about the backwater planet Earth, she called dibs and took control. When Thor came to visit the missing Jane, he discovered Tana's secret and battled the supposedly unbeatable Colonizers from Rigel. He allowed himself to get captured and easily broke free to confront the entire organization in issue #132. After a battle, the Colonizer leader told Thor of the true threat, a being living in the Black Galaxy.
Agreeing to face this unseen enemy head-on, Thor flew off in a space ship with a humanoid robot called The Recorder. The duo witnessed the Living Planet as a beautifully rendered Kirby collage at the end of #132, and then far more fully in the next issue. Upon the Thunder God's landing on Ego's surface, the enormous creature revealed seemingly unlimited powers like the ability to peer into minds and manipulate the molecules around them to create familiar environs. He quickly exposed his desire to use these powers to escape the Black Galaxy and take over "all of space."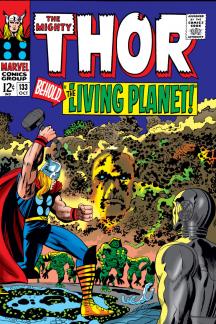 Ego further explained that his plan revolved around using the Thunderer as a molecular model to create an army of powerful anti-body-based minions that would travel from the Black Galaxy to fulfill his machinations. Though the Living Planet offered plenty of obstacles for Thor and Recorder to survive, the Son of Odin called down a storm of epic proportions that allowed them to free themselves from his grievous gravitational pull. In his rage at losing, Ego swore to seal off his bio-verse and never attack an outside world again.
Flash Forward
Of course, Ego's vow of non-violence didn't stop another cosmic threat from threatening the Living Planet! Galactus stumbled upon Ego during one of his many searches for sustenance and the two quickly came into conflict in THOR #160. Meanwhile, Tana Nile appeared on Earth to bring Thor to the Black Galaxy to help stop this war of cosmic proportions. The Thunder God joined the fray, fighting Galactus for the very first time, in an effort to defend Ego from being devoured. Thanks to some help from the Wanderers, who provided equipment to enhance Mjolnir, the heroes drained Galactus of his life energy and sent him packing! Ego offered his thanks by giving the Wanderers a place to live on his surface.
The Hype Box
Can't-miss news and updates from across the Marvel Universe!