Comics
Published March 2, 2018
Flashback Friday: Lockjaw
Revisit the pup's first appearance courtesy of Stan Lee and Jack Kirby!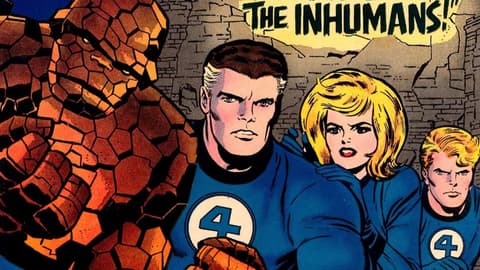 Every Friday we use the powers of Marvel Unlimited to look back at the very first appearance of a major character, place, or object that made waves this week.
Everyone's favorite teleporting dog had his day this week with the launch of LOCKJAW #1 by Daniel Kibblesmith and Carlos Villas! And with our hero starting a journey to find his brothers and sisters in that limited series, let's rewind the tape and see exactly where he got his start.
Lockjaw debuted alongside his fellow Inhumans in 1965's FANTASTIC FOUR #45. The brainchild of Stan Lee and Jack Kirby, the Inhumans were part of an incredible streak of new creations produced by the engineers of the Marvel Universe around this time. The era also saw the emergence of Silver Surfer, Galactus, Black Panther, Wakanda, and Ulysses Klaue!
Medusa became the first Inhuman to tangle with the Fantastic Four as a member of the Frightful Four, but in the buildup to issue #45, she'd been suffering from amnesia. Her fellow Inhuman, Gorgon, eventually came to the outside world at the behest of King Maximus to find Medusa which, thanks to a series of misunderstandings, led to a fight with the FF.
Meanwhile, back at the Baxter Building, Johnny Storm decided to take a walk in order to forget his romance troubles. His breath of fresh air quickly saw him come across a young woman named Crystal. After Johnny got his flame on, she assumed he was an Inhuman and took him to her secret hideout. There, Crystal introduced Johnny to her friend and companion, Lockjaw! The beast used his head antenna to open a nearby door to their hidden compound, setting the stage for the Torch to meet Medusa, Gorgon, Karnak, and Triton!
Before long, however, the Fantastic Four and the Inhumans got into another fight. This time, the Thing battled Black Bolt to a stand still, until Lockjaw teleported in to hit Grimm himself! This gave the Inhumans enough time to regroup before Lockjaw zapped them away to a safer place.
From there, Lockjaw transported his fellow Inhumans home to Attilan where Black Bolt bested his brother Maximus, taking the throne. The Fantastic Four made a visit, but found themselves on the outside of a seemingly impenetrable barrier. The team got distracted by their adventures with Galactus and Black Panther, but Johnny never stopped pining for Crystal, which eventually led him to look for her.
After Black Bolt broke through the barrier surrounding the Great Refuge, he and his group took shelter in Europe after leaving their homeland. Lockjaw then took Crystal to finally reunite with Johnny, though their love was not realized as they might've hoped.
Since then, the Inhuman's best friend has appeared alongside the group at every turn. Thanks to both his super powers and his adorable manner, Lockjaw has become one of the Marvel Universe's most beloved companions.
Flash Forward
If you want even more comics starring Lockjaw in the lead role, do yourself a favor and check out LOCKJAW AND THE PET AVENGERS by Chris Eliopoulos and Ig Guara. In that series, our four legged friend digs up the Mind Gem before going on a mission to find the other Infinity Gems alongside Throg, Redwing, Lockheed, Aunt May's puppy Ms. Lion, and Speedball's pal Hairball! It's a thrilling, surprisingly intense adventure that features a battle with the most infamous seeker of the Gems around!
The Hype Box
Can't-miss news and updates from across the Marvel Universe!