Comics
Published November 18, 2017
Flashback Friday: Sakaar
As Amadeus Cho arrives on Sakaar, let's look back at the planet once ruled by his predecessor!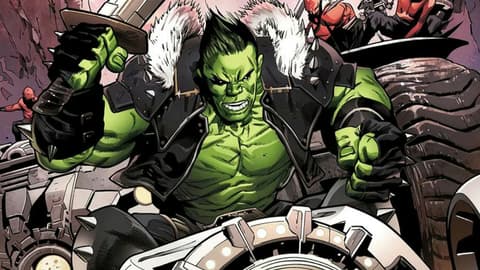 Every Friday we use the powers of Marvel Unlimited to look back at the very first appearance of a major character, place or object that made waves this week.
Amadeus Cho intends to avoid many of the same pitfalls that Bruce Banner fell into over the years as Hulk. However, with this week's INCREDIBLE HULK #710 we see him fully embracing a place that meant a lot to his Jade Giant predecessor: Sakaar.
Back in 2006, the heroes of the Marvel Universe – specifically Iron Man, Reed Richards, Black Bolt and Dr. Strange – got fed up with the Hulk and decided to send him off to a planet where he couldn't hurt anyone and he could finally get the solace he claimed to want.
Instead, as seen in INCREDIBLE HULK #92 by Greg Pak and Carlo Pagulayan, he got sucked through a strange portal and ended up on a planet called Sakaar where the locals immediately enslaved him and he soon started fighting in a gladiatorial arena.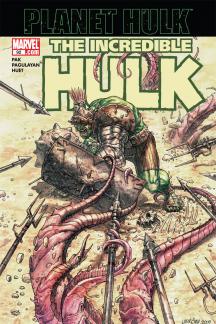 In those battles, Hulk met a group that would become known as the Warbound, who would help him first escape from the Red King and then eventually take over as king himself. Along the way, Hulk fell in love with a Shadow warrior named Caiera, who would have borne him twins, had a catastrophic accident not seemingly killed her.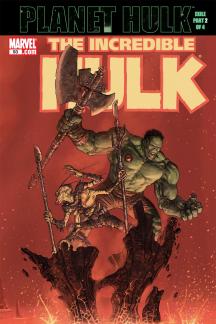 The ship that Hulk's "friends" sent him off on exploded, apparently by accident, but not. The resulting explosion tore through Caiera and many others, leaving a large chunk of Sakaar in lava-engulfed ruins.
Feeling a rage like none other, Hulk agreed to fly off with his surviving Warbound comrades and return to the true source of his misery: Earth. That story came to fruiting in WORLD WAR HULK, but what of the planet that the Jade Giant left behind?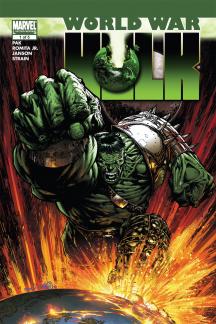 Well, as seen in SKAAR: SON OF HULK – simplified to just SON OF HULK on Marvel Unlimited – the planet kept on turning, even giving birth to not one, but two sons of the Green Scar. Skaar hardened himself in battle and even harnessed the full power of the Old Strong that ran through the planet. Meanwhile, Hiro-Kala, the twin, also began experiencing his own trials and tribulations on the harsh planet.
Galactus visited this place. The Silver Surfer had been drawn in by the same portal that grabbed Hulk during the original storyline, but he brought his master there in SKAAR. Thanks to the Old Strong power that flowed through the rock, Surfer figured that its energy could sate his master's hunger for 10,000 years. Skaar had his own plans, but so did other familiar faces who appeared in an attempt to save the planet.
Now, Amadeus Cho will see exactly how Hulk-like he can be in the place that both gave his namesake his greatest challenge and also one of his most cherished triumphs.
Flash Forward
The history of Sakaar was nicely chronicled in the pages of a one-shot called GLADIATOR GUIDE BOOK. The mostly-text issue goes into great detail about everything from the Tayo Star System that Sakaar inhabits to the geography of the planet. You also get to more fully understand the hierarchy that exists on-planet with the Imperials at the top who subjugate their own kind as well as the insectoid Natives, Shadow People and Spikes. All of these groups and ideas play important parts in Planet Hulk as well as all the ensuing stories set on Sakaar!
The Hype Box
Can't-miss news and updates from across the Marvel Universe!