Comics
Published May 3, 2017
Flaviano Declares I Am Groot
Open up an exclusive sketchbook featuring our favorite flora colossus!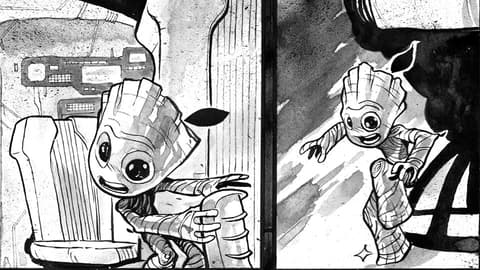 Groot might be striking out on his own in his upcoming solo offering, I AM GROOT, but that doesn't mean he'll be the same giant tree we've all come to know and love. Instead, thanks to some cosmic mishaps, he's tiny and stranded on a brand new world!
These fresh adventures come from the fertile minds of writer Christopher Hastings and artist Flaviano starting May 24, when the new ongoing series kicks off. The creative team will put Groot through his paces, but also leave him plenty of room to explore and make new friends.
We talked with Flaviano about working with Hastings, designing entire planets, and drawing a more diminutive version of the beloved character.
Marvel.com: Like the readers, I'm sure you're used to seeing Groot as a huge, walking tree. How was it getting used to this smaller version?
Flaviano: Yeah, when my editor Darren [Shan] first asked me to work on Groot he didn't mention that it would be "Baby" Groot. Well, I should have imagined it, because of ["Marvel's Guardians of the Galaxy Vol. 2"]. So, when I found out I was twice thrilled. When you have to draw a very small and funny character, the realistic approach isn't the best choice, in my opinion. I tried to make him look a little bit like a character from a comic strip, something like Bill Watterson's Calvin and Hobbes or Frank Cho's Liberty Meadows. I remember Bill Watterson saying that he used to draw Calvin's feet like small bread loaves. I took that as an inspiration to draw our Baby Groot like a little running and lovely bread loaf.
Marvel.com: Would you say that Groot's smaller stature changes how he carries himself on his adventures?
Flaviano: Of course! Everything is huge around him, so he is scared and lost but at the same time cheerful and, in his naive way, interested in everyone and everything. It's always hard, from a shooting standpoint, to have such a small character, because if you draw a very wide shot, you'll lose him. If you stay close to him, you have all the other, much bigger characters out of the shot. But I took that as a challenge and it has been very fun to play with panels and character's point of view.
Marvel.com: It sounds like Groot finds himself on a wild new place. How was it designing an entire planet?
Flaviano: It's every artist's dream come true! You don't have to deal with given environment sets and models, you can create everything from scratch and it's the most exciting part. Of course Chris Hastings had a very clear idea of how the planet should be. But he challenged me to contribute and design odd places and even more grotesque new characters. And the other cool part of creating a new environment is that even if you only draw part of it, you have the whole planet map in your mind and you can browse through it in order to make the character's journey more coherent throughout the series.
Marvel.com: Were there any alien elements, creatures or characters that took longer to nail down in the design process?
Flaviano: I made several attempts for Buddy, Groot's, well, "buddy" in this journey. Chris' description was very clear and I tried to add more oddness but at the same time, more compassion for him. Groot and Buddy are both kind of naive characters, but their naiveté is the one thing that makes you ignore the danger and act brave, even if everything around you is big and scary. I also had a lot of fun in designing the main opposing character, a very strange looking guy who we'll see in several different eccentric outfits.
Marvel.com: Does Groot's inability to communicate with the new beings he finds himself around change how you approach him from a drawing standpoint?
Flaviano: Yeah, without Rocket Raccoon providing answers and translations for him, I had to emphasize his gestures and that was very fun for me since I did animation for like 12 years. Gestures and expressiveness are the core of animation, so I drew fully from that experience in order to make Groot more clear in his intentions but also in his feelings. And of course, he is a baby and his issues with communication make him look so sweet, so I tried to ride this weakness and draw him in the tender, softy way as possible. I expect some cuteness addiction from the web!
Marvel.com: How has it been working with Christopher so far on this series?
Flaviano: As smooth as honey! Chris is very clear in his writing and full of ideas and I'm having a lot of fun translating them into images. Sometimes when you have a lot of new characters to introduce, it's easy to lose track of the story, but this is not the case since Chris planned everything in the strongest way. He provides very detailed descriptions of actions and characters, but he also left a lot of space for the artist to add his personal view and this is one of the best things in working in team.
The final look of the series is everyone's contribution and, in this case, everyone did his best, delivering a very strong new world and an amazing story, including our very talented colorist Marcio Menyz, who provided some gorgeous and energetic colors and last but not least, our editor Darren who is always there, smoothing things over and merging all our different personalities into one whole, perfect-as-possible, product.
Join the exploration with Christopher Hastings, Flaviano, and company when I AM GROOT #1 sprouts on May 24!
The Hype Box
Can't-miss news and updates from across the Marvel Universe!