Comics
Published December 2, 2016
Follow the History of the Black Panther Pt. 23
T'Challa goes to Hell and back, teams with the Avengers, fights for his country, and more!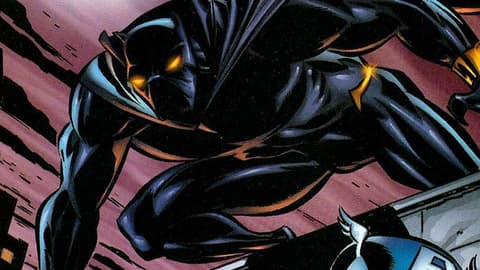 For 50 years, the Black Panther has stood at the forefront on the Marvel Universe. As we count down to a vision of T'Challa on the big screen coming soon, take a look back at five decades' worth of comic book adventures…
His mind troubled by the Tomorrow Fund and the coup in Wakanda, T'Challa fell under the gaze of the demon Mephisto in BLACK PANTHER #3, which led to a full-blown confrontation between the two in BLACK PANTHER #4. Subsequently, Mephisto sent the hero and U.S. representative Everett Ross to Hell in BLACK PANTHER #5 to cause them even more trouble and turmoil.
Later, at a state dinner in New York, the Panther fended off an attack from Kraven the Hunter in BLACK PANTHER #6, and set up a rematch with him in BLACK PANTHER #7. The Avengers joined their old compatriot in BLACK PANTHER #8, when Michael Achebe, the man behind the Wakandan coup, orchestrated a riot.
The Black Panther stood with Earth's Mightiest Heroes in AVENGERS #19 during an assault on the team by Alkhema, a female version of the robotic Ultron. Afterward, T'Challa and his teammates learned of Ultron's destruction of the small European country Slorenia in AVENGERS #20, and made plans to lead a multi-nation invasion to stop him.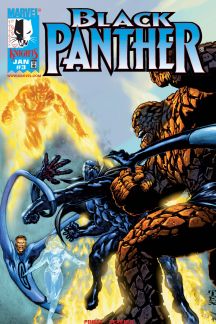 Once in Slorenia, Captain America instructed the Panther and Firestar to hunt down Ultron's location in AVENGERS #21, and when they accomplished their task, the Avengers seemingly destroyed their foe…until a multitude of Ultrons arrived to battle them. New team member Justice's timely arrival with Antarctic Vibranium helped turn the tide in AVENGERS #22.
T'Challa decided to confront Achebe directly in BLACK PANTHER #9, but as the situation in Wakanda grew grimmer, in BLACK PANTHER #10 he accused the U.S. intelligence community of fostering the coup. Back in Wakanda in BLACK PANTHER #11, the king fought valiantly against his enemy, but even though he escaped Achebe's deathtrap in BLACK PANTHER #12, he faced the threat of The White Wolf, too.
BLACK PANTHER #13 revealed T'Challa's quest for Monica Lynne, while the mystery of the woman known as Queen Divine Justice expanded in the background.
The Hype Box
Can't-miss news and updates from across the Marvel Universe!