Comics
Published October 15, 2021
Frederick Luis Aldama on Latinx Heroes
We spoke to the scholar and author about the history of Latinx comics, heroic inspirations, and 'Marvel's Voices: Comunidades.'
This interview has been edited and condensed for clarity.
Frederick Luis Aldama is a media scholar, an editor, and an award-winning author of over 48 books—but the title he's most proud of? "Professor LatinX."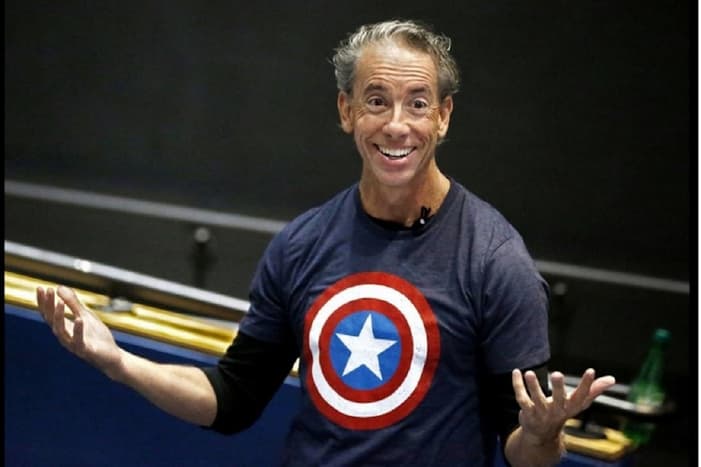 A fan of comic books since childhood, Aldama discovered that his "transformative" love of Super Heroes would become his life's work, exploring themes of super-powered and real-life heroes in Latinx culture at large. Today, Aldama is the Jacob & Frances Sanger Mossiker Chair in the Humanities and Affiliate Faculty in Radio-TV-Film at the University of Texas, Austin, as well as Adjunct Professor & Distinguished University Professor at Ohio State University—he is also the Latino Book Award and Eisner Award-winning writer of Latinx Superheroes in Mainstream Comics, a deep dive into the media spaces of Latinx heroes and the creators who tell their stories.
Marvel.com spoke with Aldama about his earliest days of fandom to the current landscape of Latinx heroes, and where we go from here.
You study super heroics for a living! Was there a single watershed moment for you that sparked your love of comics, or a particular character or storyline?
ALDAMA: Gosh, I have to say that Professor X and the coterie of gifted muties like Iceman, Cyclops, Jean Grey, and Storm had me transfixed. As a Latinx kid from both sides of the US/Mexico border (born in Mexico City to a proverbial chilango papá and Guatemalan-Irish mama from East LA), I felt a little less out of place when I stepped into the X-Mansion—a safe space of exploratory learning that I yearned for.
With the exception of Ororo Munroe, it was mostly these white mutants and Super Heroes that were transformative for me. Remember, this was the mid-1970s so we really didn't see Latinx Super Heroes on the spinner racks at the corner store.
For me, Marvel comics were more than escapist fantasy. They helped me turn the trauma of being marked as monstrous by Anglophone and Anglophile elementary school teachers into healing and empowerment. Little did I know then that I'd become a teacher and scholar—and that those in the BIPOC comics community would christen me: Professor LatinX. So cool!
Speaking as a historian, who do you cite as the first Latinx hero? For Marvel Comics, Hector Ayala's White Tiger gets the credit as our first Latino hero.
This is a topic I was just tossing around with my friends and fellow creators, Peter Murrieta [author, comics creator, and TV producer] and Alex Rivera [filmmaker]. The first Latinx Super Hero: Joaquin Murrieta—actually, Peter's great relative. Not only was he a historically factual Super Hero (think Nat Turner) whose superhuman, epic-dimensioned feats became swiftly transformed into corrido lore, he was the inspiration for Zorro. [Writer] Johnston McCulley distilled and recreated (appropriated?) Murrieta's super-heroic traits, leading to his quick popularization in early film, comics, and radio.
I do want to put a quick spotlight on White Tiger too, and for a couple of reasons. There was something extraordinary about Bill Mantlo and George Pérez's Super Hero. He's not criollo (white) Latinx and of the manor-born like Zorro. White Tiger's working class. He's street and book-smart. He's Brown and Proud, firmly rooted and empowered as an Afro-Latinx Nuyorican.
What are you most excited to see from the next generation of Latinx creators and characters?
Today I'm especially enthralled by the relative abundance and complexity of our Latinx Super Heroes who reflect the hugely diverse makeup of our communities that grow from indigenous American and African ancestry, plus bountiful, beautiful spectrums of gender and sexuality. Think: the Santerians, Humberto Lopez as Reptil, Robbie Reyes as Ghost Rider, Sam Alexander as Nova, Miles Morales as Spider-Man, America Chavez, Ava Ayala as White Tiger, Anya Corazon as Araña... and so many more!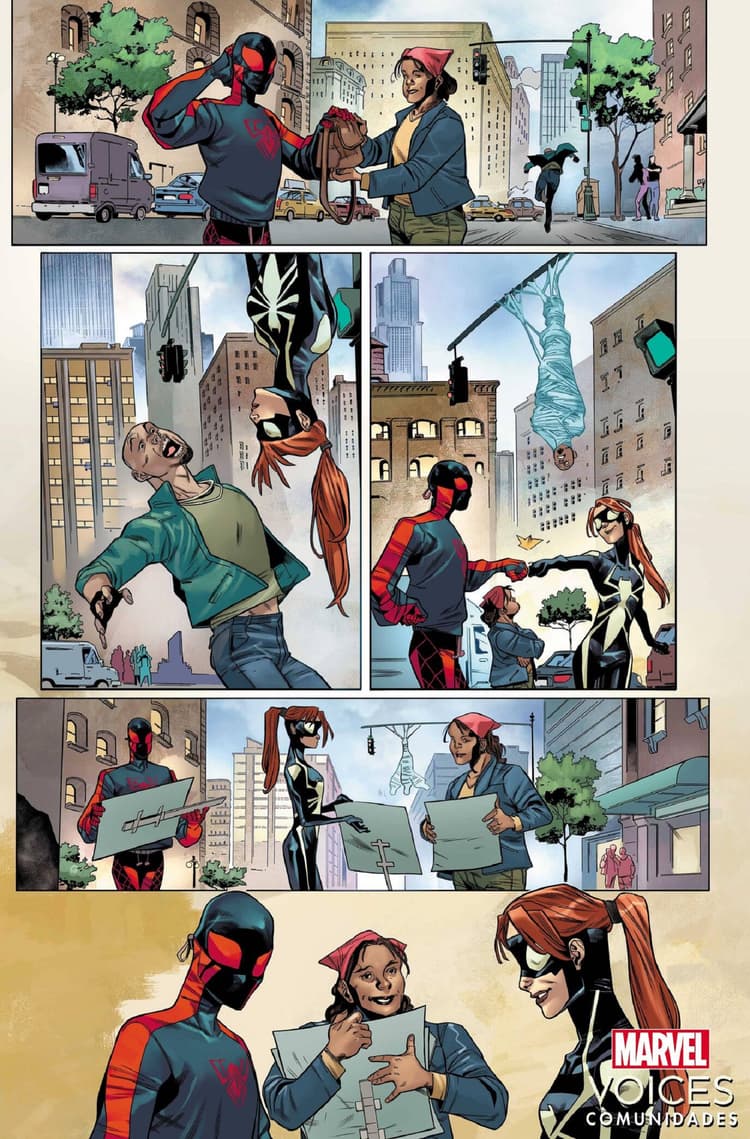 As the editor of Latinographix, can you share a bit of backstory on how the publication came to be?
I cooked up Latinographix, a trade-press series that publishes graphic fiction and nonfiction by and about Latinxs, a decade or so ago—certainly long before today's Marvel's Voices initiative and the promise of more balance on the big screen.
The long of the short of it: when I was researching, interviewing, and writing what became my first book, Your Brain on Latino Comics, I realized that there was an abundance of Latinx creators making comics, but they were not being seen. That is, when they knocked on the big portal doors of mainstream and indie publishers, they were more often than not, turned away.
I wanted to clear a pathway for publication and recognition. From Alberto Ledesma's Diary of a Reluctant Dreamer followed by Tales from la Vida to today's United States of Banana, the Latinographix series has put in the hands of readers so many incredible journeys of our everyday Super Heroes.
In your book Latinx Superheroes in Mainstream Comics you cover Latinx storytellers and "storyworlds" across a range of media. What are some notable examples of representation in the past decade?
I'll be honest—when it comes to big-tent Super Hero films, Latinx's are still way underrepresented. But it's not a desert, either. If we peel back some of the purple or green makeup, we see Latinx actors playing pretty significant characters. Think: Oscar Isaac or Zoe Saldana. But there are other Latinxs who we don't have to peel back an alien-face to find. There's Molly in Marvel's Runaways, Claire Temple in Marvel's Daredevil, and Yo-Yo Rodriguez and Robbie Reyes in Marvel's Agents of S.H.I.E.L.D. And, of course, Black and Brown audiences across the country all jumped for joy—and together—when we got our Afro-Latinx Spider-Man with Spider-Man: Into the Spider-Verse.
MARVEL'S VOICES: COMUNIDADES is right around the corner! What does Latinx and Hispanic community mean to you and how is it reflected in these stories?
I've been pretzel-twisted with excitement waiting for 'Comunidades' to drop. The issue embodies all that springs to mind when I think community: family, friends, vecinos, bodegueros, librarians, teachers—all those who work together to create safe spaces to empower and celebrate. Sometimes community is the small things we do. Sometimes it's the bigger rituals: Día de los Muertos, quinceañeras, Folklorico fests. MARVEL'S VOICES: COMUNIDADES brings this collective spirit and joy—and always with eyes wide open to see how and where we can make a change today for a better tomorrow.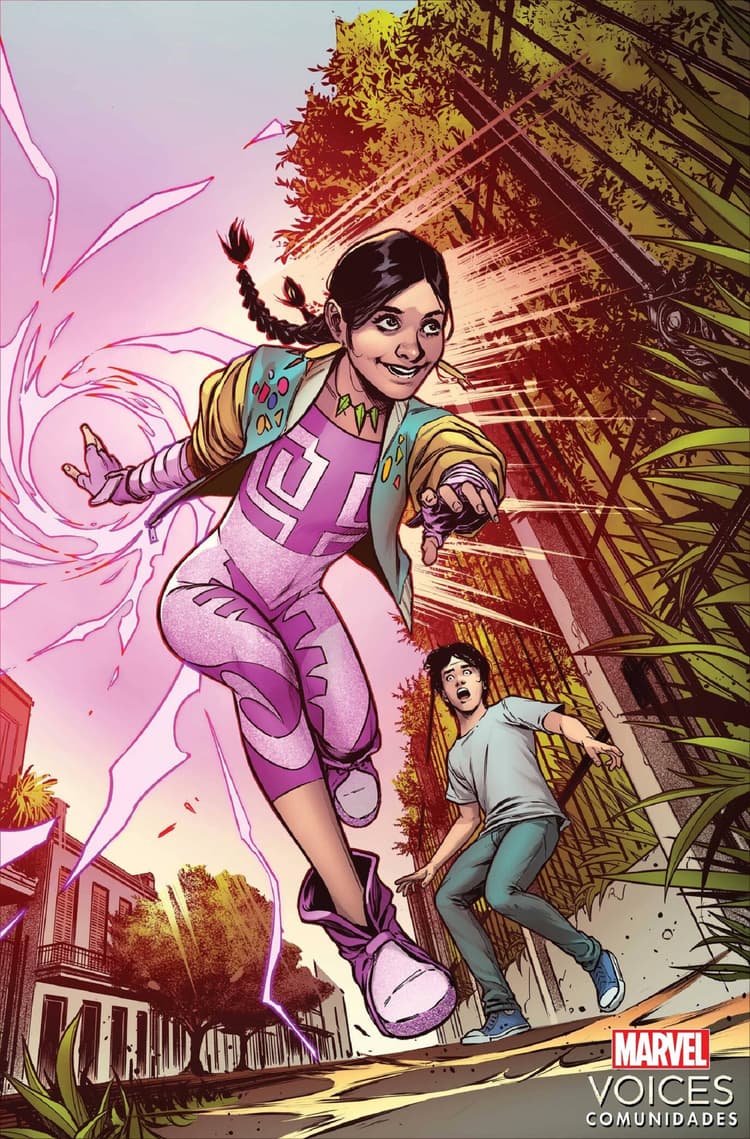 The Hype Box
Can't-miss news and updates from across the Marvel Universe!