Comics
Published January 20, 2017
Gamora: Most Dangerous Sketchbook in the Galaxy
Marco Checchetto opens up on his version of the deadly Guardian!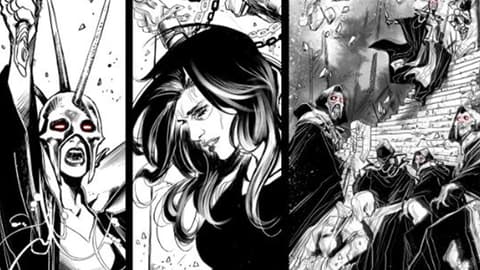 She's the best in the galaxy at what she does, and what she does is deadly! That's right, Thanos' adoptive daughter continues to kick all kinds of butt in the pages of her solo series GAMORA.
"Marvel's Guardians of the Galaxy" screenwriter Nicole Perlman teamed with artist Marco Checchetto to recently launch GAMORA. Instead of following the former Guardian's post-team adventures, this one flashes back to the days before she became the Deadliest Women in The Galaxy!
We talked with Checchetto about working with Perlman, delving into Gamora's earlier days, and developing new looks for familiar faces.
Marvel.com: You've drawn everyone from Spider-Man and Daredevil to Punisher and the Avengers. What unique challenges does drawing a Gamora-centric book offer?
Marco Checchetto: Yes I [have] worked on a lot of characters for Marvel, but this is my first time with the Guardians of the Galaxy. I prefer to draw dark series and when the editors asked me to draw GAMORA I thought that it could be a new challenge for me. She is fierce, gritty, serious, melancholic—the dark side of the group. My cup of tea.
Marvel.com: This series takes a look at Gamora's earlier days, the ones leading up to her becoming the Deadliest Woman in the Galaxy. How does this version differ physically and visually than the one previously seen in GUARDIANS OF THE GALAXY?
Marco Checchetto: In the [past she has been] painted like a lethal, sexy, dark character. In recent years she is a warrior with a lot of weapons and [technological] armor.
My version is more like, "I don't care about weapons or costumes, I'll kill you!" It was important for me not to create a super hero costume, but only normal clothes. She's a very recognizable character, she doesn't need anything too complex.
Marvel.com: Given the book's time frame, I'd imagine you get to redesign younger versions of existing characters as well as new ones. Can you talk a bit about that process working with Nicole and the editorial staff to get those visuals just right?
Marco Checchetto: I was free to play with the characters and the script helped me so much. I love the scenes, written by Nicole, where Gamora can't sleep. She is tormented and very angry and sad also. So I tried to give her a look more real and fragile in those moments.
For Thanos I created a costume near to his old version, technology-free. And I drew him a little bit slim. He [is] younger, not yet the old, big guy.
Marvel.com: Along similar lines, what was it like designing an entire planet and its inhabitants as you did with Ubilex?
Marco Checchetto: I drew what I read in the script. Nicole had very clear ideas for Ubilex and its inhabitants. It's a post-apocalyptic world. It's fun, because in my previous job I did the same work for another planet and its inhabitants, but in another galaxy—far, far away.
Marvel.com: The series also features the Badoon, one of the most despised races in all of the Marvel Universe. What are the keys to making them look right while also putting your own spin on them?
Marco Checchetto: Poor guys, I can't despise them. They only suffer in my pages. I kill them in every way possible.
Marvel.com: Nicole's an experienced screenwriter, but new to the world of writing comics. How has it been working with her on the series so far?
Marco Checchetto: I love Nicole. She is a very detailed writer, but at the same time very cooperative and this was a big help to work on the pages. She knows exactly what she wants for her story. Her Gamora is beautiful and all the characters are engraved in every detail. I hope she had a lot of fun making this series and that she will write many others in the future.
GAMORA, by Nicole Perlman and Marco Checchetto, continues to bludgeon all comers on February 15 with issue #3!
The Hype Box
Can't-miss news and updates from across the Marvel Universe!