Comics
Published March 23, 2017
Guarding the Galaxy: Groot
The floral colossus confronts his past and fights for the future!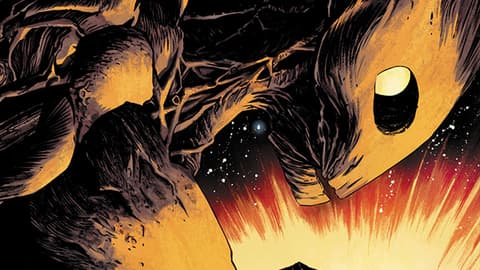 Celebrate this incarnation of the Guardians of the Galaxy's tenth anniversary while also prepping for the May 5 release of their new film with these gems from Marvel Unlimited!
Everyone loves Groot. Whether he's blasting away bad guys with his Guardians pals or dancing in a coffee mug, only the coldest of hearts refuse to melt for this benevolent warrior. So it came as no surprise when the Flora colossi scored his own series in 2015. Written by Jeff Loveness and drawn by Brian Kesinger, the six issue run featured Groot doing everything in his power to save his pal Rocket from the clutches of the evil space pirate Eris.
In issues #2–5, Groot remembered meeting his raccoon-like friend in a prison, then met up with Silver Surfer and his companion Dawn, saved a planet from a cosmic storm and befriended a new group of friends including three inept Skrulls, a 90s-created robot named Mantron, and Numinus, the cosmic embodiment of chance and fate. Even without the toughest folks backing him, Groot still inspired confidence in this crew to take on Eris and save Rocket!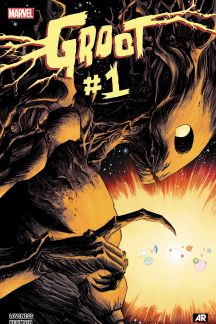 With that whole mess cleaned up, Rocket finally agreed to take Groot to Earth. After marking some things off of a To Do list recommended by fellow Guardians, they got down to the real business of the trip: finding an acquaintance of Groot's. As we discover through a mental conversation between our hero and young Jean Grey, once upon a time the people of Planet X started abducting people to study. Groot knew this was wrong and helped a young girl named Hannah escape. He succeeded, but soon found himself banished from his home leading him down the path to eventually hook up with the Guardians of the Galaxy!
The series closed with Groot sitting with Hannah and a beautiful message about friendship: "Because of her, I learned the greatest truth I know. One I live be every day…Life is not about the shadow you cast on your enemies…But the shade you provide to your friends."
Transmissions from Knowhere
Groot first appeared in 1960's TALES TO ASTONISH #13 and only showed up a few other times between that and ANNIHILATION CONQUEST: STAR-LORD. In MARVEL MONSTERS: MONSTERS ON THE PROWL, The Collector held Groot and a variety of other creatures in his secret Canadian facility before they broke out. Later, Groot again fell into captivity, this time by the supernatural-themed team in NICK FURY'S HOWLING COMMANDOES. Sometime between the end of that series—in which he helped defeat Merlin—and STAR-LORD #1, Groot became captured again for unspecified crimes against the Kree. Since then, he's done a pretty good job of staying out of incarceration.
Next time, Groot and his new teammates test themselves in the fires of intergalactic war in the pages of ANNIHILATION: CONQUEST.
The Hype Box
Can't-miss news and updates from across the Marvel Universe!