Comics
Published April 6, 2022
Inside the Mind of Marc Spector
Think you know the men behind the Moon Knight mask?
The avatar for the Egyptian god of the moon. The Fist of Khonshu. He is the vigilante Moon Knight, but underneath the intimidating aura, glowing eyes, and stark white cloak, he is also Marc Spector. And a few others too.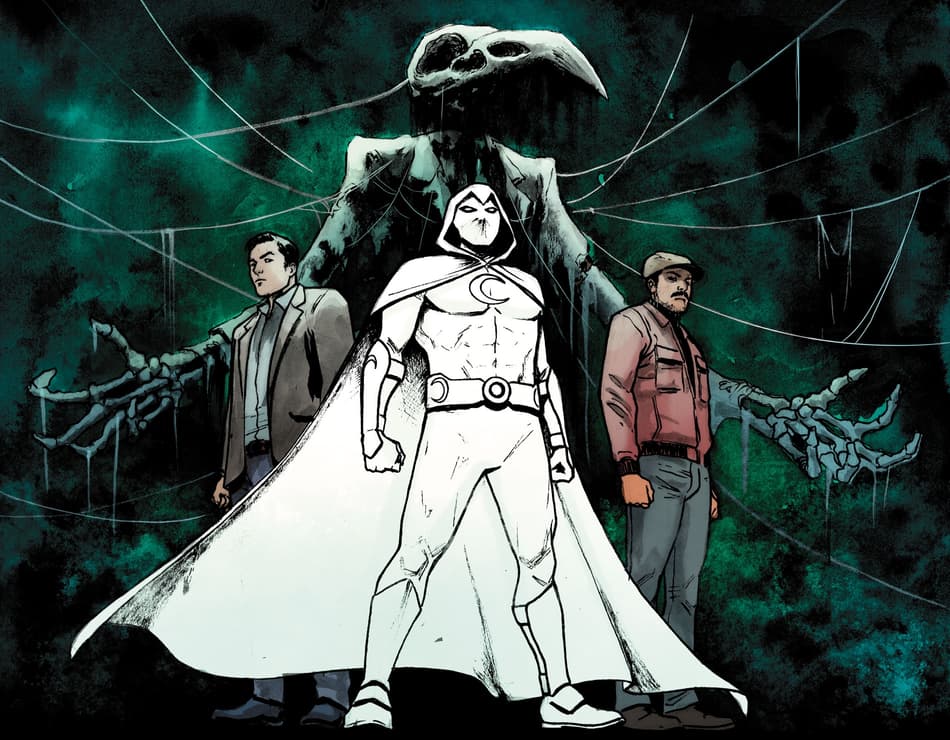 Formerly a mercenary, Marc Spector switched over to super-heroics following a life-ending event. He has teamed up with various groups such as the Avengers (including the West Coast iteration and the Secret Avengers), the Midnight Sons, and even the Defenders over the years. But he has always preferred to work alone. A complicated man with a complex inner world, Spector has Dissociative Identity Disorder (DID), which stems from a traumatic childhood event (MOON KNIGHT (2016) #194). This means that Spector is the host to multiple, individual identities that can take control at random times. Sometimes the occasion calls for the mercenary Marc, yet other moments he needs to possess the charm of Steven Grant, the power of Moon Knight, the detective skills of Mr. Knight, or the stealth of Jake Lockley. Over the span of years, Marc has gained a better handle on his alters. In fact, in MOON KNIGHT (2016) #9, he faced them all head-on in an effort to integrate everyone into Spector's whole. But rather than being a plague (or a nuisance), Spector's identities are a key part of who he is, protective and powerful in their own rights.
[RELATED: A Guide to Moon Knight]
Ready to jump in? Let's take a look at the merc, the millionaire, the cabbie, the vigilante, and the detective!
MARC SPECTOR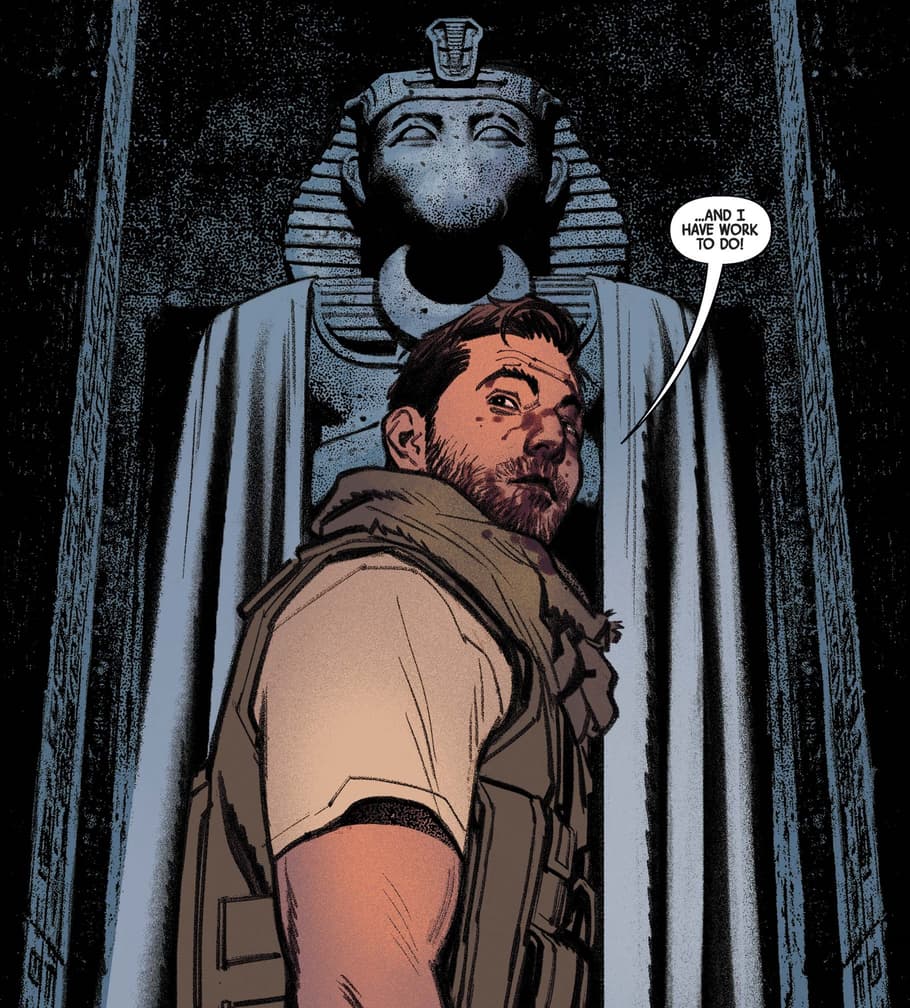 The son of an Orthodox Jewish rabbi and Holocaust survivor, Marc was born and raised in Chicago, Illinois. He is the older brother to Randall, who Marc defends from bullies nearly daily. Marc would later go from beating up bullies to beating up opponents in the boxing ring, enlisting in the Marines, and eventually joining the CIA. All seemed to be going well... until his brother killed Marc's girlfriend, nurse Lisa Maloney. This traumatic event greatly shifted Marc's morals, leading him to quit the CIA to become a mercenary. Through this line of work, however, he met his best friend and pilot Jean-Paul "Frenchie" DuChamp and the love of his life, Marlene Alraune.
Due to his various professions, Marc has built quite the repertoire. He's extensively skilled in hand-to-hand combat (an expert in most forms of martial arts), weapons, is multilingual, and possesses great tactical abilities. None of these skills, unfortunately, saved him from being deceived by Raoul Bushman. Good thing that Khonshu—more on that later—was looking out for dear ol' Marc in MOON KNIGHT (1980) #1.
MOON KNIGHT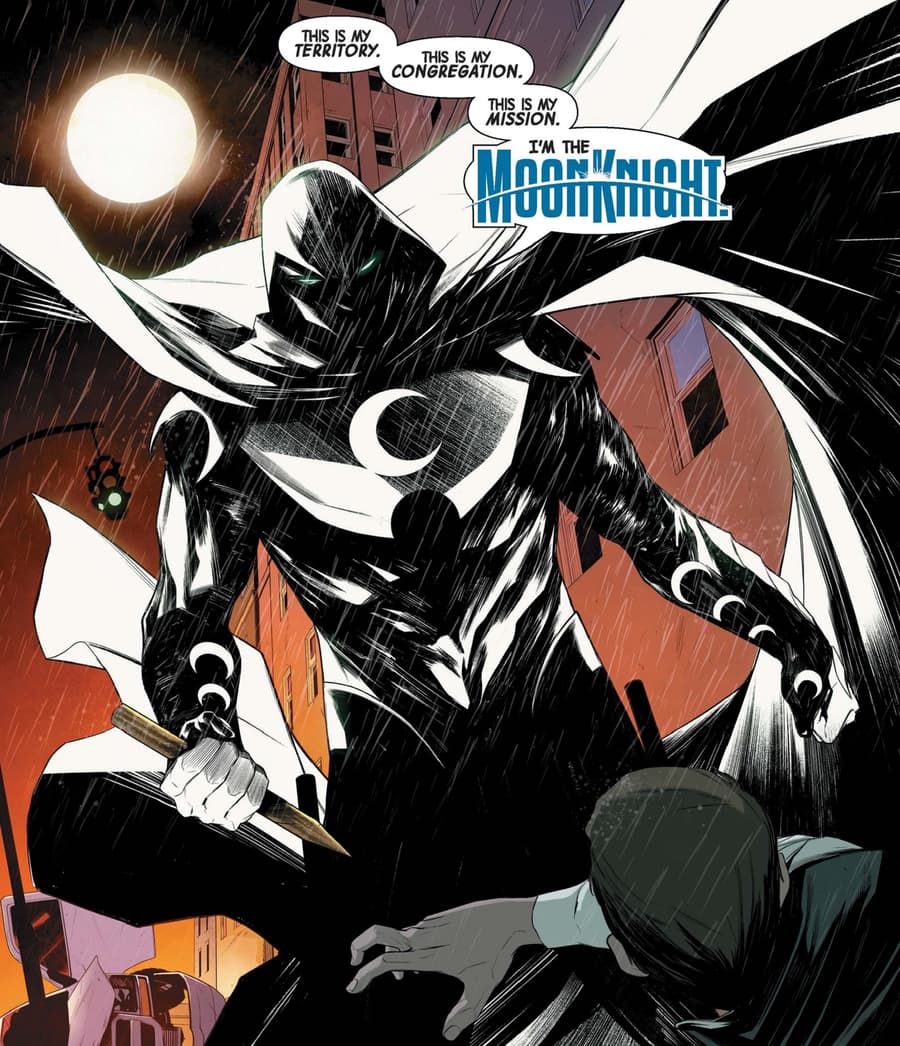 Originally introduced as an antagonist in WEREWOLF BY NIGHT (1972) #32, Moon Knight fights on the side of justice. When Marc Spector died in Egypt under a statue of Khonshu, the moon god revived him and transformed him into the "moon's knight." As an agent of Khonshu, Moon Knight had the following abilities: enhanced insight, necromancy, absorption of magic-based powers and life energy through direct contact, and lunar empowerment—the fuller the moon is, the greater his strength, speed, and agility. The reason "had" is used in relation to his powers is because according to Khonshu in MOON KNIGHT (2006) #9, the god took them all away due to his servant's disobedience. (There was also that one time Moon Knight possessed the powers of Iron Fist, Doctor Strange, Ghost Rider, Mjolnir, and the Phoenix Force during the AVENGERS: AGE OF KHONSHU event, but he doesn't get to keep any of these either.) A tough loss, but that doesn't stop him in the slightest.
Moon Knight still has his weapons, like his iconic crescent darts and truncheon, his Angel Wing, and a ridiculously high pain tolerance. He shows no mercy against his adversaries, and unlike most heroes, will end their night… permanently. You might be wondering: "Why does he wear white if he fights at night?" Moon Knight put it best in MOON KNIGHT (2006) #1: "I wear it so they'll see me coming."
MR. KNIGHT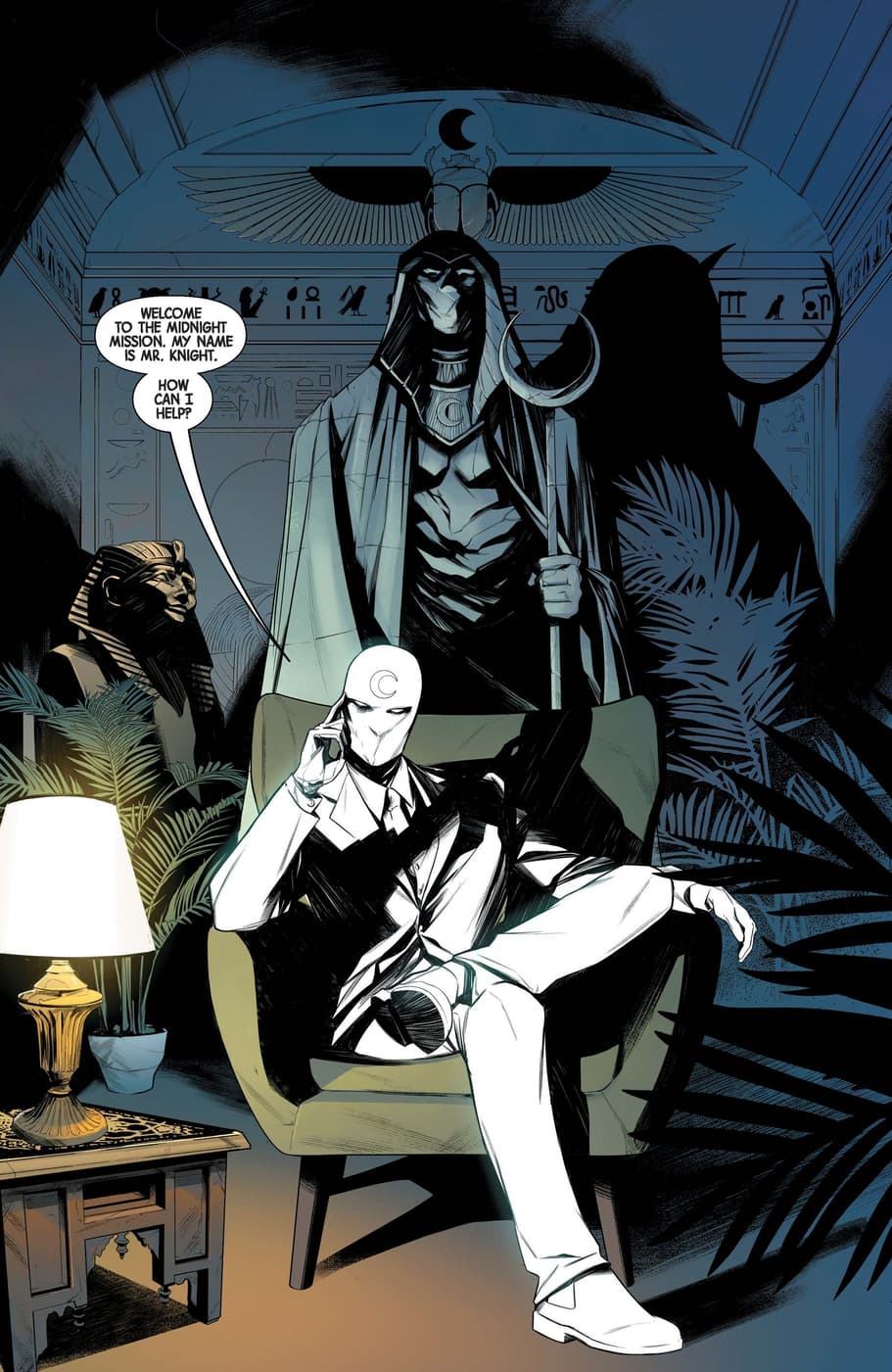 First introduced in MOON KNIGHT (2014) #1, Mr. Knight is a more refined and debonair version of Moon Knight. He maintains his mask, but wears an all-white suit, tie, shoes and gloves, plus has a sweet stretch limousine. This identity is mainly utilized for investigating crimes, consulting with law enforcement, and meeting with civilians in need. He's more subtle, handling situations without throwing punches (mostly). It was also through this identity that the Midnight Mission, a place that is open to anyone traveling through Manhattan at night, was established in MOON KNIGHT (2021) #1. Mr. Knight may be the most recent identity, but he is a consummate professional.
Mr. Knight represents Marc Spector's innermost desire to protect people. Even without Khonshu (who's currently locked in a dungeon in Asgard for the havoc he wreaked during "The Age of Khonshu"), Mr. Knight is continuing that mission just fine.
STEVEN GRANT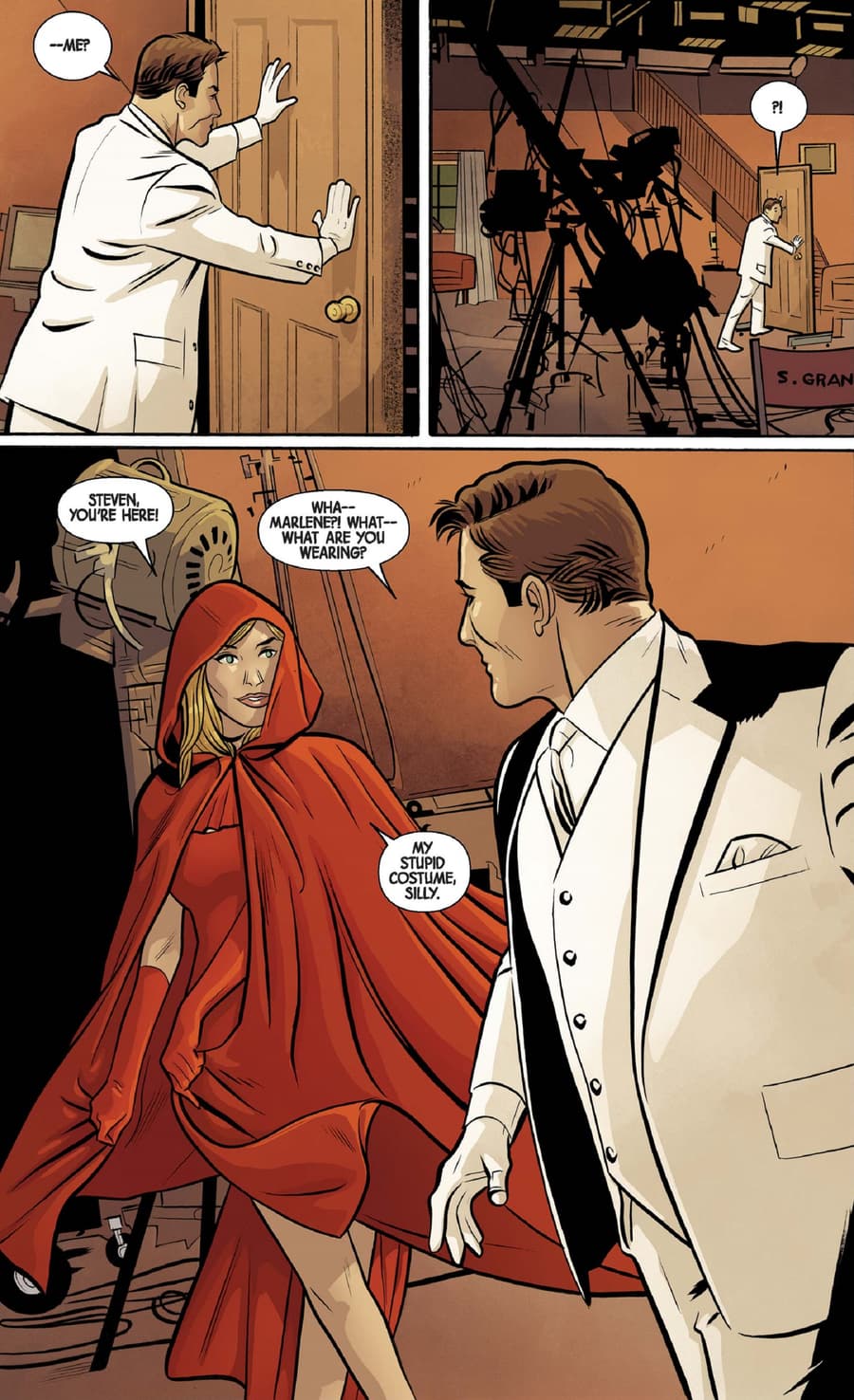 Perhaps one of Marc's first identities, Steven Grant appeared during his childhood, an early manifestation of Marc's DID. As an adult, Steven acted as the financier to Marc's crimefighting—gadgets, vehicles—you know, the fun stuff. The profits made from Marc's mercenary life was invested and earned Steven a great fortune. Like, multi-millionaire status. (Check out that mansion and massive pool in 1980's MOON KNIGHT #2!) He also tried his hand at executive producing a Moon Knight TV show in MOON KNIGHT (2011), and got back into show business in MOON KNIGHT (2016) #6 (or so it appeared). Steven isn't just a wealthy philanthropist; he uses his high social status to gain intel on occurring crimes. A handsome face and smart! No wonder Marlene has a special relationship with this personality.
JAKE LOCKLEY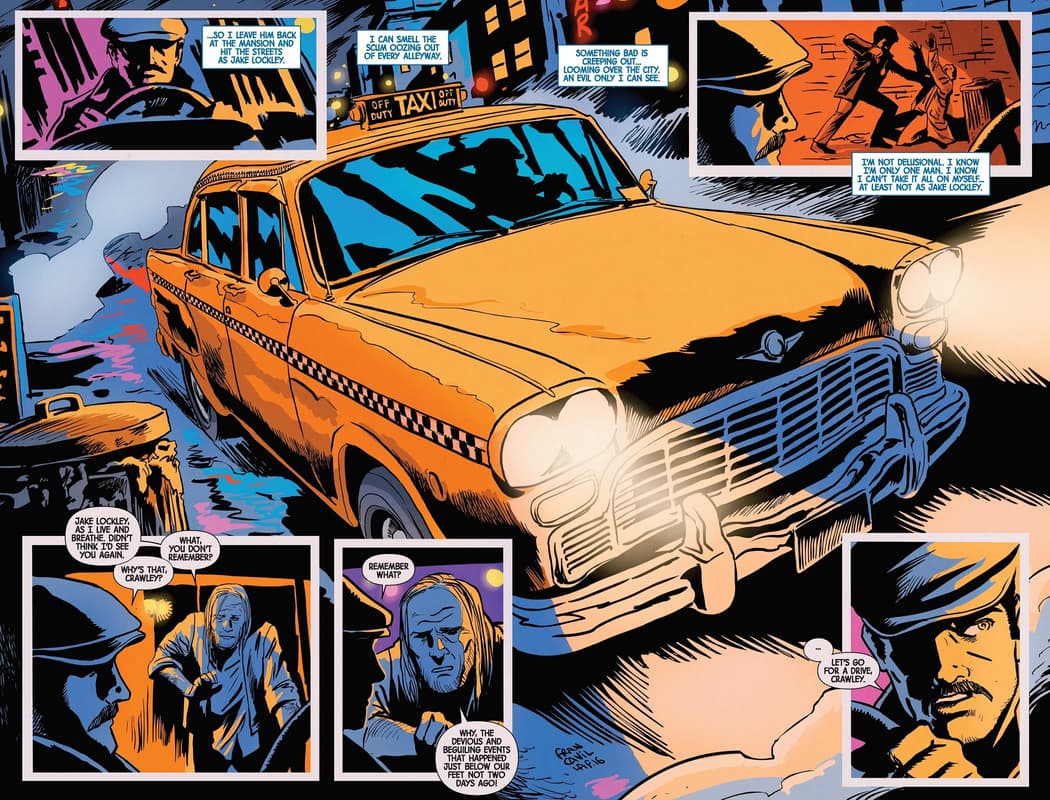 This identity also appeared in Marc's early life and was a cause of great concern to his father, who sent him to Putnam Psychiatric Hospital for help with his disorder at the end of MOON KNIGHT (2016) #10. In adulthood, Jake developed into a hard-edged, working-class man, a complete 180 from the sophisticated Steven Grant. He collects information on the goings-on in Manhattan from his job as a taxi driver, sustained through a network of informants. This network includes Bertrand Crawley, an eccentric homeless man who once sold textbooks, Gena Landers, a diner owner, and her two sons, Ray and Ricky. Jake is an unforgiving man on a mission, which can be gleamed from panels in MOON KNIGHT (1980) #2 and during the "Incarnations" arc in MOON KNIGHT (2016) #6-9.
Download the Marvel Unlimited app for iOS or Android devices now for more Moon Knight must-reads including defining run MOON KNIGHT (2016). You'll also gain instant access to 29,000+ digital issues spanning 80 years of Marvel Comics.
Follow Marvel Unlimited on Twitter and Facebook to stay tuned in to weekly announcements, articles, and more, all at @MarvelUnlimited. Follow us today to join the conversation with thousands of fellow fans, and let us know what you're reading!
The Hype Box
Can't-miss news and updates from across the Marvel Universe!