Comics
Published March 16, 2023
The Wild History of Hellcat
From teen romance star to Defender (and Avenger)! Super Hero Patsy Walker has done it all. Catch up on her longstanding history ahead of 'Hellcat' #1.
Have you tried Marvel Unlimited yet? It's your all-access pass to over 30,000 Marvel comics at your fingertips! Sign up today for a monthly plan of $9.99.
Created by the same minds behind 40s comic book sensation Millie the Model, Patsy Walker debuted as a teen rom-com star during Marvel's Timely Comics era in 1944. And from girl-next-door to the avenging Super Hero Hellcat, who could have predicted Patsy's twisty journey in the wild world of comics?
A quintessential Woman of Marvel, Patsy Walker owes a great deal of success to one of her co-creators—writer and artist Ruth Atkinson. And, by nabbing the solo spotlight with her own romance series in 1945, Patsy's popularity soared. Her first volume—PATSY WALKER (1945)—was such a colossal hit that it lasted until the mid-1960s! Follow that up with 110 issues of 1952's PATSY AND HEDY, and a star was born.  So, what else was left for Patsy Walker to conquer? The world of Super Heroes, of course.
[RELATED: Women of Marvel Takes a Trip Down Memory Lane with Historian Trina Robbins]
In AVENGERS (1963) #144 Patsy transitioned into her super-powered identity as the costumed hero Hellcat, and her world hasn't been the same since. Her new series, HELLCAT (2023), is unfolding now from Christopher Cantwell, Alex Lins, and K.J. Diaz. Expect a run that will continue to add to Patsy's (already) considerable resume and even dive into her occult past. Before picking up issue #1 in print and digital comic shops, claw through the unpredictable, unique, and just plain wild history of Patsy Walker, AKA Hellcat.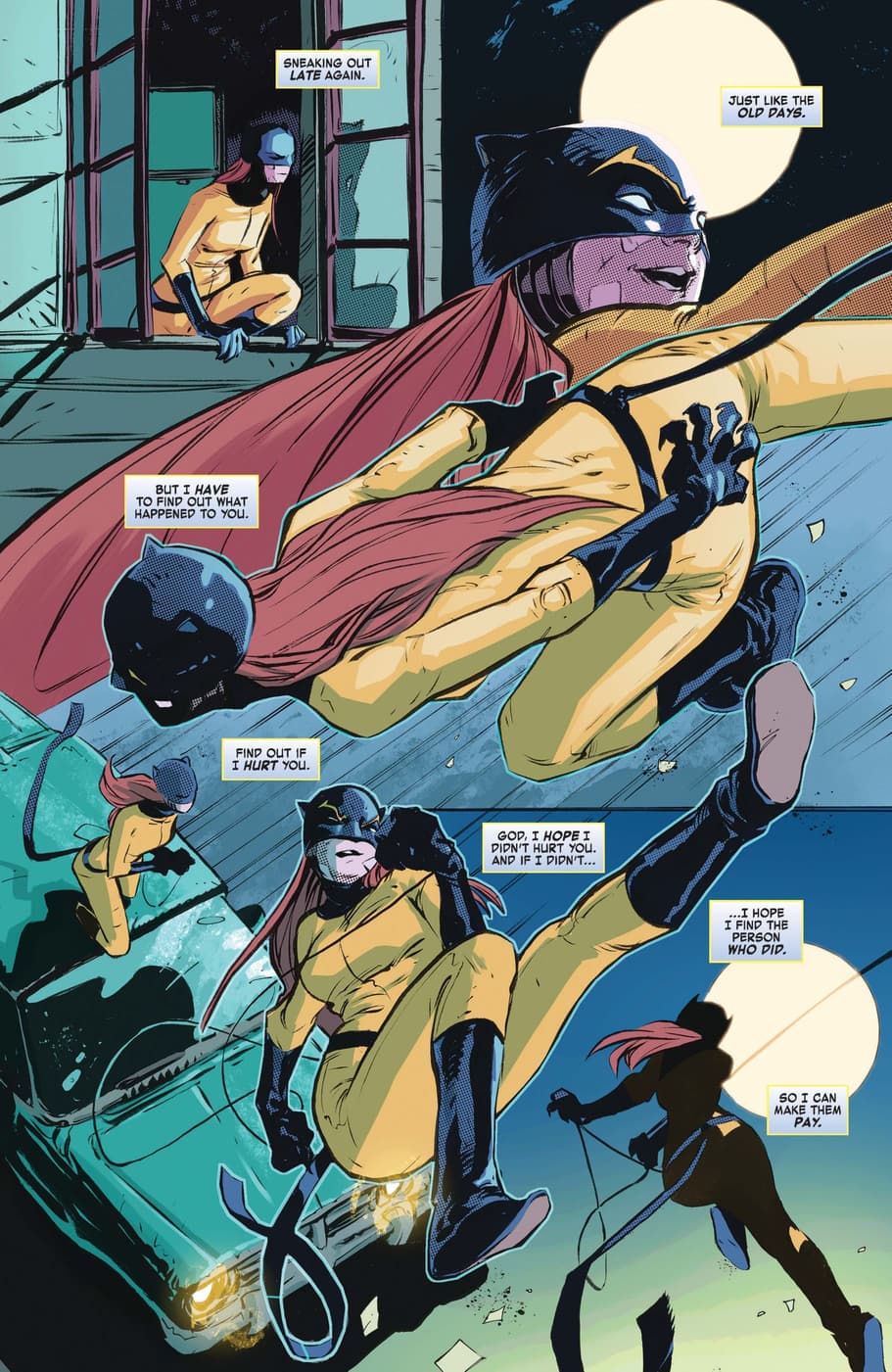 THE EARLY YEARS: HUMOR, ROMANCE, AND ADVENTURE
Patsy was born in Centerville, California to Joshua and Dorothy Walker. She studied, surfed, and got into all sorts of hijinks. Her boyfriend was Robert "Buzz" Baxter, and her best friend—more so a frenemy—was Hedy Wolfe. Patsy was, as she would refer to herself in AVENGERS ANNUAL (2000) #1, just a "typical teenager." Except, she wasn't. She was a teen celebrity! Her mom licensed and wrote a popular series of comic books based on her daughter's life, which also spiraled into "games, dolls, and even a short-lived TV series!" However, Patsy came to be embarrassed by her own merch—and commercial success—once she grew up.
Speaking of growing up, Patsy would marry her high school sweetheart, Buzz, and he would go on to fight in the Vietnam War. Patsy (and Hedy) then cameoed in FANTASTIC FOUR ANNUAL (1963) #3, the wedding of Reed and Sue Richards, which would mark her introduction into the Marvel Universe! After Buzz returned from the war, things became tense between him and Patsy. While he became busy as the "Army's liaison to the Brand Corporation," she worked as a lab assistant to researcher Hank McCoy, AKA the X-Man Beast.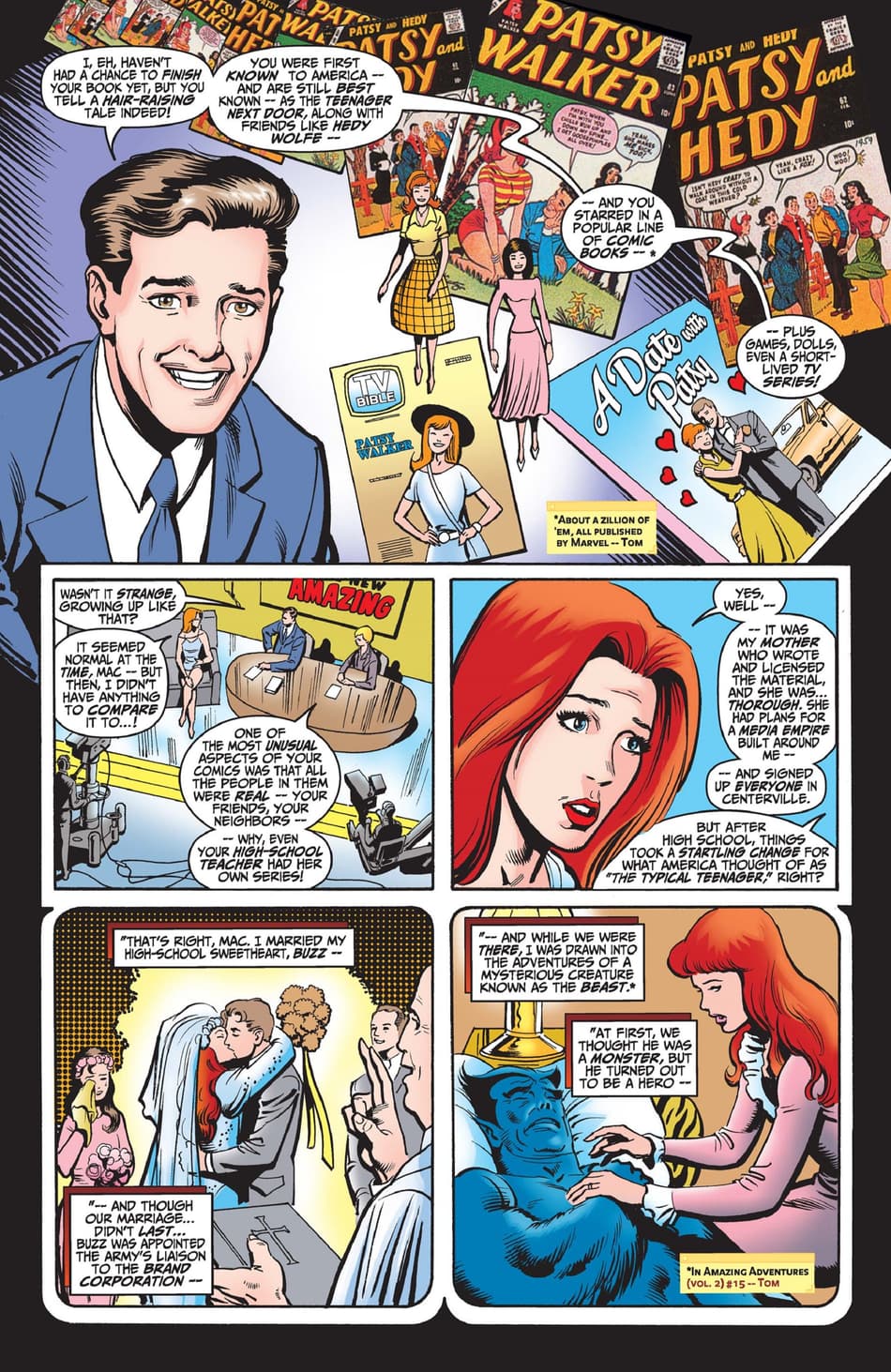 THE REINTRODUCTION OF PATSY WALKER: ENTER HELLCAT
No longer "Patsy Baxter," Patsy Walker returned to the spotlight in AVENGERS (1963) #141 when she went on the search for Beast, then on hiatus from the X-Men and collaborating with the Avengers. Beast promised (or, technically, Patsy blackmailed him) to transform her into a Super Hero while they worked together. And, she would get her wish three issues later! While escaping from Brand Corporation with the Avengers, Patsy, Captain America, and Iron Man stumbled upon Tigra's Cat costume, still in good condition. Cap asked Patsy "Could you play Cat?" and from that moment on the Happy-Go-Lucky Hellcat became a Super Hero! She accepted permanent membership to the Avengers in issue #151, but Moondragon argued that Patsy should train with her before joining the super-team. And so, she turned down the membership and was transported to Titan to study advanced martial arts plus "powers of the mind."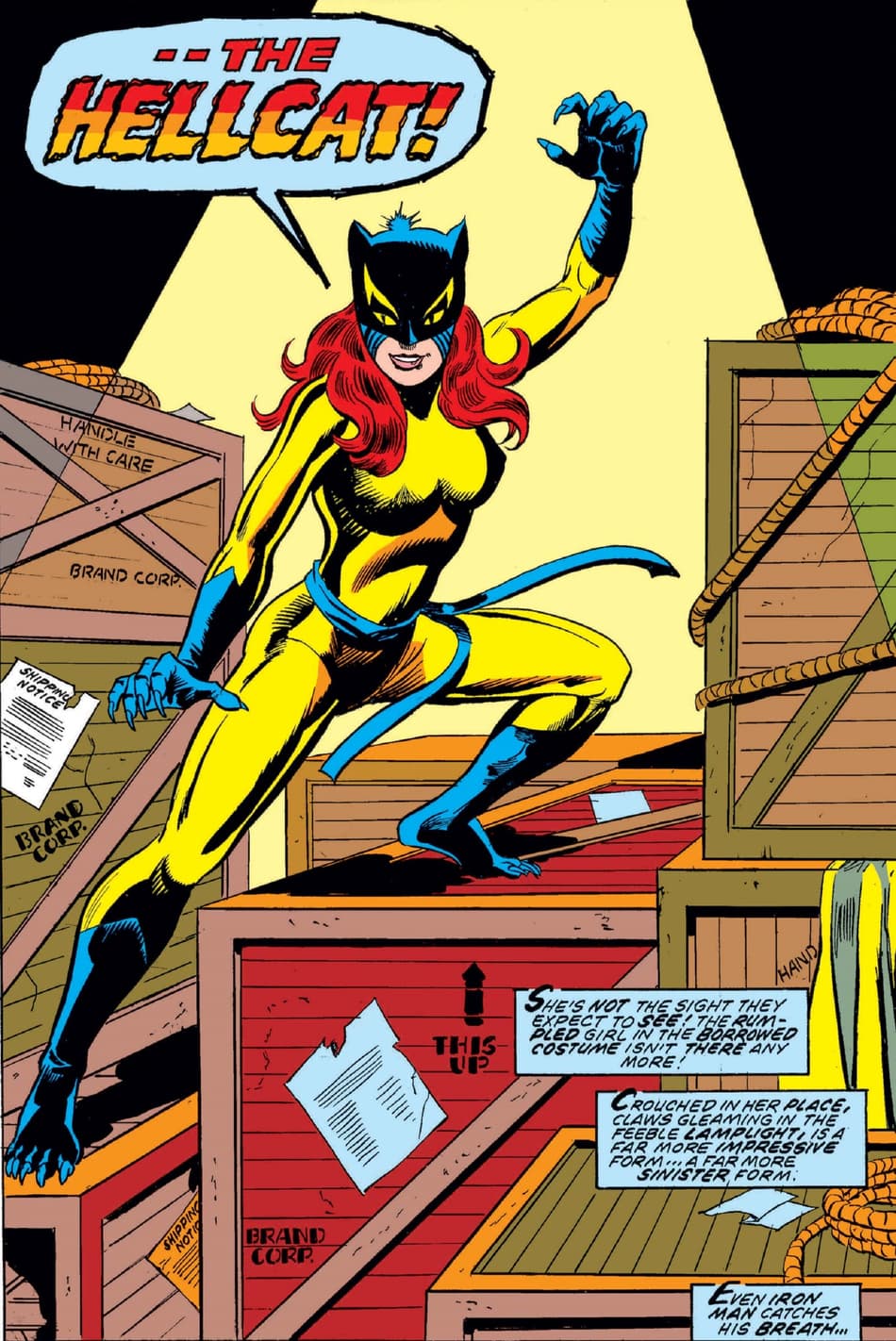 WELCOME TO THE TEAM: HELLCAT THE DEFENDER
Patsy's training with Moondragon was cut short as the strict goddess sensed Doctor Strange was in trouble. Patsy was sent back to Earth, and in DEFENDERS (1972) #44, she actually joined their ranks. She did well as a Defender, but not well enough as mentor Moondragon revoked Patsy's psychic abilities for not using them correctly in issue #77. It was also while on the team that Patsy reunited with her dad and met "Son of Satan" Daimon Hellstrom. Not exactly the "all-American guy" she was "supposed" to settle down with! The feelings she and bad boy Daimon had for each other developed into an engagement, and by issue #125, the couple married. Not even her ex-husband, now going by the moniker Mad-Dog, and the Mutant Force crashing the wedding could stop these two from walking down the aisle!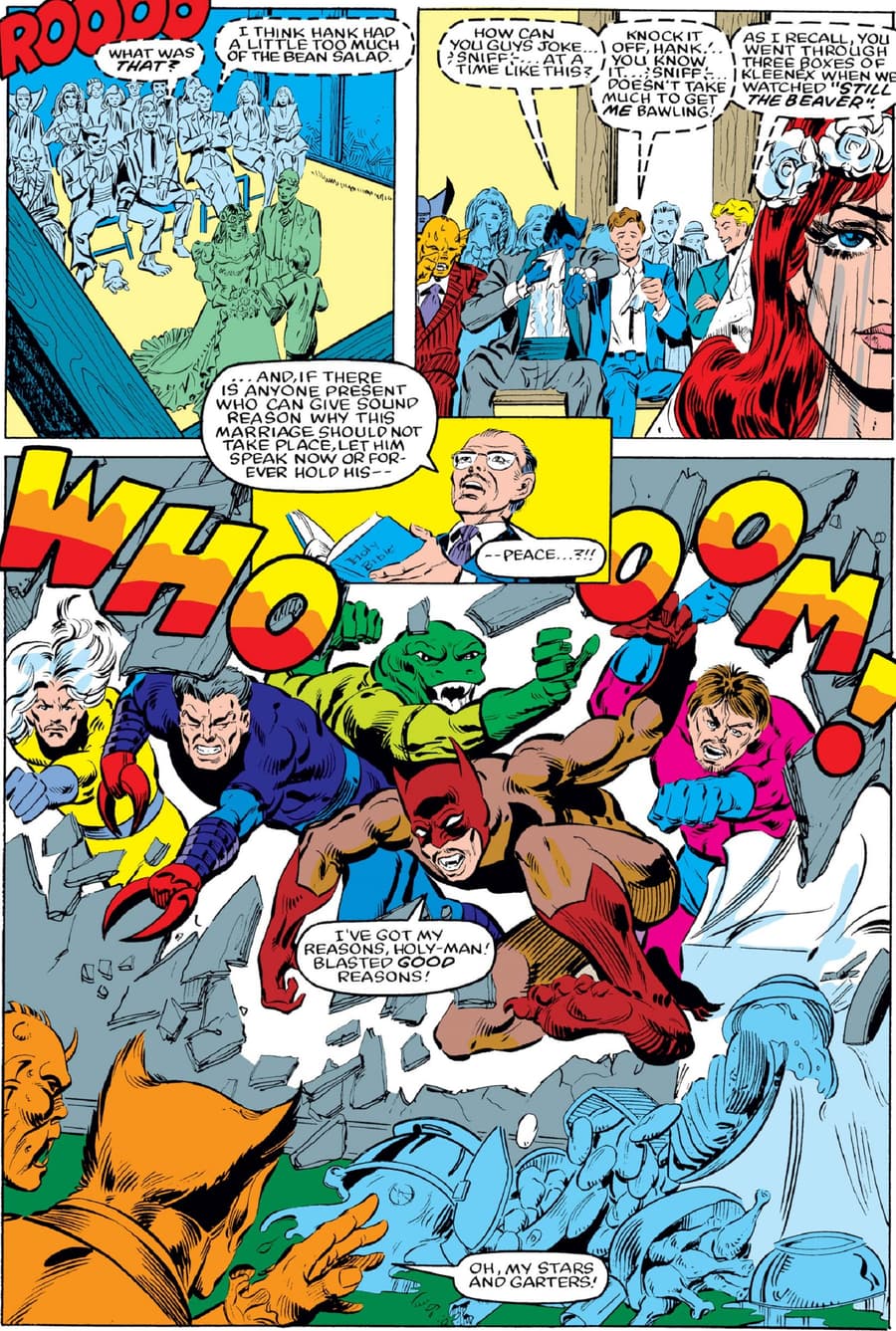 OCCULT INVESTIGATORS: THE NEWLYWEDS
After the wedding, Patsy and Daimon retired from the Defenders and moved to San Francisco to be occult investigators of supernatural crime and phenomena. The West Coast Avengers required their help for a couple of missions in WEST COAST AVENGERS (1985) #14-16, and Patsy was ready to pounce into action. All was well for the newlyweds. Right? Unfortunately, no.
Things would take a turn for the worse in HELLSTORM: PRINCE OF LIES (1993) #3. Daimon was on the verge of dying after living without the Darksoul, his demonic essence, for so long. (It was stolen by the Miracle Man, and then placed within a snake by Patsy and Overmind in DEFENDERS #121 for reference!) Desperate, Patsy used the Grimorium Verum to save her husband by appealing to his dad. But it came with a cost. Daimon's pentagram seal was destroyed, allowing the Darksoul to return and transform him fully into the Son of Satan once more. Patsy, however, was driven to insanity, would later be institutionalized, and spiraled even further resulting in her life as revealed in AVENGERS ANNUAL (2000) #1.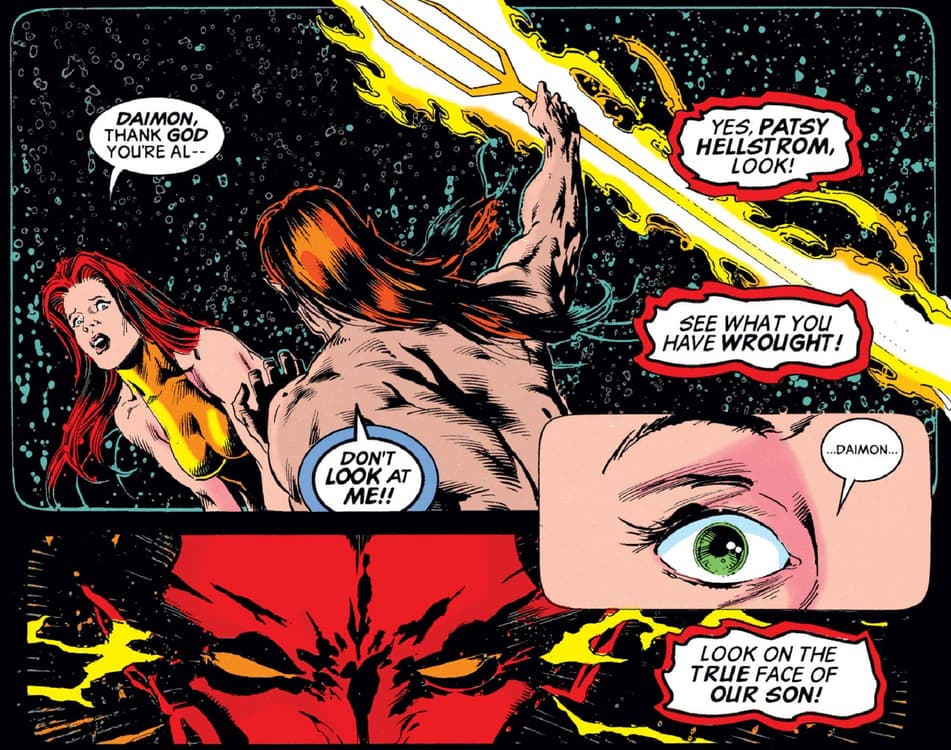 THIRD TIME'S THE CHARM: RESURRECTION
Patsy was resurrected in THUNDERBOLTS ANNUAL (2000) #1 and brought some new skills with her. In AVENGERS ANNUAL (2000) #1, she demonstrated that she could now manifest her costume at will and possessed a "demon sight." Being away in Hell, Patsy wanted to make up for lost time, and boy would she!
So, she returned to hero work with the Defenders. During the CIVIL WAR event, Patsy registered under the Superhuman Registration Act and was asked by Iron Man to be Alaska's defender as part of the 50-State Initiative in PATSY WALKER: HELLCAT (2008). Somehow, she ducked out of the Skrulls' SECRET INVASION but briefly modeled—and investigated murders—in MODELS, INC. (2009), plus developed strong bonds with Firestar, Monica Rambeau, and Black Cat in 2009's MARVEL DIVAS.
Due to her investigative skills, She-Hulk hired Patsy to her budding law firm in SHE-HULK (2014) #2, and the two friends would continually team up on super-powered cases that required legal aid. However, their fruitful (and fun) partnership would end in PATSY WALKER, A.K.A HELLCAT (2015) #1 after She-Hulk admitted that she could no longer afford Patsy's services. That didn't stop the two from staying BFFs, though! Ever the optimist, Patsy found ways to keep busy in her titular series, even without being directly involved in CIVIL WAR II (2016)! For instance, she established a temp agency for super-powered people, recovered the rights to her comics from Hedy Wolfe (who retaliated by sending Patsy's ex-husbands to fight her. Rude!), and, with help from She-Hulk and Jessica Jones, confronted Black Cat and her bad girl gang. Patsy also faced wildly bizarre scenarios, like catching a cold with reality-altering sneezes. Never a dull moment for this Hellcat.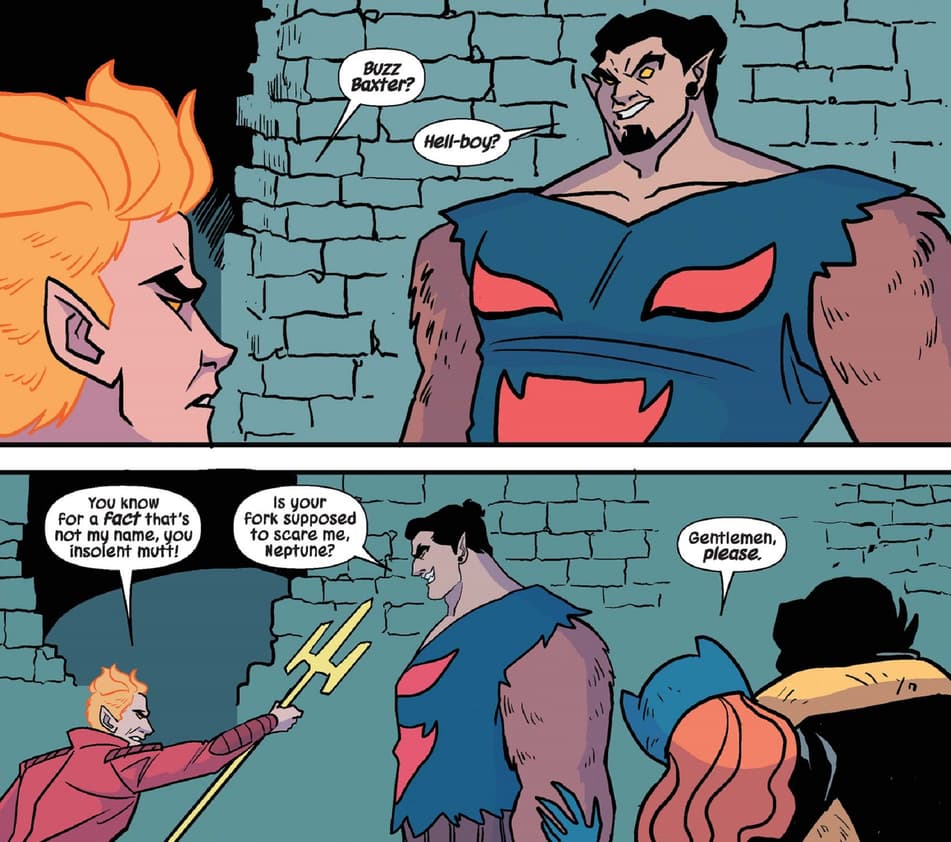 NEW LOVE: IRON MAN AND HELLCAT
After reuniting at a party in IRON MAN (2020) #1, Patsy became Tony Stark's designated "tough love buddy" and crime fighting partner. While in space, Moondragon unexpectedly returned to help her former pupil greatly enhance her psychic abilities after Korvac, who was reborn into an android body, inadvertently reawakened them via telepathic communication. That's right: Patsy now has telekinesis and can read minds!
She and Tony became romantically involved during the series, but their relationship would slow to a crawl. Tony became addicted to morphine after the near-fatal injuries he sustained battling Korvac, and it became so bad that he checked into Sagehen Shores Rehabilitation Center in issue #19. Patsy drove him there, as she was his "only choice," and the two hugged before he entered treatment. In issue #20, Tony surprised Patsy by proposing to her, via letter, but she didn't accept due to her previous marital experiences. (Which was fair, considering one of her ex-husbands is literally the Son of Satan.) This would prompt the pair of heroes to take a break.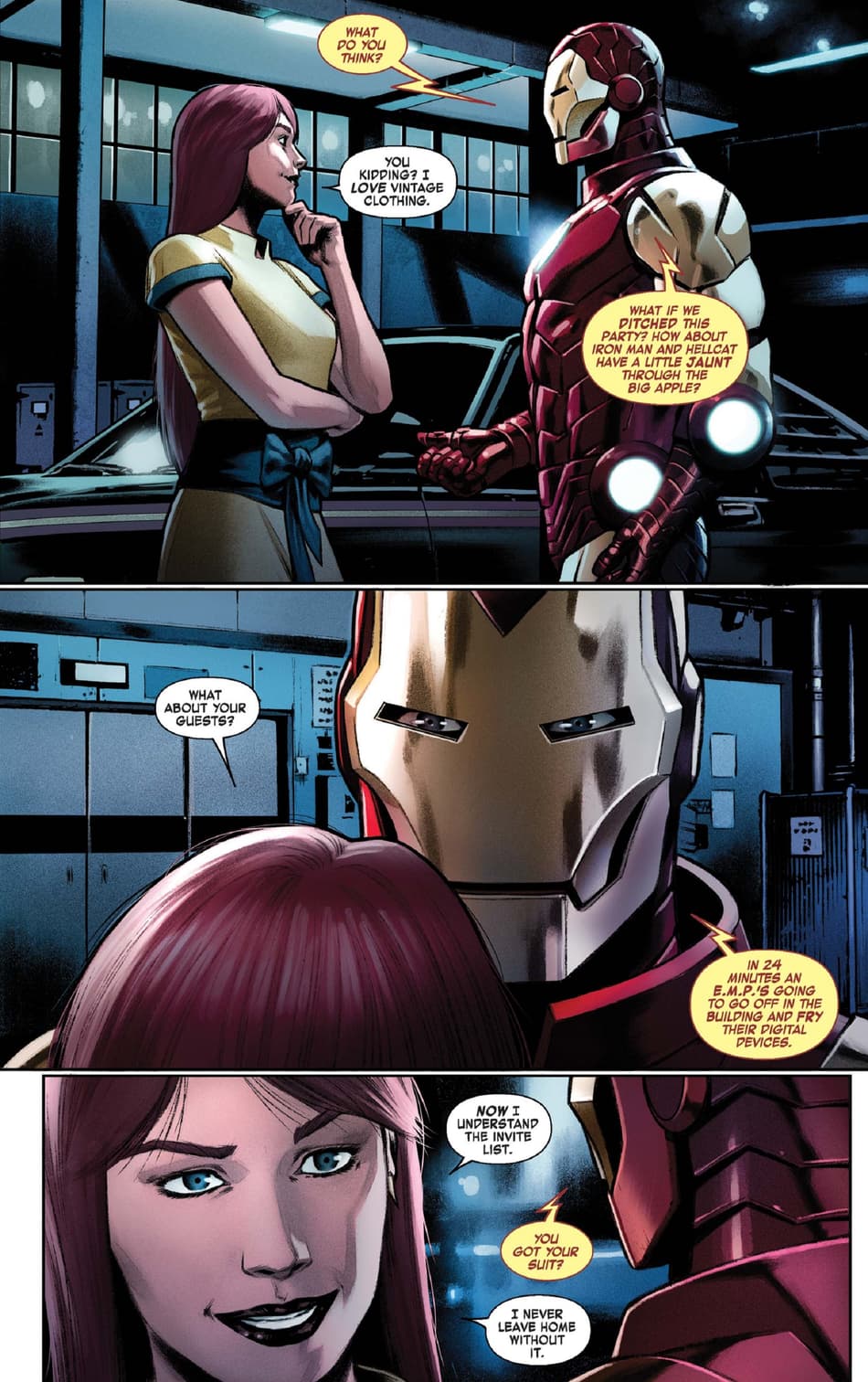 BACK TO THE GOLDEN STATE: THE PAST RETURNS
In IRON MAN/HELLCAT ANNUAL (2022) #1, Patsy returned to San Francisco to see the McConnell Manor, a house that belonged to her mother's family. Everything seemed alright, until Hedy was abducted by blood demons. No wonder Dorothy Walker kept the house off the books! Patsy was transported to Hell and learned that Blackheart, son of Mephisto, was the culprit behind the plot. He possessed the souls of the McConnells, and they could be freed if Patsy gave her soul to him. (Wouldn't be the first time a demon wanted Patsy's soul!) Obviously, Patsy didn't do that and instead freed her family by ripping their souls out of his chest. But that was not where the story ended…
Daimon Hellstrom, through Patsy's stuffed animal Buttons the Rabbit, told her that Mephisto and Blackheart were aiming to conquer the Netherworld. Seeing Daimon as a threat, they exiled him, causing him to lose most of his powers and physical form. Hence, him being trapped inside an inanimate bunny to communicate. But the minute he began talking about the two teaming up again, Patsy punted him.
During her most recent time in Hell, Patsy felt imbued with "hellish, awful power." Blackheart previously proclaimed that there, not above ground, was her true home. Is Patsy Walker, formerly squeaky clean teen, really a good person? Or is she, under the cat mask, a truly sinister force? You'll have to decide for yourself by picking up HELLCAT (2023) #1 in comic shops now!
The Hype Box
Can't-miss news and updates from across the Marvel Universe!