Comics
Published November 18, 2022
Shuri as the Black Panther
Wit as sharp as her claws. Learn more about Shuri's first time as the Black Panther!
Have you tried Marvel Unlimited yet? It's your all-access pass to over 30,000 Marvel comics at your fingertips. Get your first year of Marvel Unlimited for just $60! Use code MUSAVE60 at checkout.
Stealthy. Teched-out. Lethal. Since her introduction in BLACK PANTHER (2005) #2, Princess Shuri has been a proud protector of Wakanda. Her passion to become a Black Panther once led her to sneak out of her chambers to compete for the mantle in ritual combat. Of course, against her mother's wishes. But Shuri's first attempt to become the Black Panther was interrupted—and in her eyes, her older brother, T'Challa, had stolen her dream.
Shuri did experience a taste of what the Black Panther mantle requires, and her own outer limits, in BLACK PANTHER (2005) #6. Stuck inside the Great Mound with Radioactive Man, Shuri sliced the man in half with the Black Knight's Ebony Blade. Instead of feeling relief in defeating the villain, she was overwhelmed by her potential to kill. As a future Black Panther, Shuri learned the hard way that she would need to be physically and mentally prepared for tough situations like these. One day, Shuri would lead Wakanda…
And that day came in BLACK PANTHER (2009) #1.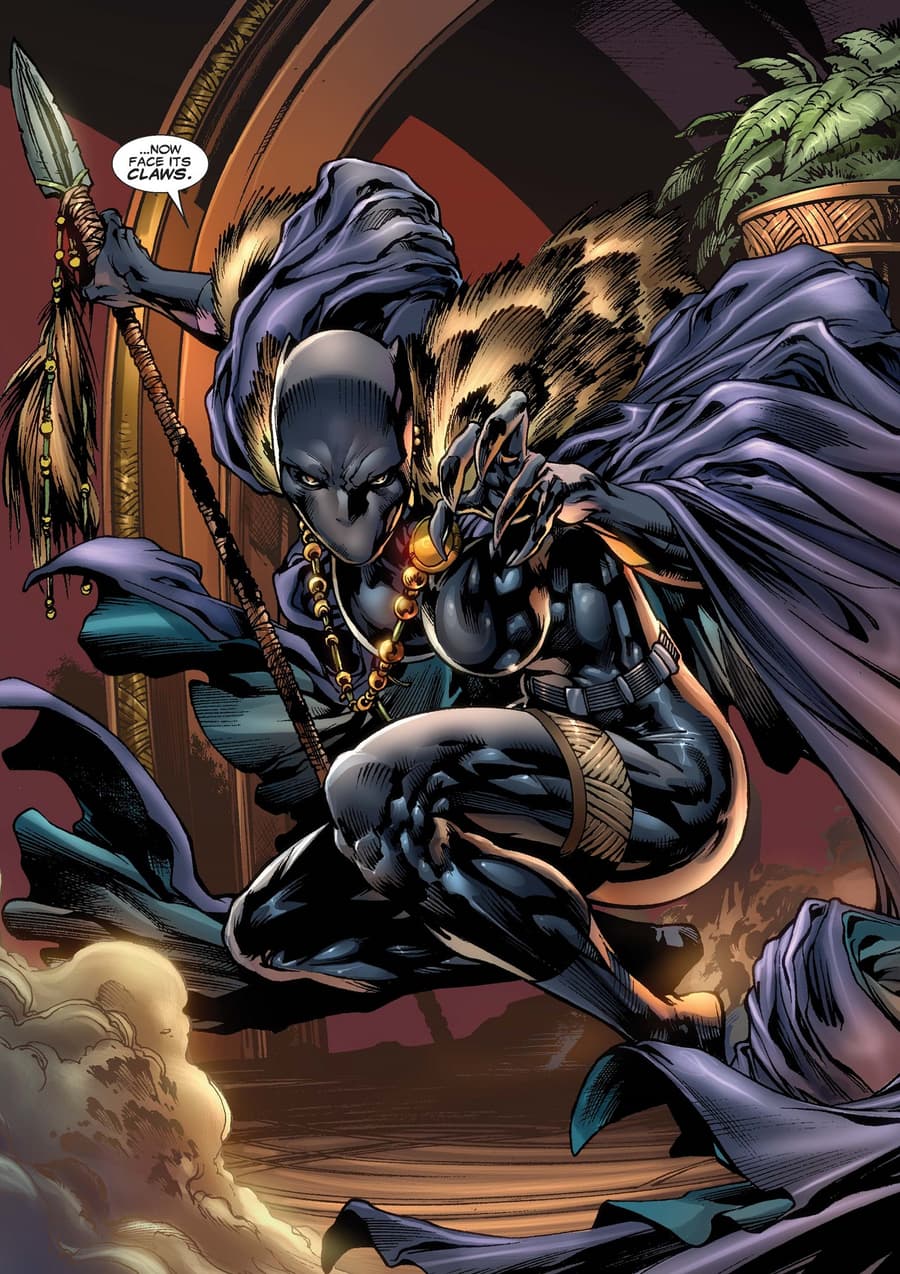 BECOMING THE BLACK PANTHER
After T'Challa was placed in a life-threatening coma, a new Black Panther had to be selected. Storm, who was queen at the time, couldn't be placed in the running due to not being born of royal blood—but Shuri could. She would finally "step out from [her] brother's shadow," but Shuri didn't quite pass the first round of Bast the Panther God's judgment. Her focus on glory and entitlement made her unsuitable to be the next Black Panther, and yet, she was still alive! (Bast usually ate those she rejected as the Black Panther.) Ignoring Bast, Shuri put on her panther suit in BLACK PANTHER (2009) #5 and defeated Morlun, the Devourer of Totems, in the following issue. Because she fought on behalf of the greater good—for her brother and for Wakanda—Shuri was officially accepted as the Black Panther.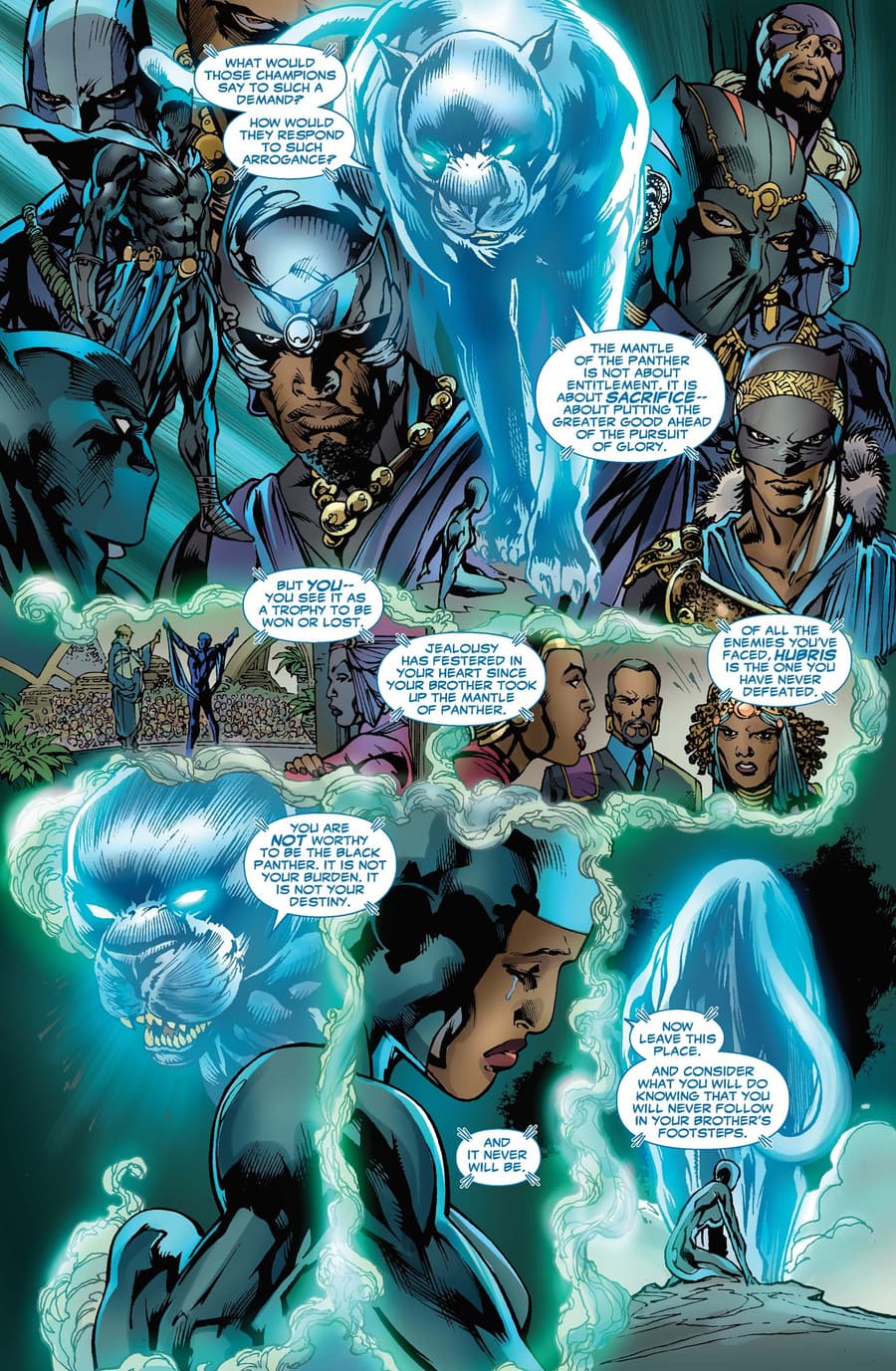 SHURI'S STYLE
Unlike her brother, Shuri used more than her claws and strength to fight her enemies. Holopods, spider bites, shok-nets, and desert suns—Shuri loved a good gadget. And, instead of appointing the Dora Milaje as bodyguards, Shuri initially had a small but skilled support team called the P.R.I.D.E. (Princess Regent Intelligence Division Executives) to aid her on missions.
Shuri also strategized with T'Challa about how to safely "abandon" Wakanda during the "Prelude to Doomwar" story in BLACK PANTHER (2009) #10-12. To the outside world, it seemed that neither sibling cared for their home country after it was overtaken by the Desturi, but they were only baiting the extremist group to the front, making it easier to strike. During her pivotal event DOOMWAR (2010), Shuri helped bring allies to Wakanda's cause such as Wolverine, Colossus, Nightcrawler and the Fantastic Four to end Doctor Doom's siege of Vibranium. In the final issue, when T'Challa began to stray into dangerous moral territory, Shuri reminded him that "Wakanda does not start wars." Those words won't haunt her at all.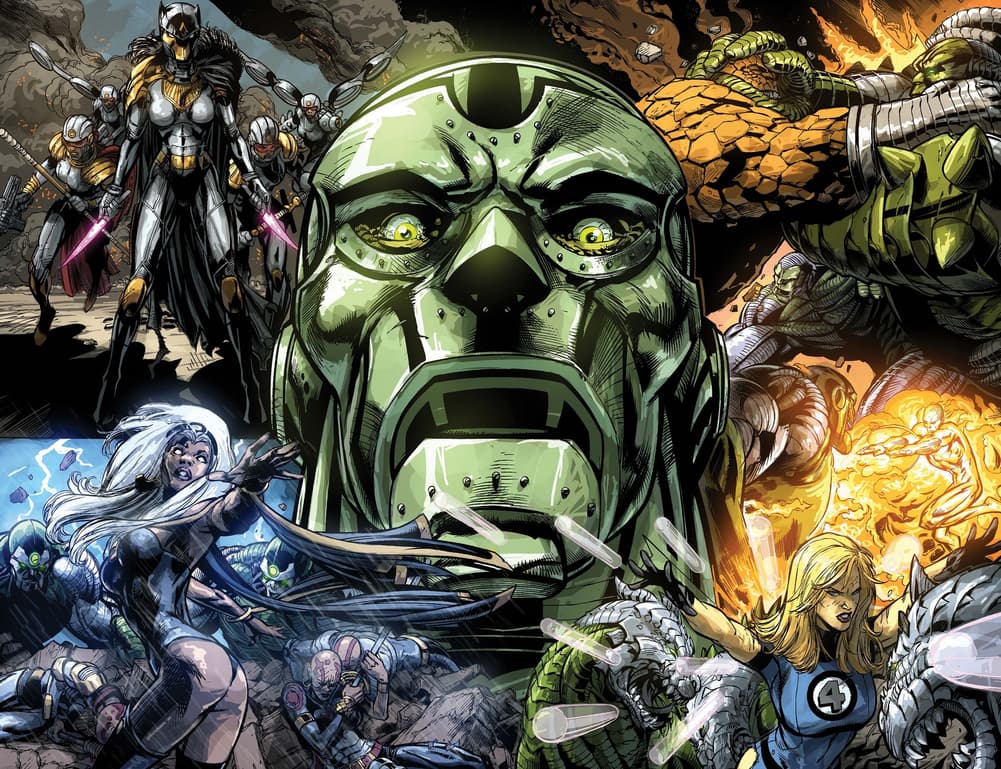 Post-DOOMWAR and the nation's fallout with Doom, Shuri searched for Vibranium to jumpstart Wakanda's economy in series KLAWS OF THE PANTHER (2010). (For background, T'Challa destroyed Wakanda's Vibranium in DOOMWAR #6 so Doom couldn't get his hands on it.) She traveled to three wildly different places—the Savage Land, New York City, and Madripoor—to retrieve her country's most precious resource, proving her tenacity.
However.
Shuri was not a perfect leader. During her tenure, she possessed a "by any means necessary" mentality and could sometimes be blinded by rage and revenge. In BLACK PANTHER (2009) #11, she fought Namor because she believed he had ambushed T'Challa; he had not and was actually framed by Doctor Doom. Shuri also killed the Desturi High Council in DOOMWAR #2, shocking Nightcrawler. Her (justified) anger towards Klaw in KLAWS OF THE PANTHER #2 cost her the Vibranium she was searching for, and she nearly killed Joya, a victim of Klaw's, in issue #4 but decided not to. Her most surprising action was declaring war on Atlantis after a Phoenix Force-powered Namor attacked Wakanda during AVENGERS VS. X-MEN (2012). This resulted in Namor (falsely) claiming to Thanos that the Infinity Gems were in Wakanda. This would prove to be one of Shuri's greatest mistakes and lead to her downfall.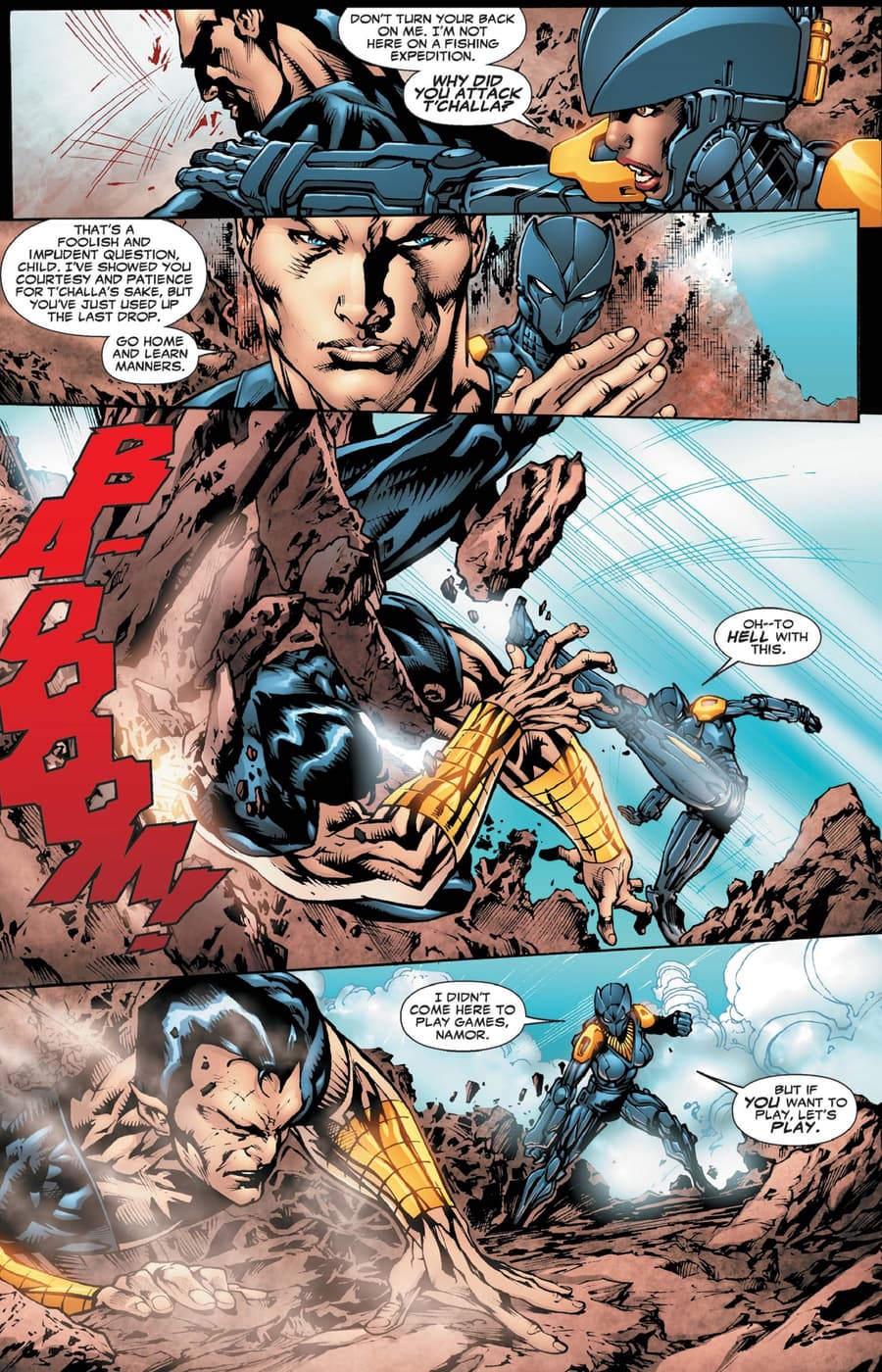 In NEW AVENGERS (2013) #24, the amoral assembly called the Cabal (yes, including Namor) invaded Wakanda. For her brother to escape, Shuri sacrificed herself in battle with Proxima Midnight. Although her relationship with T'Challa was strained (see NEW AVENGERS #12 for context), she still tried to protect him to her last breath. Shuri didn't get everything right as the Black Panther, but she always tried to place Wakanda—and the needs of her nation—before her own. But as she learned under the mantle, it sometimes came at quite a cost.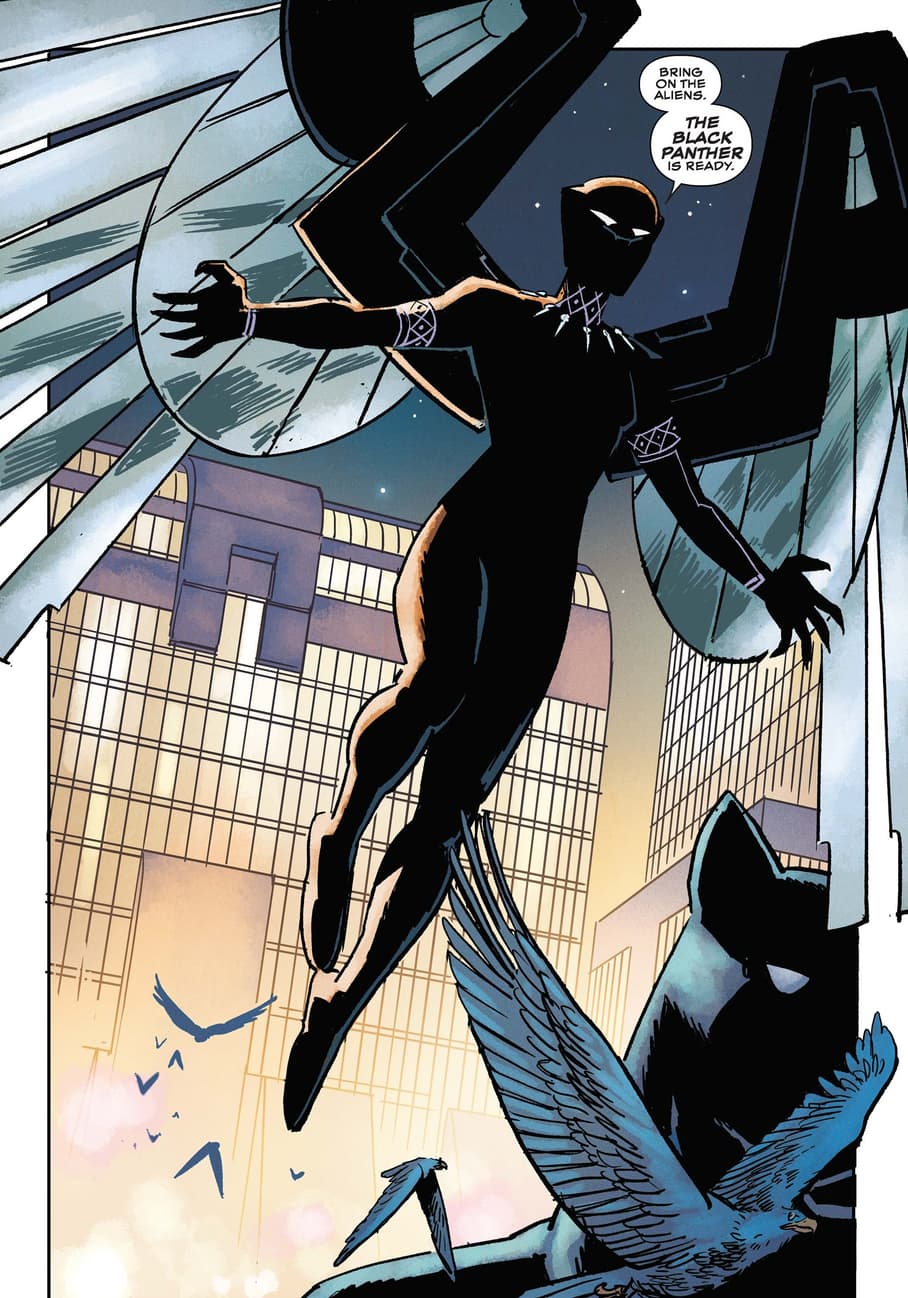 The Hype Box
Can't-miss news and updates from across the Marvel Universe!