Comics
Published July 29, 2020
How 'Empyre' #3 Brings Mothers to the Forefront
Two women may change the course of the Marvel Universe's latest intergalactic war!
Warning! This article contains spoilers for EMPYRE #3, so read on at your own risk, True Believers!
Al Ewing, Dan Slott, and artist Valerio Schiti have thrust the Marvel Universe into war in EMPYRE! Quoi, the Celestial Messiah, has forsaken his role as a universal savior and embraced conquest in its place. This is not how his life was supposed to play out. In the classic Avengers storyline, "The Celestial Messiah," it was predicted that Quoi would change the universe. Technically, this has come to pass – just not in the way that anyone could have guessed.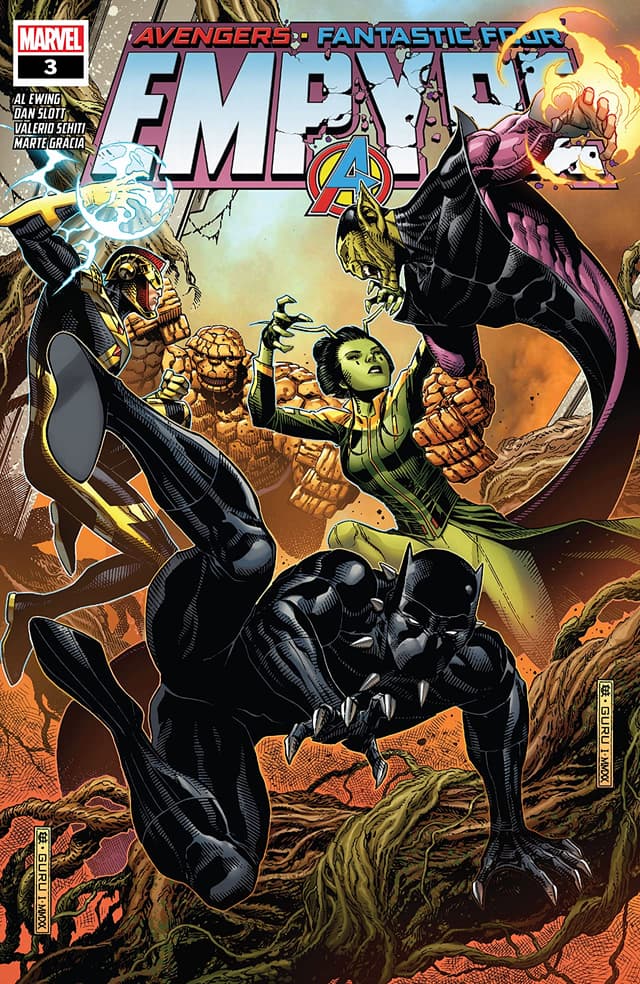 In this week's EMPYRE #3, on sale now, Quoi's mother Mantis finally made her return to Earth after several years out in space. Mantis was a critical member of the Guardians of the Galaxy during her long absence. But once an Avenger, always an Avenger. T'Challa AKA Black Panther quickly welcomed Mantis back into the fold, and she may be the only hope for a peaceful resolution to this war.
Mantis actually appeared in EMPYRE #2, though her identity was hidden under a spacesuit. But the Celestial Madonna now stands revealed, and she's fully aware that her son Quoi has betrayed his purpose. Regardless, Mantis only desires to save Quoi even as she acknowledges that he must also be punished. It's more troubling that even Mantis has no idea why the Cotati-possessed Swordsman radicalized their son against "animal life." Mantis was once truly in love with Swordsman, both before and after his transformation. Now, her former mate is a stranger to her.
Fortunately, the Fantastic Four and the Avengers have come together to defend the Earth against the Cotati invasion. But it's T'Challa who realizes what the Cotati really want from the invasion of Wakanda – the vibranium-infused soil that could potentially allow the Cotati to create a Death Blossom that would let them overrun any opposition. It's worth noting that Quoi appears to have a healthy fear of Black Panther's capabilities. But Swordsman has planted a target on T'Challa's country. Even the combined might of the Thing, the Avengers, and the Agents of Wakanda may not be able to hold off the Cotati warriors for long.
Out in space, Tanalth the Pursuer pushed a dangerous plan that would have possibly eradicated the Cotati on Earth's moon. Mur-G'nn, a Kree/Skrull hybrid and a member of the Knights of the Infinite, offered to enhance the powers of the Sword of Space before Hulkling channeled it through Captain Marvel's body. A lesser version of that trick nearly killed Carol Danvers in EMPYRE #2, but it did save the Alliance fleet from the Cotati infection. But this would probably be a suicide mission for Carol's first mission as the new Kree Accuser. Emperor Hulkling isn't willing to order Captain Marvel to sacrifice her life, so he sent his Sword of Space to help Black Panther instead. Hulkling may be a figurehead emperor, but he's trying hard not to betray his ideals as a hero.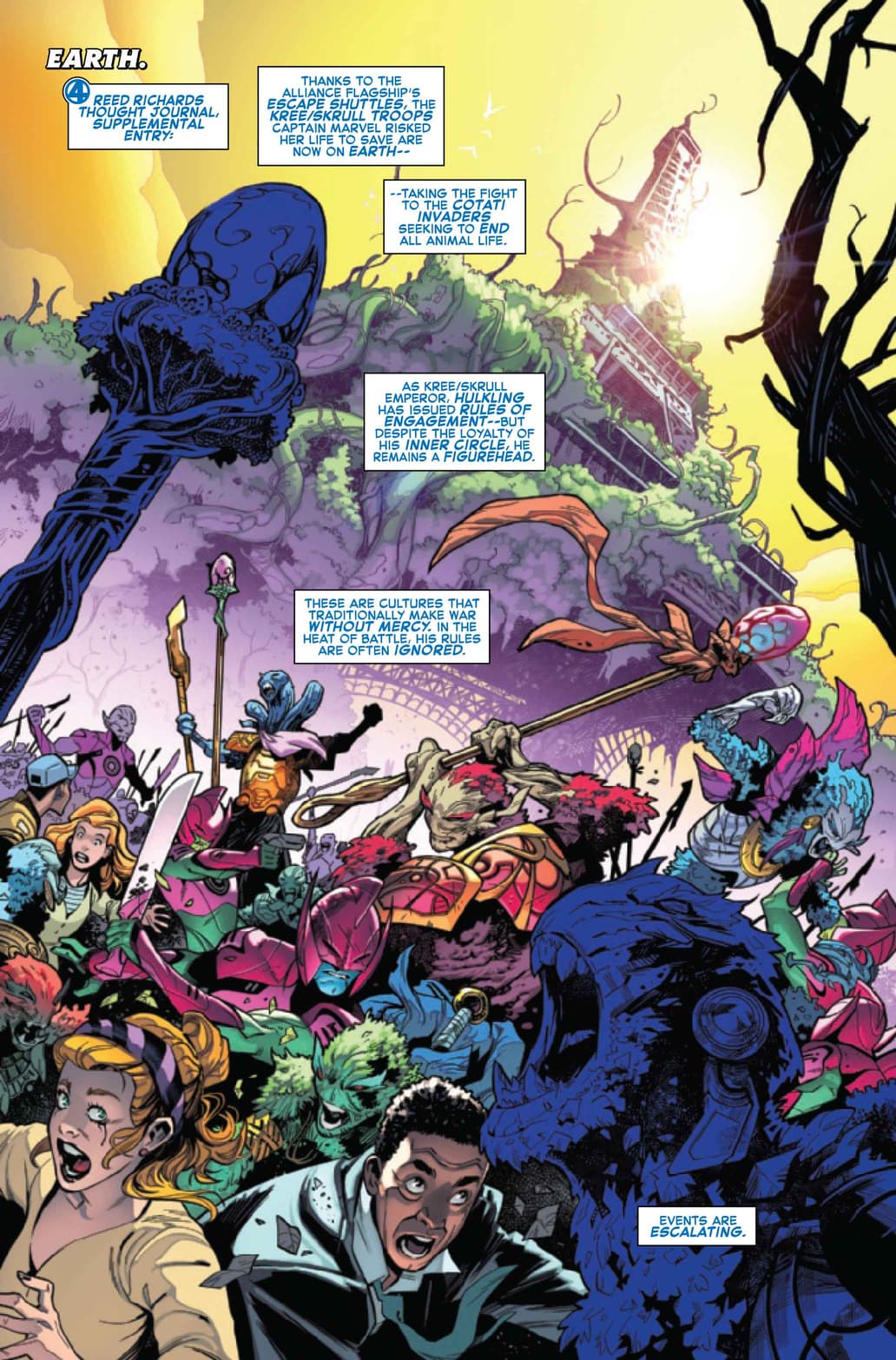 However, there's a player in this war whose presence has been hidden until now. The Kree warrior, Captain Glory, privately exposed Tanalth as R'Klll, the former empress of the Skrulls. This is especially surprising because R'Kill seemingly perished in the classic FANTASTIC FOUR #257, when Galactus destroyed the Skrull homeworld. She is also the grandmother of Hulkling and the mother of the late Princess Anelle.
R'Klll's return raises several questions. If she survived Galactus' onslaught, then what happened to Anelle? She was in her mother's arms when the end came for their world. And was there ever a real Tanalth? Or has R'Kill been hiding in plain sight since Tanalth's first appearance in ALL-NEW MARVEL NOW! POINT ONE #1? According to R'Kill, she has been in that role to make the Kree an even stronger empire, while also molding her grandson Hulkling into the ruler of both races.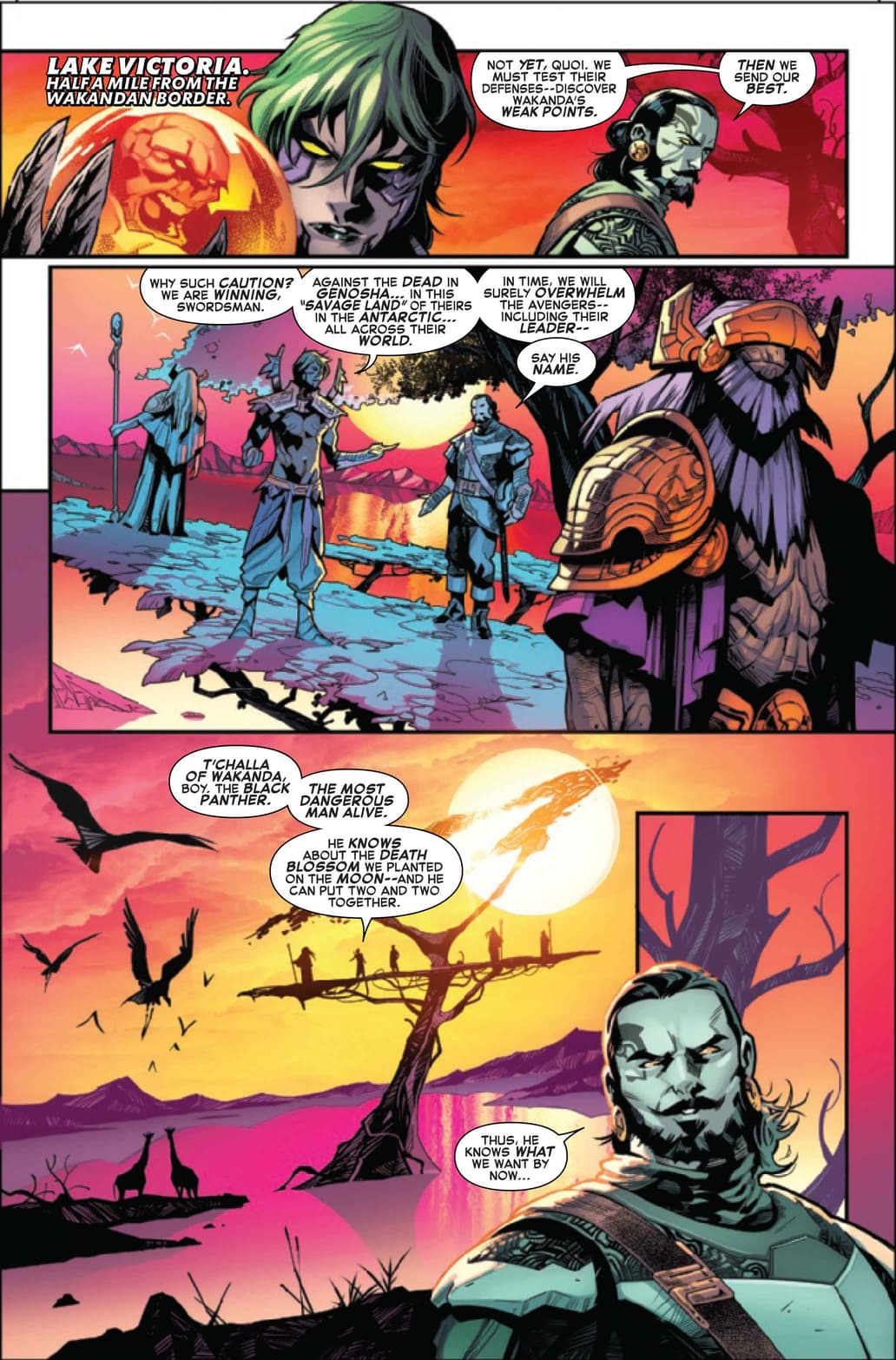 Intriguingly, Super-Skrull is seemingly unaware of R'Kill's true identity or her real agenda. While Captain Glory is still on board with R'Kill's plans, this piece of information could shatter the fragile Alliance between the Skrulls and the Kree. But R'Kill's more immediate goal is to "cure" Hulkling of his heroism so that Earth can be destroyed in the Pyre alongside the Cotati. This means that the heroes of Earth may soon find themselves facing a war on more than one front.
What will happen next? Find out in EMPYRE #4 on Wednesday, August 5!
You can pick up EMPYRE #3, written by Al Ewing and Dan Slott with art by Valerio Schiti, at your favorite local comic book shop or digitally today! Be sure to ask your local comic book shop about their current business policies to observe social distancing or other services they may offer, including holding or creating pull lists, curbside pick-ups, special deliveries and other options to accommodate. Find and support your local comic book shop at http://comicshoplocator.com or by visiting http://marvel.com/lovecomicshops.
For digital comics, all purchases in the Marvel Comics app can be read on iPhone®, iPad® and select Android™ devices! Our smart-paneling feature provides an intuitive reader experience, ideal for all types of mobile device and tablet users!
The Hype Box
Can't-miss news and updates from across the Marvel Universe!