Comics
Published November 9, 2020
Hulkling and Wiccan's Relationship Firsts
We chart Hulkling and Wiccan's road to matrimony amidst the cosmic chaos of 'Empyre'! Read their wedding on Marvel Unlimited today.
Have you tried Marvel Unlimited yet? It's your all-access pass to over 28,000 Marvel comics, available at your fingertips. Sign up now to enjoy your favorite stories sooner, just three months after they're in stores! Start your 7-day free trial on both monthly and annual subscriptions today.
From their first flirtations as teammates and Young Avengers, to their first "I love yous," Teddy Altman, AKA Hulkling, and Billy Kaplan, AKA Wiccan, have come a long way. Now, their magical moment of matrimony has finally arrived in EMPYRE #4, a new release on Marvel Unlimited! But, before the happy couple can celebrate wedded bliss, these two super-powered heroes will be facing their toughest challenge yet, as intergalactic chaos has seized all of Earth in a war waged for the future of humanity.
The events of EMPYRE began when Teddy became the Emperor Supreme of the Kree and the Skrulls in INCOMING! #1. Backed by his Kree/Skrull heritage, Hulkling united the two races against a common threat. Their first order of business as an alliance: to conquer their most ancient enemy, the plant-like race known as the Cotati. The Cotati had carefully laid plans to eliminate all animal life, starting with the inhabitants of Earth. The Alliance's war fleet caught the attention of the Avengers and the Fantastic Four, who then sought a diplomatic solution in space. But a battle erupted between the Wakandans and the Cotati on Earth, as the Cotati sought Wakanda's Vibranium-rich soil to accomplish their goals. At the same time, Hulkling's fiancé, Wiccan, had his own reasons to take down the Cotati! What will all this fighting and division mean for the newly married Billy and Teddy?
[RELATED: Crash Course to 'Empyre']
Before we find out, let's celebrate their relationship firsts, all of which have led to their formal commitment in EMPYRE #4!
FIRST DATE

Many couples argue about what, and where, their first date was, and it's possible this super-powered pair would too. But there's no arguing that their first on-panel dating discussion happened in AVENGERS: THE CHILDREN'S CRUSADE - YOUNG AVENGERS (2010) #1. Read carefully because it all went down during a virtual reality battle against the Sinister Six. Easy to miss amidst the mayhem!
FIRST FLIGHT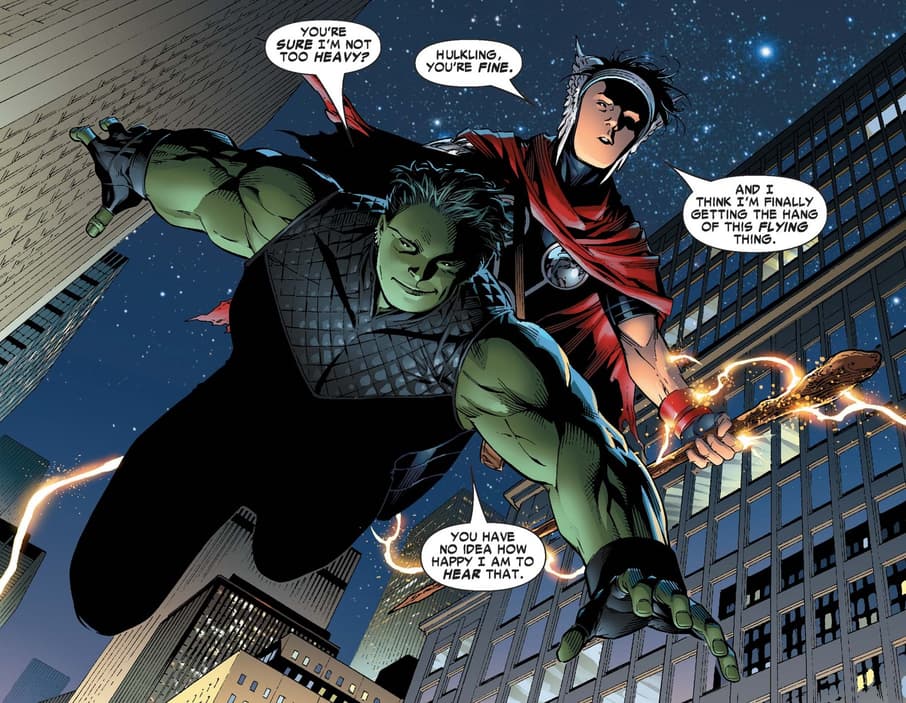 There's no obvious revelation in their "first flight" together, but it does reveal the first time that Teddy trusted Billy with his life. Despite Teddy possessing super-strength, shape-shifting, and the ability to heal, a fall from that height would lead to a difficult recovery. This kind of trust builds on the love they eventually share when they realized they were more than just colleagues. Read this moment in full in YOUNG AVENGERS (2005) #2, and follow their courtship and romantic beginnings in YOUNG AVENGERS (2005-2006).
[RELATED: Hulkling: The Fast Facts]
FIRST KISS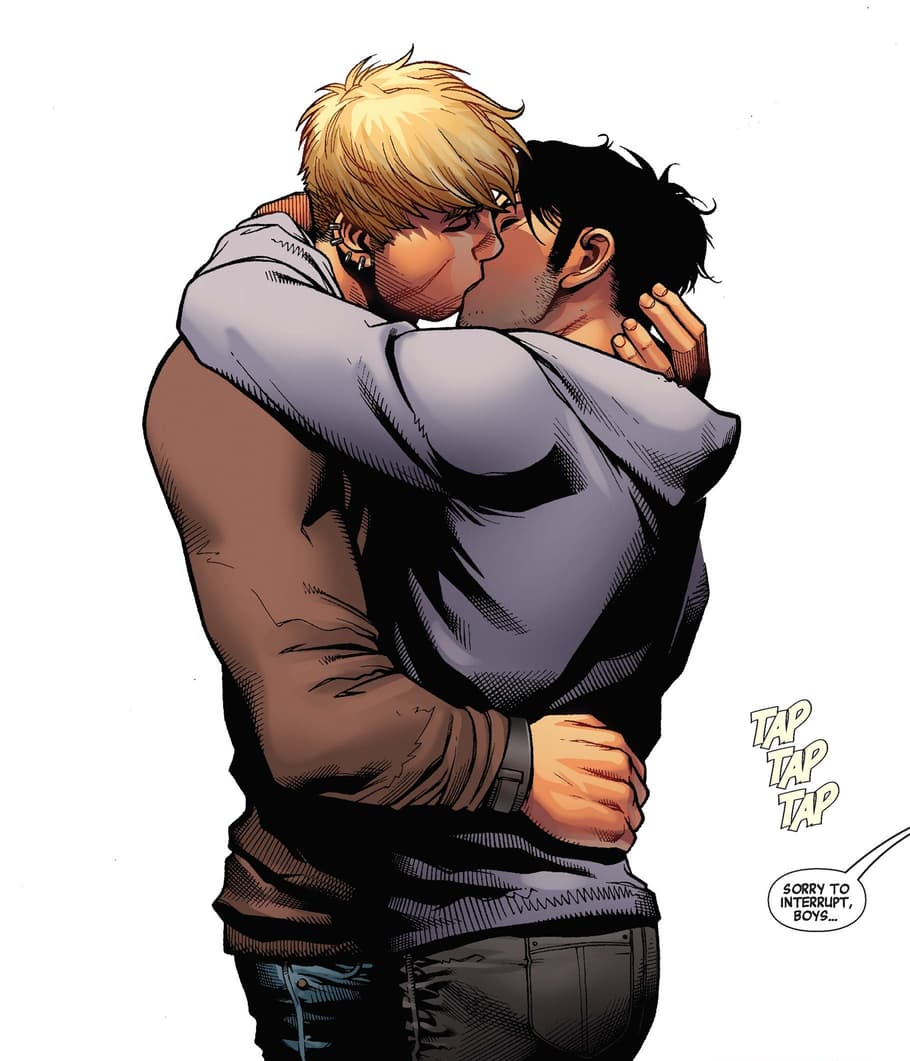 We've talked about Wiccan and Hulkling's first kiss before, (which can be read in AVENGERS: THE CHILDREN'S CRUSADE #9), but what we didn't touch on was the other first. It was the first time that Billy realized Teddy's emotional support was unwavering. Billy had been silently, though noticeably, dealing with depression after the Young Avengers disbanded. Teddy reminded Billy that he was there for him to talk things through, and he wasn't going to give up until "till death do us part." This issue is jam-packed with firsts!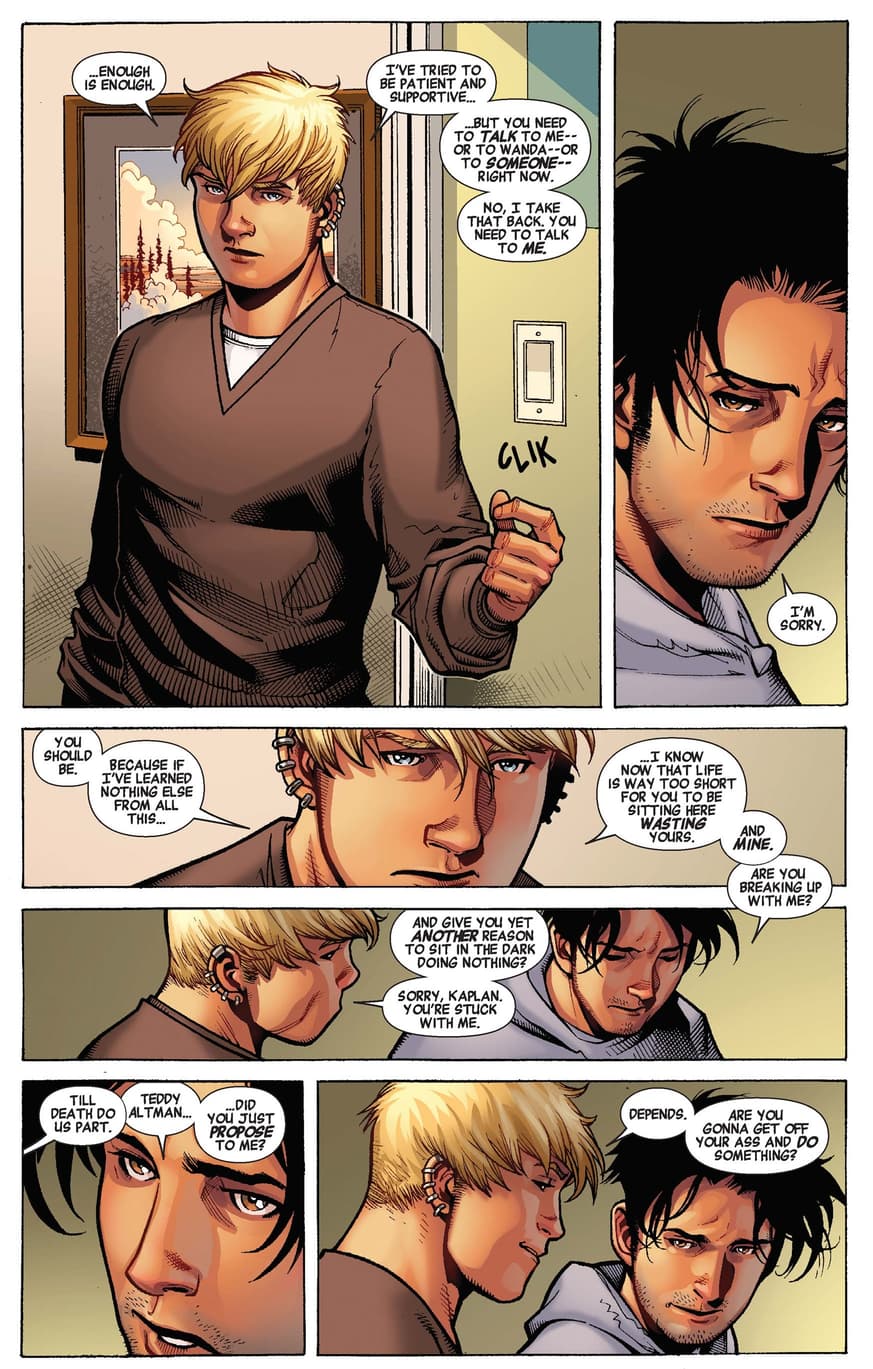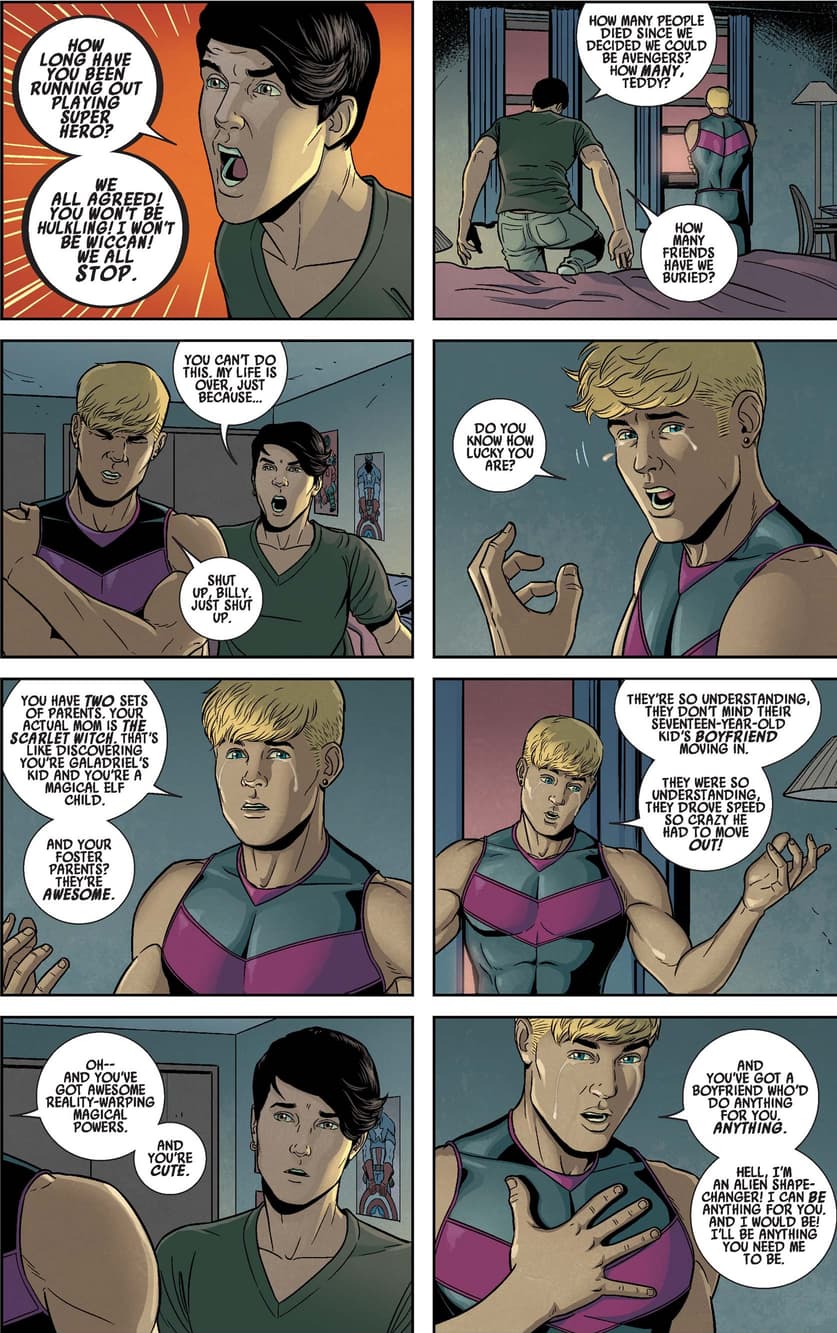 All relationships have their first big fight, and this power couple is no exception. Something to keep in mind: this fight was about being Super Heroes, something that Billy and Teddy had given up on after they lost too many of their friends to super-heroics—or so Billy thought. Experience all the tension, and the tears, in YOUNG AVENGERS (2013) #1.
FIRST "I LOVE YOU"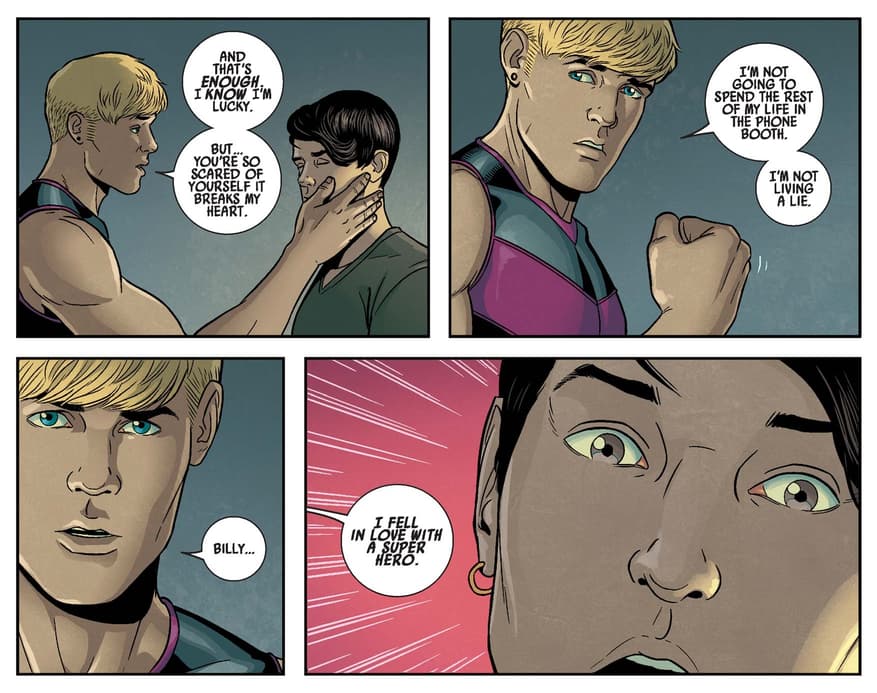 The first expression of love between romantic partners can come in the subtlest of ways, like when Billy signed a letter to Teddy "All my love" in AVENGERS: THE CHILDREN'S CRUSADE (2010) #3. It can also be more obvious and blurted out during a fight, exactly what happened YOUNG AVENGERS (2013) #1 when Teddy revealed that he'd fallen in love with Billy.
If we're being nitpicky, the first "I love you" came from Billy after the couple survived a harrowing experience, which sowed doubt in their relationship in YOUNG AVENGERS (2013) #14. A tender moment that tugs on the heartstrings.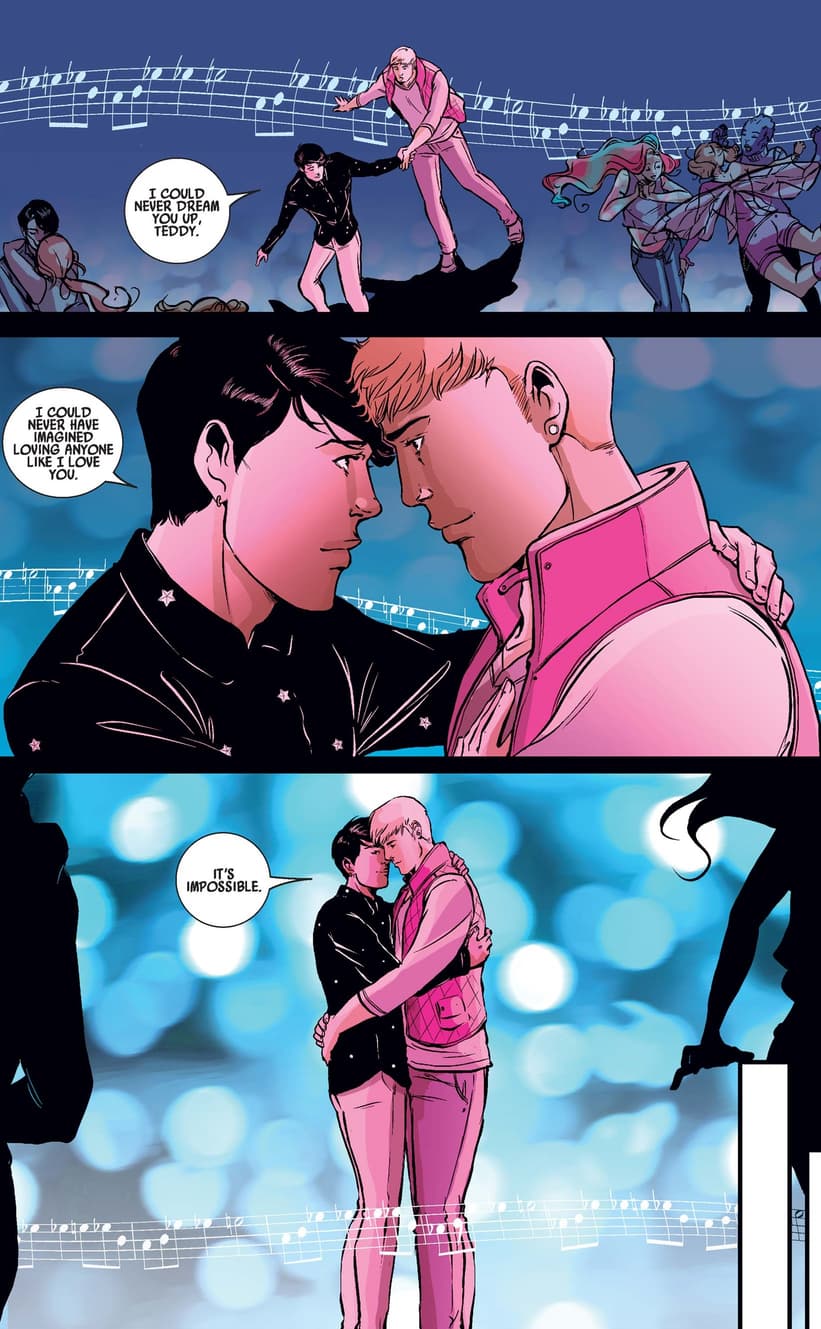 FIRST PUBLIC DISPLAY OF AFFECTION
While Billy and Teddy showed affection toward each other in YOUNG AVENGERS (2005) #12 after the Super-Skrull slayed Teddy's mom, their first public display was a simple yet meaningful gesture. By offering his hand, Teddy offered Billy reassurance that they'd survive another encounter with the Mother parasite—a hard-to-beat interdimensional villain who was posing as the Young Avengers' parents. See the sweet hand hold in YOUNG AVENGERS (2013) #5.
FIRST (UNINTENTIONAL) BETRAYAL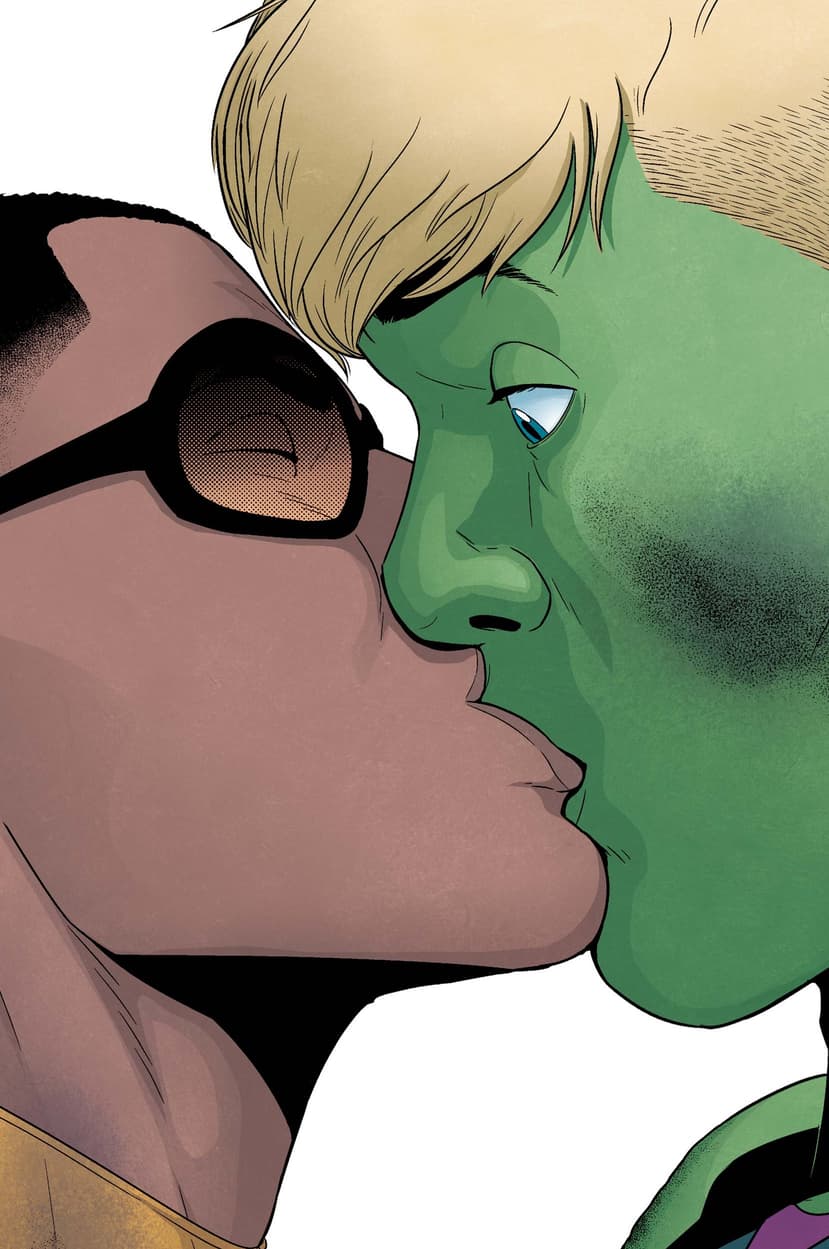 Okay, let's be real, could Teddy ever betray the love of his life? No. That's why it's unintentional, but it's still a betrayal. Teddy and Billy's relationship was already on the rocks, with Teddy doubting whether his feelings for him were true or something Billy did to him, since Wiccan's powers can alter reality. In the midst of that doubt came Young Avengers teammate Prodigy. See how Teddy handled this surprising turn of events in YOUNG AVENGERS (2013) #8-9.
FIRST COHABITATION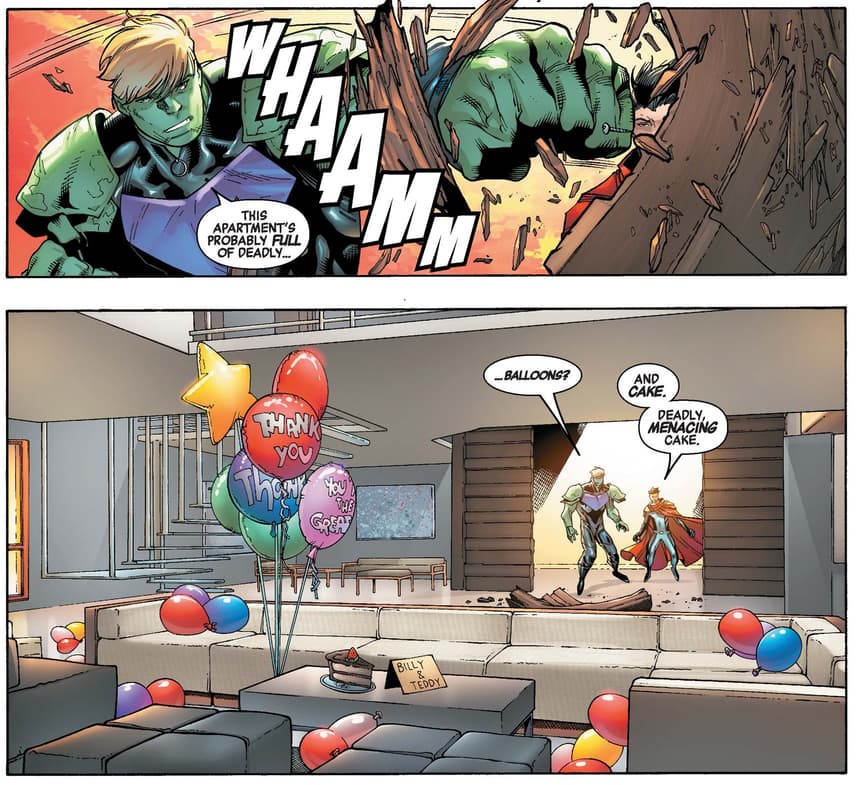 The couple's first cohabitation came as an unexpected gift from fellow New Avengers teammate Sunspot. They received a sizable penthouse suite overlooking Central Park in New York City, replete with celebratory balloons and an unbeatable sunset in NEW AVENGERS (2015) #18.
FIRST VOW
After all those firsts, how can there be any left? Who are we kidding… there's always more firsts, and Teddy and Billy's relationship has finally culminated in their first vow. That's right—they got married! And guess who was on the guest list? None other than the original Young Avengers, all gussied up for their friends' big day. Check out how these two became super-spouses in EMPYRE #4!
But…there's always a "but" in this universe. There will be no rest, and possibly no honeymoon, for these two. With Teddy enthroned as the King of Space, his demanding position will result in a long-distance relationship between the newlyweds. Not only that, but the newly formed Kree/Skrull Alliance has led to disastrous consequences for the whole galaxy. Find out how disastrous in the upcoming EMPYRE #5!
Marvel Unlimited, Marvel's digital comics subscription service, offers members unlimited access to over 28,000 issues of Marvel's classic and newer titles, delivered digitally through your desktop web browser and the award-winning Marvel Unlimited mobile app.
Follow Marvel Unlimited on Twitter and Facebook to stay tuned in to weekly announcements, articles, and more, all at @MarvelUnlimited. Follow us today to join the conversation with thousands of fellow fans, and let us know what you're reading!
The Hype Box
Can't-miss news and updates from across the Marvel Universe!