Comics
Published August 28, 2017
I Am Groot: Make Like a Tree
Writer Christopher Hastings catches us up on a long-lost Groot!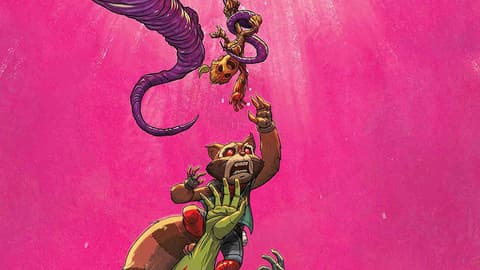 I AM GROOT has been a wild ride so far! Catapulted into a strange new dimension, Groot got separated from the rest of the Guardians of the Galaxy. No one on his new planet understands a word he says (well, they can understand three) and he's stuck in his vulnerable—though adorable—baby form. So, what's a tree to do?
Find out, as I AM GROOT #5, by writer Christopher Hastings and artist Flaviano, launches on September 27!
Groot's nearly home—but an ancient and unspeakable horror blocks his way back to his friends. Will he get back to the Guardians? Who, or more urgently, what could this mysterious villain be? I am Groot!?
Let's ask Christopher Hastings to find out more!
Marvel.com: How's Groot been faring recently? How close is he to getting back home?
Christopher Hastings: Groot is so close to opening the Forgotten Door—the door that will return him across the universe to the Guardians of the Galaxy! Now, the question is…will opening that door destroy the world of Terminal and kill the new friends he met there?
Marvel.com: There's such a unique visual style and tone to this book. What were your inspirations?
Christopher Hastings: I tried to make this book feel a lot like the scarier children's fantasies I grew up with—with weird monsters and locations, and a general sense of unease. The world can be a scary place for a kid and I like a story that acknowledges and respects that. So I tried to make frightening, strange scenes—with a mystery for Groot to unlock that ties them all together!
Marvel.com: What was your process in coming up with the "ancient unspeakable horror" through line in this book?
Christopher Hastings: I'll confess, this horror might have been spoken about before. Throughout I AM GROOT, the inhabitants of Terminal have known some dreadful force brought terror to their world a long time ago, and they must not let it back in. I thought it would be fun if that scary thing might be something familiar to the folks all the way back on Earth, too. A baddie that really gets around, you know?
Marvel.com: That's a lot for one little living twig to deal with. How has Groot been handling this first solo adventure? 
Christopher Hastings: It's been pretty scary! But even though Groot's a little guy, he finds that old strength in him when he needs it. At one point he even makes a connection to his larger, older self, which plays a big part across issue #4 and issue #5 of the series—as the two of them meet across time!
Marvel.com: What was the most challenging aspect of creating this book? The most rewarding aspect?
Christopher Hastings: The biggest challenge has been riding that line between mysterious and confusing. [Laughs] But thanks to the fantastic artists and editors on this book, I think we got it right. And the most rewarding thing has been seeing the awesome interpretation that our artists, Flaviano and Marcio Menyz, brought to the material.
Marvel.com: Any fun stories from the making of I AM GROOT?
Christopher Hastings: I had to start writing this before "Guardians of the Galaxy Vol. 2" came out in theaters, so I was very nervous to see if there would be any huge glaring differences between the baby Groot in the movie and the baby Groot in my comic. And I'm a bit surprised to have found out that maybe…I could have made Groot a bit more mischievous!
Marvel.com: But the cuteness—the cuteness is spot-on.
Explore I AM GROOT #5, by Christopher Hastings and artist Flaviano, on September 27!
The Hype Box
Can't-miss news and updates from across the Marvel Universe!