Comics
Published September 24, 2020
'Immortal She-Hulk' #1 Reveals Threats From Beyond the Grave
Jennifer Walters receives some alarming information in the aftermath of Empyre!
Warning! This article contains spoilers for immortal she-hulk #1, so read on at your own risk, True Believers!
Al Ewing's run on IMMORTAL HULK has established that the various Hulks, and almost anyone touched by Gamma radiation, can come back to life through the Green Door. That includes Jennifer Walters AKA She-Hulk. Jennifer died at least two times before the events of EMPYRE, but that didn't stop the Cotati from killing her and using her body as a puppet. Now, Jennifer is back from the dead again and wondering what it all means.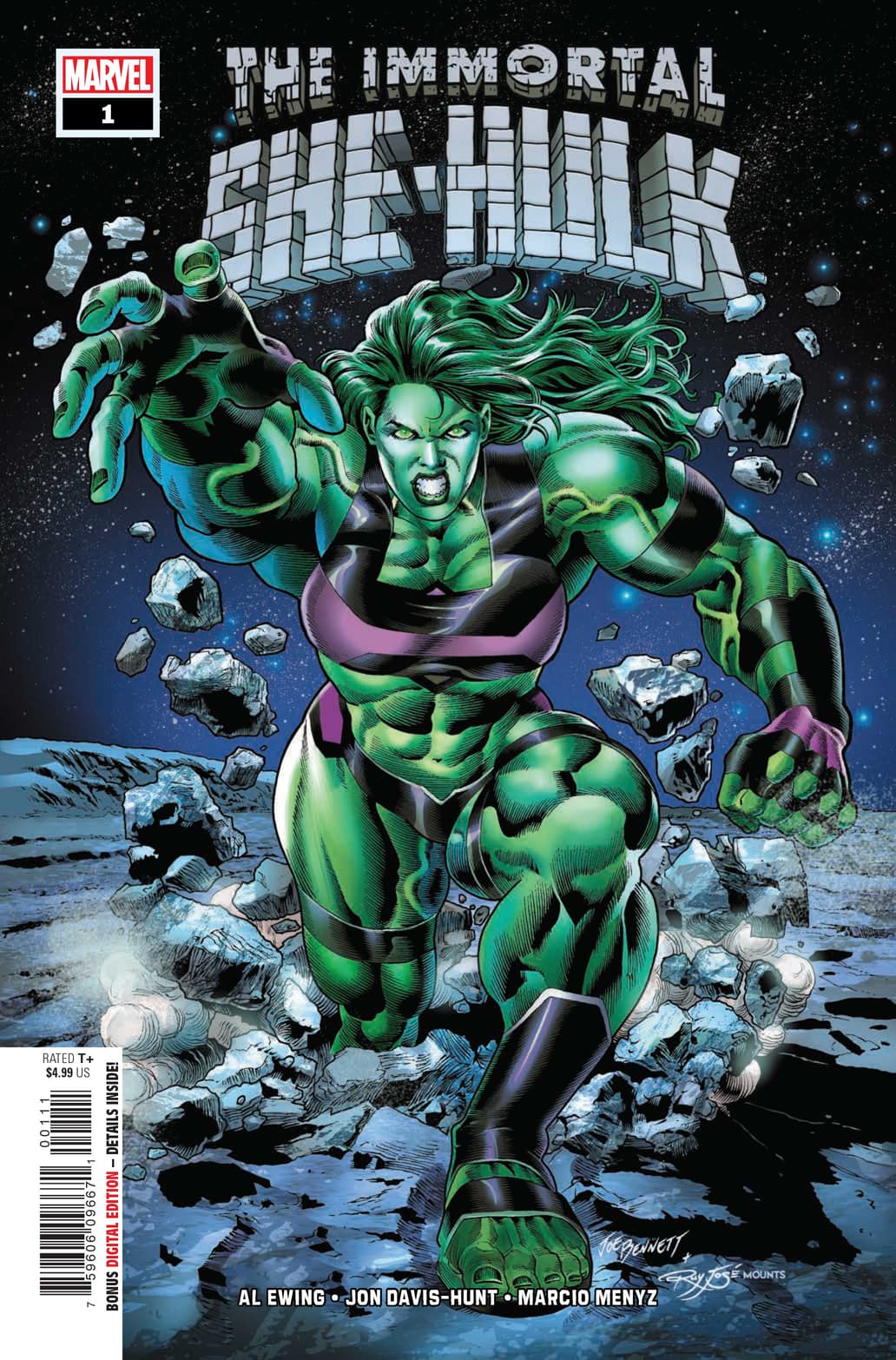 In IMMORTAL SHE-HULK #1, Ewing and artist Jon Davis-Hunt explore "The Three Deaths of Jennifer Walters." The first flashback began during the events of SAVAGE SHE-HULK (1980) #1, when Jennifer was assassinated by the mob and revived by an emergency blood transfusion from her famous cousin, Bruce Banner AKA the Hulk. That was Jennifer's first death. Her second death came in CIVIL WAR II #1, following a disastrous fight with Thanos. Jennifer has never recovered the same control over her Hulk form that she had before that. This week's issue also established that Jen is still angry at Tony Stark for that death, even though he wasn't present when she was fatally wounded.
Now that Jennifer has returned from the dead yet again, she's looking for answers. The first person she turned to was Wolverine, a hero who knows a thing or two about coming back to life. Logan died in DEATH OF WOLVERINE and HOUSE OF X, in addition to numerous close calls with the Grim Reaper. It's telling that Logan is wary about discussing it, even with someone who has gone through similar ordeals.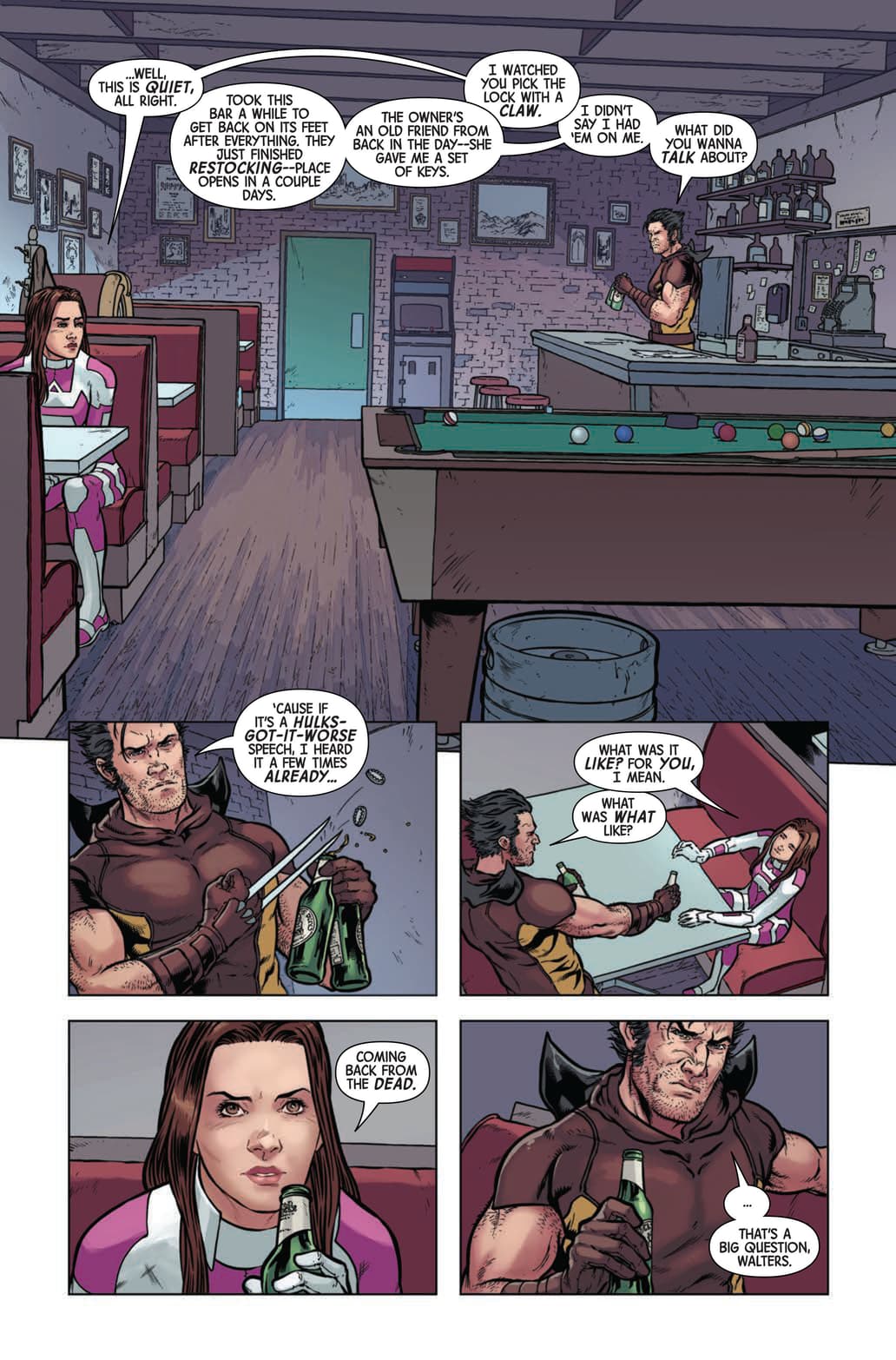 Even Jennifer's new beau Thor can't give her the solace she needs. Note that Jennifer can't bring herself to talk with Thor about it without being in her Hulk form. The Odinson also reveals that he killed Galactus (in THOR #6), even though Big G was believed to be immortal. The point of Thor's confession is that even immortals are not eternal. They can still die.
Throughout the issue, Jennifer has flashes of memory from her time in the Below-Place. That includes an encounter with a real monster: Brian Banner, Bruce's abusive father. Brian has been causing some trouble for Bruce during IMMORTAL HULK. But when he reunites with Jennifer, Brian recalls their last meeting during the Chaos War in INCREDIBLE HULKS #619-620. That led Jennifer to remember how she learned that her aunt, Rebecca Banner, had died. Even as a child, Jennifer suspected that Brian had killed her.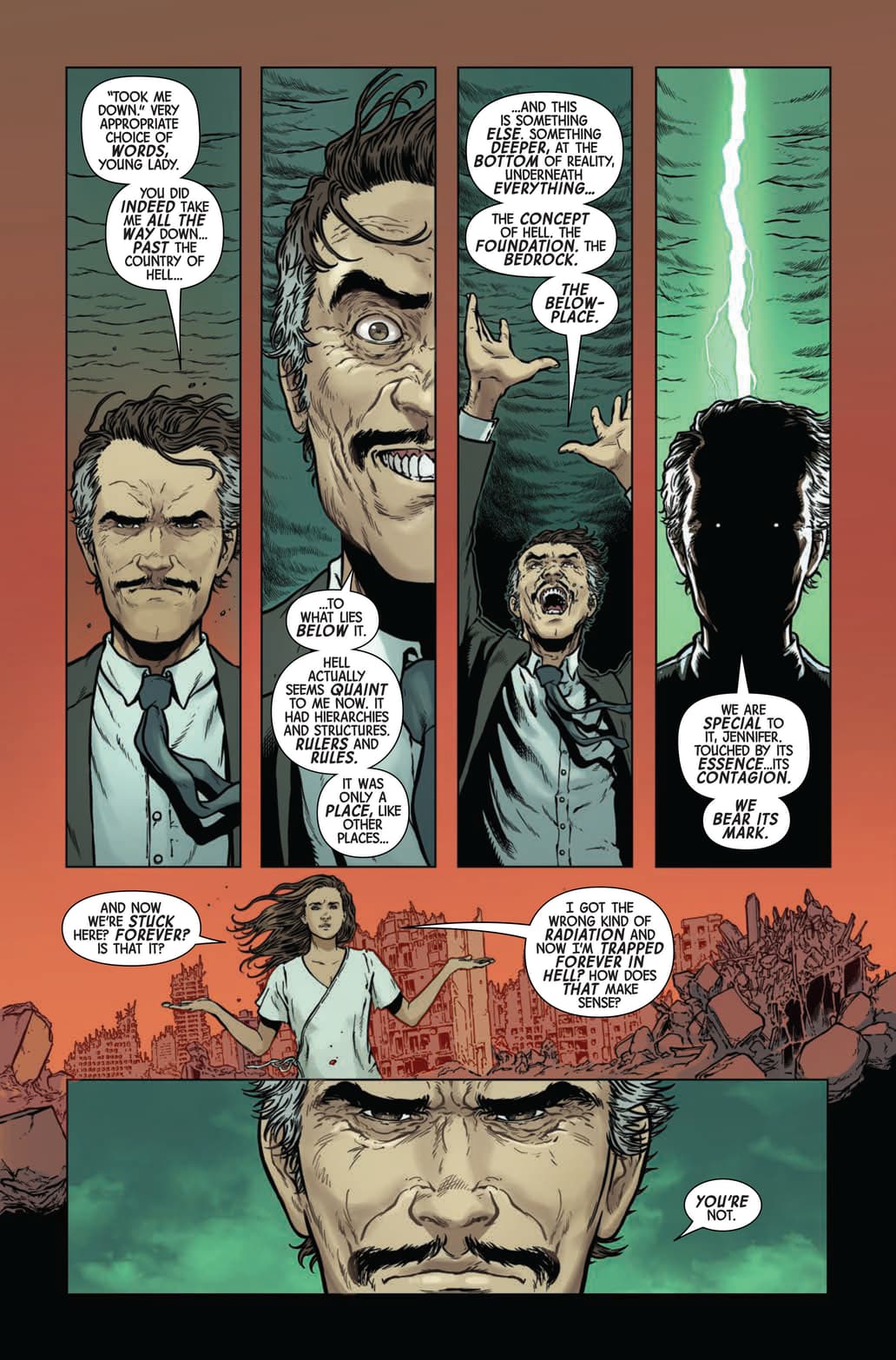 More pressingly, Brian taunted Jennifer with the idea that he's learning more and more simply by peering through the Green Door. But that's not the most alarming thing that Jen saw in the Below-Place. She also had a run-in with Samuel Sterns, the Leader. He's the biggest threat, despite Jennifer's promise to beat him up again if he dares to return to life. In response, the Leader indicated that he's changed the locks on the Green Door. That means Jennifer, Bruce, and the rest of the extended Hulk family may not be able to resurrect themselves again as long as the Leader has control.
The Leader left Jennifer with one last warning: "Don't die again." If the Leader isn't bluffing, it means that the Hulks are no longer immortal. That's a piece of information that may be the key to Ewing's closing arc on IMMORTAL HULK. But what it means for Jennifer and Bruce remains to be seen…
IMMORTAL SHE-HULK #1, written by Al Ewing with art by Jon Davis-Hunt, is on sale now at your local comic shop and digitally!
Be sure to ask your local comic book shop about their current business policies to observe social distancing or other services they may offer, including holding or creating pull lists, curbside pick-ups, special deliveries and other options to accommodate. Find and support your local comic book shop at http://comicshoplocator.com or by visiting http://marvel.com/lovecomicshops.
For digital comics, all purchases in the Marvel Comics app can be read on iPhone®, iPad® and select Android™ devices! Our smart-paneling feature provides an intuitive reader experience, ideal for all types of mobile device and tablet users!
The Hype Box
Can't-miss news and updates from across the Marvel Universe!