Comics
Published July 19, 2019
In 3 Weeks... 'Gwenpool Strikes Back'
Get an exclusive look inside issue #1 ahead of its release on August 14!
Gwenpool returns on August 14, True Believers!
In GWENPOOL STRIKES BACK, an all-new five-issue series from writer Leah Williams and artist David Baldeón, Gwen Poole is on a mission to keep a firm foot in the Marvel Universe. To that end, she's unmasking Spider-Man and bringing in plenty of guest stars! And heck, maybe she'll see if she can get some real super-powers while she's at it!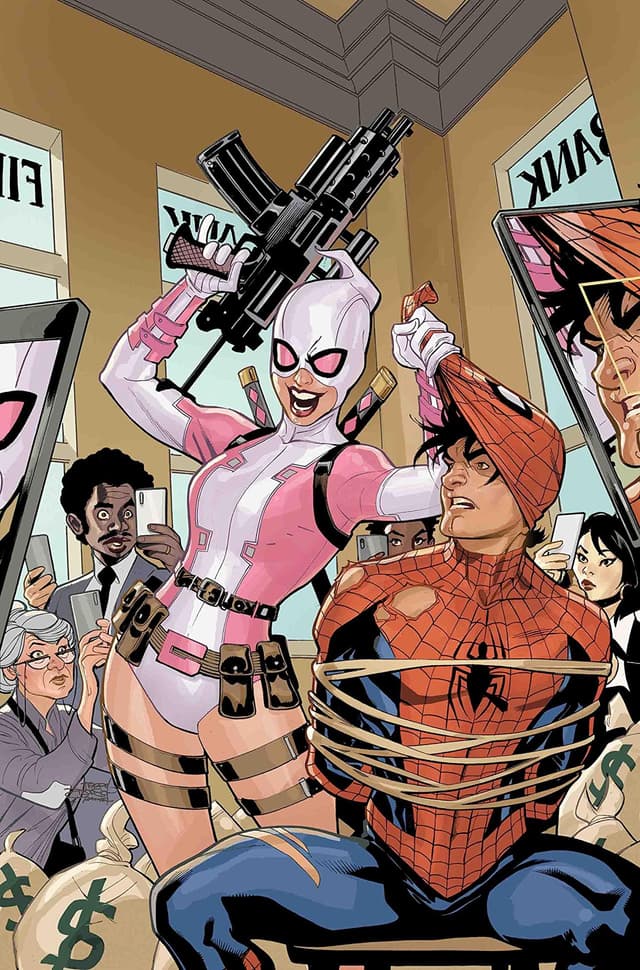 Before issue #1 drops early next month, we caught up with one of the book's editors (and therefore, one of Gwen's wranglers), Annalise Bissa, for a glimpse into the world of this one-of-a-kind hero...
As a newcomer to the character, what does the wonderful Leah Williams bring to the Gwenpool party?
Leah brings a TON to GWENPOOL—first and foremost being a real love for the character and commitment to making sure she reads authentically. Gwen is a tough character to get right, partially because the meta nature of everything about her shakes up accepted conventions for how you 'should do' a comics story. Leah is pushing the character to new places, and it's incredibly fun to read.
Why is Gwen on the verge of falling into "comic book limbo" and how does she plan to strike back?
Well, without a series...what happens to her, right? We can imagine that everyone in the 616 keeps running around without us watching, but Gwen, as someone originally from our world, knows that there's nothing going on for her unless someone is telling her story in a comic—so she's determined to stay on the page.
Right off the bat, we see her ripping off Spidey's mask. Just... What!?
She wants to stay on the page—she needs our attention to stay relevant. And she's not terribly picky about whether that's 'good attention' or 'bad attention'...you can see where I'm going with this.
Gwenpool's a relatively new character, but feels like she's always been a part of the Marvel Universe. In your mind, what makes fans love her so much?
I think people love Gwenpool—in part—because she has more of the 'stars: they're just like us' sensibility than any other comic character. While Peter Parker might resonate with readers when he's broke and stressed (but trying to do the right thing!), Gwen resonates with many fans because she is literally one of us—she loves comics!
What do you like most about working with the character as an editor?
It's yet another thing that I think a lot of people connect to—Gwen can be super irreverent, which makes sense when you consider the situation she's in, but hand-in-hand with her jokiness is a core of warmth. It's not always pure unadulterated kindness, but even in her low moments, she tries to do her best based on the information she has.
David Baldeón has such a signature style and look. What made him the perfect choice to tell this GWENPOOL story?
David Baldeon is such a 'get' for this book—he's going above and beyond to not only translate what Leah describes on any given page, but to take it to the next level. It's GWENPOOL, so there's lots of meta jokes and reality-bending moments, and David has been a total powerhouse in making all of the fun weirdness work!
Get your first look inside ish #1 below! Pre-order GWENPOOL STRIKES BACK #1 at your local comic shop now, then pick it up on Wednesday, August 14!
The Hype Box
Can't-miss news and updates from across the Marvel Universe!