Comics
Published June 13, 2023
An Inside Look at 'Marvel's Voices: Pride' 2023
Go behind the scenes of this year's 'Marvel's Voices: Pride' with this special inside look, featuring interviews with some of the creative talent.
This week, MARVEL'S VOICES: PRIDE (2023) #1 kicks off Marvel Comics' annual celebration of Pride Month. The super-sized issue puts the spotlight on Marvel's past, present, and future LGBTQ+ stars in exciting new stories brought to life by queer creatives.

Now, let's go behind the scenes with a special inside look at this year's issue of MARVEL'S VOICES: PRIDE. Marvel.com sat down with some of the incredible talent that made this year's Pride special possible to discuss the characters and stories featured in its pages. Hear firsthand about their experiences working on this project and how their stories came together.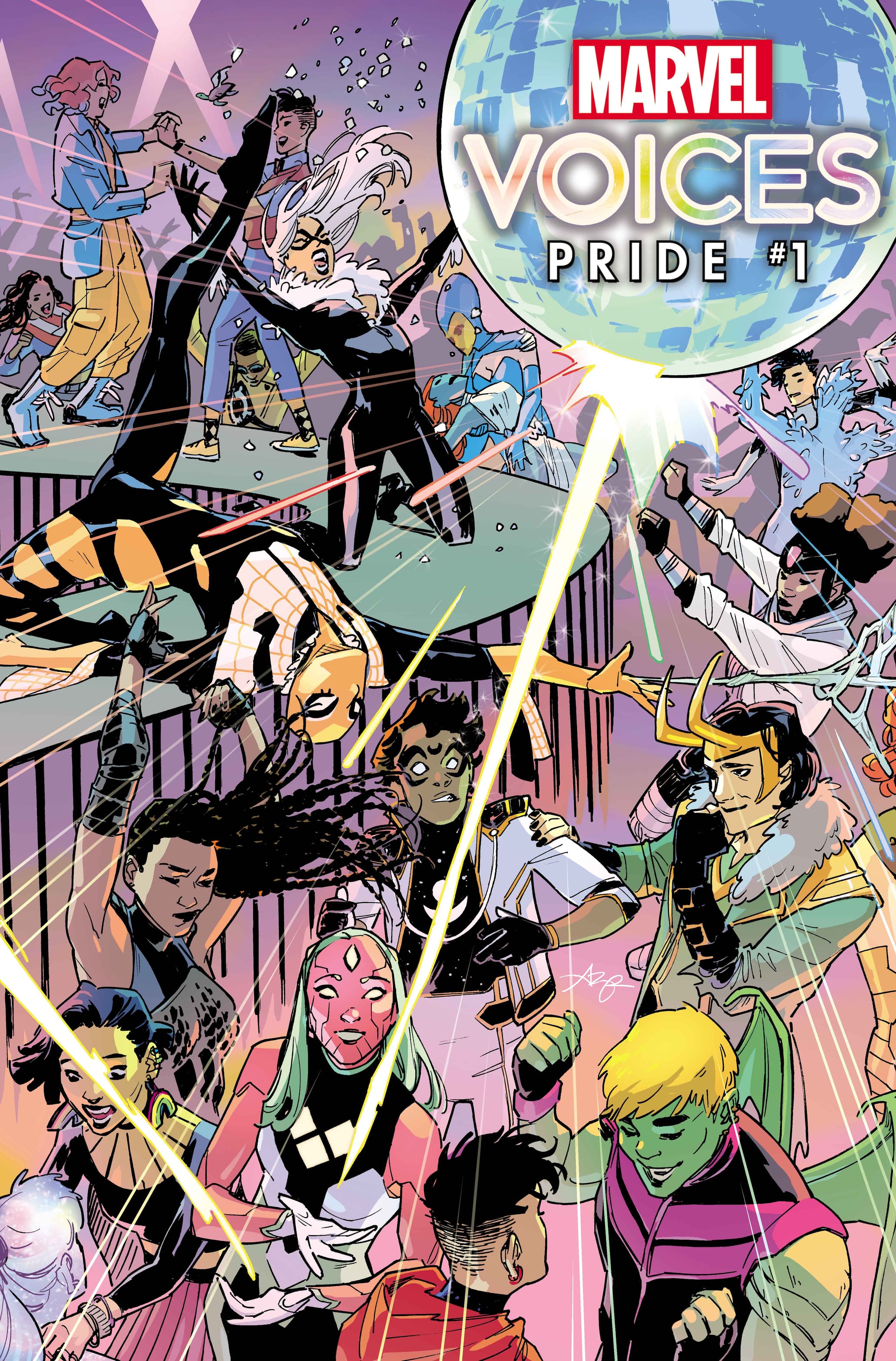 A New Nightshade Debuts in "What May Bloom" 
Written by STEPHANIE WILLIAMS 
Art by HÉCTOR BARROS 
Inks by OREN JUNIOR 
Colors by ANDREW DALHOUSE 
Writer Stephanie Williams and artist Héctor Barros introduce Logan Lewis, a new character who takes on the mantle of "Nightshade" to protect her community in Chicago. As a bisexual young woman in a sapphic relationship, Logan joins the canon of LGBTQ+ characters in the comic book medium. 

On the subject of this new Nightshade's creation, Williams provided some insight into the inspiration behind the character. "The original Nightshade, Tilda Johnson, is a character I've always found intriguing since discovering her years back while doing a deep dive read on Captain America. She is this brilliant scientific mind who entered her villainess era because she went where she thought she'd have opportunities and be valued. Also, how can you not love a character who deeply annoys Captain America?" shared Williams. 

"Tilda came to mind when I started thinking about what a character with a similar intellect could be if she had the loving support, opportunities, and community Tilda didn't have at the time. As I let those thoughts run free, Logan Lewis began to take shape," she explained.  

Like Kamala Khan and Miles Morales before her, Logan Lewis is a legacy character who takes on a mantle that was previously associated with someone else. When discussing Logan's relationship with the mantle, Williams highlighted the many intricacies and nuances that are often overlooked when talking about legacy. 

"Logan is a possibility of who Tilda could have been if her circumstances differed. When we think of mantles, they often come from some kind of 'prestige.' But not all mantles are built the same, which doesn't make them any less worthy of being picked up," she shared.

"When I think of the Nightshade legacy, I think of it as one that is about breaking generational curses," she continued. "Here, you have a character who is the product of what the outcomes can be when one has access to the things those before them didn't. The new Nightshade isn't scoffing at the past or even judging it. Instead, it's embracing it and actively doing whatever it takes to move forward into unknown paths, hoping that a better future is ahead."

While searching for a source for Logan's powers, Williams looked beyond Marvel Comics to Marvel Video Games for inspiration. "In came ISO-8, something I've always found interesting and wish it appeared more in the comics as much as it does in video games. Logan gained her powers through a derivative of ISO-8, which allows her to control her body's chemistry," revealed Williams.

"I thought of what powers would best suit a character I hope will get a chance to evolve in the Marvel Universe," she said. "Logan is a go-getter and deserves abilities that complement who she is at her core and can grow with her as she navigates the world she lives in."

"MARVEL'S VOICES: PRIDE means a step in the right direction in uplifting diverse queer characters and the diverse queer voices behind them. It's a celebration I hope will continue to expand and extend far beyond the month of June," emphasized Williams.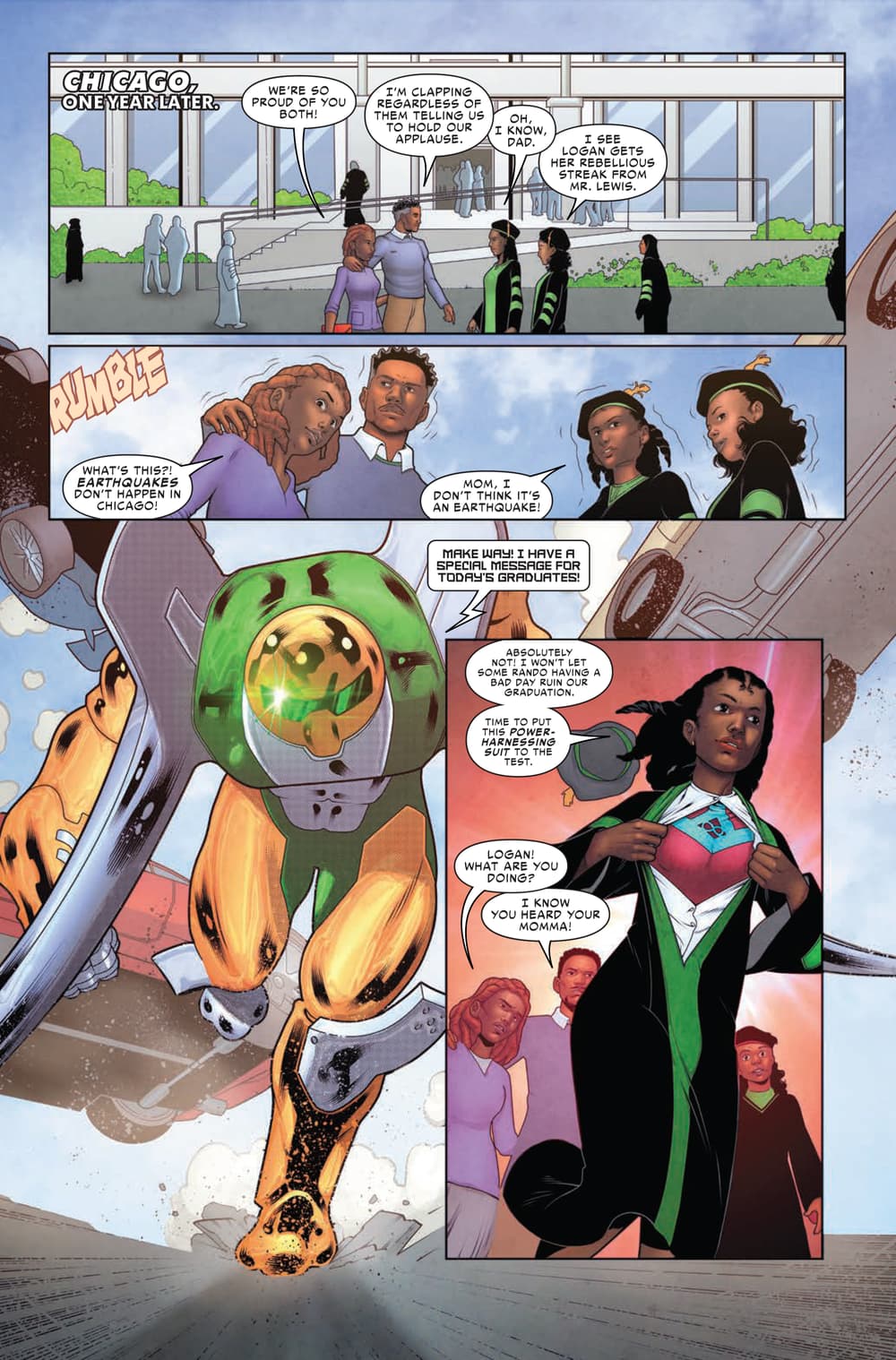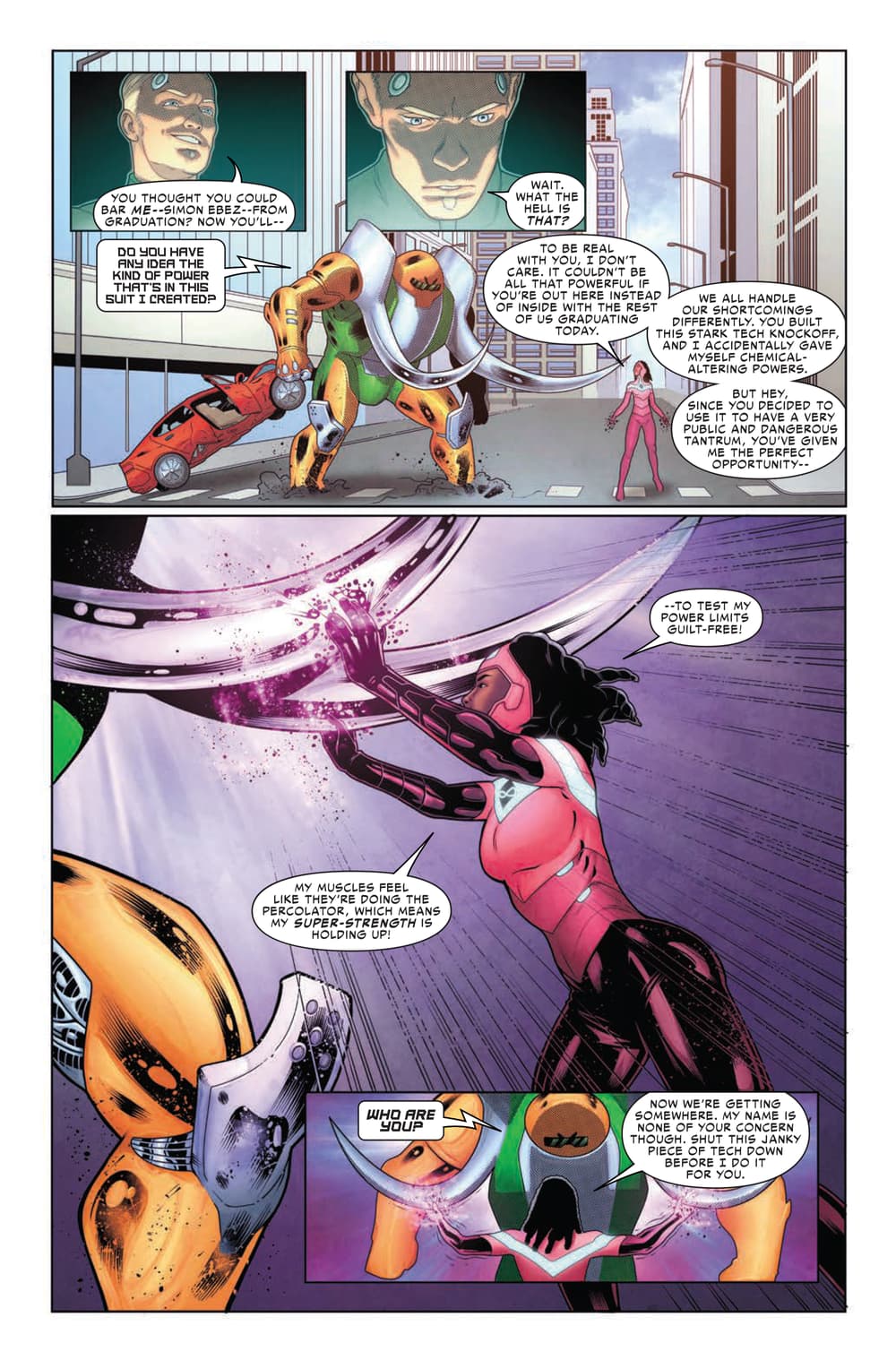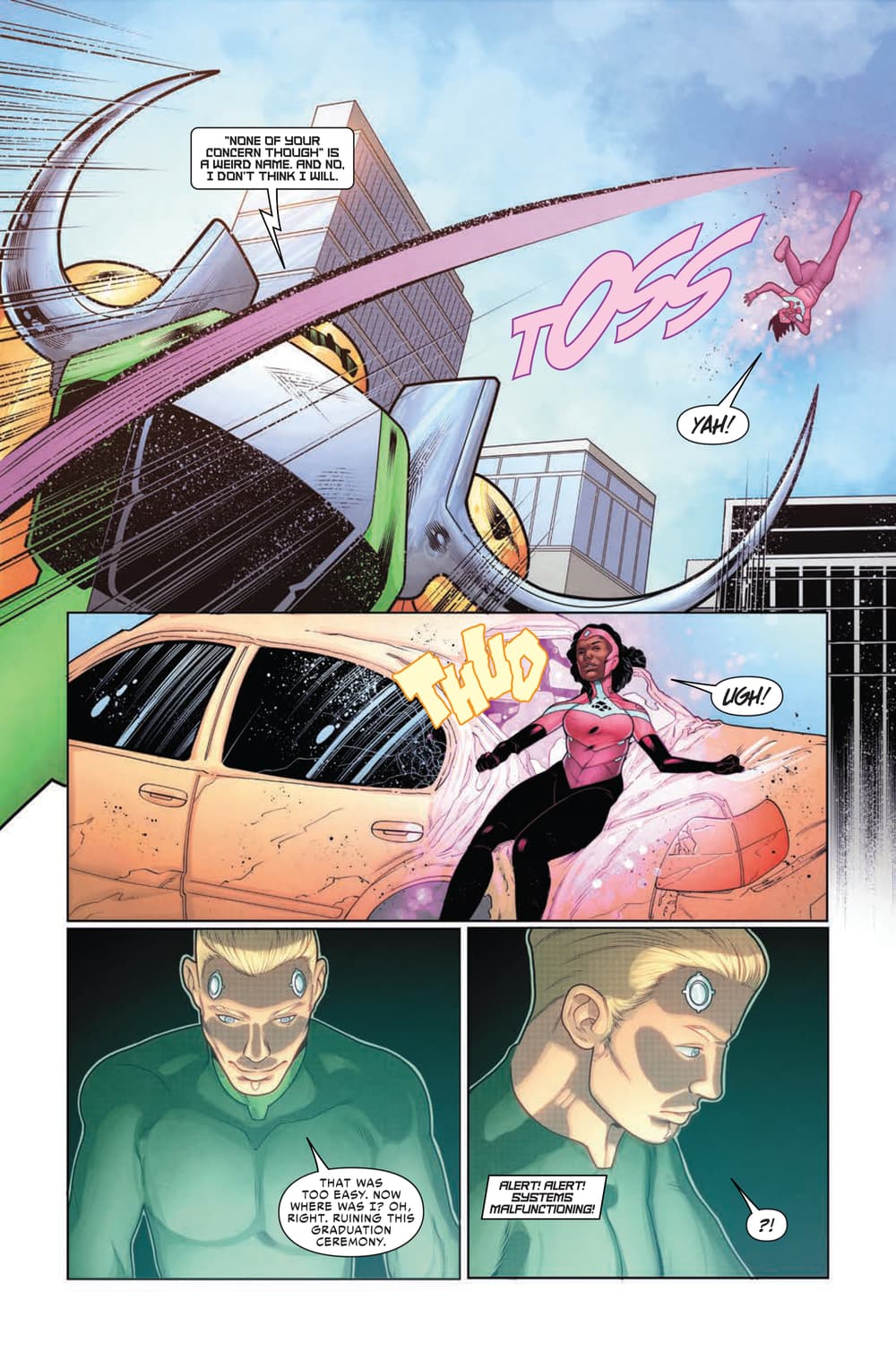 Gimmick in "Today's Lesson"
Written by STEVE FOXE 
Art by ROSI KÄMPE 
Colors by KELLY FITZPATRICK 
Carmen Cruz, a lesbian teenager, recently joined the island nation of Krakoa after being part of the group of young vigilantes known as the Children of the Atom, who pretended to be mutants in their attempt to join Krakoa. Unlike her teammates, however, Carmen discovered she was actually a mutant all along. Equipped with shape-shifting powers, she goes by the moniker Gimmick!

Co-created by writer Vita Ayala and artist Bernard Chang, Gimmick made her first full comic appearance in CHILDREN OF THE ATOM (2021). Now, in MARVEL'S VOICES: PRIDE, writer Steve Foxe and artist Rosi Kämpe bring readers up to speed with what Gimmick has been up to on Krakoa as she prepares to launch off into new adventures.

Speaking to Marvel.com, Steve Foxe discussed what drew him to Gimmick and why he chose to tell this story. "The Krakoan era has put so many characters back onto the playing field, so there's been less of a 'need' for a new mutant in this role, but Gimmick stood out to me as a really fascinating addition to the franchise," explained Foxe. "She's a fangirl who ended up being a mutant herself, and her best friends in the world—and her girlfriend—had to stay behind as she went off to explore this new facet of her life on Krakoa."

Delving deeper, Foxe compared Gimmick's role on Krakoa to that of X-Men eras of the past: "The generational aspect of the X-Men has always appealed to me. Starting waaaaay back with Kitty Pryde, nearly every era has had its own younger viewpoint mutant, which is very unique to the X-Men—it's not like the Avengers always have a teen sidekick, y'know?"

Speaking more specifically to Gimmick's story in MARVEL'S VOICES: PRIDE, Steve Foxe revealed some details about her arc in this issue. "Carmen Cruz has wanted to be a hero for a long time, and now she's got the chance to train with Bishop, the best of the best on Krakoa...but that doesn't mean her squad of misfit mutants is a well-oiled machine," teased Foxe. "But when some other young mutants start causing a ruckus in New York City, Gimmick sees a chance to prove herself and takes it without hesitation. How and why that brings her to the attention of Madelyne Pryor…well, you'll have to read the issue to find out!"

On the topic of Madelyne Prior, MARVEL'S VOICES: PRIDE also positions Gimmick to join the cast of DARK X-MEN, the Goblin Queen's own mutant team that will make its debut this summer during the FALL OF X. As the series writer, Steve Foxe provided some clues about what fans can expect from Gimmick in DARK X-MEN.

"Like I said before, I love the young-mutant-viewpoint character. When casting DARK X-MEN, I knew I wanted a character who represented the Krakoan era, and someone who would provide a balance to Maddie's more…ruthless brand of X-Men-ing. Carmen delivers on both counts, and I can't WAIT for folks to see how she fits into this motley crew of monsters. Plus, she finally gets to meet Gambit, the inspiration for her original costume!"

"I've been dying to do something for MARVEL'S VOICES: PRIDE since the first issue was announced a few years ago," shared Foxe. "No single comic book can change the world, but it's inspiring to see publishers acknowledge and uplift their queer readers and creators, especially at a time where our rights and safety are coming under renewed attack."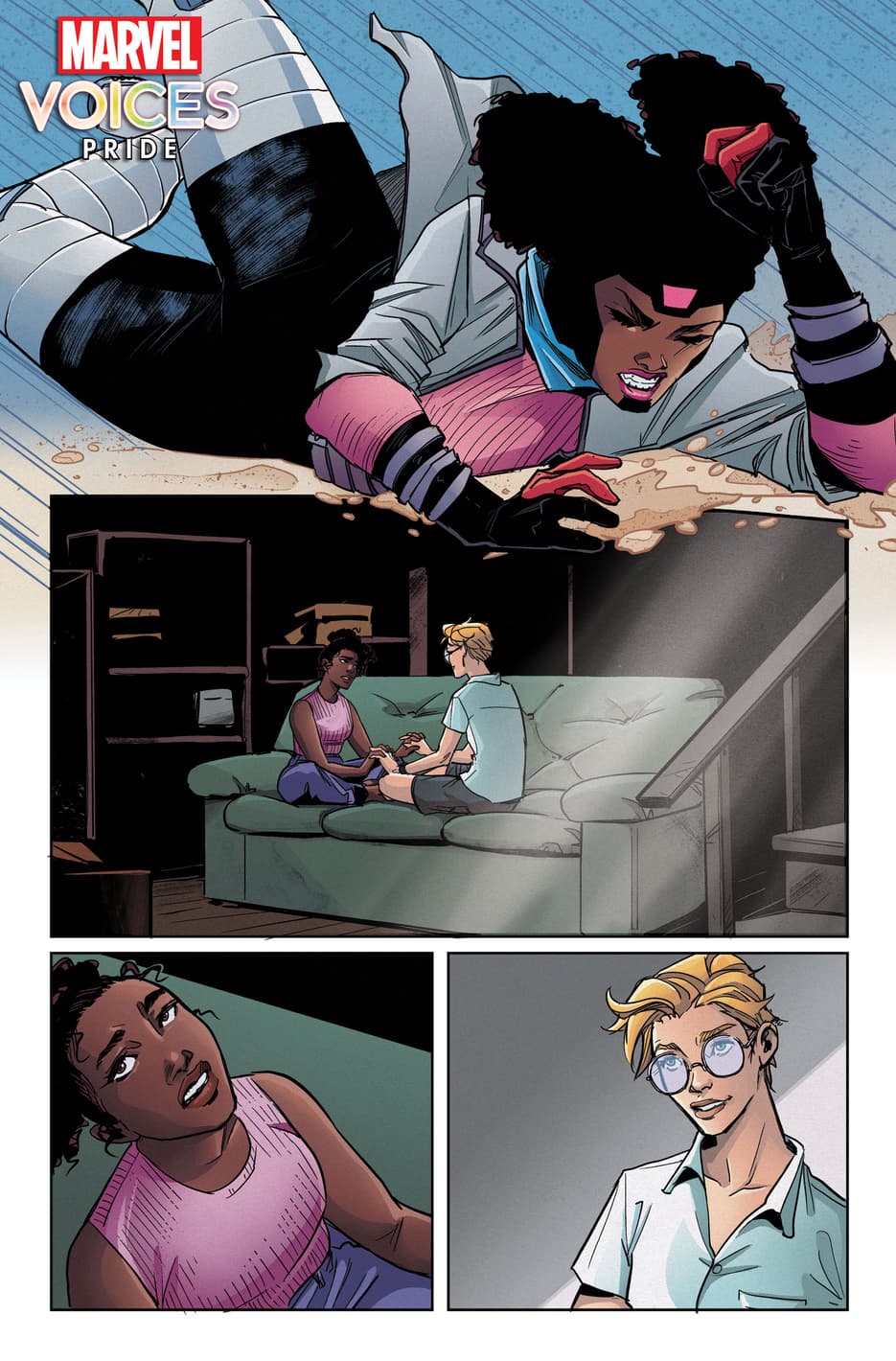 Wiccan and Hulking in "Everywhere" 
Written by SHADI PETOSKY 
Art by ROBERTA INGRANATA 
Colors by CECI DE LA CRUZ 

After Wiccan and Hulkling's fairly disastrous honeymoon during KING IN BLACK, the royal Kree/Skrull couple decide to try something a little more Earthbound this year in MARVEL'S VOICES: PRIDE. In a new story by Emmy-winning TV writer Shadi Petosky and artist Roberta Ingranata, these Young Avengers meet Lacie Lorraine, a trans cowgirl who has lived thousands of years, but currently resides in Montana.

Writer Shadi Petosky peeled back the curtain on some of the very personal inspiration behind this new character. "Lacie Lorraine was supposed to be my name at birth—and I considered it when I transitioned—but it felt too high femme. Everyone in my family has alliterative first and middle names—Harold Harvey, Jason Joe, Victor Vance. It was cartoony AF... Lacie's power-as-curse very much comes from my lived experience; I write about cursed women a lot," shared Petosky.

Wiccan and Hulkling's road trip gets off to a bumpy start when their car breaks down. It turns out saving the world multiple times does not preclude you from knowing how to fix your car. While Lacie helps fix Billy and Teddy's car, she shares her origin story and the many lives she's lived.

Petosky derived the setting and set up of this story from her lived experiences: "Lacie's in Montana because that's my home state, and as an avid road tripper, I've run into random queer people in the most backwater places."

The story that Petosky tells establishes a distinct dynamic between two young queer heroes and a trans elder, a dynamic that is underrepresented in pop culture. "Trans elders have been instrumental in my life and aren't really represented in media well—Veneno did it fantastically," explains Petosky.

"We stan an elder who has been through some stuff and feels a lot of nostalgia and unlived potential but still keeps it fun. I felt like it was extra gay for Wiccan and Hulkling to sort of canonize this dorky queen. I basically look like a fat midwestern Mom but have a lot of Hollywood gay boys in my life who make me feel like an icon."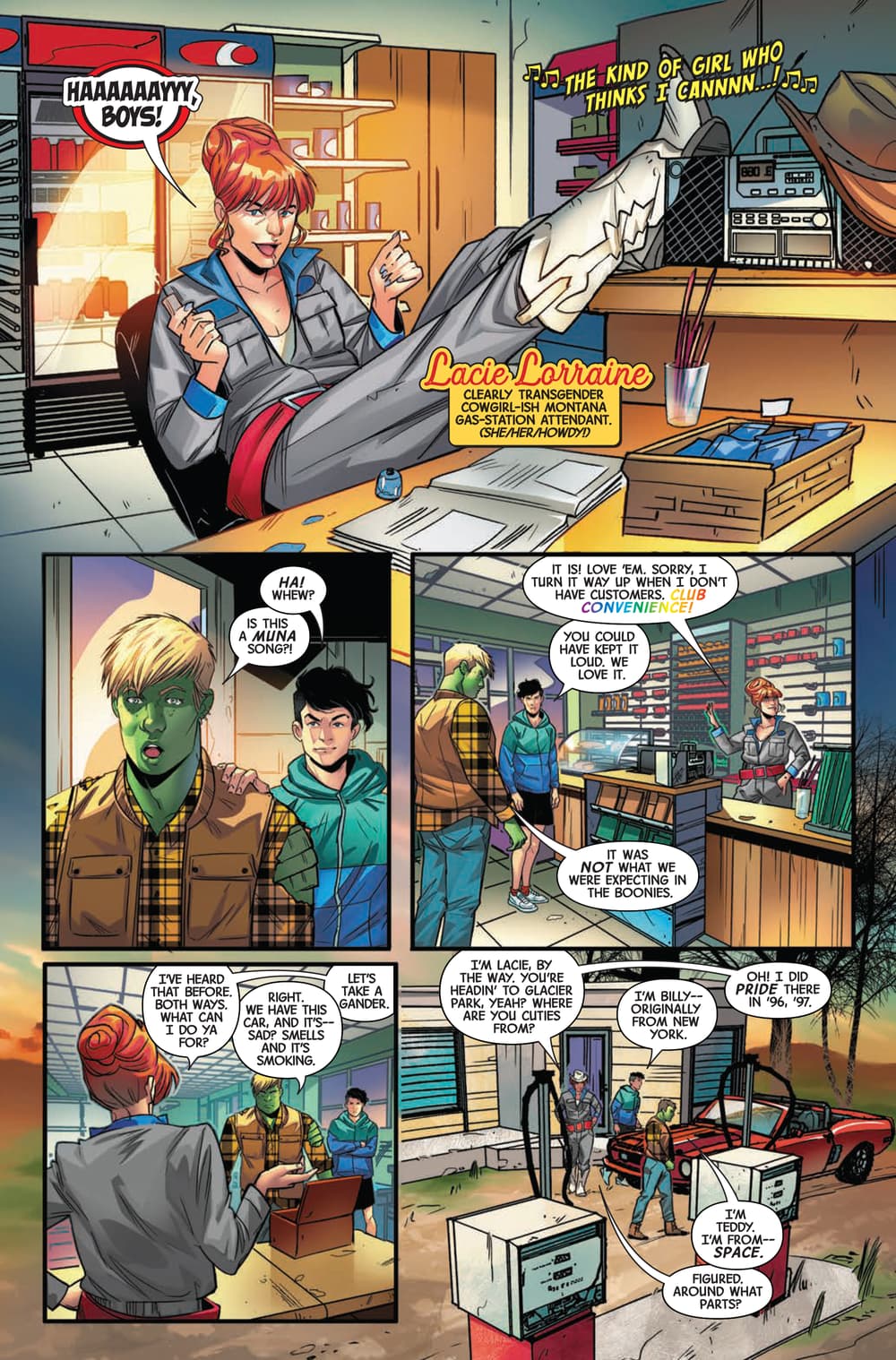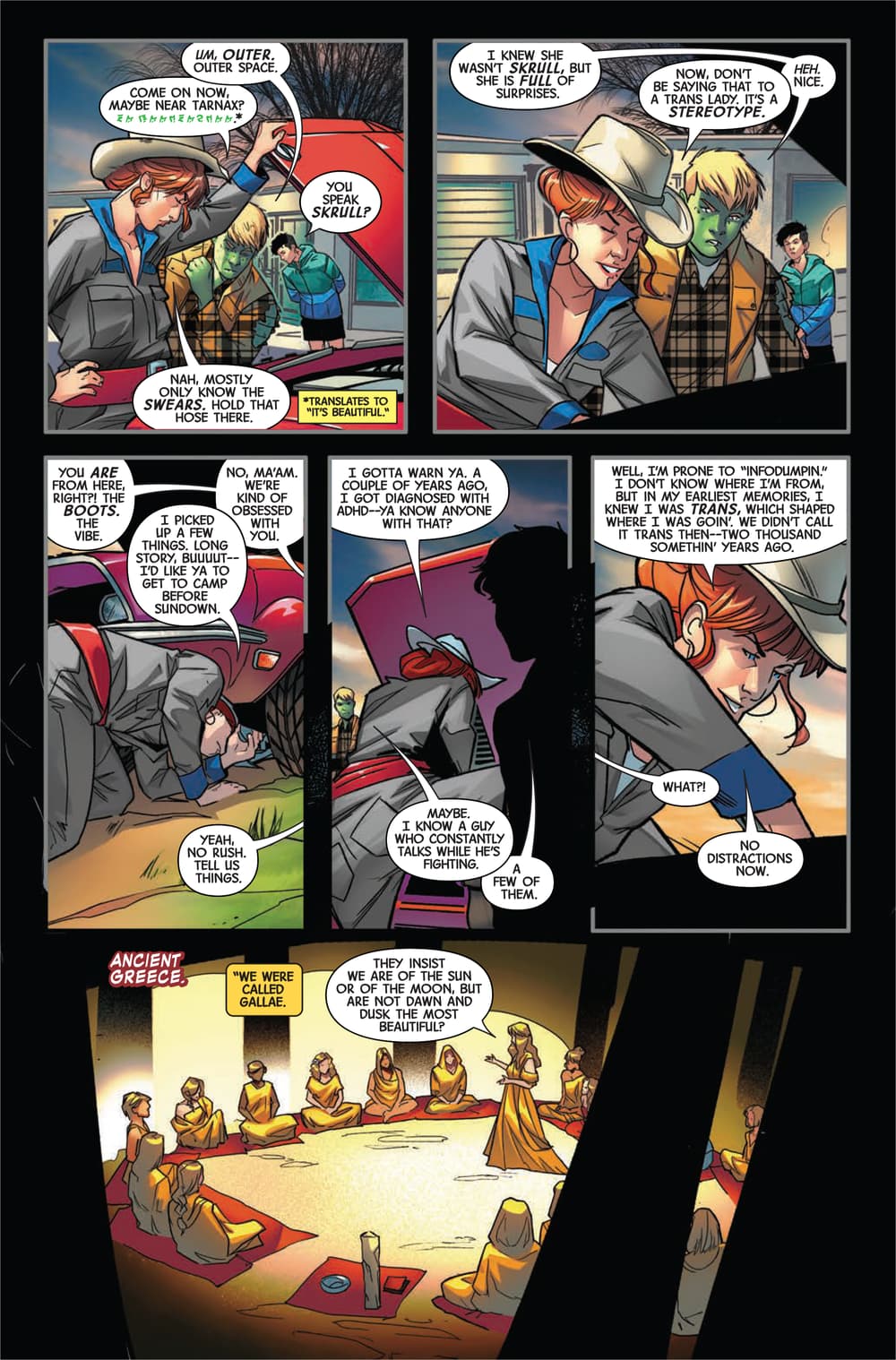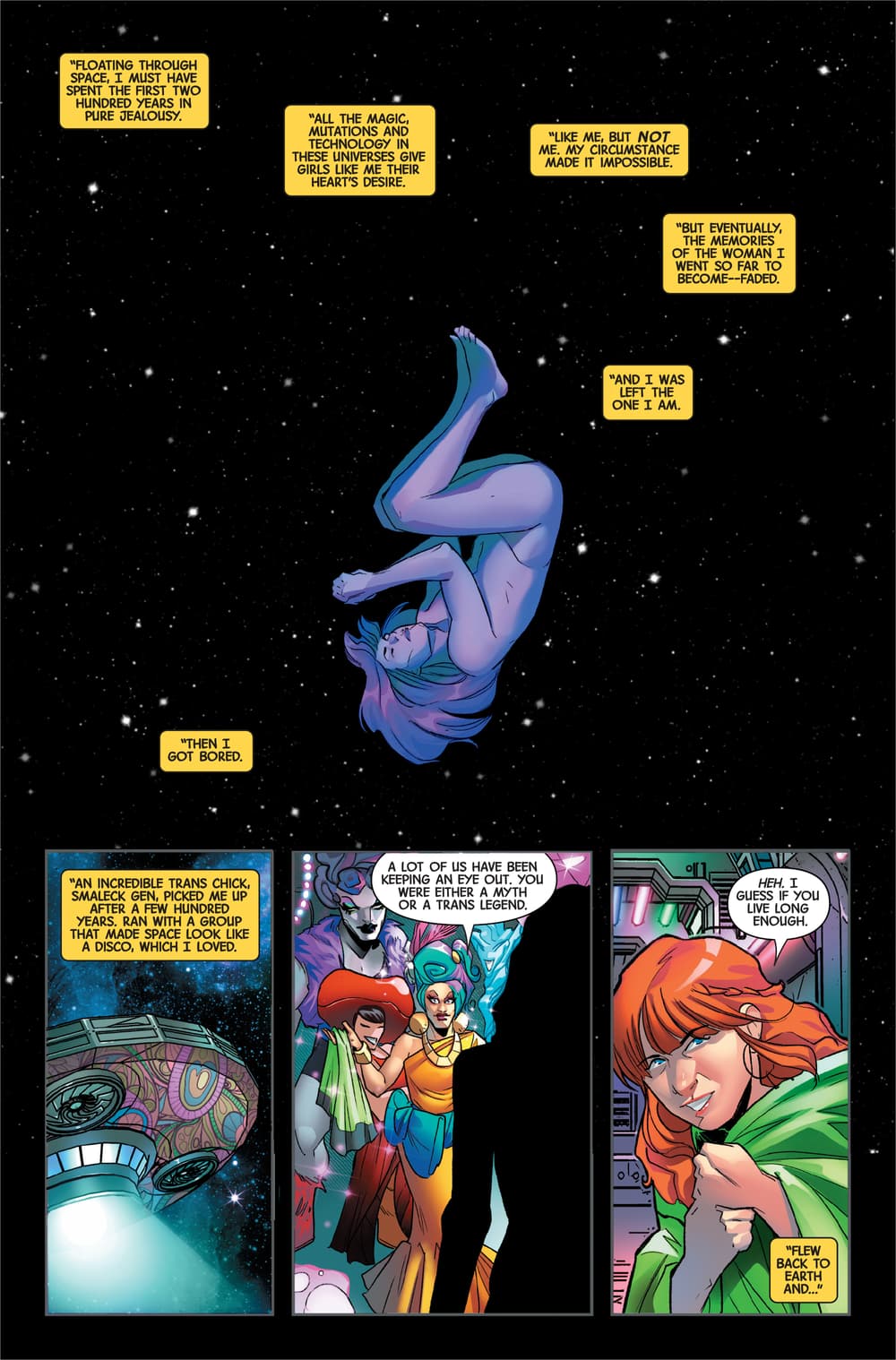 "Be Gay, Do Crime" Starring Black Cat 
Written by SARAH GAILEY 
Art by BAILIE ROSENLUND 
Colors by RACHELLE ROSENBERG

Felicia Hardy, AKA Black Cat, is perhaps one of the most iconic thieves in the Marvel Universe. She's got a flair for the expensive and a taste for the thrill of adventure. In this year's MARVEL'S VOICES: PRIDE, this bi-con takes to the streets of New Orleans Pride in a story very appropriately titled "Be Gay, Do Crime" by writer Sarah Gailey and artist Bailie Rosenlund.

Rosenlund shared her thoughts on the character and what it was like to draw Black Cat in the context of MARVEL'S VOICES: PRIDE: "Black Cat was one of the first Marvel characters I remember loving as a kid, so getting to draw her in a story about being gay and doing crime is kinda like, 'WOW Okay?? This rocks!!'"

"MARVEL'S VOICES: PRIDE, to me, is queer people coming together on a large platform to tell queer stories in a way we haven't had in the past. No matter who you are; how old you are; or what stage of your journey you're on—for whoever needs to see it, stories like this matter." 

In the story, Gambit takes Felicia on a tour of the New Orleans branch of the Thieves Guild, which puts Black Cat's plan into motion. Rosenlund revealed what she's most excited for readers to see in this story, saying, "Aside from the Pride Parades, a Big Lady, and general hijinks? The lollipop baby," teases Rosenlund. "But honestly, Sarah wrote a super fun story, and Rachelle's color-work really just ties everything in so beautifully. I think readers are going to have an overall fun time!"

What is Black Cat's endgame? You'll have to read the issue to find out!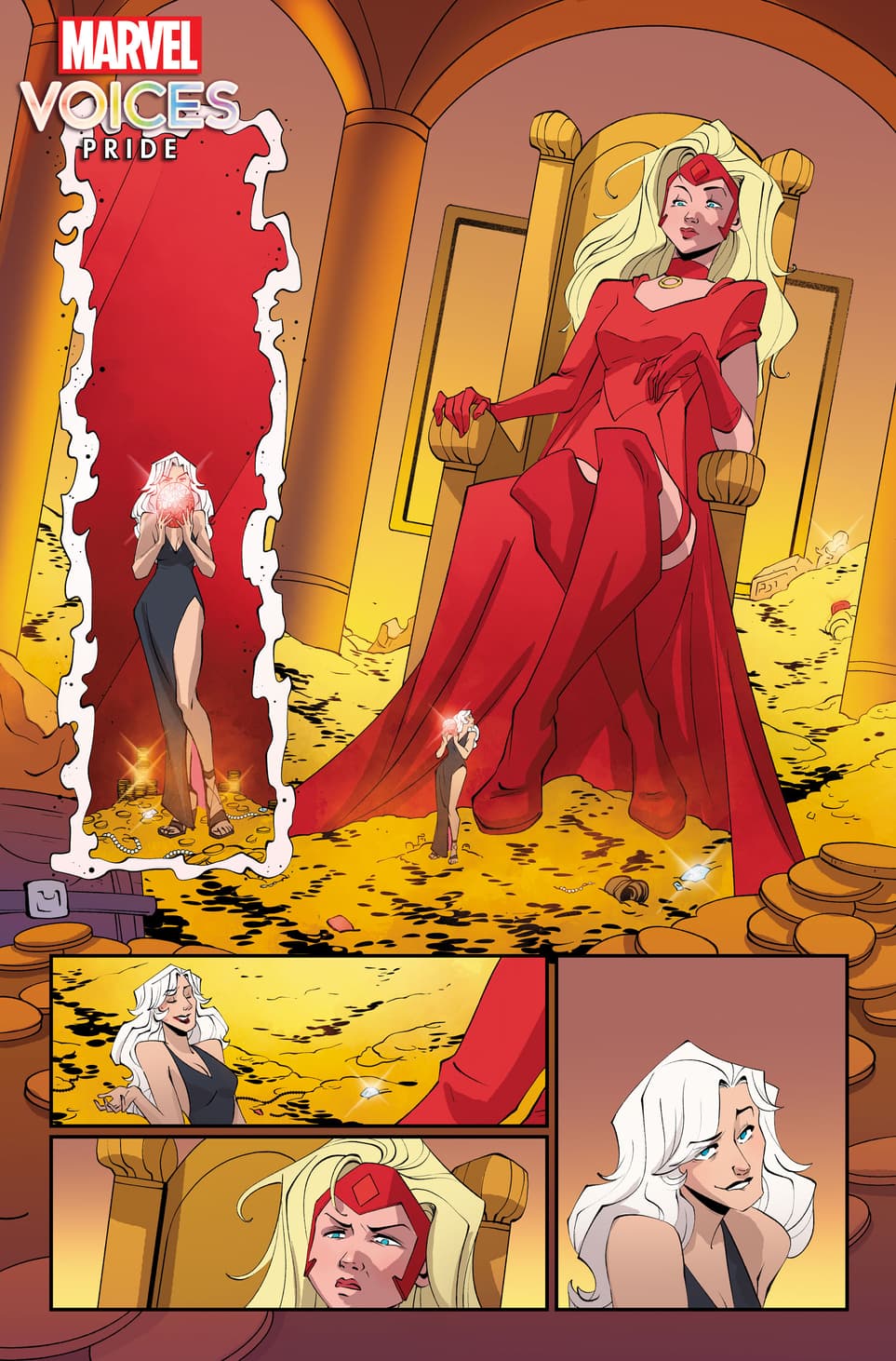 Muzzle in "No Trespassing: Beware of Dog" 
Written by H.E. EDGMON 
Art by LORENZO SUSI 
Colors by KELLY FITZPATRICK

In this year's MARVEL'S VOICES: PRIDE, writer H.E. Edgemon and artist Lorezno Susi introduce a new member to the symbiote family. Meet Muzzle, the Native trans symbiote who runs a crew of queer punk vigilantes! The story opens with Muzzle and his crew in the middle of an operation, only to find themselves tangled in Spider-Man's web.

Artist Lorenzo Susi reflected on his experience co-creating this new transgender character, saying that "working on the creation of Muzzle was a fun and most of all eye-opening experience." He added that "bringing a transgender character to life visually is a beautiful and delicate experience, especially to give back the complex personality of an individual in a few panels and beyond a stereotypical perception."

When asked what he wishes for readers take away from this story, Susi said he hopes that they find it to be—first and foremost—an entertaining experience. Beneath the joy and celebration that is Pride, however, is also the reminder that the struggle for LGBTQ+ rights is an ongoing battle. Susi hopes this story will serve as that reminder: "I like to believe that queer Super Heroes are twice Super Heroes: in addition to fighting injustice, they fight to assert their identities as queer people in the world."

He added, "For me, MARVEL'S VOICES: PRIDE is a valuable opportunity to give voice and visibility to the queer population. Trying to restore a fair representation of diversity through the medium of comics and its Super Heroes and Super Heroines I believe can help so many people and young people feel more accepted and included in often culturally hostile realities."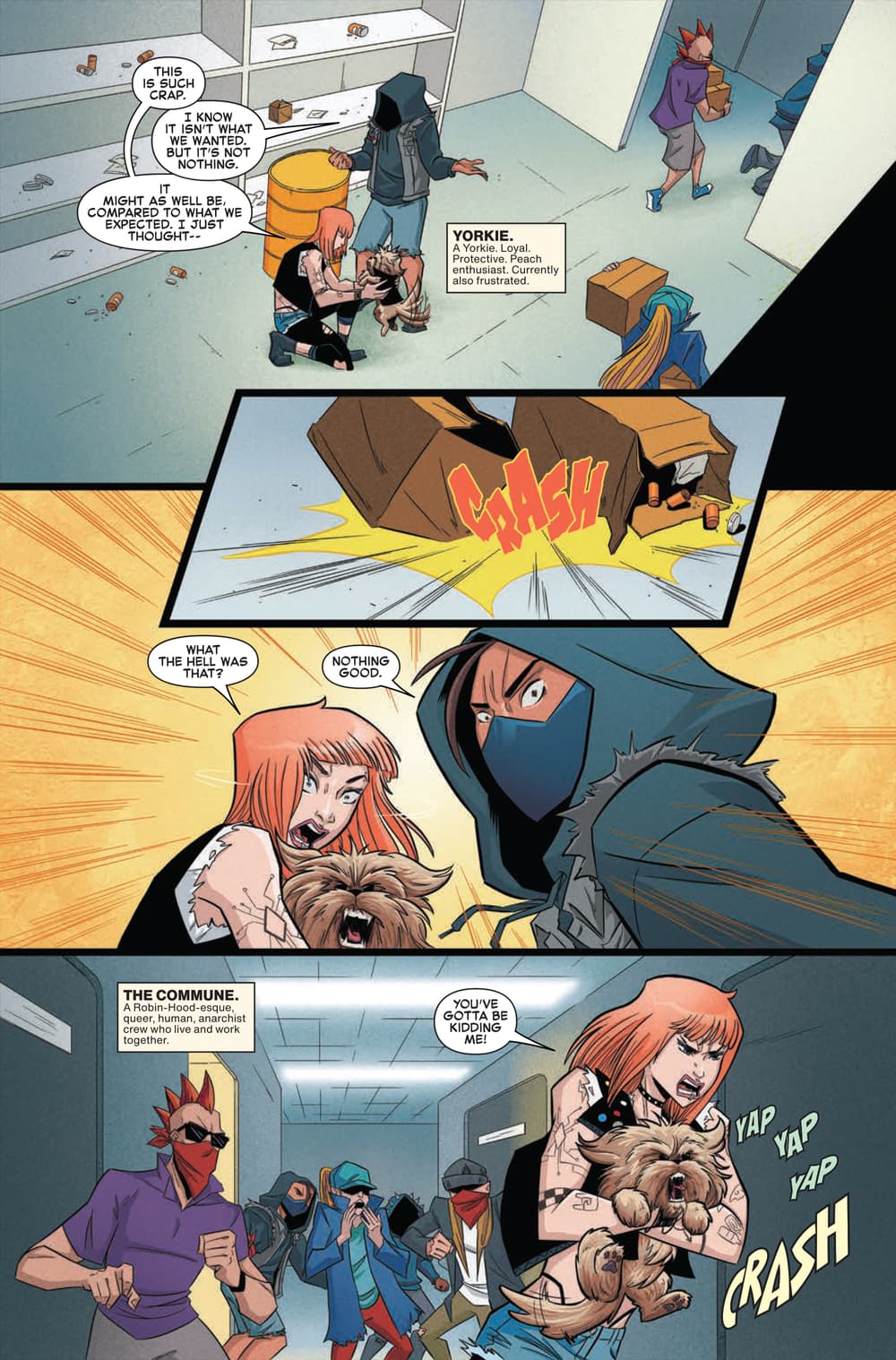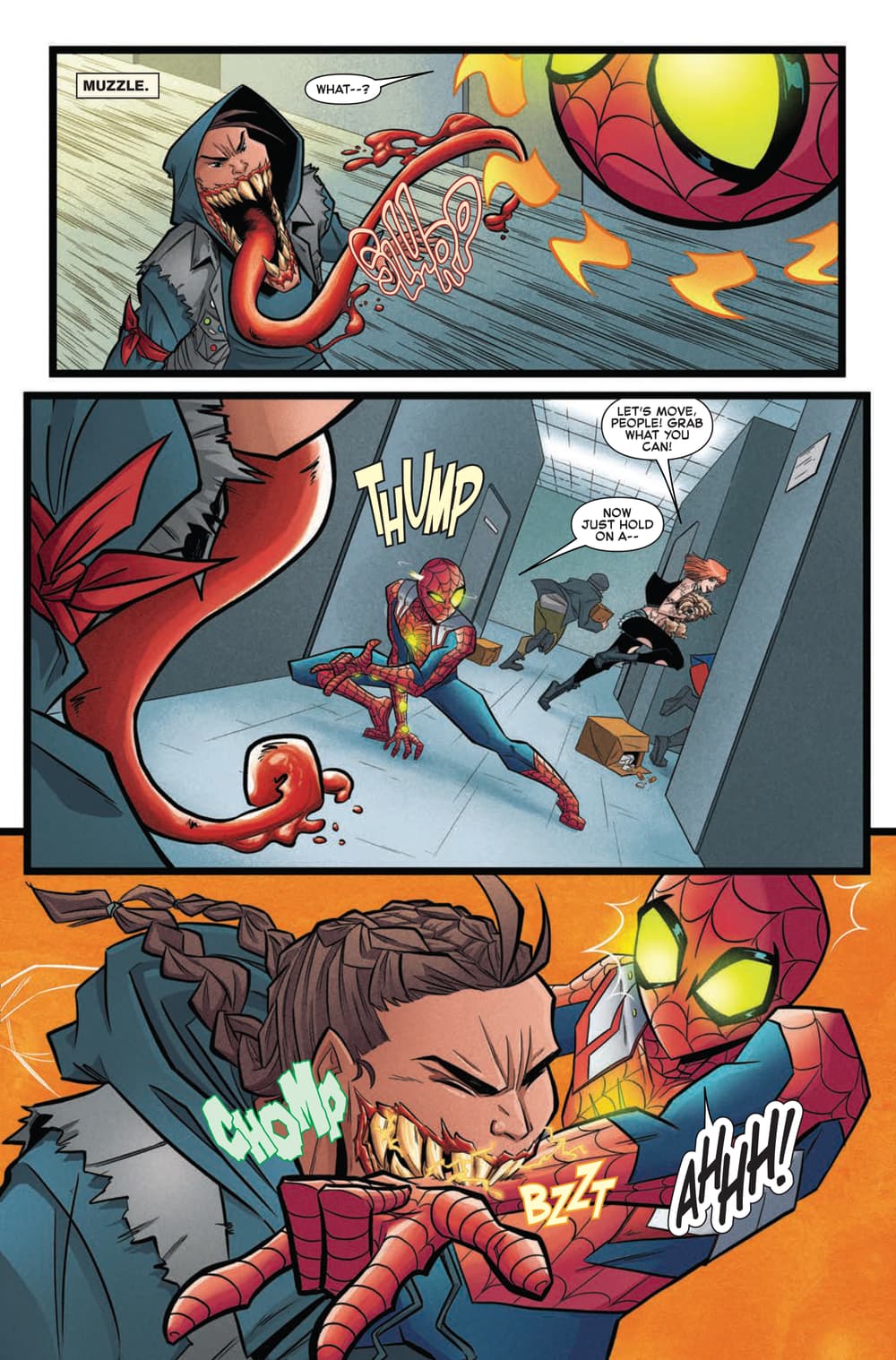 "Everything's Coming Up Aces" Starring Gwenpool 
Written by MARIEKE NIJKAMP 
Art by PABLO COLLAR 
Colors by MICHAEL WIGGAM

After going on a personal journey of self-discovery in the Marvel Unlimited Infinity Comic, LOVE UNLIMITED: GWENPOOL, our titular fourth-wall-breaking-mercenary-turned-Super-Hero came to the realization she is asexual and aromantic.

In a new story by Marieke Nijkamp and Pablo Collar, MARVEL'S VOICES: PRIDE sees Gwenpool undertaking a different kind of mission: throwing a Pride Party. Invoking the help of queer icon Dazzler, Gwendolyn Poole sets her sights on throwing the year's biggest rager.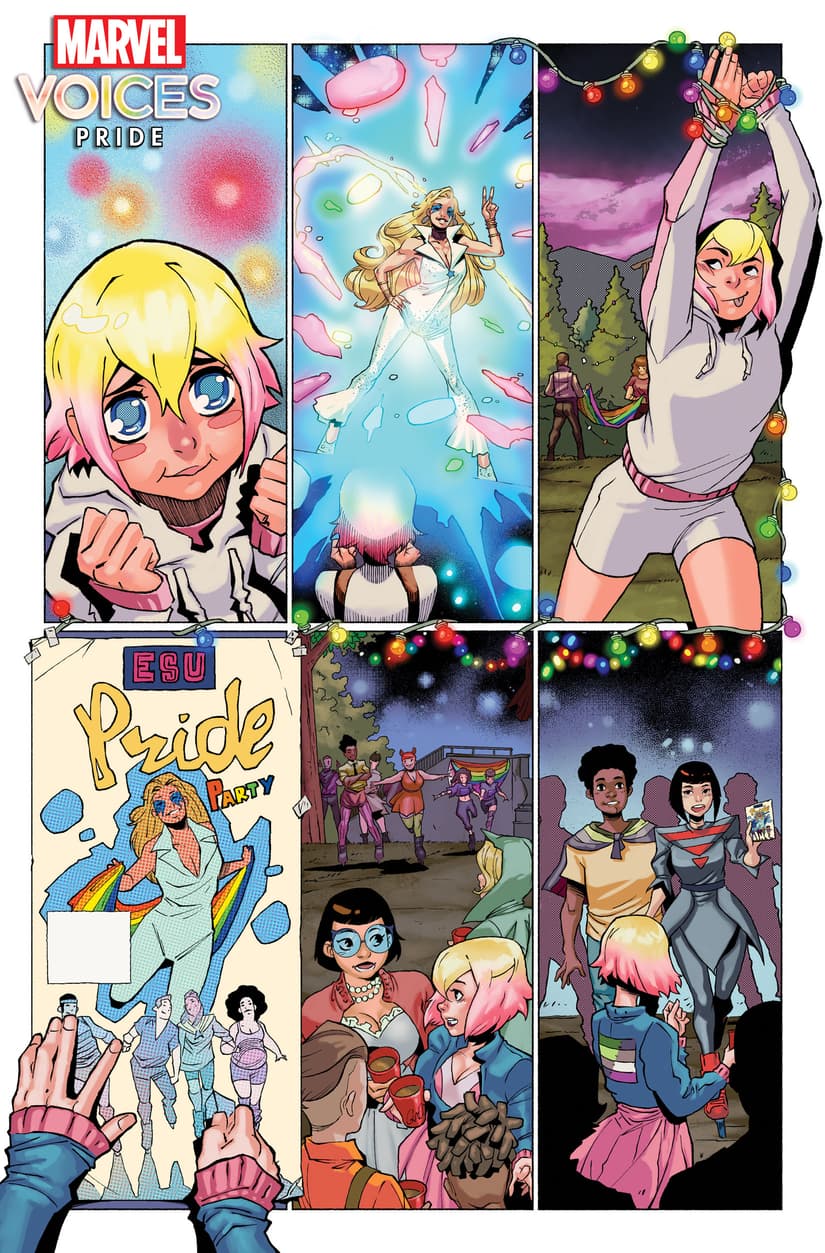 Web-Weaver in "Purim Spiel" 
Written by KATHERINE LOCKE 
Art by JOANNA ESTEP 
Colors by MANUEL PUPPO

This year, MARVEL'S VOICES: PRIDE leaves Earth-616 momentarily to catch up with the Spider-Hero of Earth-71490. Cooper Coen, AKA Web-Weaver, is perhaps the most fashionable hero in the Spider-Verse.

In this issue, writer Katherine Locke and artist Joanna Estep provide a look into a day in the life of Web-Weaver. From getting stood up on a date to stopping a break-in, Cooper Coen is as busy as one can be. The difference? He does it with style. 

Cooper, a designer at Janet Van Dyne's fashion house, makes style an integral part of his identity. Artist Jonna Estep provided insight into the way this facet of his character is reflected in his designs. "I was responsible for the pencils and inks, so all my focus was on the silhouette I was creating," said Estep. "I wanted something sleek underneath to honor the fact that he's a Spider-Man, and then a billowy coat on top to show off an adventurous fashion sense and refusal to adhere to gendered clothing norms."

Portraying Cooper's flair for fashion would be impossible without colorist Manuel Puppo's work. "I feel like dressing Cooper was a collaborative effort," emphasized Estep. "As we know, color is a huge part of what goes into fashion, so I left those bold choices in the hands of the colorist and he turned in a result that really pops!"

Estep took a moment to reflect on what she finds the most exciting about this Web-Weaver story. "This is going to sound corny, but I'm most excited for readers to see themselves in these pages," shared Esetp of the gay, Jewish Super Hero. "Representation is important, and if my work here can make even one person have that moment of 'Oh, Web-Weaver is like me,' then it will all have been worth it."

Estep understands the importance of representation from her own experiences as a fan of media. "I didn't grow up with a lot of queer representation in the media I was consuming, so if there was any queer subtext to be had at all, I would lick up each and every scrap I could find," she shares. "MARVEL'S VOICES: PRIDE means that I don't need to scavenge for scraps, and neither will the readers. We all get a seat at the main banquet table." 

She also joked that she is very excited for readers to see how fluffy she draws Cooper's hair, so be sure to keep an eye out for that!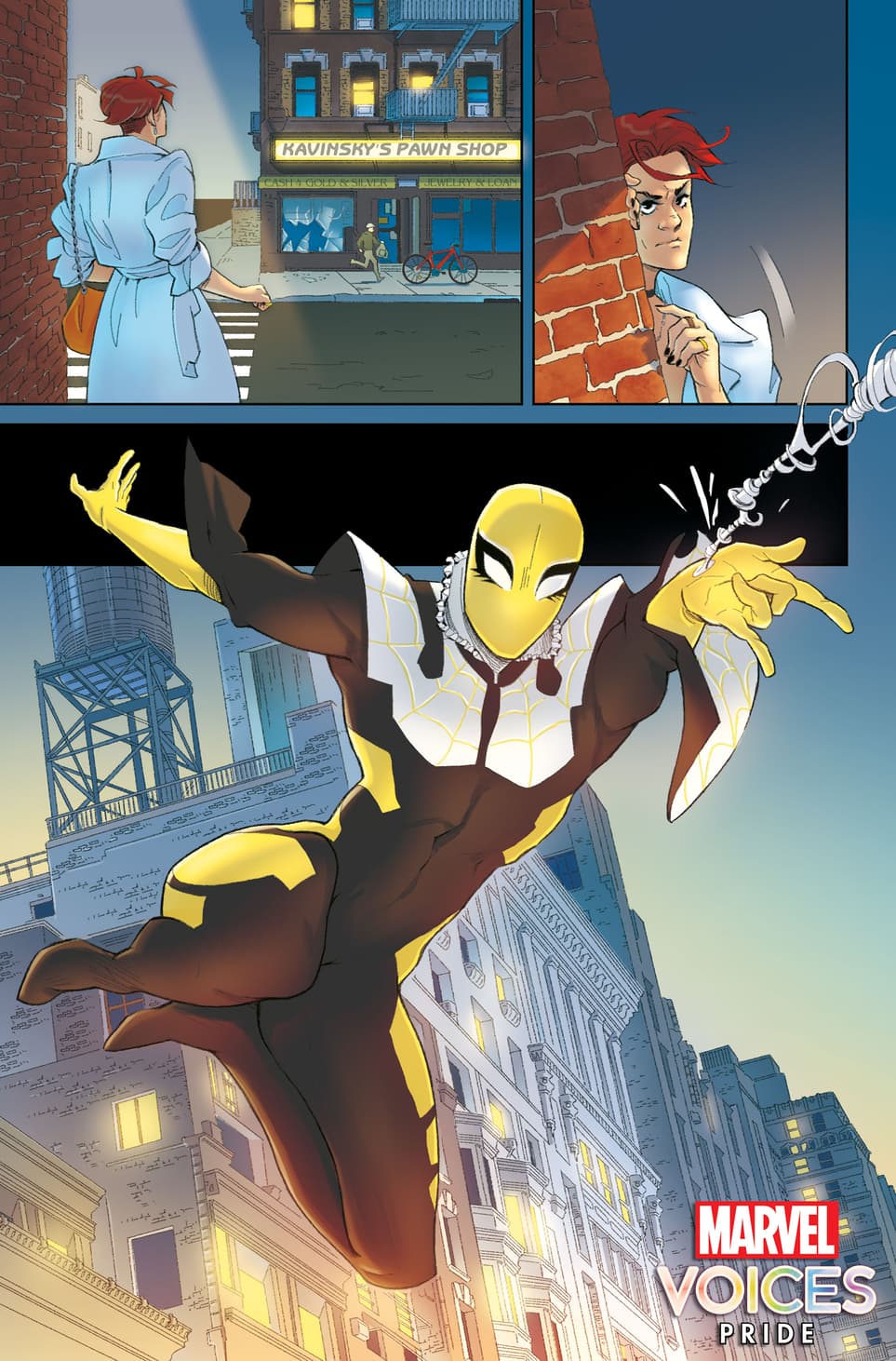 "Jumbo Carnation's Ultimate Creations"
Story and Art by STEPHEN BYRNE

Krakoa's most sought-after designer gets his time in the spotlight in this year's MARVEL'S VOICES: PRIDE. Jumbo Carnation, the visionary craftsman behind so many of the X-Men's iconic Hellfire Gala looks, will conjure up a fashionable storm in a new story by Stephen Byrne.

Readers will get to see some queer icons such as America Chavez, Viv Vision, and Northstar dressed to the nines in Jumbo's signature couture as they strut the walkway for a Pride fashion show.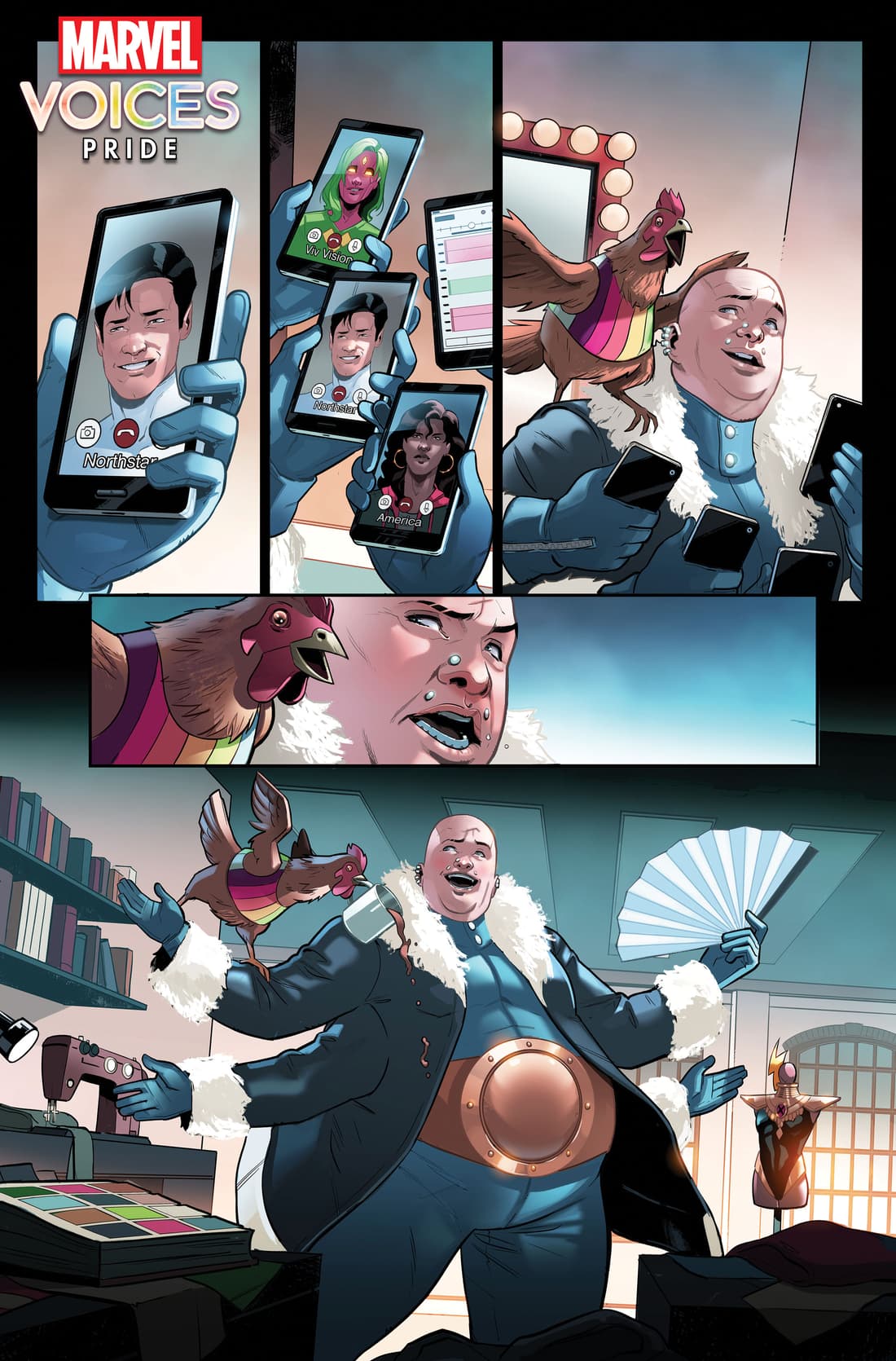 Pick up MARVEL'S VOICES: PRIDE #1 on June 14 and stay tuned for more interviews with creatives in the coming weeks!
Grab these comics and more at your local comic book shop! Or redeem then read your digital copy on the Marvel Unlimited app by using the code found in your print comic. Find and support your local comic book shop at ComicShopLocator.com.

To read your Marvel comics digitally, download the Marvel Unlimited app for iOS and Android devices. Gain an expansive catalog of 30,000+ comics spanning Marvel Comics history, plus access your entire digital library including comics redeemed from print. 
The Hype Box
Can't-miss news and updates from across the Marvel Universe!