Comics
Published August 29, 2023
Fanboy and Fangirl Moments in Marvel Comics
See what happens when heroes meet their heroes.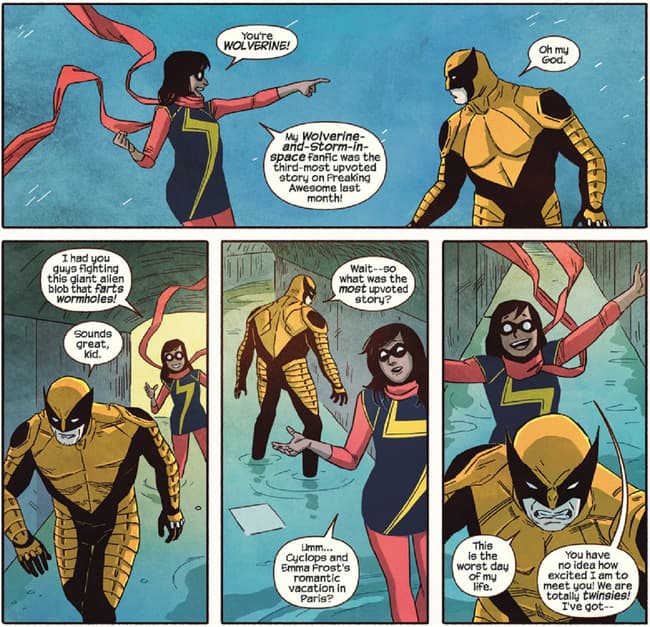 The Marvel Universe boasts some of the most aspirational super heroes ever created, with millions of fans worldwide looking up to our costumed crimefighters. But this admiration also extends into the Marvel Universe itself, with many heroes viewing their colleagues as more than inspirational. Sometimes, when heroes get to meet the heroes that they've idolized from a distance, their fanboy/fangirl flags fly high. And they can't hold back exactly how they feel!
Here are some instances of Marvel heroes who were completely unable to contain the excitement of meeting (and even partnering up!) with the heroes who inspired their journey.
SPIDER-MAN LOOKS UP TO CAPTAIN AMERICA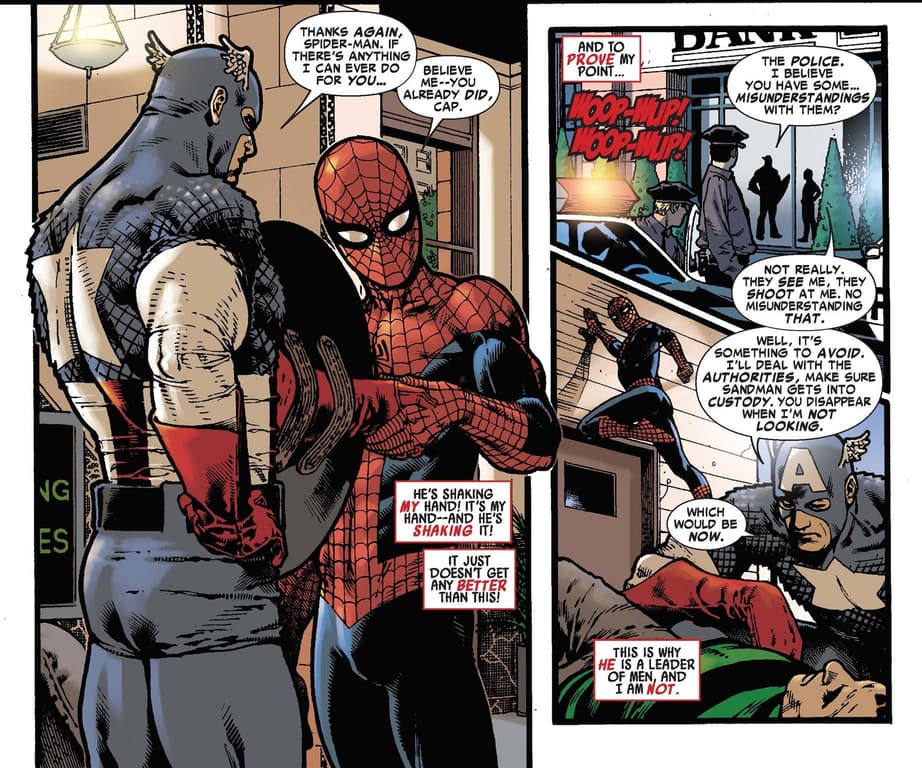 Peter Parker looks up to plenty of his peers, particularly some of the most prominent figures on the Avengers. But the one whose legacy has left a definite mark is Captain America. The Star-Spangled Avenger's exploits during World War II and in present day are held in especially high regard by Spider-Man, as the paradigm of a true hero. When Spider-Man and Captain America share a moment in AMAZING SPIDER-MAN ANNUAL (2010) #37, Peter can barely contain himself as the two work together to stop Sandman.
MS. MARVEL: KAMALA KHAN IS INSPIRED BY CAPTAIN MARVEL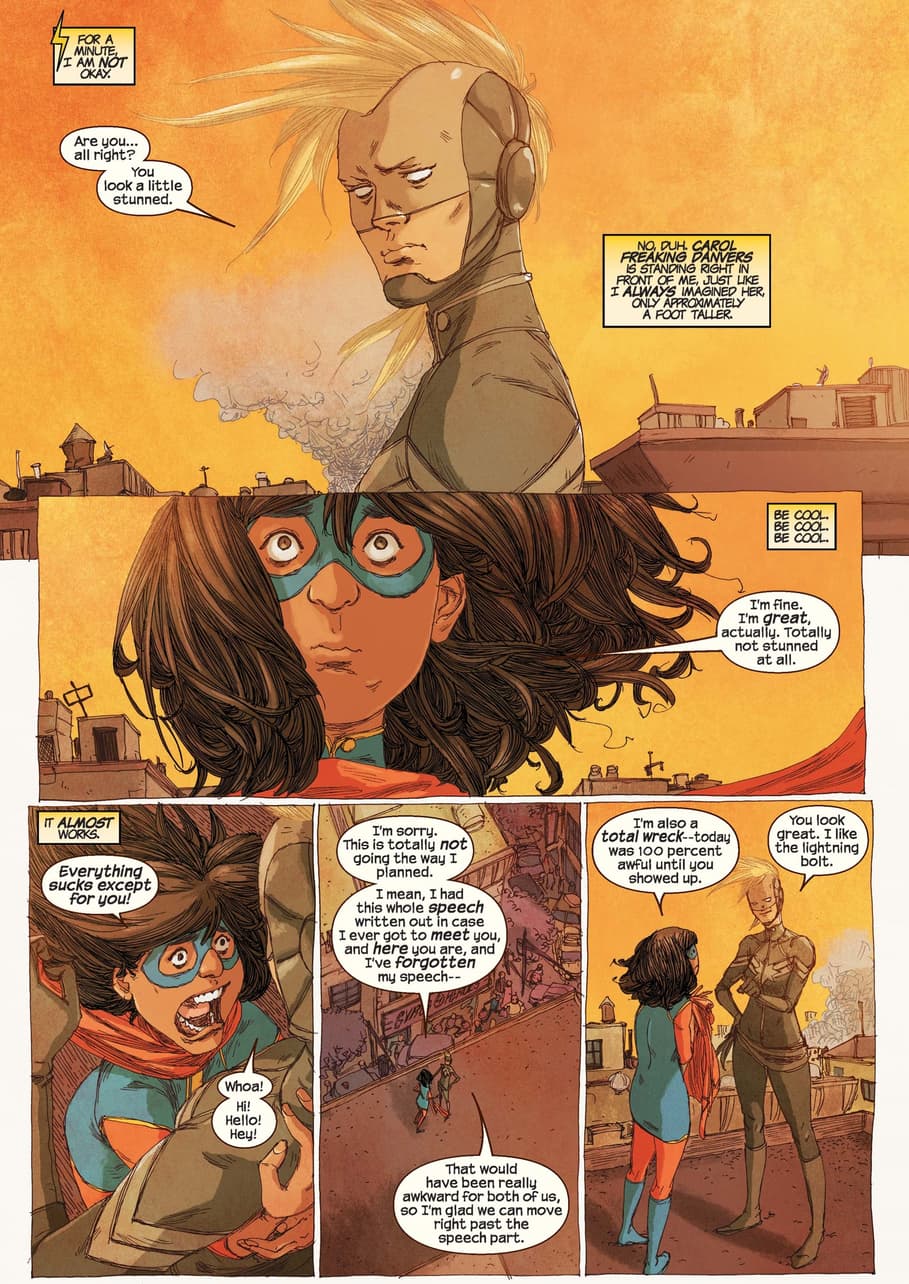 As if her super hero moniker isn't a dead giveaway, Kamala Khan is a huge fan of Carol Danvers, taking on the Ms. Marvel mantle after becoming a hero herself. After building up a reputation as the defender of her hometown, Jersey City, Kamala finally finds herself face-to-face with her idol in MS. MARVEL (2014) #17. Though Kamala does her best to play it cool, Captain Marvel notices her deep appreciation and gives her an emergency communicator in case she ever needs her help.
PHIL COULSON CHRONICLES HIS FANBOY APPRECIATION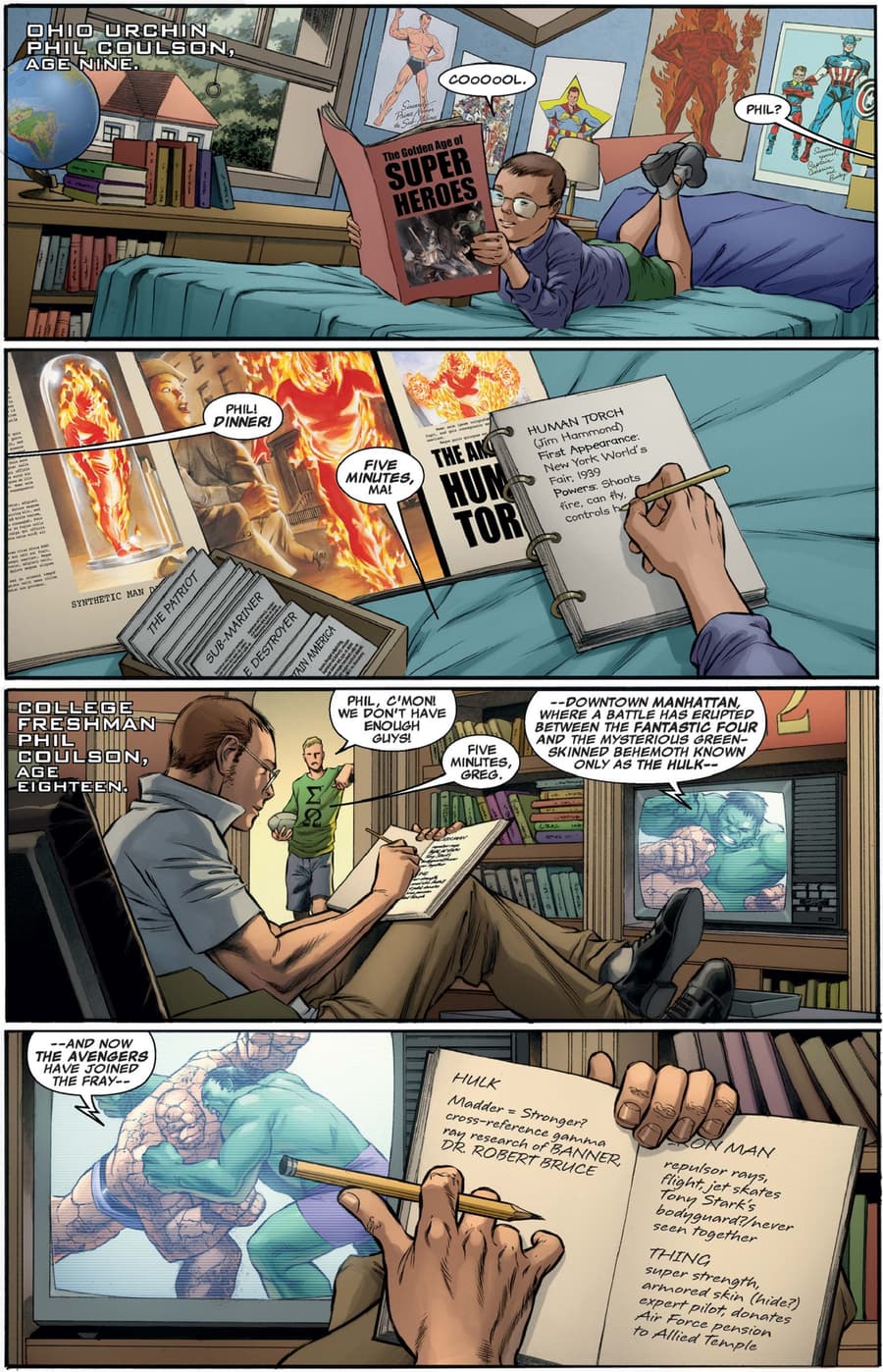 For as calm and collected as Phil Coulson is on the surface, the master S.H.I.E.L.D. operative really is a fanboy at heart when it comes to the entire super hero community. A flashback to his childhood in S.H.I.E.L.D. (2014) #1 revealed a young Coulson meticulously maintaining records of each of the major heroes in a notebook. Years later, Coulson draws from this self-managed database to determine which heroes are perfect for specific assignments while keeping the world safe.
GWENPOOL TEAMS UP WITH BATROC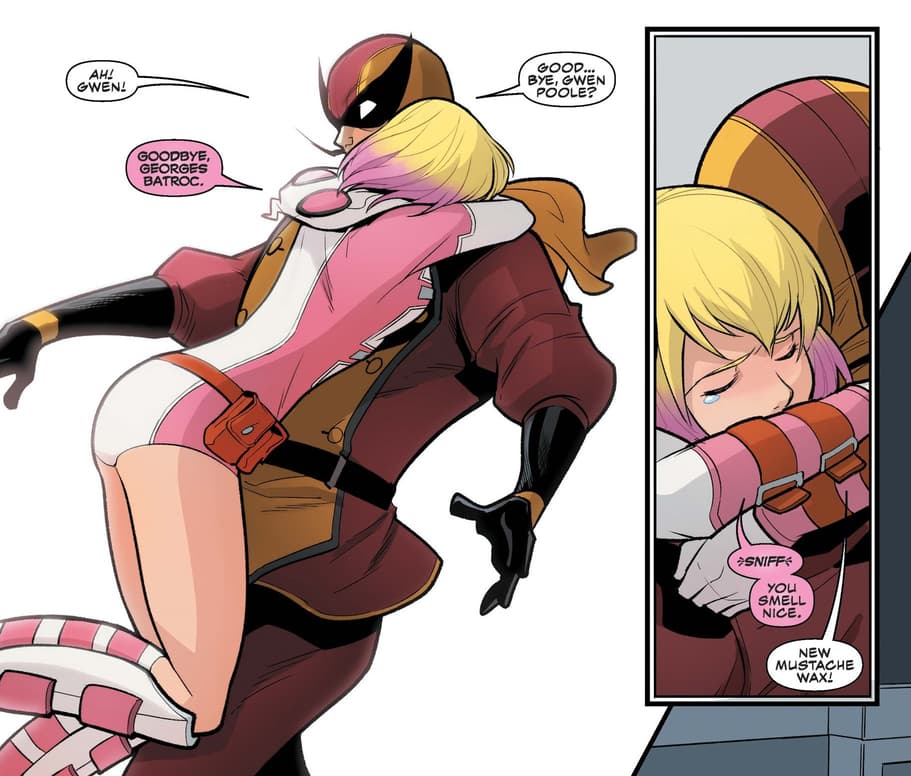 Gwendolyn Poole, AKA Gwenpool, is a Marvel Comics fan from the real world who suddenly found herself transported into the Marvel Universe, teaming up or going against the very heroes and villains she long read about. In THE UNBELIEVABLE GWENPOOL (2016), Gwenpool teamed up with Batroc the Leaper, whom she initially dismissed as a third-rate Captain America villain. Over the course of the series, Gwen learned to appreciate how cool Batroc truly can be, and, in THE UNBELIEVABLE GWENPOOL (2016) #24, she dropped her usual confident facade to hug Batroc and bid this version of him farewell for good.
DEADPOOL FAWNS OVER SPIDER-MAN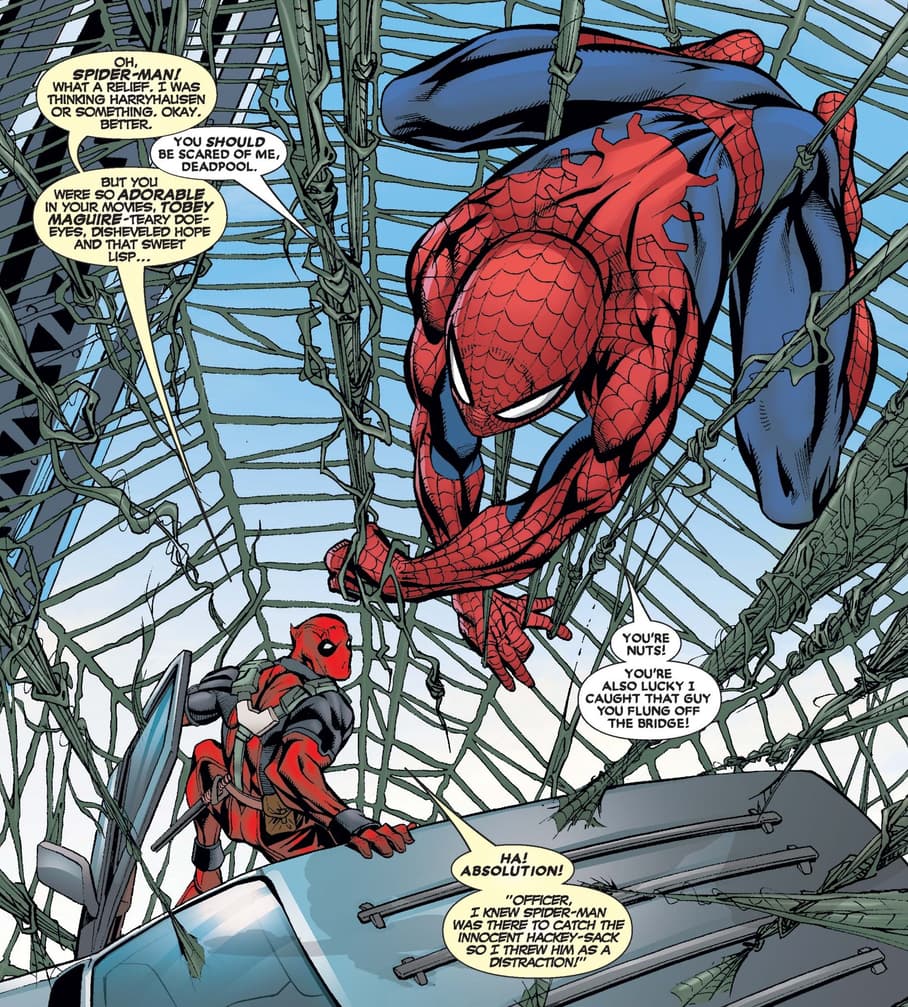 With a similar sense in super hero fashion plus being prone to wisecracks, Deadpool sees Spider-Man as a natural partner, even if the Friendly Neighborhood Web-slinger sees the Merc with a Mouth as a violently noisy headache. When the two first meet, in CABLE & DEADPOOL (2004) #24, Deadpool can't help but express his excitement at meeting the Wall-crawler, going as far as to cheekily compare him to Tobey Maguire in a fourth wall-breaking nod. This introduction would set the template for the duo moving forward… whether Spidey liked it or not.
MS. MARVEL GEEKS OUT OVER SPIDEY'S LOVE LIFE
And this list wouldn't be complete if there wasn't some mention of the Marvel Universe's biggest fanboy and fangirl crossing paths for the first time. When Spider-Man swung in to assist Ms. Marvel in THE AMAZING SPIDER-MAN (2014) #7, he had no idea that Kamala was not only a huge admirer of his but aware that he had gone on a date with Captain Marvel. Despite the awkward intro, the two heroes quickly became firm friends, with Spidey even becoming something of a mentor to Kamala.
Want to fan out over Marvel Comics and our heroes? Read any of the above issues—and gain instant access to 30,000+ digital comics—with the power of Marvel Unlimited! Join today and use code GALA23 at checkout to save big on your first year!
The Hype Box
Can't-miss news and updates from across the Marvel Universe!