Comics
Published October 2, 2023
Top Highlights from Marvel's Infinity Comics
Some of our favorite moments from Marvel Unlimited's exclusive lineup of vertical digital comics.
What are Marvel's Infinity Comics? Read these vertical comics and series exclusively on Marvel Unlimited, our premier digital comics subscription service available via mobile app or the web!
Marvel's Infinity Comics continue to expand on Marvel Unlimited, with all issues from this exclusive vertical lineup now available to read online as well as the Marvel Unlimited app.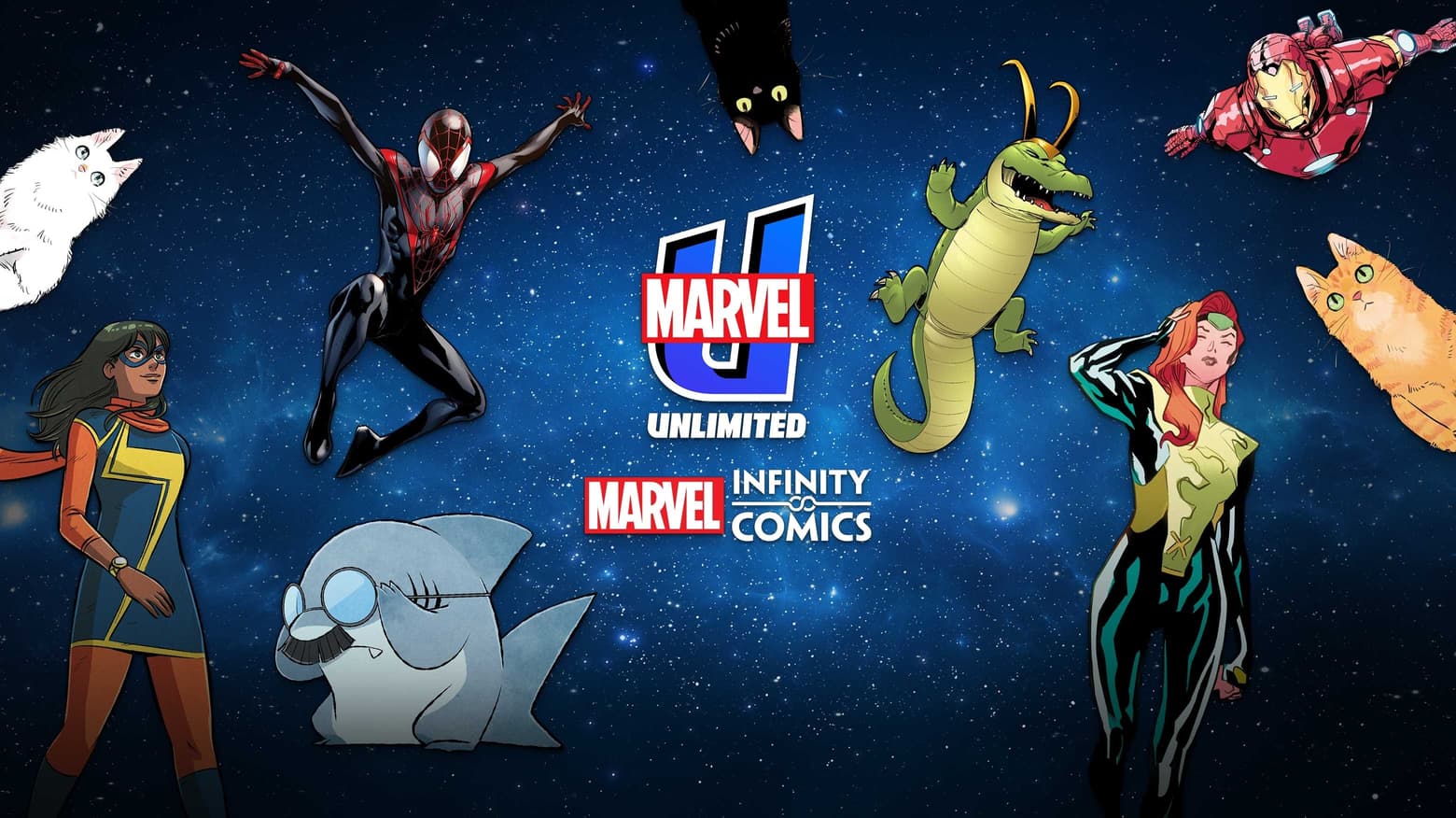 In addition to its enormous and growing library of classic and ongoing Marvel Comics titles, Marvel Unlimited, our digital comics subscription service, boasts nearly 900 Infinity Comics—exclusive vertical issues designed for mobile reading. Offering in-continuity series by Marvel's top creators, romance anthologies, horror runs, "Friday Funnies" and more, Marvel's Infinity Comics' lineup drops new vertical issues five days a week on the Marvel Unlimited app and web service, setting up stories and offering further entry points into the current events of the Marvel Universe.
And, since their launch, readers have spent nearly 6,796 days, 11 hours, and 18 minutes reading Infinity Comics, totaling over 5 million comics read! You've followed along to what's left of Krakoa's mutants in 100+ issues of X-MEN UNLIMITED, scrolled through 449 Skrulls in the Infinity Comics adaptation of SECRET INVASION, tried to keep up with the 23 cats of MARVEL MEOW, and even saw Jeff the Land Shark don 11 disguises in his titular Infinity Comics' series IT'S JEFF.
And Infinity Comics are just getting started. This year, expect more ongoing series and exclusive announcements from our vertical comics lineup, including special releases, previews from new Marvel series, and more. Stay tuned to Marvel.com for all your Infinity Comics news!
As we celebrate another year of stories from this ever-growing lineup, here are just a few highlights so far from Marvel's Infinity Comics.
IT'S JEFF! DIVES INTO THE DEEP END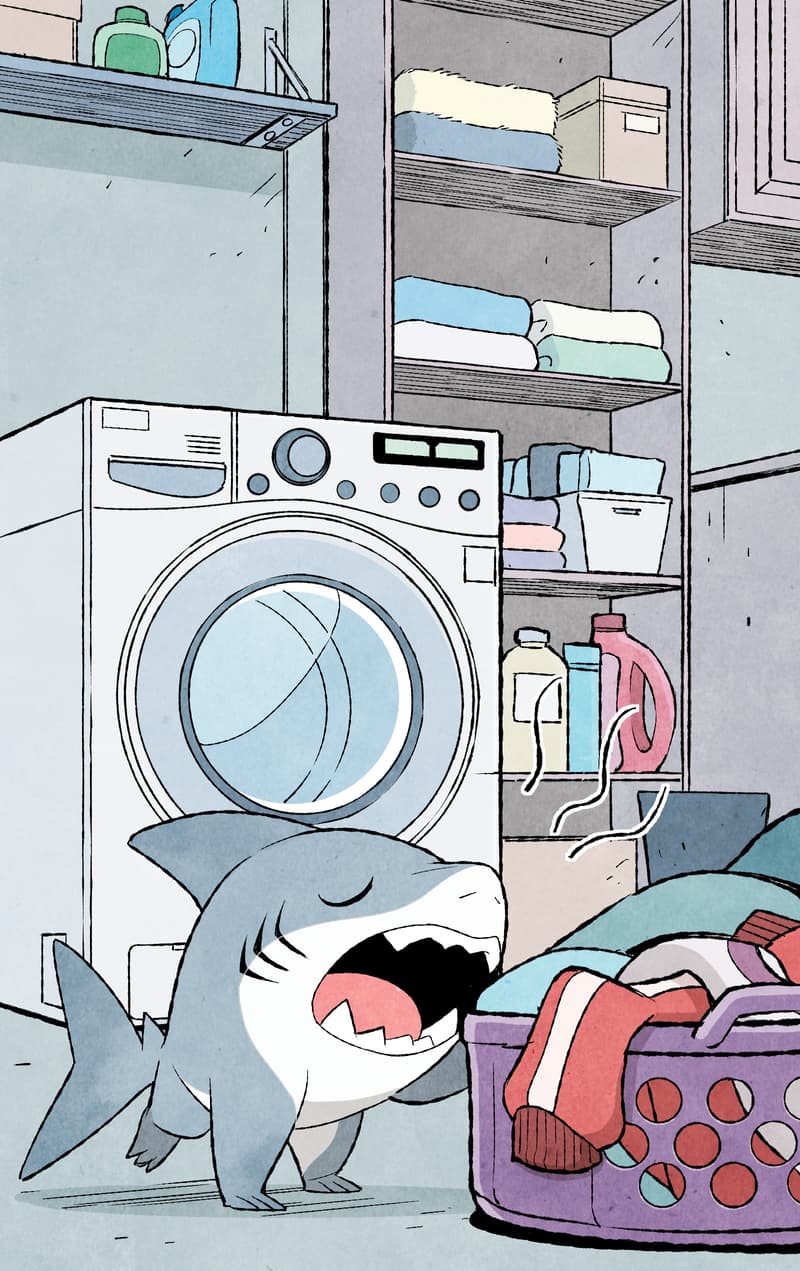 Every Friday, Infinity Comics release the latest issue from the "Friday Funnies" lineup, our humor-based series designed for readers of all-ages. Among the most popular series? IT'S JEFF! (2021), an Eisner-nominated run from creators Kelly Thompson and Gurihiru, starring Gwenpool's adorable, adopted land shark Jeff! With his black button eyes, constant toothy grin, and eagerness to play, Jeff is a breakout hit and his series of solo adventures are well worth a read.
Just when you thought it was safe to go back in the water, laughs and hilarity surface whenever Jeff comes on the scene. From crashing super hero pool parties, frightening Earth's Mightiest Heroes, to searching for the best snacks, Jeff takes readers on a tour of the Marvel Universe. And with a protagonist this impossibly cute, it really is Jeff's universe; we're all just privileged enough to live in it.
[RELATED: An Ode to Our Beautiful Son, Jeff the Land Shark]
"X-MEN GREEN" LAUNCHES ITS MISSION

The X-Men took a radical new position in the Marvel Universe as they launched into the "Dawn of X," an era in which all of mutantkind created their own island utopia on Krakoa. Quickly becoming the most advanced civilization on Earth, Krakoa found itself in diplomatic hot water when a group of extreme "eco-activists" led by Nature Girl began using the X-Men moniker to carry out acts of eco-terrorism. Running throughout anthology series X-MEN UNLIMITED, the creative team of Gerry Duggan, Steve Orlando, Emilio Laiso, Rachelle Rosenberg, and more crafted a bold crisis for the mutants in story arc "X-Men Green."
When Nature Girl leads a trifecta of villains, including Sauron, to punish humanity for trashing the planet, they do so while publicly referring to themselves as the "X-Men." As Krakoa's Quiet Council faces mounting pressure to stop Nature Girl's crusade, they turn to Wolverine and Magik to make things right…by any means necessary. A canonical expansion to the "Dawn of X" era, and an additional challenge in mutantkind's supremacy, "X-Men Green" is an exciting arc centered on the battle for the planet's future. So exciting, in fact, that this Infinity Comics arc has now been adapted and released in print.
[RELATED: Gerry Duggan and Emilio Laiso Talk 'X-Men Green']
CAPTAIN MARVEL AND IRON MAN STAND TOGETHER

Iron Man and Captain Marvel have a particularly complicated history, with the two heroes and teammates finding themselves on opposing sides during the event CIVIL WAR II (2016). Though the duo has certainly worked together since, there is still some tension between them over their unresolved issues and differences stemming from that super hero showdown. Carol Danvers and Tony Stark finally address their fragile dynamic during an impromptu team-up in AVENGERS UNLIMITED #60 by Tim Seeley, Davide Tinto, and Morry Hollowell.
As Earth finds itself targeted by an extraterrestrial threat in the three-issue arc told across AVENGERS UNLIMITED #60-62, Captain Marvel and Iron Man join forces to defend their home planet from an enemy hailing from the other side of the cosmos. However, the two have to re-learn how to effectively work together to save the day. Thankfully, this AVENGERS UNLIMITED arc finally puts their bad blood to rest. For good, we hope.
[RELATED: Iron Man and Captain Marvel Team Up in a New 'Avengers Unlimited' Arc]
EARTH-616 SPIDEY TEAMS UP WITH SPIDER-MAN FROM MARVEL'S SPIDER-MAN GAME FRANCHISE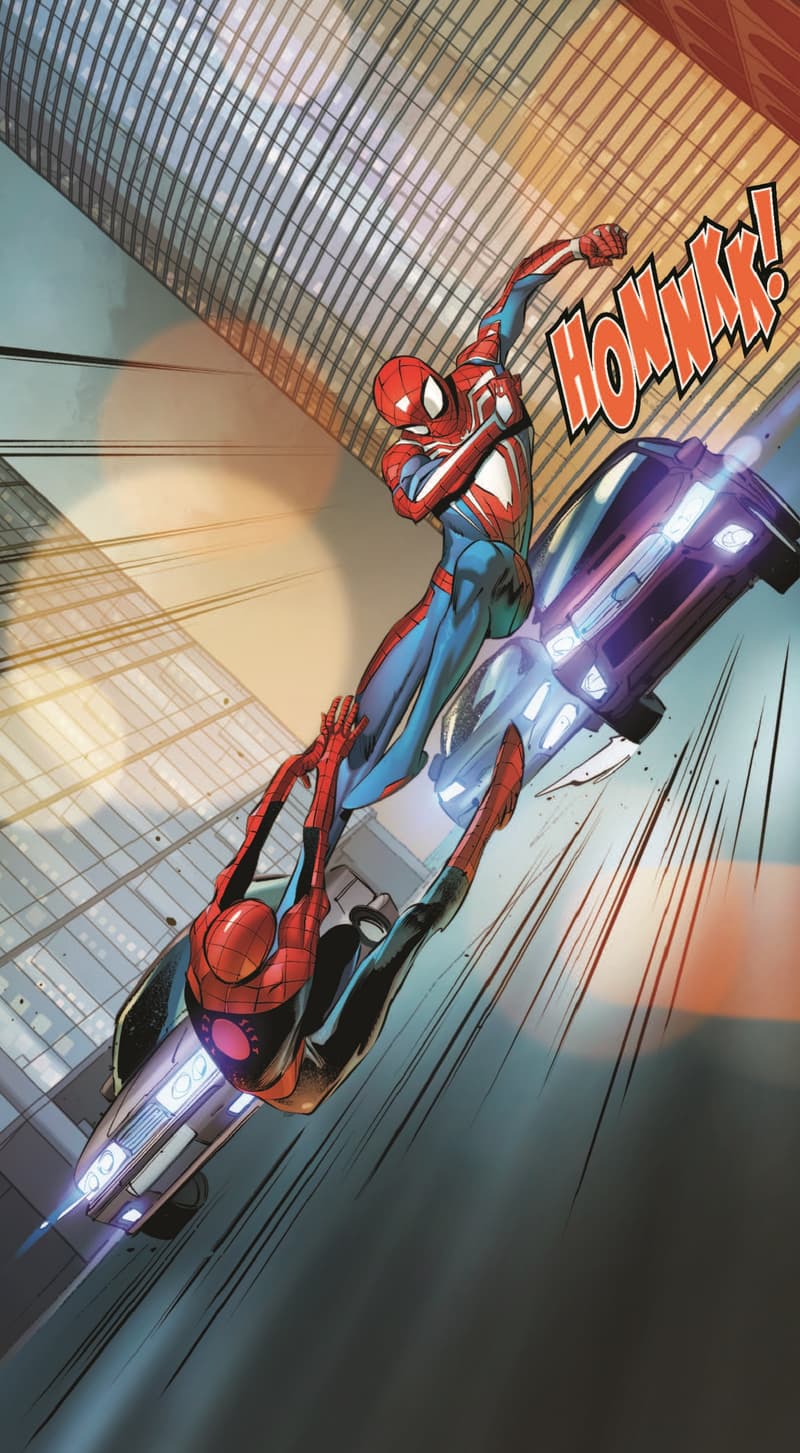 One version of Spider-Man that has made a major impact in recent years is the Peter Parker from 2018's acclaimed video game franchise Marvel's Spider-Man. Though this Spider-Man has appeared sporadically in comics, including the SPIDER-GEDDON event, his role has often been relegated to his own universe without much multiversal crossover. But that changed forever when ongoing Infinity Comic series SPIDER-MAN UNLIMITED by Christos Gage, Simone Buonfantino, and Fer Sifuentes-Sujo, brought together Earth-616's Spider-Man and a Peter Parker from another world.
After battling the extradimensional super villain the Spot, Spider-Man of Earth-616 finds himself face-to-face with Spider-Man from Marvel's Spider-Man franchise! Before the two web-slingers can form an effective team, they're going to have to overcome drastic differences first. Don't miss this Multiverse team-up unfolding now through SPIDER-MAN UNLIMITED #12.
[RELATED: The Worlds of Two Spider-Men Collide in Ongoing Infinity Comic Series 'Spider-Man Unlimited']
GWENPOOL MAKES AN IMPORTANT DISCOVERY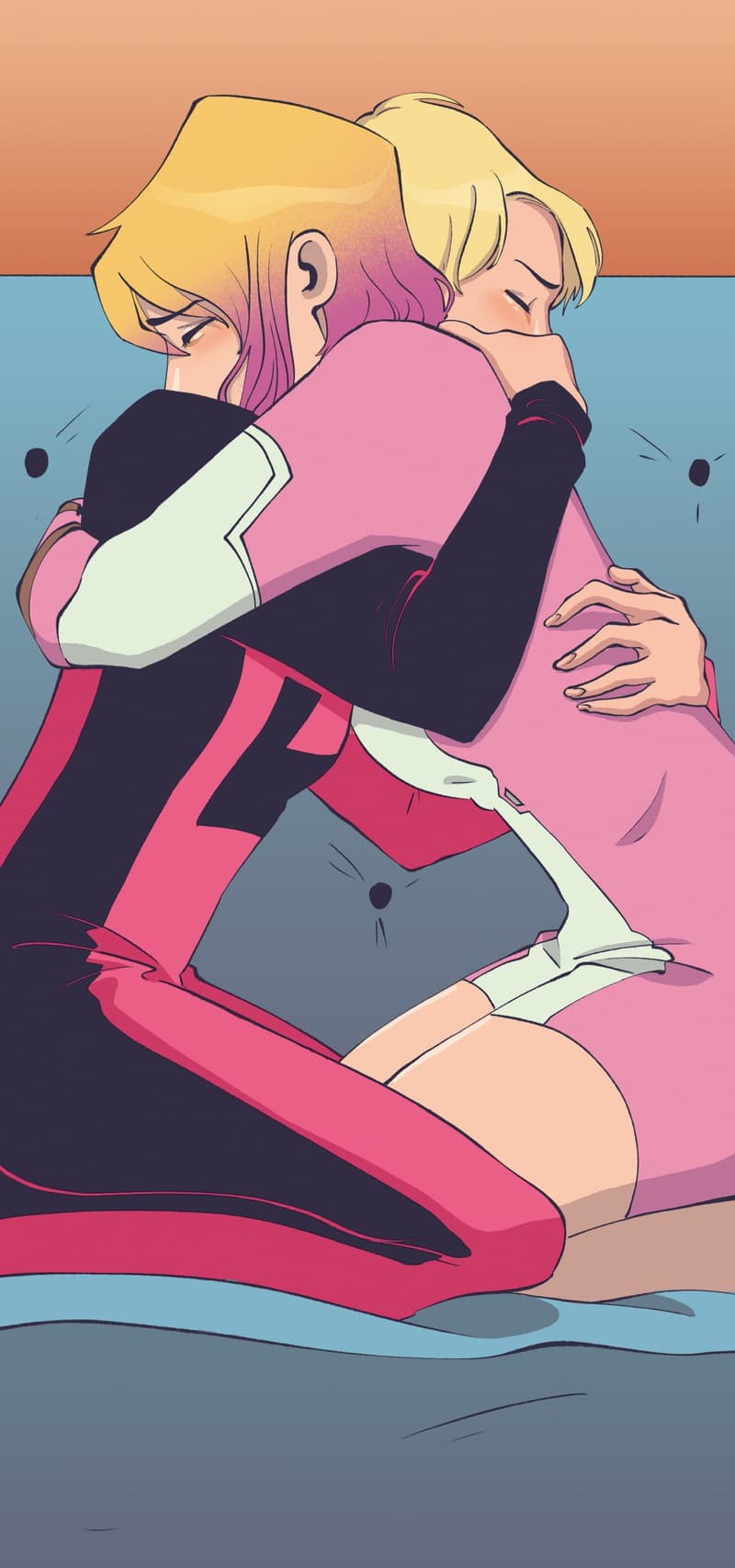 Released across six parts in Infinity Comics' romance anthology series LOVE UNLIMITED, the "Love Unlimited: Gwenpool" arc dove into the life and secret origin of Marvel's katana-wielding and fourth wall-breaking antihero.
Following a dramatically staged meet-cute with the mutant Wither, a messy love triangle involving Elixir, and a new (and perfect) relationship with original Power Pack member Julie Power, Gwenpool seems to have cracked this whole romance thing! So why does she still feel like she's someone she isn't?
Not all forms of love are romantic or even feature a drive for intimate companionship, and Gwenpool learns this for herself when she realizes she is on the asexual spectrum in LOVE UNLIMITED #43-47. Told by the all acespec creative team of Jeremy Whitley, Bailie Rosenlund, and Kelly Fitzpatrick, Gwenpool's LOVE UNLIMITED story deftly handled the character as she embraced an inner truth.
[RELATED: Gwenpool Makes an Important Discovery in 'Love Unlimited: Gwenpool' #47]
XUÂN AND "KARMA IN LOVE"

For much of her comic book history, the mutant super hero Karma went by the civilian name "Xi'an," long considered grammatically incorrect given her Vietnamese background. LOVE UNLIMITED #31 by Trung Le Nguyen and Tríona Farrell finally rectified this, giving Karma an appropriate Vietnamese name for her civilian identity in the first part to the "Karma in Love" arc. As Karma strikes up a romance with the high-flying Galura, she clarifies that her name is actually Xuân, pronounced like "Swun." In Vietnamese, it means "Spring."
Though not the primary focus of "Karma in Love," this moment does underscore an important change that better reflects Xuân's culture. With her new name, Xuân can shift into a new outlook too, complete with a promising romance that has to go through some speed bumps first. Hear more from creator Trung Le Nguyen about Karma's name, then read the full "Karma in Love" arc across LOVE UNLIMITED #31-36.
ALLIGATOR LOKI'S MARVEL COMICS DEBUT

Jeff the Land Shark couldn't hog all the "Friday Funnies" animal-based laughs! Alligator Loki, who we do believe is a Loki, debuted in Marvel Comics canon with his very own Infinity Comics series, ALLIGATOR LOKI. Marking the Alligator of Mischief's comic book introduction, this series by Alyssa Wong, Robert Quinn, and Pete Pantazis offers a reptilian twist on the Asgardian royal family.
When God of Thunder Thor meets an alligator version of his brother, Loki, he decides to go on a sibling bonding trip with the adorable reptile at an amusement park. However, Thor quickly learns that even an alligator version of the God of Mischief is just as chaotic and unpredictable as his humanoid counterpart. For a toothy take on Asgard's most iconic siblings, ALLIGATOR LOKI keeps the laughs and animal action coming.
SECRET INVASION GOES VERTICAL

One of the biggest events to shake up the Marvel Universe is SECRET INVASION (2008) by Brian Michael Bendis, Leinil Francis Yu, Mark Morales, and Laura Martin. Revamped in the Infinity Comics vertical format, SECRET INVASION INFINITY COMIC maintains the gorgeous art style and taut storytelling that made the original version of the event such a success.
After the Avengers discover that Elektra has been secretly replaced by a shapeshifting alien Skrull, Earth's Mightiest quickly realize that the Skrull Empire has been steadily swapping in key heroes with their own Skrull sleeper agents for years. As the Avengers investigate an anomaly surfacing in the Savage Land, the Skrulls launch their invasion in earnest, catching the world completely off guard. A classic story that reverberated across the Marvel Universe for years to come, the Infinity Comics adaptation of SECRET INVASION breathes new life into this epic.
AYO AND ANEKA'S TRIUMPHANT STAND

Infinity Comics' MARVEL'S VOICES series spotlights diverse characters throughout the Marvel Universe, told in self-contained arcs and stories by new and emerging creators. One of our favorite MARVEL'S VOICES one-shots took place in MARVEL'S VOICES #57 by Wyatt Kennedy and Sumeyye Kesgin, a special issue starring Wakanda's Midnight Angels, Ayo and Aneka. The story follows the two Wakandan warriors as their love endures against the most harrowing challenge they've ever faced: the passage of time.
Wakanda's Dora Milaje are among the most accomplished and elite warriors in the Marvel Universe. And while many formidable foes are no match for Ayo and Aneka, the couple faces the realities and dangers of time itself as their relationship reaches a crossroads. A powerful tale that captures the human in a world full of super heroes, MARVEL'S VOICES #57 is the ultimate love story, complete with genuine stakes and scope.
[RELATED: The Love Story of Ayo and Aneka]
EDGE OF VENOMVERSE BRINGS IN KRAVEN

Whenever the Venom symbiote gets out of control, it's all hands on deck. In "The Hunting" arc told in EDGE OF VENOMVERSE UNLIMITED #9-12, the fate of the Marvel Universe falls in the hands of Kraven the Hunter. The horrifying tale is by J. Holtham, Phillip Sevy, and Antonio Fabela, with the Venom symbiote beginning to spread across Spider-Man's rogues' gallery like a nasty infection. With Spider-Man bested by his worst nightmare, it's up to Kraven to take on the Venom symbiote and the villains it has corrupted.
[RELATED: Every Marvel Symbiote, from Venom to Knull]
For Kraven, this cat-and-mouse game is Hunter versus Hunter, as Kraven quickly recognizes Venom as a fellow apex predator. Overpowered and outnumbered, the odds are stacked heavily against Kraven, but the hunter wouldn't have it any other way. Dark and intense, EDGE OF VENOMVERSE UNLIMITED explores the symbiotic side of the Marvel Universe, offering alt-world stories from an Earth where Venom—and the symbiotes—rule supreme.
Want to read all the comics mentioned here? Join

Marvel Unlimited for instant access to Infinity Comics on the Marvel Unlimited app or on the web, plus gain 30,000+ digital issues spanning Marvel Comics classics to ongoing series.
The Hype Box
Can't-miss news and updates from across the Marvel Universe!