Comics
Published June 29, 2023
War Machine's Greatest Moments
The pivotal comic stories starring James Rhodes as War Machine, Iron Man, and Iron Patriot.
Iron Man's armors are some of the most powerful weapons in the Marvel Universe. And outside of Tony Stark himself, no one has more experience using Stark's suits in action than Colonel James "Rhodey" Rhodes, who operates as the armored hero War Machine. Whether he's flying high in that signature armor or wearing the Iron Man or Iron Patriot suits, Rhodes has forged a heroic legacy with serious firepower. From his time on teams like the Avengers and Force Works to his missions as a solo hero, War Machine has overcome immense personal struggles and achieved countless feats that cement him as one of Earth's Mightiest Heroes.
Take a closer look at some of War Machine's most impressive moments in the comics. These are Rhodes' most resounding—and dramatic—victories as a solo hero both inside and outside the armor.
SAVING IRON MAN'S ARMORY FROM OBADIAH STANE
James Rhodes was Tony Stark's chief engineer when he debuted in IRON MAN (1968) #118 by David Michelinie, Bob Layton, and John Byrne. But when Stark could not pilot his armor, Rhodey stepped into Stark's jet boots and took over as Iron Man! Even though Rhodey had to figure out how to operate the armor on the fly, he saved the rest of Stark's armors from Obadiah Stane in IRON MAN (1968) #174. When Stane took over Stark International and tried to claim the Iron Man armors as his, Rhodey and his partner Morley Erwin snuck into Stark's lab and programmed Iron Man's spare suits to fly into the middle of the ocean. After a brief fight with some Atlanteans, Rhodey ultimately destroyed the spare suits and proved himself as an effective guardian of Stark's legacy.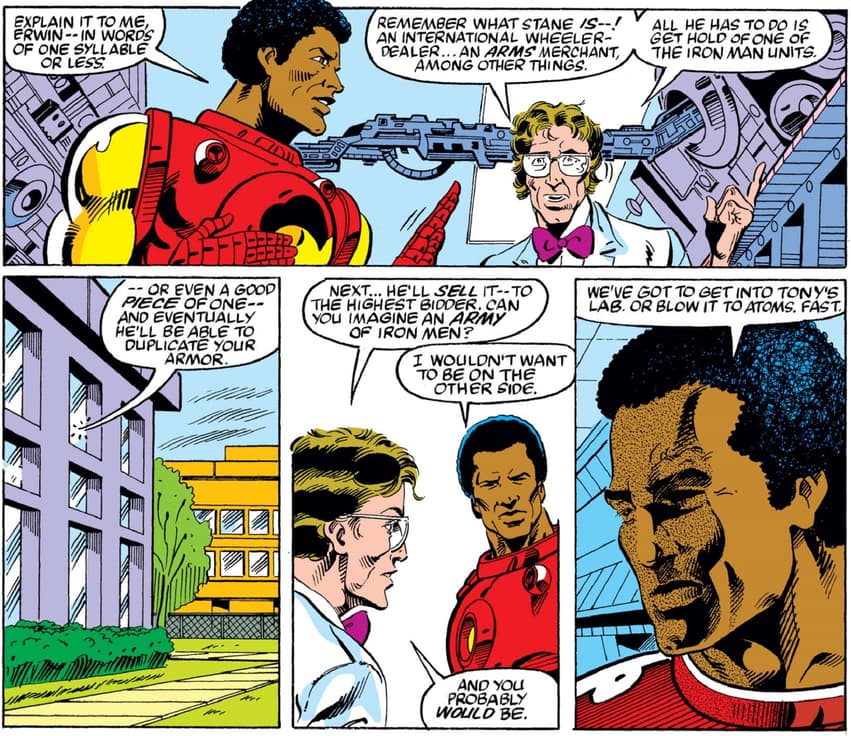 BUILDING THE IRON LEGION
Long after his first stint as Iron Man ended, Rhodey fulfilled one of the seemingly dead Tony Stark's final wishes and donned the War Machine armor, Stark's most advanced suit at the time. But when he later learned that Stark had faked his death, War Machine felt manipulated by an old friend. However, Rhodes put his complex feelings about Stark and his armor aside to stop a rampaging Ultimo and assembled the Iron Legion for the first time in IRON MAN (1968) #300. While Stark was in a coma, War Machine brought together a team of Iron Man's friends including Happy Hogan, Eddie March, Bethany Cabe, Mike O'Brien, and Carl Walker. After giving each of them one of Iron Man's older suits, War Machine led them into battle against Ultimo, where they held the robot off until Stark recovered and joined them.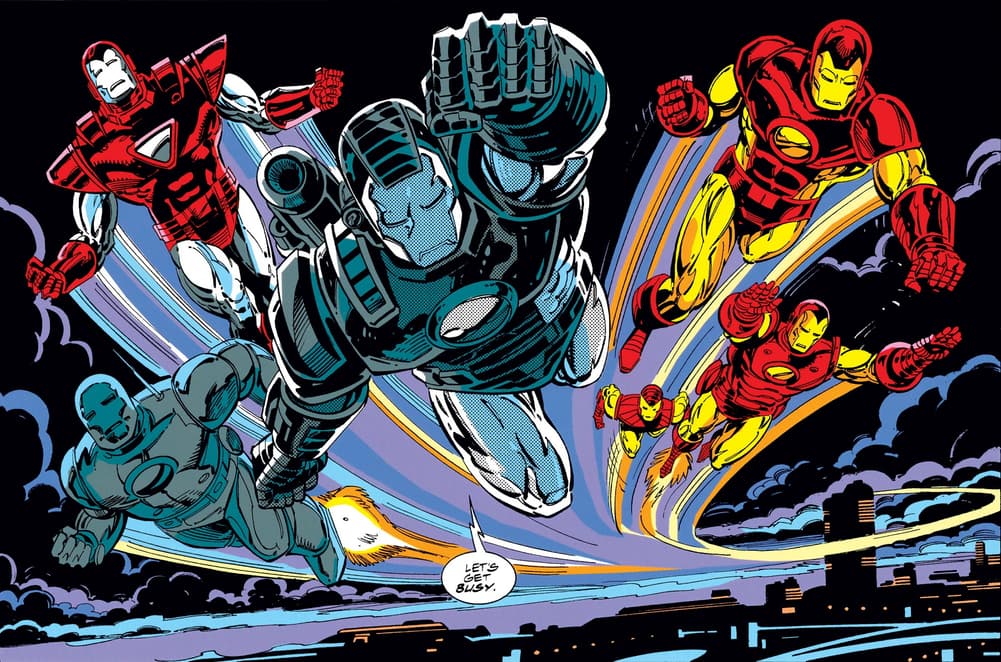 FIGHTING IRON MAN TO A DRAW
Despite their years of friendship, War Machine was so frustrated with Iron Man that he punched him after their battle with Ultimo. And once, when War Machine helped overthrow a dictator during a political revolution in the war-torn nation Imaya, Stark grew similarly frustrated with Rhodey. When their mutual frustrations finally boiled over, War Machine and Iron Man fought each other in a brutal battle that started in WAR MACHINE (1994) #8, and carried on through IRON MAN (1968) #310. Iron Man used his full arsenal against his friend and even tried to remotely shut down his armor. However, War Machine countered all of Iron Man's attacks and fought Stark to a standstill. Although the Mandarin abducted the heroes before they finished fighting, this incident proved that War Machine could go toe-to-toe against Iron Man and fight him to a draw, even with neither hero holding back.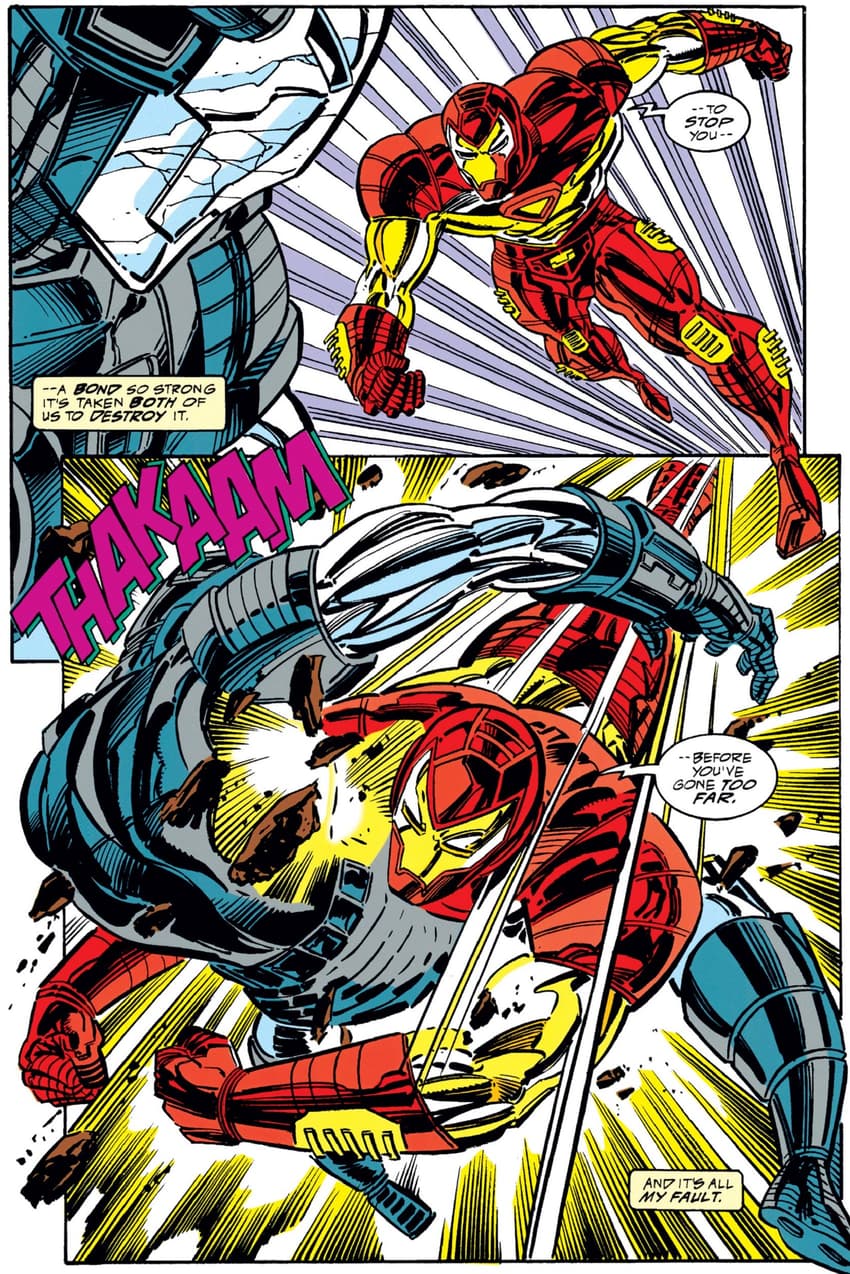 HITTING THOR WITH MJOLNIR
Thor's hammer, Mjolnir, can famously only be wielded by those deemed worthy of its power. But when Loki got control of the War Machine armor, he still found a way to knock the God of Thunder down with his own weapon in THOR (1966) #484. During a period when Loki did not have a physical form, he possessed War Machine—who he initially thought was Iron Man—and attacked Thor. After Thor threw Mjolnir at War Machine, the armored hero grabbed onto the hammer mid-air and sent it hurtling back to Thor with a power boost from his armor. With extra force from War Machine, Mjolnir knocked Thor down when it returned to him. After a brief fight, Thor freed Rhodey from Loki's control by striking him with Mjolnir. While this may not have been War Machine's proudest moment, this stands as a remarkable display of his armor's immense power against the Asgardian powerhouse.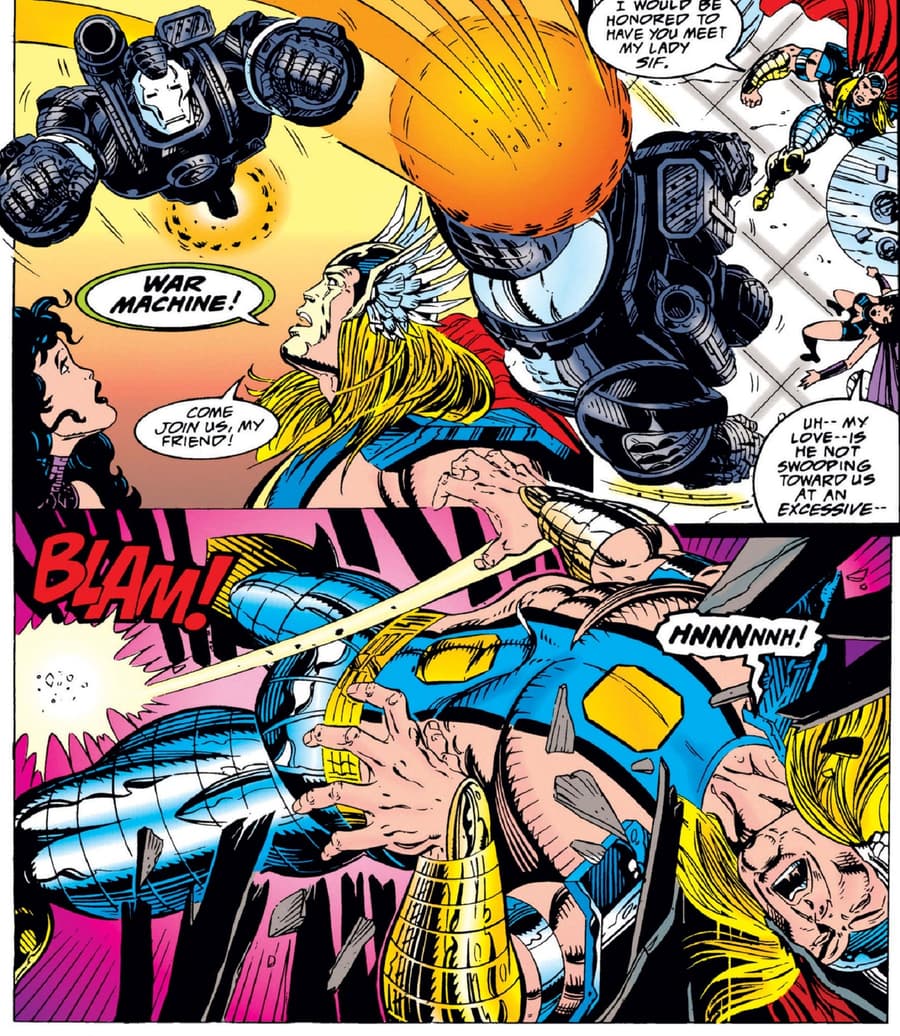 DEFEATING A SKRULL ARMADA ALONE
While a digital Skrull virus incapacitated Iron Man and his technology during the events of SECRET INVASION, Stark entrusted War Machine with his last line of defense against an alien invasion in IRON MAN: DIRECTOR OF S.H.I.E.L.D. (2007) #33. As Skrulls attacked Earth with warships, War Machine stayed online thanks to the non-Stark tech built into his suit. As a fight with a powerful Super-Skrull took him into space, War Machine was summoned to a secret satellite that Stark had built. When Rhodey plugged his armor into the satellite, it transformed into a giant War Machine battlesuit with enough firepower to single-handedly take on cosmic threats. With tech support from Cybermancer, War Machine took out a small fleet of Skrull ships with his massive armor. When one ship headed towards Earth, War Machine even chased it down and destroyed it with his regular armor.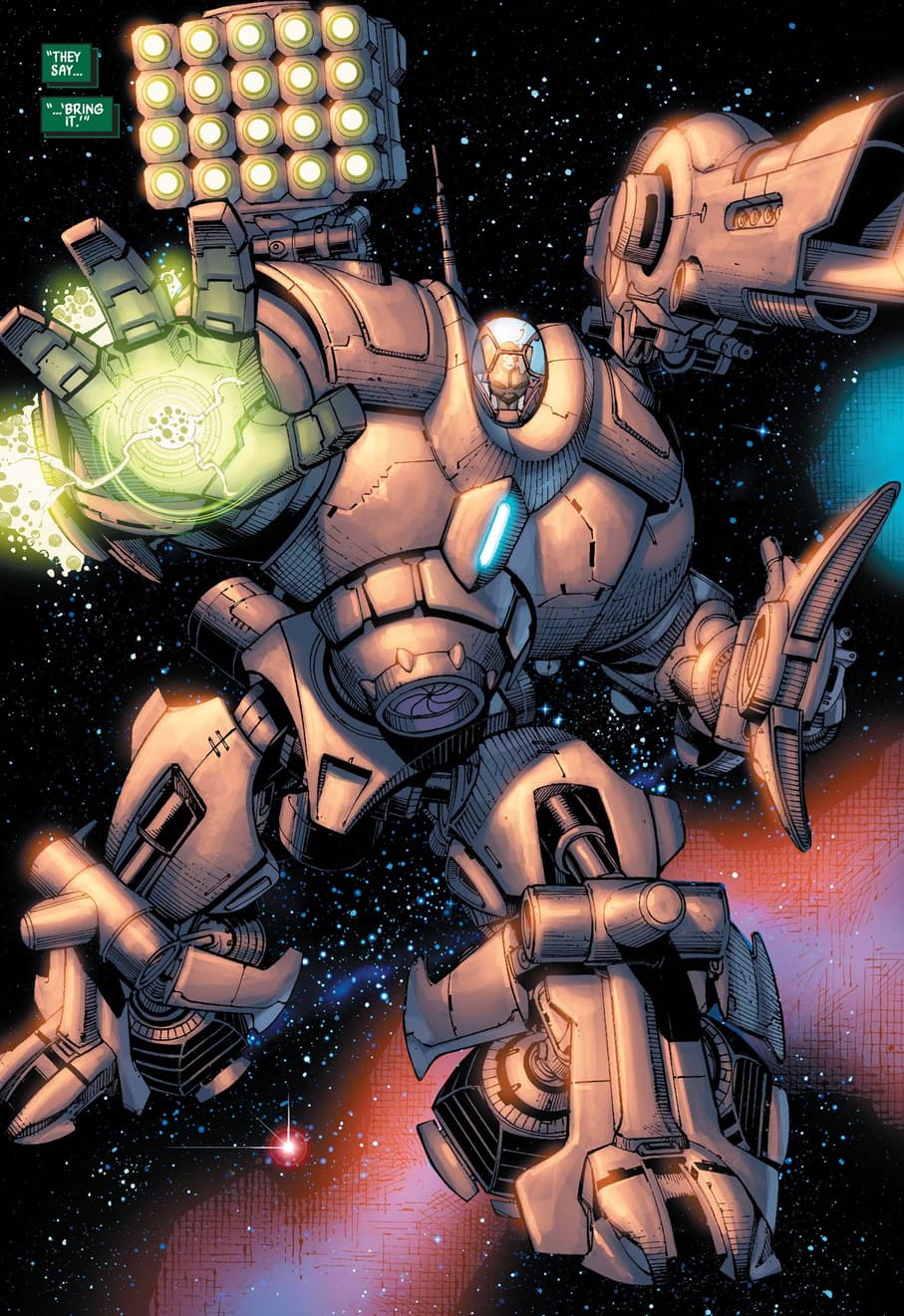 STOPPING A SKRULL DOOMSDAY WEAPON
With Skrulls attacking every corner of the world simultaneously during SECRET INVASION, War Machine found himself helping Crimson Dynamo, Red Guardian, and the other heroes of the Winter Guard defend Russia in IRON MAN: DIRECTOR OF S.H.I.E.L.D. #35. Even though he was abducted by the Skrulls in the middle of the fight and had to fight his way out of an alien spacecraft, War Machine destroyed three alien ships in less than a minute. After the Red Guardian killed one of the two Super-Skrulls present, another Skrull tried to transform into pure energy and generate a blast that would detonate several nearby nuclear warheads. But before he could complete the process, War Machine absorbed all the Skrull's explosive energy and effectively ended the battle.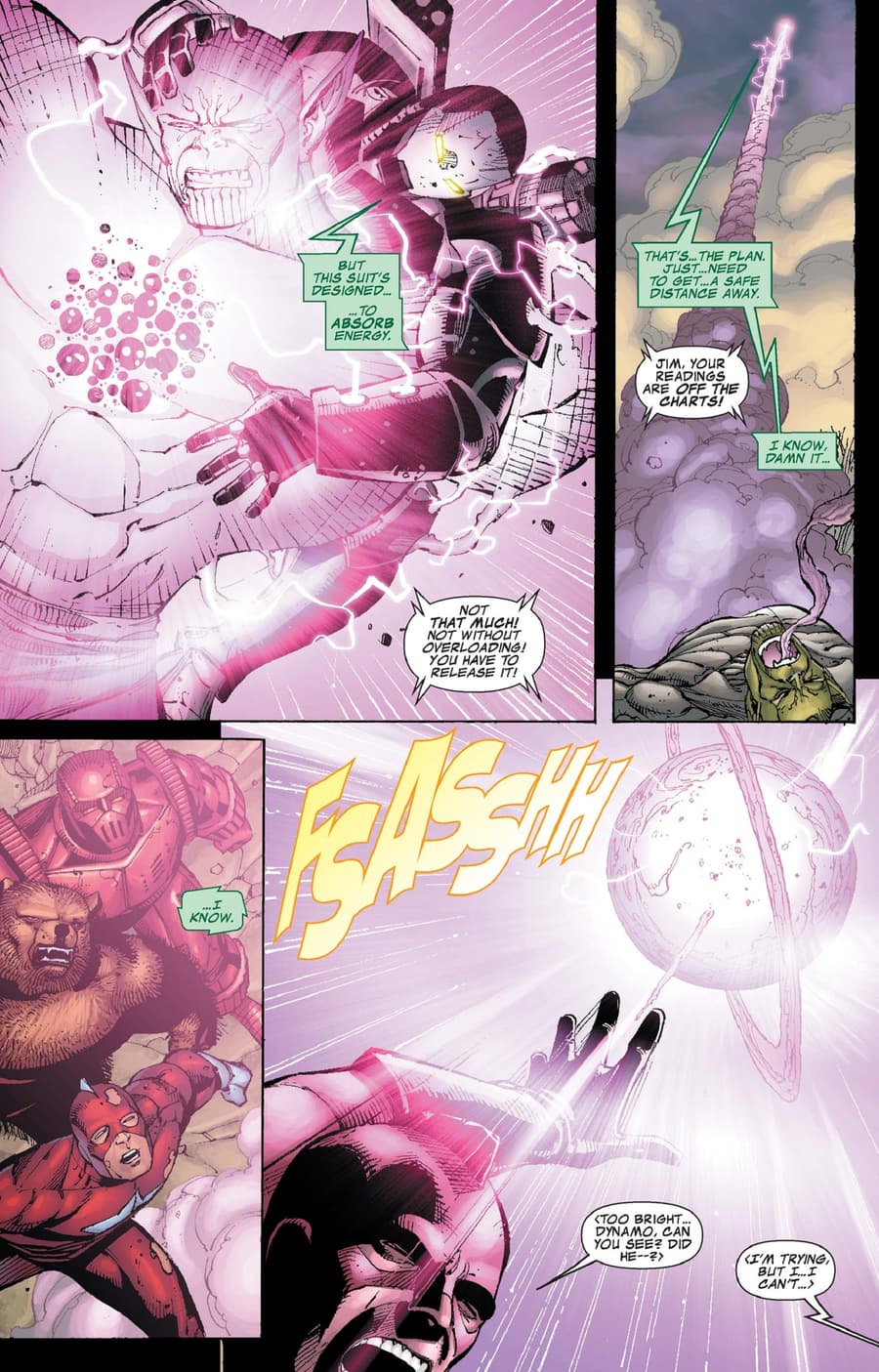 TAKING OVER THE IRON PATRIOT ARMY
When a fleet of Iron Patriot drones went rogue and started attacking sensitive targets all over the world, S.H.I.E.L.D. and the Secret Avengers turned to War Machine in SECRET AVENGERS (2013) #6. Even though the Iron Patriots' combination of Stark technology, military programming, and A.I.M. modifications made them self-aware, they recognized War Machine as "the Pilot," a figure who had led them into battle numerous times. With a few words, Rhodey pointed out the flaws in the Iron Patriots' plans, brought them under his command, and turned a Hulk-level threat into a S.H.I.E.L.D. asset. The Iron Patriots obeyed Rhodey and even created a new Iron Patriot armor for him, which he used to personally lead the fleet into battle against A.I.M.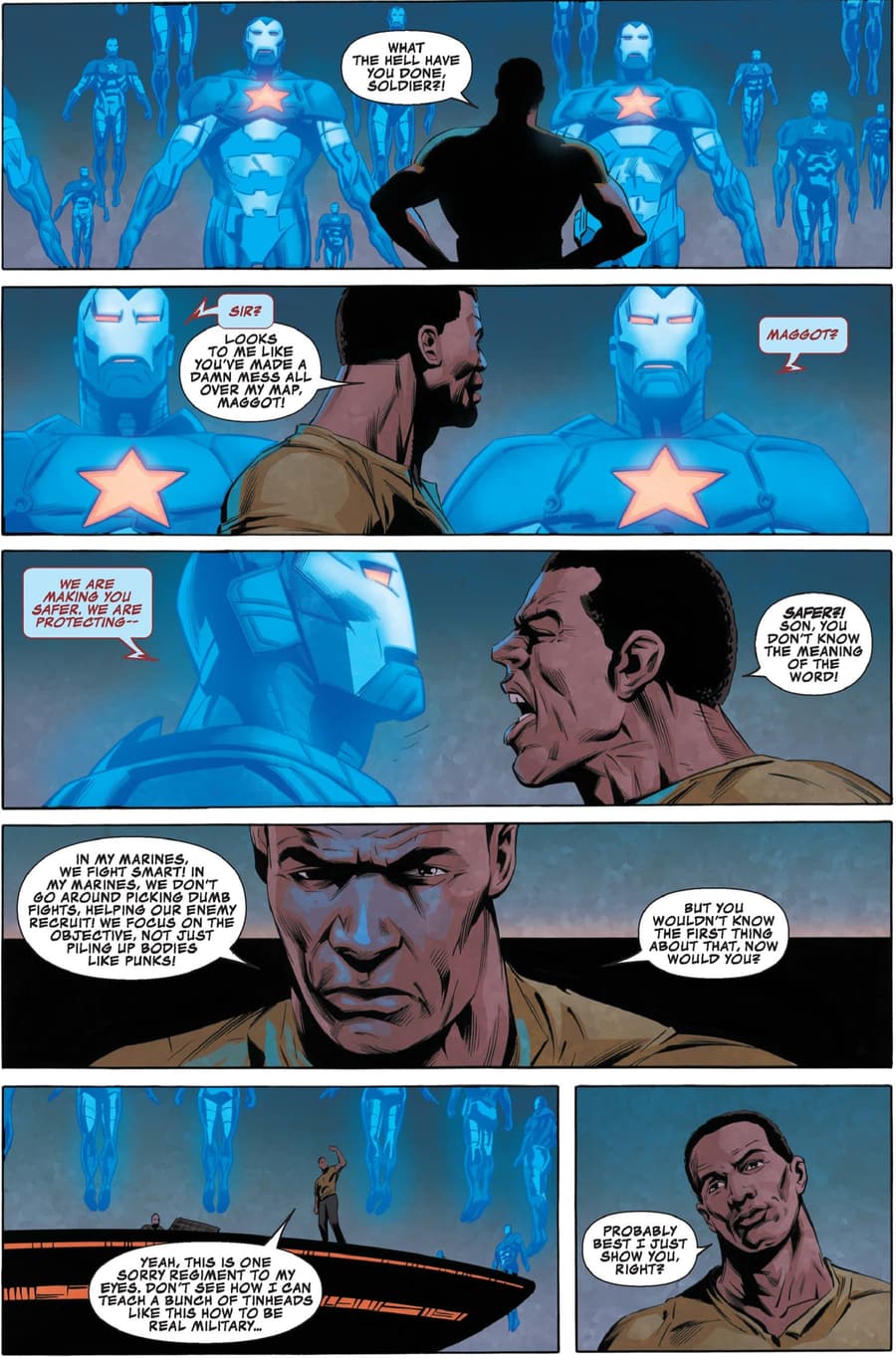 STOPPING THE PUNISHER
During the period when Rhodey was piloting the Manticore Battle Mech tank instead of the War Machine armor, the Punisher used the War Machine armor in his stead. When S.H.I.E.L.D.'s former agents and resources were being used to destabilize the country Chernaya, Nick Fury Jr. recruited the Punisher to take down the rogue state, and he gave the vigilante a spare War Machine armor to complete his mission. But once that mission was done, Frank Castle continued using the armor in his unsanctioned, one-man war on Hydra. Despite the efforts of Iron Man and numerous heroes, Castle refused to let go of the armor until he met Rhodey face-to-face in THE PUNISHER (2016) #228. Rhodey approached Frank Castle and pointed out that he had twisted the heroic legacy of War Machine for his own ends, which convinced him to return the War Machine armor to its rightful owner.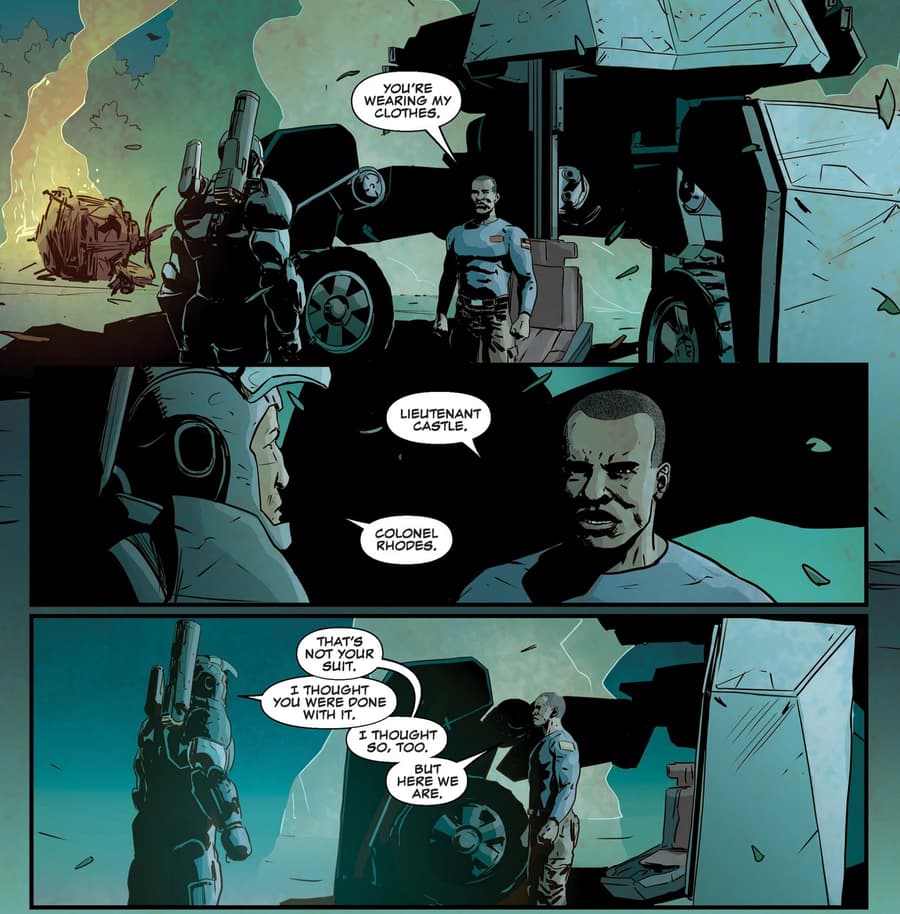 Want to find out more? Explore over 30,000+ comics on Marvel Unlimited today!
Grab these comics and more at your local comic book shop! Or redeem then read your digital copy on the Marvel Unlimited app by using the code found in your print comic. Find and support your local comic book shop at ComicShopLocator.com.
To read your Marvel comics digitally, download the Marvel Unlimited app for iOS and Android devices. Gain an expansive catalog of 30,000+ comics
The Hype Box
Can't-miss news and updates from across the Marvel Universe!