Comics
Published April 5, 2022
Crafting Captain Carter
We spoke to 'Captain Carter' series creators Jamie McKelvie and Marika Cresta about Peggy Carter's starring turn as the premiere Super-Soldier of another world.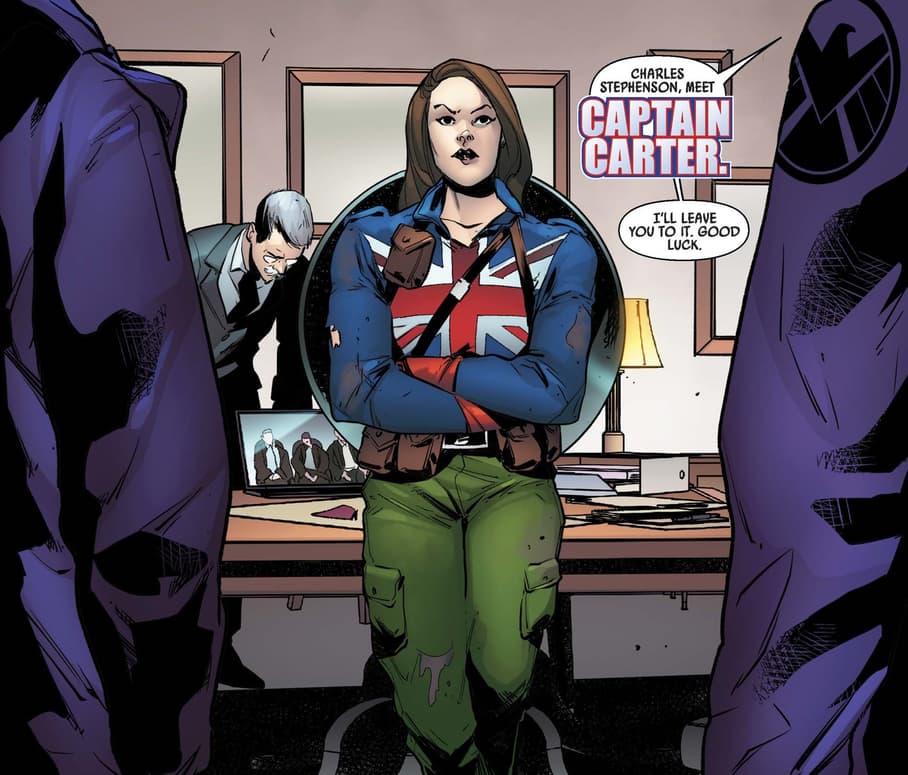 We spoke to series writer McKelvie and interior artist Cresta in the aftermath to CAPTAIN CARTER #1 about this unique assignment and what readers can expect for the rest of the series!
Jamie, how did you come to be involved with this project as the writer?
JAMIE MCKELVIE: I'd just written my first story for Marvel—a short in CAPTAIN MARVEL (2019) #30. I guess it went down well enough that I was asked what other characters I might be interested in writing down the line. Peggy wasn't on the table at that point, but I think my answers gave [the editors] a clue that I might be interested in this series. And they were right!
What has the collaborative process on CAPTAIN CARTER been like for both of you?
MARIKA CRESTA: Inspiring! Working together with a writer who is himself an artist allowed for a really interesting exchange of ideas.
JAMIE MCKELVIE: From my perspective, great! I've been given a lot of freedom to build this version of the character and the world she inhabits, but [editor] Alanna [Smith] has been there from the beginning with suggestions and ideas to make the story stronger. Marika has been a great collaborator too—coming up with her own material but also open to input as we try to make the best version of this comic.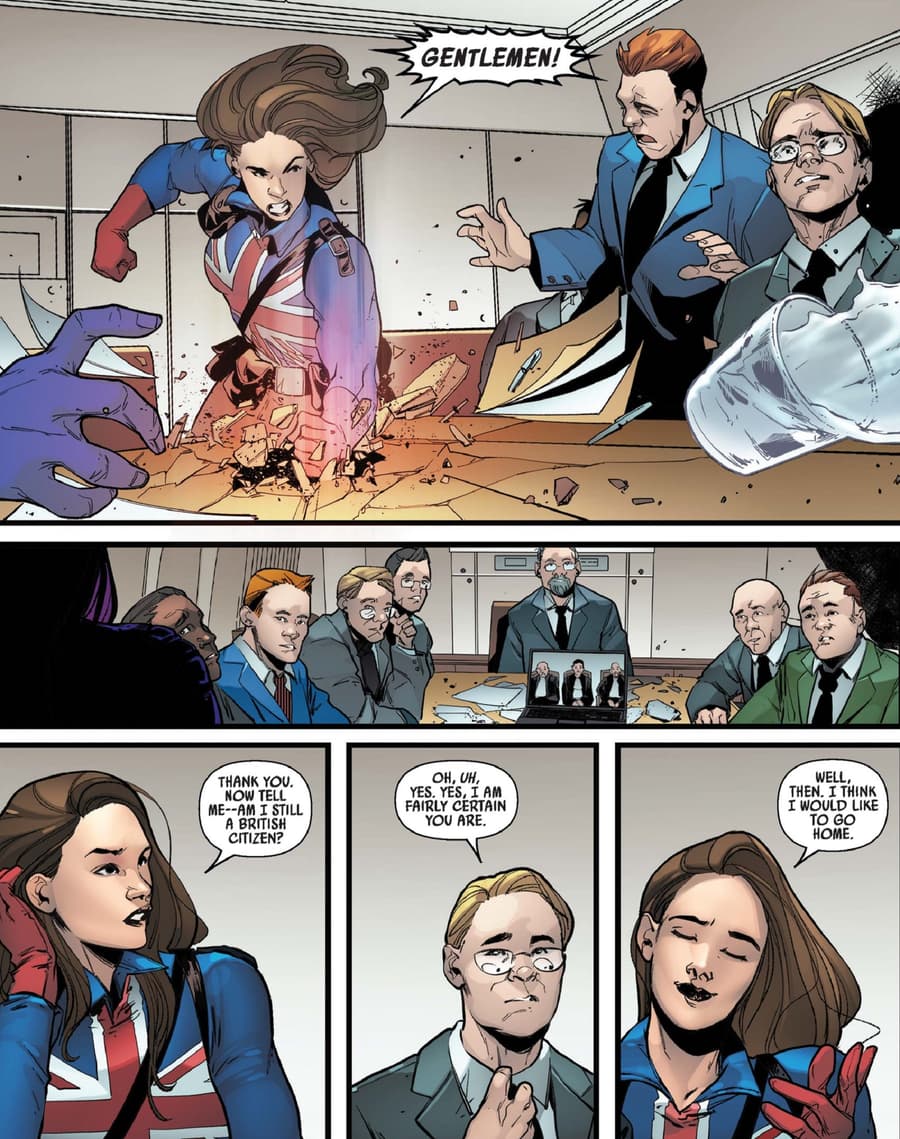 Does Jamie's extensive experience as an artist enhance the dynamic between the two of you?
MARIKA CRESTA: Personally—and those who know me know it—I am a "few words person," so being able to use greater visual communication was fantastic and sped up the whole creative process.
JAMIE MCKELVIE: I know when writing the script that I'm not asking for anything impossible from Marika, because I can see "my version" of the page in my head. But it's a lovely surprise to get layouts back that aren't the same as what I saw, but work even better! And then when it comes to any notes on layouts, I think it helps a great deal that I can show exactly what I mean with a draw-over. We're both visual thinkers, and so rather than try to explain something, it's quicker and more effective if I just show Marika directly.
Though this is an alternate version of Peggy Carter, what characteristics do you think are universal in any incarnation?
JAMIE MCKELVIE: I've said this before, but I kind of sum it up as "in that elevator scene in [Marvel's Captain America:] The Winter Soldier, Peggy wouldn't ask if anyone wanted to get out first." She has that direct attitude and willingness to get straight to the action, even if that means operating in ways others might see as reckless. She shares a lot of Steve Rogers' beliefs, but I think all the Peggys have been shaped by their experiences enough to not quite have his idealism.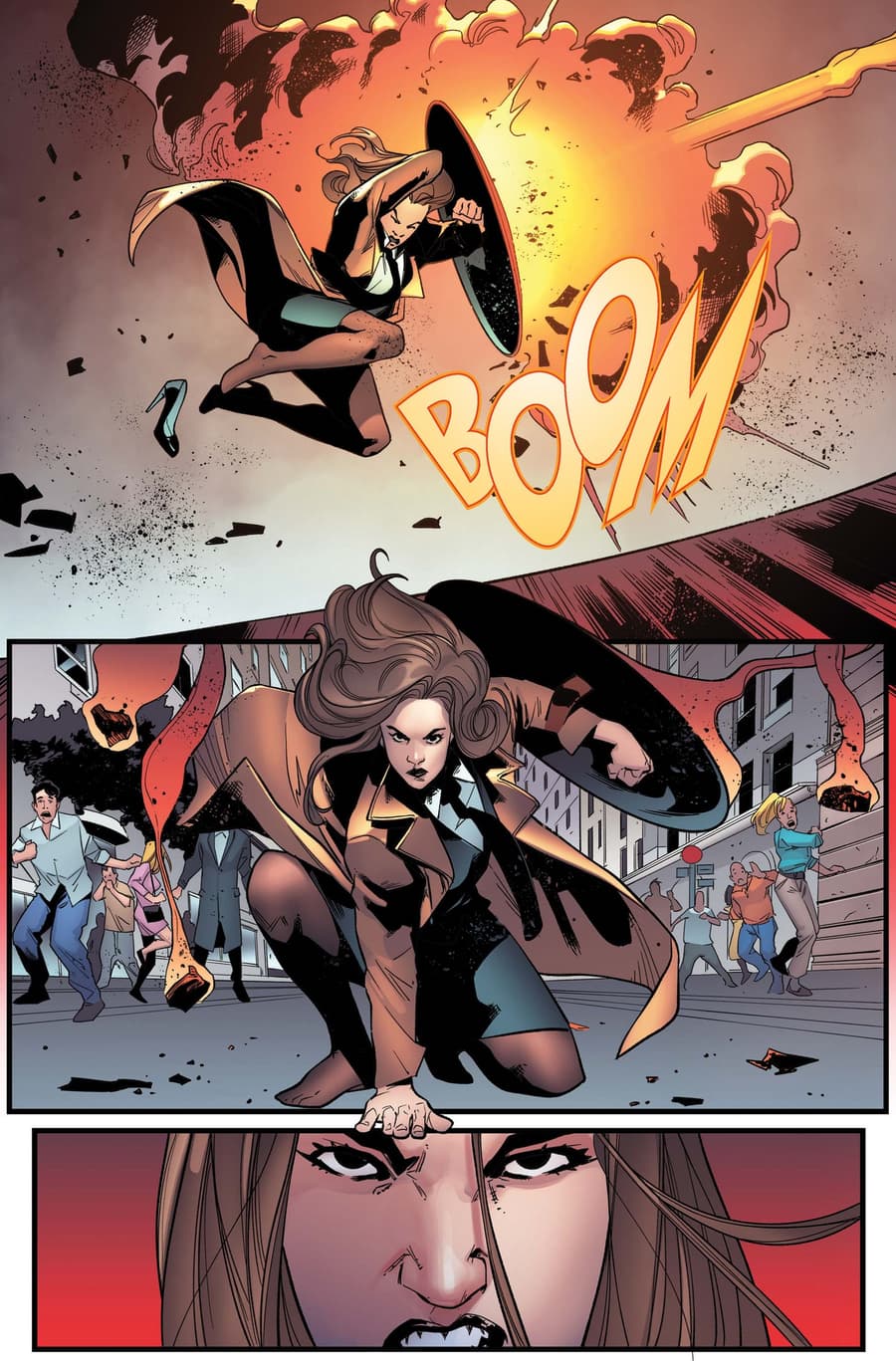 How does this being a story from the Multiverse tailor your approach?
JAMIE MCKELVIE: There's a lot more freedom. I don't have to worry about what "X" or "Y" character is doing in the rest of the Marvel Universe because I'm not dealing with the same circumstances. It lets me set up a world that is relevant to the story we're telling here. It's also been a great exercise in thinking through the butterfly effects of Peggy being the Super-Soldier, the first Super Hero—how does that affect someone like Tony Stark, whose granddad Howard Sr. worked alongside her? How does it affect Harley, growing up with the legend of Captain Carter? Who was inspired to follow in [Peggy's] path, and how does it affect the whole world? You can't just slot Peggy into the same 20th and 21st centuries as Steve, because her presence in that history is different to how his would have been.
What is it like exploring a parallel to the early days of Captain America with a different character and setting, but the same "person out of time" premise?
JAMIE MCKELVIE: Peggy is a different person than Steve. What she might miss from her own time, and how she reacts to the present day, will differ in various subtle and not-so-subtle ways. Second, telling this story in Britain instead of the U.S. changes things considerably. We have lots of similarities as countries, but lots of differences too—how we were then, how we are now, how we remember then, and so on. While initially they might seem similar, the differences make themselves known across the series.
MARIKA CRESTA: Redesigning an already known story by tweaking the context was a real challenge. It was about having to recall the story of Captain America, but still give Peggy's character a different identity [and origin]. The process was challenging, but I had a lot of fun!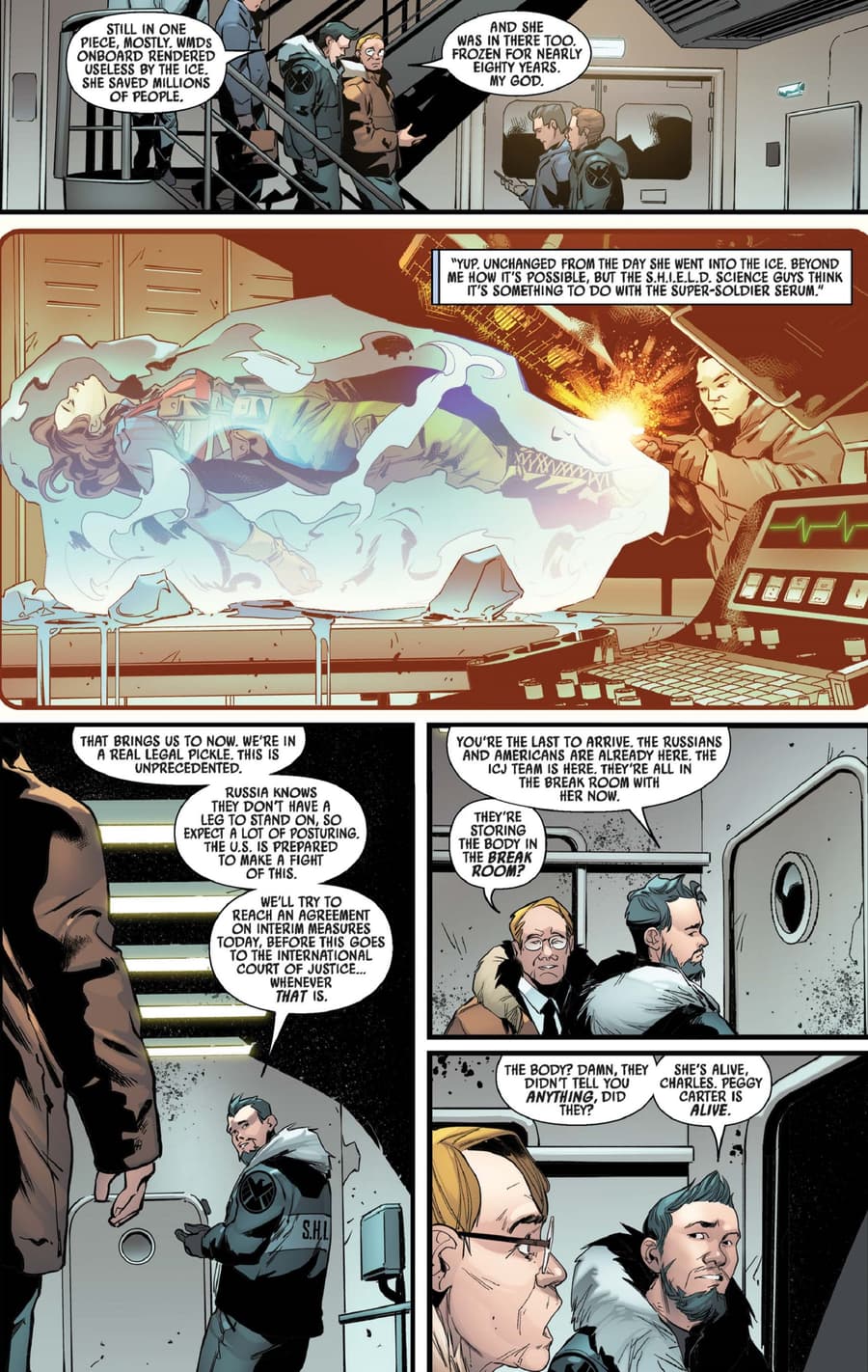 Jamie, this is among your most high-profile writing assignments to date—how do you feel you've settled into the role?
JAMIE MCKELVIE: OK, I think! CAPTAIN CARTER is the longest story I've ever written, and the first longform script for someone else, so there's a lot of learning to do along the way. I'm certainly enjoying it.
Marika, how much guidance did you have in creating Captain Carter's visual appearance and where did you get to experiment on your own?
MARIKA CRESTA: I had the opportunity to work on a concept using some references that Jamie sent me. I already had my own idea about the character, which was not very far from Jamie's. It was a matter of working on some aspects of characterization that reflected the idea we both have of Peggy, and I must say that in the end we managed to obtain a really satisfying result!
[RELATED: Exclusive Look at Jamie McKelvie's New Character Designs for Captain Carter]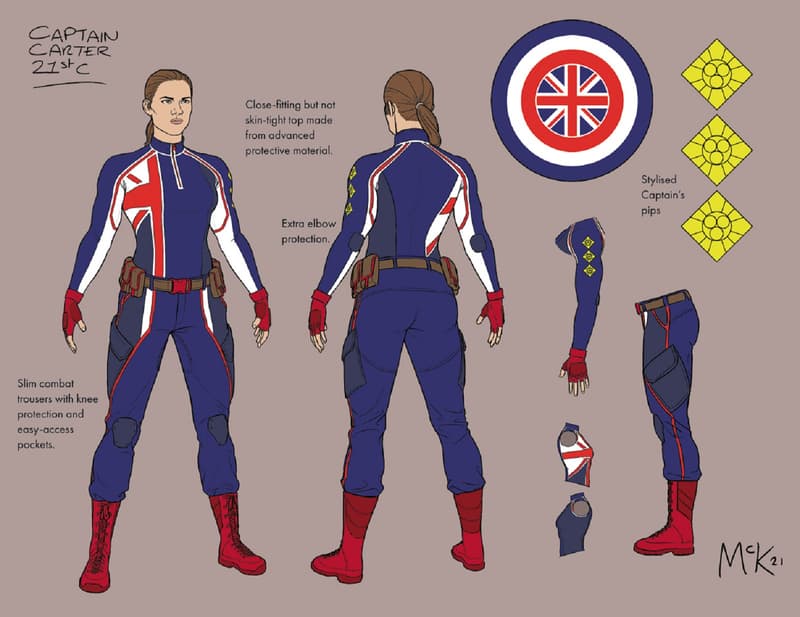 Where did your ideas for the supporting cast members we see in the first issue like Harley, Harry, and Lizzie come from?
JAMIE MCKELVIE: A mix of characters I have affection for in their [Earth-616] versions, and what characters were needed for the story, with several falling into both categories. I also wanted to give a nod to the Marvel UK comics of my childhood, which seemed very fitting given the setting. For example, I love Betsy Braddock, but it's also interesting that she's upper class. And Harley is from a working class background. Those things play out differently here to how they might elsewhere, and feed into the story we're telling in all sorts of interesting ways. I knew the British government would take a great interest in Peggy working for them, so that meant I had to create a character like Harry. And by now, people will have seen that Tony Stark is also in the story, which came from thinking about the connections between Peggy's life in [World War II]. What would it be like for her [to meet] Howard's grandson? What would it be like for Tony to meet this woman that his granddad talked about so much? That, and I just really love Iron Man.
What can we expect moving forward in the series?
JAMIE MCKELVIE: Action, drama, mystery, and people driving on the left side of the road!
Read CAPTAIN CARTER (2022) digitally or in print at your local comic book shop. Be sure to ask your local shop about their current business policies to observe social distancing or other services they may offer, including holding or creating pull lists, curbside pick-ups, special deliveries, and other options to accommodate. Find and support your local comic book shop at ComicShopLocator.com or by visiting Marvel.com/LoveComicShops.
For digital comics, all purchases in the Marvel Comics app can be read on iPhone®, iPad® and select Android™ devices! Our smart-paneling feature provides an intuitive reader experience, ideal for all types of mobile device and tablet users! Download the app on iOS and Android now!
The Hype Box
Can't-miss news and updates from across the Marvel Universe!