Comics
Published July 22, 2019
Jonathan Hickman Previews This Week's 'House of X' #1
See what the writer had to say about 'House of X,' 'Powers of X,' and Dawn of X at San Diego Comic-Con!
This weekend at San Diego Comic-Con 2019, members of the Merry Marvel Marching Society were introduced to the future of the mighty mutants with the Dawn of X.
X-MEN #1, EXCALIBUR #1, MARAUDERS #1, NEW MUTANTS #1, FALLEN ANGELS #1, and X-FORCE #1 are on their way later this year. And it all begins this Wednesday, July 24, with Jonathan Hickman and Pepe Larraz's HOUSE OF X #1.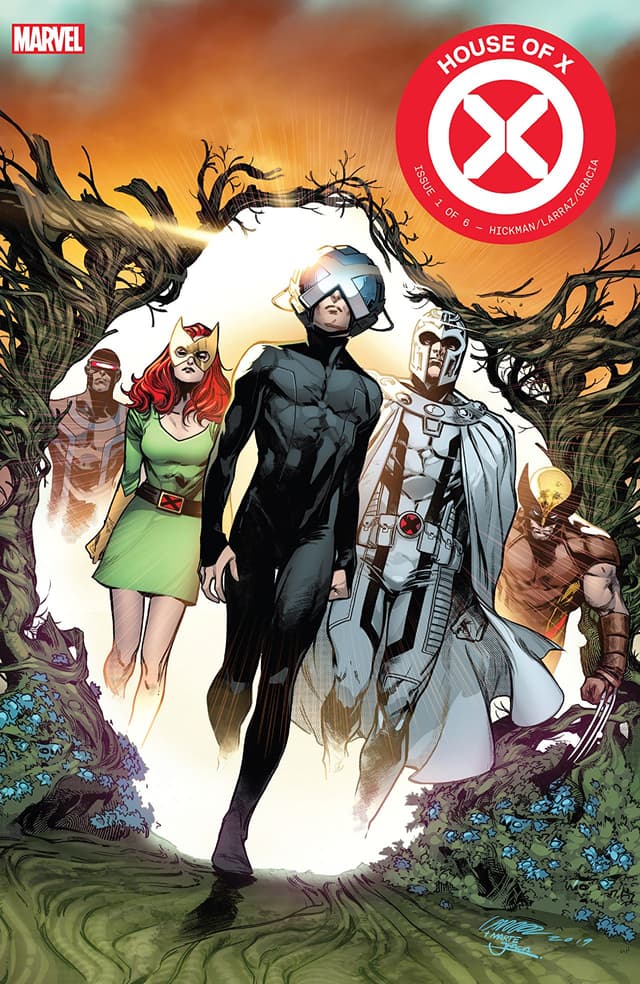 The mutant status quo is about to change forever, and Jonathan Hickman is the mastermind behind it all. This weekend at SDCC, Hickman gave some insights about what to expect when HOUSE OF X hits your local comic shop this Wednesday.
"I think Marvel stories have to be big," said Hickman on Thursday's edition of Marvel LIVE! "Marvel stories are set in the real world... We do stories that would work inside of the current world and as we know, the stuff that really, really sparks our interest has velocity and volume and scale and all the best Marvel stories are the big stories, right? So, that's kind of what I'm into." Readers of Hickman's INFINITY (2013), SECRET WARS (2015), and more know what he's talking about.
"But, of course, it ties back down into the characters that you love and the cool thing about Marvel stories is that they're almost all everyman stories, like you can see how you would be Peter Parker and all of that kind of stuff. Or with the mutant stuff, it's the little thing that makes you different than everyone else, right? And so, it's got to have those two things, in my opinion. And in modern storytelling-wise, it's got to be serialized. It's got to build to something. It's got to matter to the reader and therefore matter to the internal continuity that Marvel kind of perpetuates."
Where did the concept for HOUSE OF X and POWERS OF X come from? How does he give X-fans the experience they want while also breaking entirely new ground? "Well, I think there's a certain amount of this that's alchemy," he explains. "It's magic of the moment, right? There's no hard and fast rule of how to mine continuity and do books that remind people of what they loved as a kid and do new stuff. There's not a perfect methodology for it, which is why it fails so much when people try and do it. It's a really delicate balance, and so what I've done, is that I'm doing brand new things that feel like old things, and there are tricks—again I don't want to give anything away—but there are certain things that we're setting up that make you feel like you're going to get a traditional experience and then we turn a little left, a little right, and we say, 'No, we're doing this, a new version of it.'
"And it works as exciting people because they're getting the new thing, but it feels like it was going to be the thing that was familiar and that they loved, but if you would've done that same thing, they would've seen that a hundred times at this point and it would've failed. So, it's delicate. It's hard, which is cool, which is I guess what makes me a professional, right?"
This week, Hickman is set to team up with Pepe Larraz for HOUSE OF X, and next week, he's joining R.B. Silva for POWERS OF X #1—two complementary creators who are about to enter the stratosphere of mighty Marvel artists. And, as with everything in this new epoch of X-Men history, they were hand-selected by the writer alongside X-editor Jordan D. White. At Saturday's Marvel Comics Next Big Thing panel at SDCC with White, executive editor Nick Lowe, and Editor-in-chief CB Cebulski, Hickman explained. "Pepe's fantastic, guys. You're gonna love what he's doing. It's really wonderful when you get to work with people who are extremely talented and competent, but more than that, are capable of doing environmental and world-building stuff, especially in a book where you're establishing a new aesthetic for the line and kind of the new world that all of this exists in. It's super important. It's mission-critical to have someone that can do that, and Pepe and R.B. have both brought it to the waltz, man. They are for real.
"You're gonna love their work on this. You're gonna love the stuff they're gonna do in the coming years. They're gonna be two of Marvel's best artists."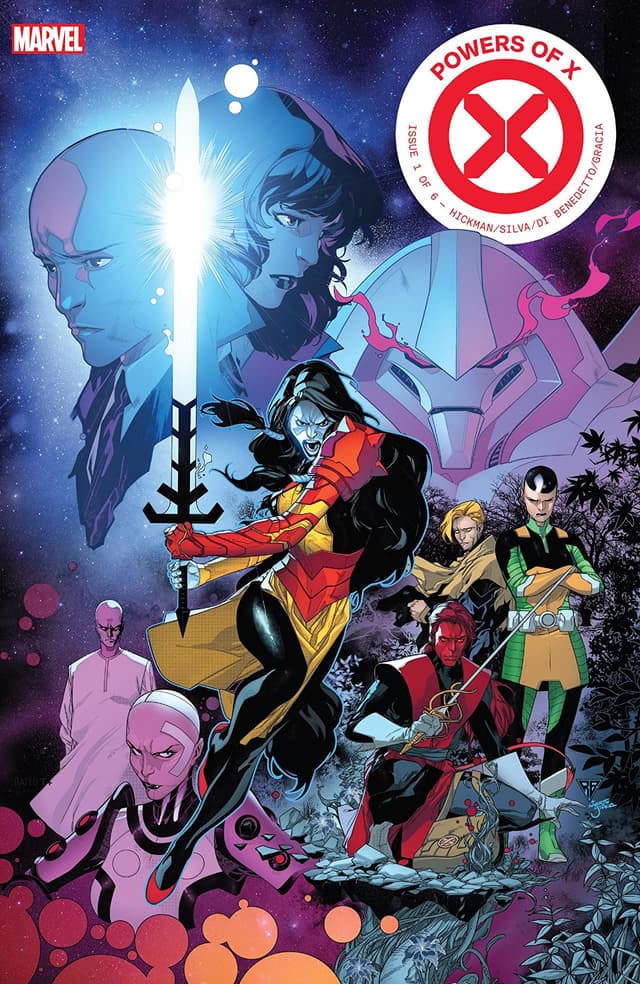 UNCANNY X-MEN (1963), GIANT-SIZE X-MEN (1975), X-MEN (1991), NEW X-MEN (2001), now HOUSE OF X and POWERS OF X, and in October, Dawn of X—the most consequential moments in X-Men history. Any hint of what's to come?
"Well," ponders Hickman, "I think every super massive hero, villain, or enemy story is based around people who used to love each other, or at least respect each other."
Start discovering what it all means in two days.
Witness the beginning of a new era at your local comic shop with HOUSE OF X #1 on Wednesday, July 24!
The Hype Box
Can't-miss news and updates from across the Marvel Universe!