Comics
Published June 1, 2021
Emma Frost's Best Looks
Ahead of the Hellfire Gala, we revisit 6 top fashion moments from the X-Men's White Queen.
Have you tried Marvel Unlimited yet? It's your all-access pass to over 28,000 Marvel comics, available at your fingertips. Sign up now to enjoy your first year for $60! 
Emma Frost fashion in three words: Fearless, provocative, and opulent. This legendary telepath may be known for her manipulative mind games and a diamond-hard exterior, but the (former) White Queen of the Hellfire Club is as noted for a killer fashion sense that oozes expensive appeal.
Since UNCANNY X-MEN (1963) #129, Frost has stopped the show in white-hot ensembles that are equal parts risky and breath-taking. And, as the upcoming Mistress of Ceremonies to the Hellfire Gala event, the White Queen will further showcase her diplomatic style with three incredible looks by artist Russell Dauterman.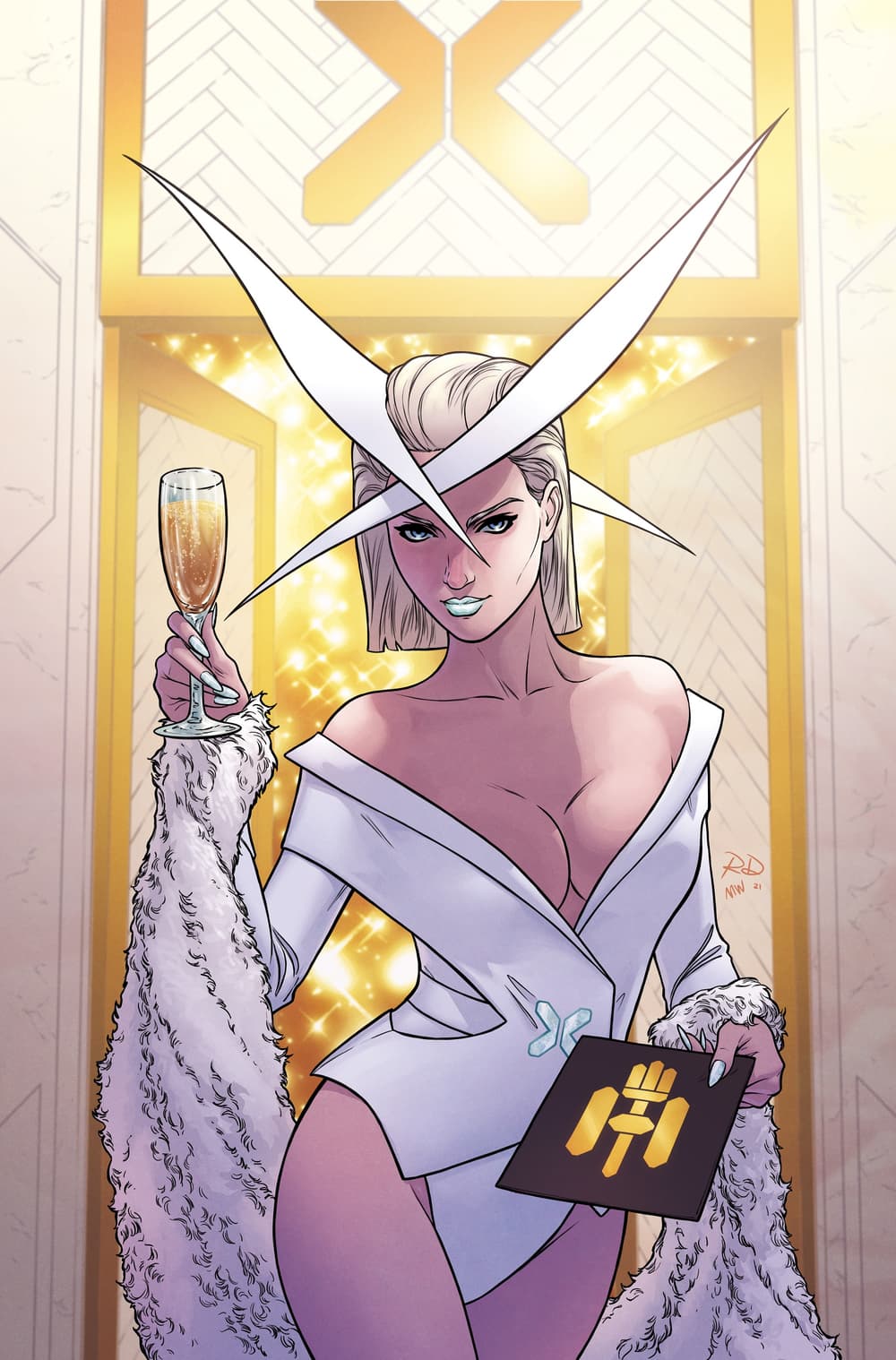 Before the worlds of mutant, celebrity, and Super Hero collide on June 2, flashback through Frost's top fashion moments with our Marvel Unlimited look book.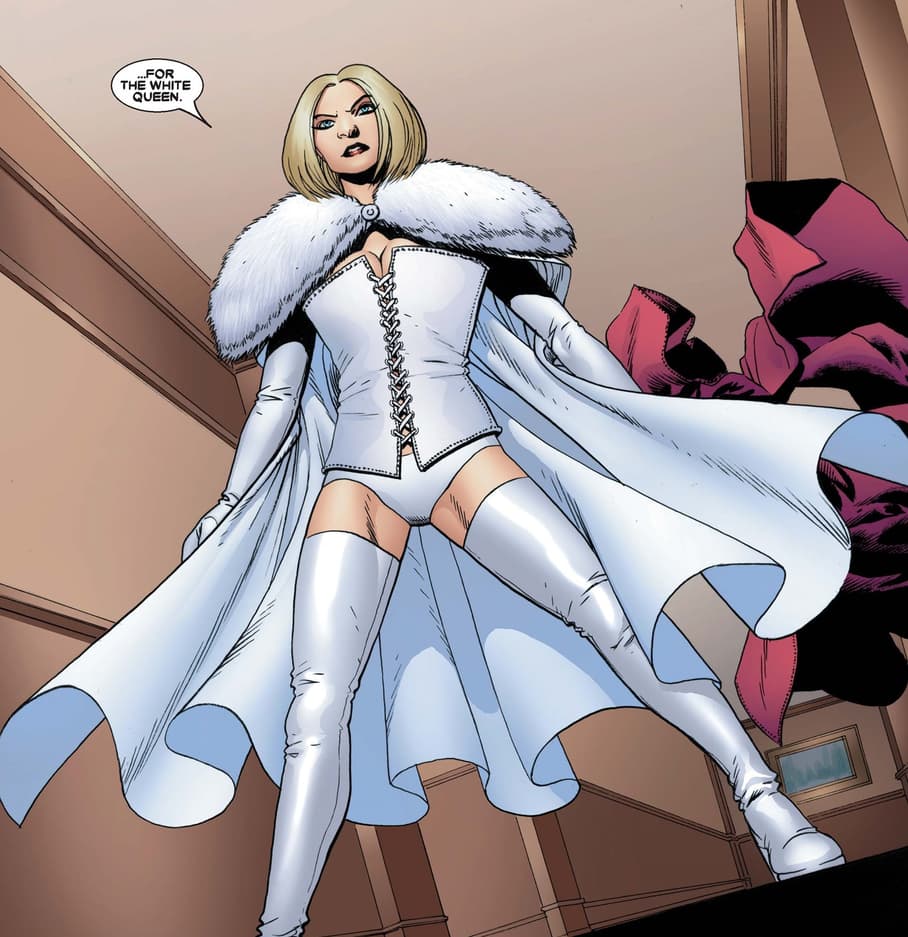 Nothing screamed more dangerous (or iconic) than the White Queen's original costume from UNCANNY X-MEN  #129 by Chris Claremont and John Byrne. The first appearance of Emma Frost and her elite enclave the Hellfire Club, this crisp outfit with a billowing cape made her every ounce the Super Villain. Albeit a well-dressed one.
In issue #131, Emma upped the regality factor with a fur mantle, an elegant addition that she clasped with a diamond brooch. When it comes to the Hellfire Club, white isn't just Emma's color—it is her politics.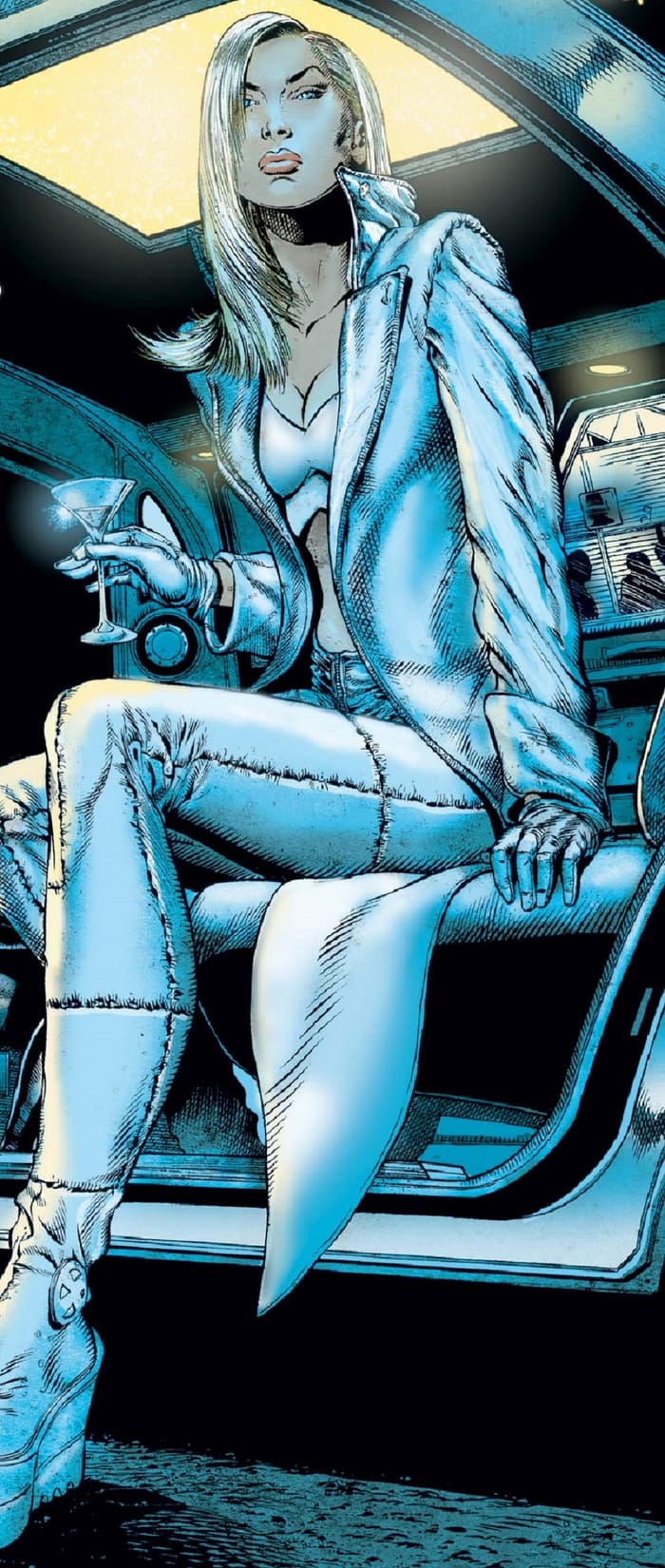 Swapping out her cape for a long collared jacket, this polished look from 2001's NEW X-MEN was a sartorial step toward Emma's role as a leader of the X-Men. Completing the outfit with chunky platform boots and subtle "X" insignia, Emma's teaching uniform was a standout. Although, we can't discount this furry head-to-toe get-up from the same run.
Following the destruction of Genosha, and her entire class of mutant students, Frost allied with the X-Men after (seemingly) taking out Cassandra Nova, the evil twin sister of Professor Xavier. Notably, this was the first time that Emma appeared in her diamond form, a secondary mutation that appeared to be a psychological response to trauma. However, ASTONISHING X-MEN (2004) #13 revealed that Nova herself had implanted Emma's mutation as a mechanism to survive the attack, wiping the headmistress' memory of her involvement.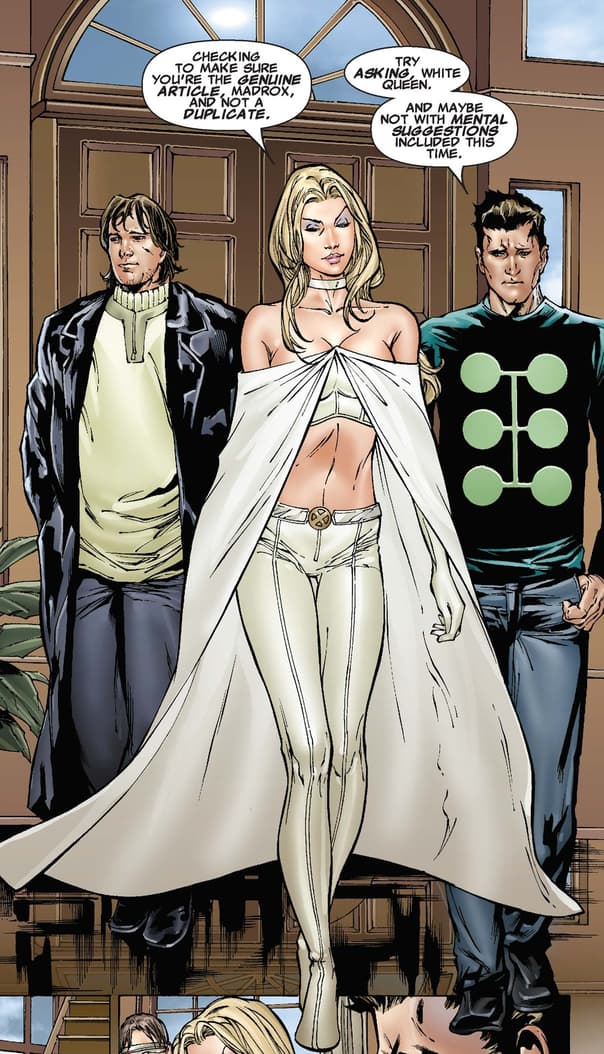 A streamlined turn for Emma, something clean and modern for her next chapter as co-head of the X-Men. Favoring this off-the-shoulder uniform throughout her 'Astonishing' run, this sweeping masterpiece was a simple power statement, while a functional X-belt continued to identify her allegiance. But that icy makeup and a cool blonde hue? Unmistakably severe—in case there was any doubt.
While this exact look lasted through issue #24, its structure remained one of Frost's favorites. She would later swap in a prominent red X-badge... but kept the choker and gloves.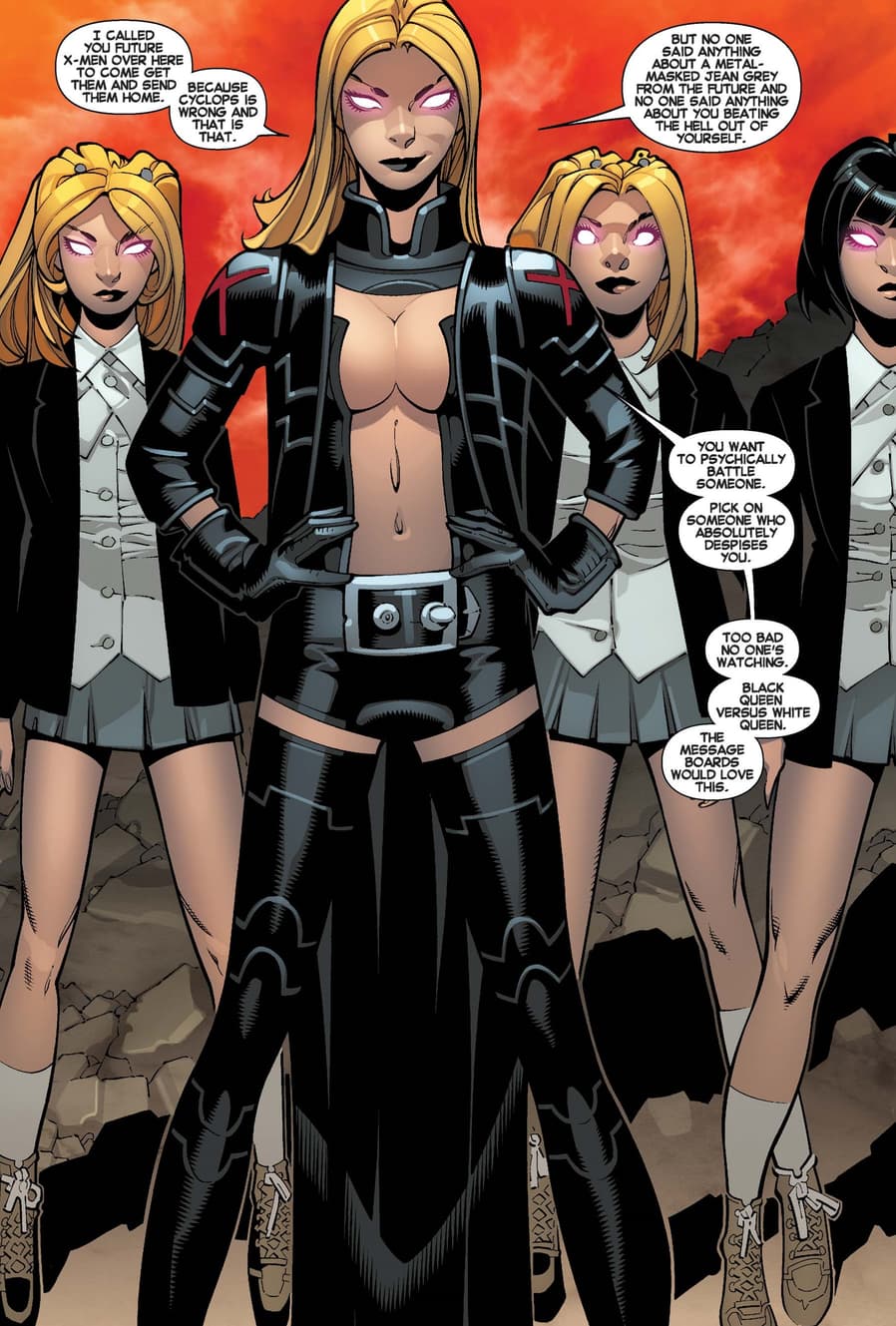 A chic turn of events that reflected Emma's darkened state of mind after her and Cyclops' connection to the Phoenix Force in AVENGERS VS. X-MEN. Entering the era of the All-New, All-Different X-Men, Emma's fashion followed suit with an all-black design that tossed her rulebook out the window. With a plunging "neckline" to the navel and a two-paneled corseted bodice, this wardrobe moment was edgy. Topping things off with a structured overcoat and a power "X" shoulder, Emma's Dark Age is one for the ages.
Interestingly, Emma embraced a variation of this uniform during her stint as the Hellfire Club's Black King after ousting Sebastian Shaw. A role she later resumed in the pages of UNCANNY X-MEN (2018).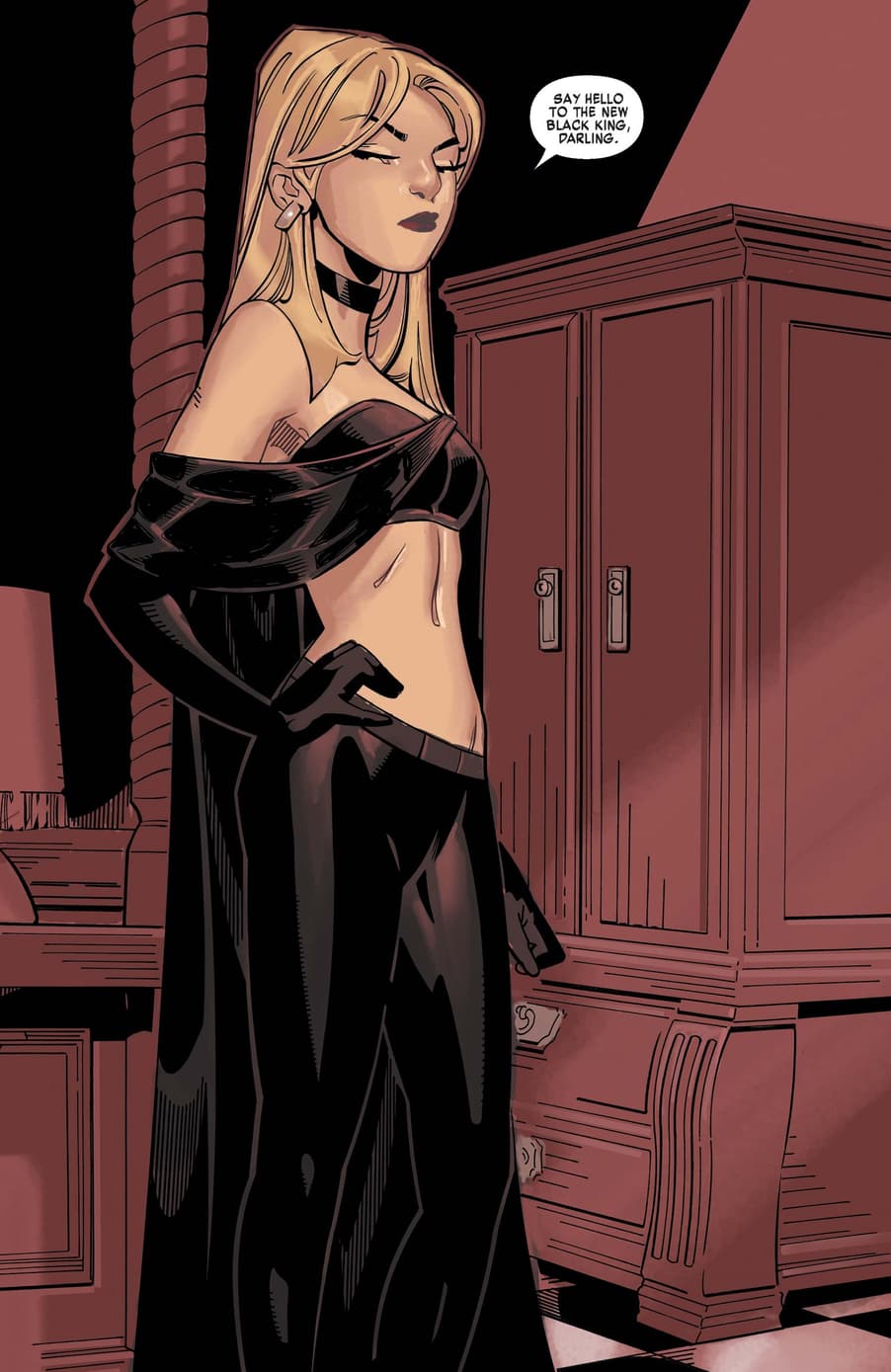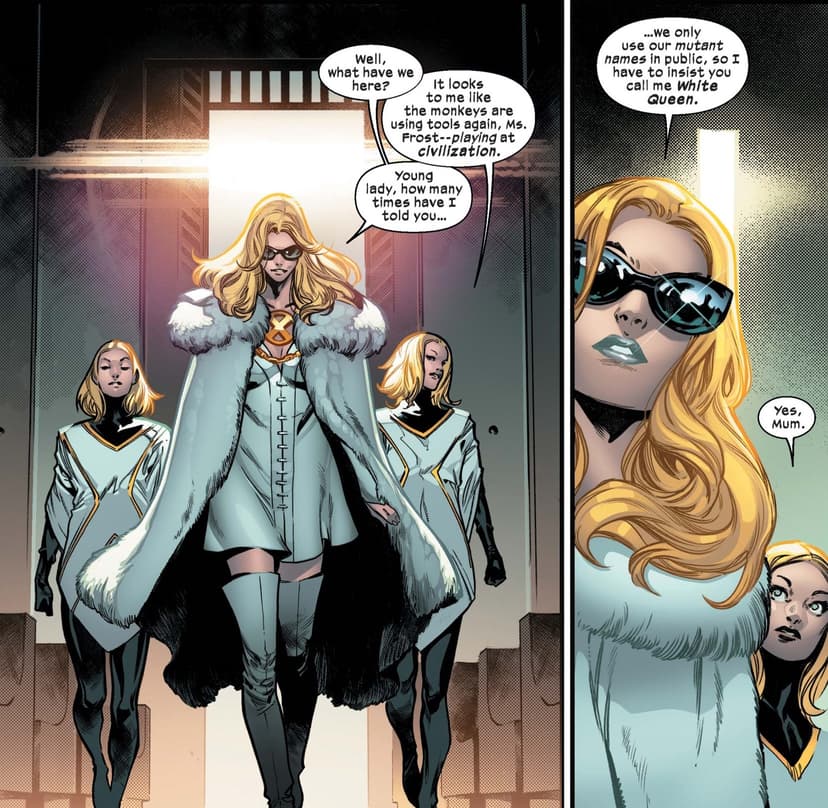 The status quo of the mutant world irrevocably changed in HOUSE OF X/POWERS OF X. Also, Emma made an entrance.
Breaking away from her normal skintight wear, Emma accessorized this looser fitting shift dress with mod boots, a signature fur cape, gold "X" fasteners, and a personal entourage. A layered blowout and cooler-than-thou shades topped off a look that would make a Vogue editor wither. Wearing this outfit in her earliest negotiations with humanity, Emma's high-fashion attitude fitted her function as a foundational player for a new mutant nation.
You will call her "White Queen."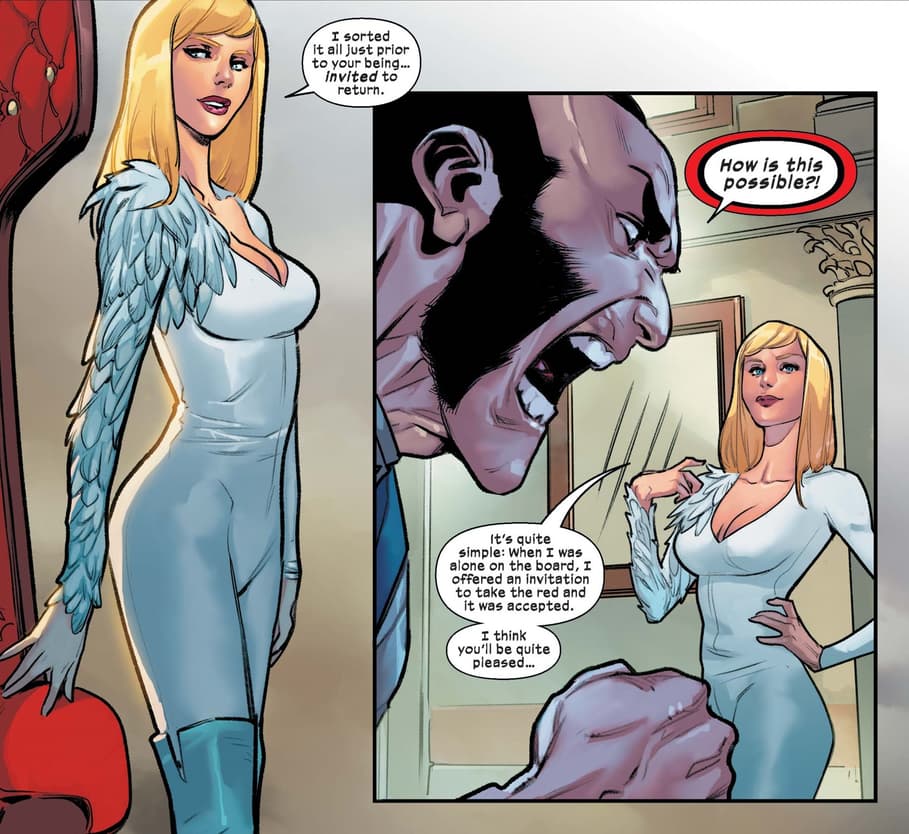 After an ambassadorial look in HOUSE OF X/POWERS OF X, Emma switched it up again in her new position as White Queen of the Hellfire Trading Company. To show off her status as the head of Krakoan commerce, Emma flaunted this feathered ensemble in a tense business meeting with reinstated partner Sebastian Shaw. Pairing a sleek white bodysuit with tall fitted boots, Emma added drama with a single plumed sleeve from shoulder to wrist. And her scheme against Shaw? Equally dramatic.
Read MARAUDERS in full for more of Emma's business-best looks, including this collaboration with mutant fashion designer, Jumbo Carnation.
See more of Emma Frost's latest trends from the REIGN OF X, and witness her eye-catching fashion at the Hellfire Gala event! Before attending this exclusive fete in print and digital June 2, preview Emma's Green Carpet designs by Russell Dauterman!
[RELATED: The Full List of X-Men Hellfire Gala Issues]
Follow Marvel Unlimited on Twitter and Facebook to stay tuned in to weekly announcements, articles, and more, all at @MarvelUnlimited. Follow us today to join the conversation with thousands of fellow fans, and let us know what you're reading!
The Hype Box
Can't-miss news and updates from across the Marvel Universe!