Comics
Published September 10, 2020
Kelly Thompson Goes Undercover with Black Widow
Get the inside scoop on Natasha Romanoff's new life in Thompson's new 'Black Widow' series!
Natasha Romanoff is back in action! In BLACK WIDOW #1, writer Kelly Thompson and artist Elena Casagrande gave Natasha a brand-new lease on life, a new career, and even a new love. But there's a dark undercurrent to Natasha's current situation, as well as a cabal of villains just waiting to strike. Thanks to their machinations, Natasha doesn't even remember that she's the Black Widow!
BLACK WIDOW #2 arrives in comic shops on Wednesday, October 7, and it will expand upon the mystery of Natasha's latest status quo. Recently, Marvel.com caught up with Thompson, and she shed some light on how she and Casagrande ended up on this ongoing series together.
"I actually pitched a version of this story back in 2017 and it just didn't go anywhere – the timing wasn't right," recalled Thompson. "But when Marvel circled back to me in 2019 about whether I wanted to take on a new Black Widow book, I dusted the old pitch off, and shined it up some, and talked with editor Sarah Brunstad about how I wanted to tell a deeply emotional Natasha story that would really leave a mark with both the character and with readers."
She added, "I can't remember if Sarah or I hit on Elena first as an option for this, but the second we thought of her, we knew we had to have her. Everything she'd done so far felt like a really perfect fit for what we were trying to do. And when we got Jordie Bellaire on board with colors, I knew we had something special."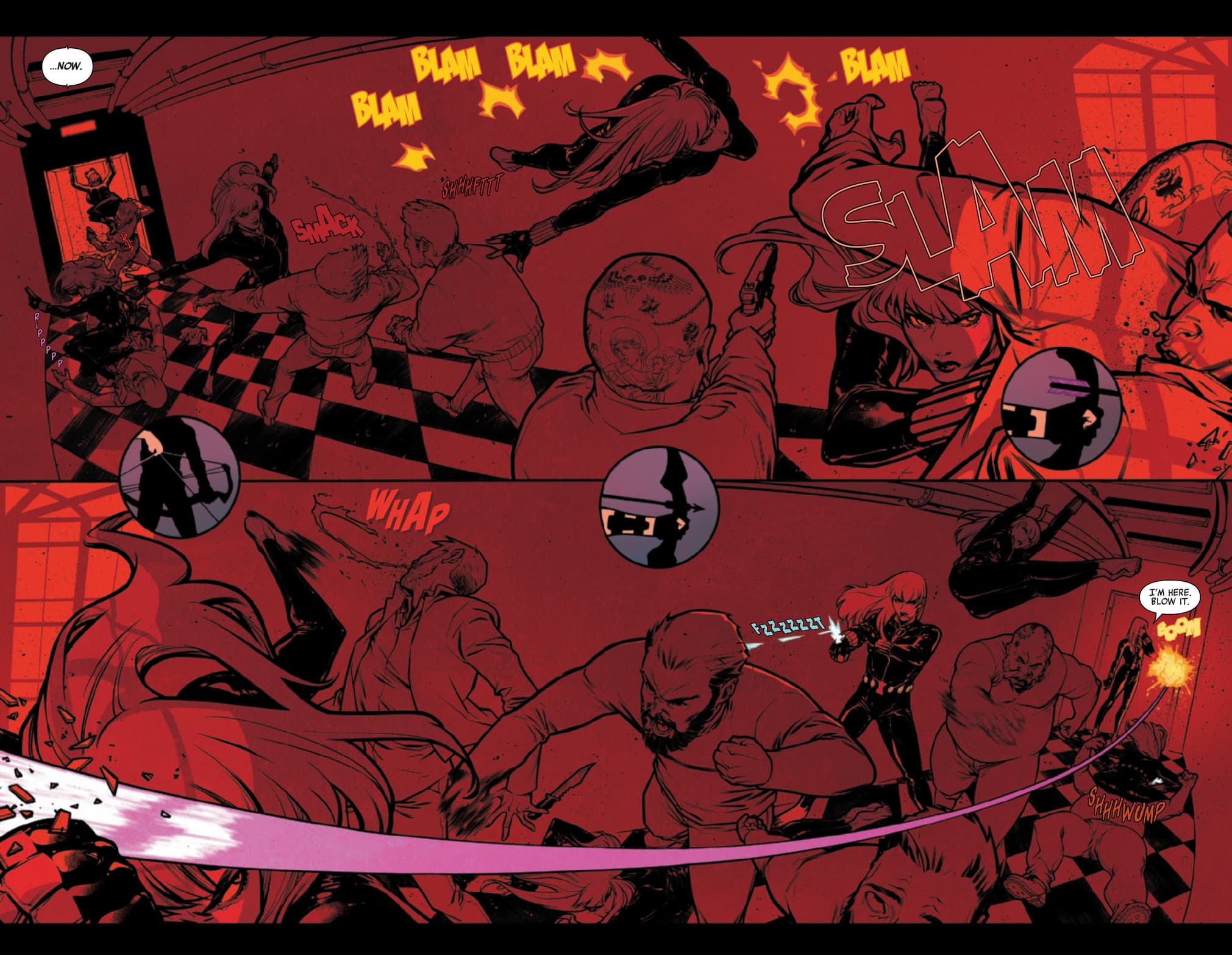 Thompson went on to praise Casagrande and Bellaire's collaboration on the book, especially in the first issue. 
"I write fairly tight scripts, especially when I'm working with someone for the first time," noted Thompson. "Elena really took to those scripts and breathed this incredible life into them. Every page of issue #1 is sublime thanks to Elena and Bellaire. But without a doubt, that incredible double-page spread hallway scene is my favorite in the first issue."
Black Widow has had several stellar runs over the years, and Thompson told us that she attempted to draw upon all of them for this series.
"I tried to be influenced a bit by all of them – drawing them in and then twisting that information and trying to make something new of our own," said Thompson. "If pressed, I'd say our run is, in different ways, most influenced by the Mark Waid and Chris Samnee run, and the Marjorie Liu and Daniel Acuna run.
With such a rich assortment of creators and stories, Thompson found it difficult to name her favorite Black Widow comics to date.
"There are so many great Widow stories it's impossible to pick just one," admitted Thompson. "I'm a big fan of Ed Brubaker's work with her, though it's perhaps a stretch to call that a 'Black Widow' story. I already mentioned the Liu/Acuna and the Waid/Samnee runs, but they're worth mentioning again. And I'd add that BLACK WIDOW (2016) #11 from that Waid/Samnee run is an issue that I think absolutely sings. The largely silent fight scenes are just a master class in comics storytelling."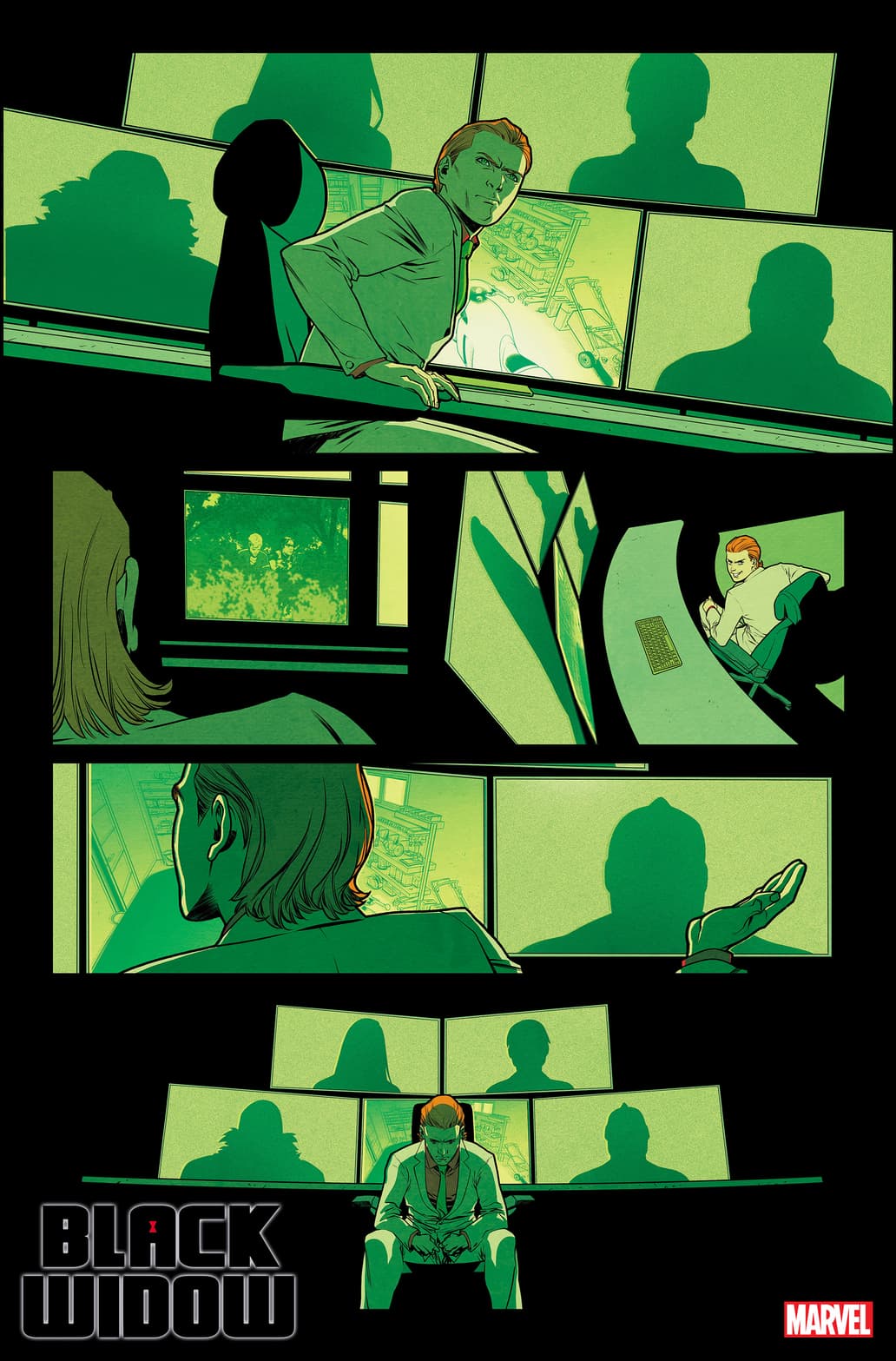 Additionally, Thompson offered some insight on why she gave Natasha a fresh start in this series.
"I was very interested in getting away from the Red Room stories. I love Red Room stories, but we've just seen so many at this point, I was ready for us to carve a new path. That said, in order for it to feel like a Black Widow story, you still want to draw in familiar elements. So it's a bit of old, a bit of new, hopefully blended into something exciting and emotional for both Natasha and the readers."
She also hinted that the shadowy cabal working with Arcade may include some familiar adversaries.
"We obviously needed to draw from villains that have long histories with Natasha, but we didn't want just all the same old suspects. So we tried to pull from her history, and also create some new threads to build upon and explore. Suffice to say, every villain involved who wasn't a high-level nemesis for her before the events in our first arc will be before we're through!"
Thus far, the villains' plan to make Natasha lose herself in a different life appears to be working. According to Thompson, that's by design.
"I think it's too early to call it a choice. She's undeniably happy right now – living a 'best possible life.' But we don't know yet what happened after she fell out of the window. Certainly a three-month time skip after a fall from a window feels… ominous."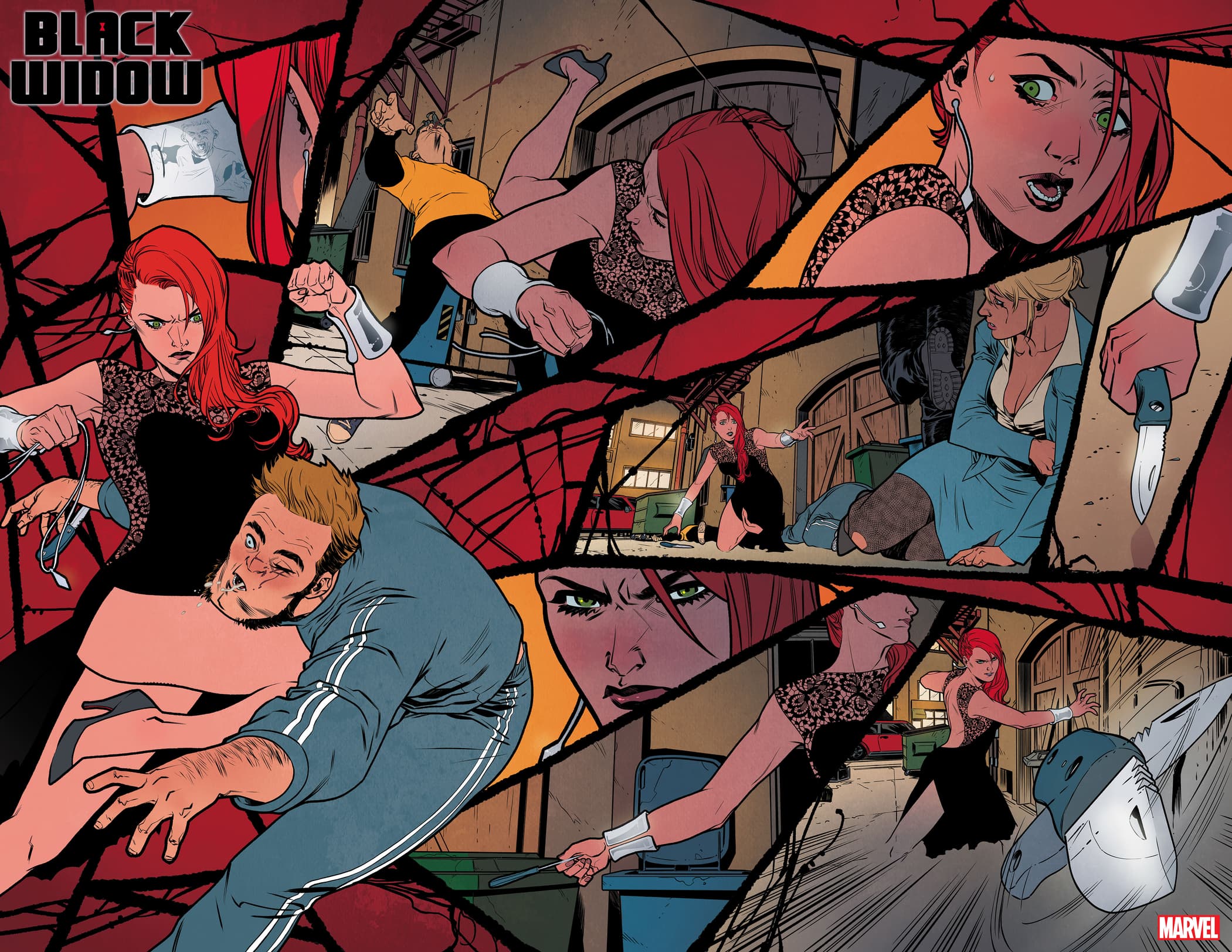 Finally, Thompson teased big things ahead in BLACK WIDOW #2.
"There's a huge thing in issue #2, but I really don't want to spoil it," exclaimed Thompson. "I ache for people to get that organic page turn and – if we did our job right – a gasp. I'll protect that experience as much as I can. I think the best I can offer is a vague – but not hyperbolic – 'this story will change Natasha forever' comment."
BLACK WIDOW #2, written by Kelly Thompson with art by Elena Casagrande and colors by Jordie Bellaire, will hit comic book stores on Wednesday, October 7. You can pick up BLACK WIDOW #1 at your local comic shop and digitally today!
Be sure to ask your local comic book shop about their current business policies to observe social distancing or other services they may offer, including holding or creating pull lists, curbside pick-ups, special deliveries and other options to accommodate. Find and support your local comic book shop at http://comicshoplocator.com or by visiting http://marvel.com/lovecomicshops.
For digital comics, all purchases in the Marvel Comics app can be read on iPhone®, iPad® and select Android™ devices! Our smart-paneling feature provides an intuitive reader experience, ideal for all types of mobile device and tablet users!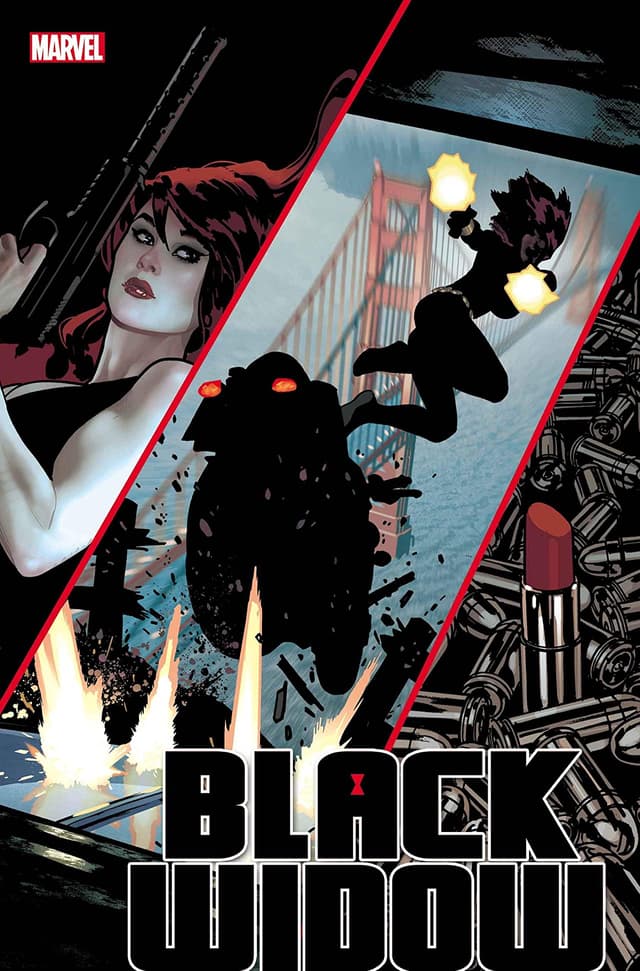 The Hype Box
Can't-miss news and updates from across the Marvel Universe!