Comics
Published February 6, 2020
Margaret Stohl on the Gritty "Group Jam" Behind 'Spider-Man Noir' #1
Stohl teams up with artist Juan Ferreyra for a global Spidey drama!
Spider-Man Noir, just one of Spider-Man's man alternate universe counterparts, is a unique take on the character that proved to be a hit with Spider-Fans when he made an appearance in 2018's Oscar-winning Spider-Man: Into the Spider-Verse. Now, over a decade since his 2009 debut in Marvel Comics, he's getting a new story thanks to Margaret Stohl and Juan Ferreyra! SPIDER-MAN NOIR #1 hits comic shops on Wednesday, March 4, and Marvel.com asked Stohl what was in store for this trench-wearing, mystery-busting version of Spidey from decades past!
The character of Spider-Man Noir was a hit in 2018's Spider-Man: Into the Spider-Verse, but he's always been an intriguing character in Marvel Comics. What do you hope to bring to this part of the Spider-Verse as a storyteller?
It's a high bar! Spider-Man: Into the Spider-Verse was actually an incredible introduction to Spider-Man Noir for the general public, so honestly I'll be pretty happy if I just manage to not blow all that momentum as a storyteller! 
Noir Peter Parker is so fun and so funny  despite his gruff, dark out-of-sorts-with-the-world sensibility, and that's actually right in line with the dual tone of so many classic Noir movies. Clever banter and humor in the shadows of a darker evil. It's also super useful -- Peter's dark streak lets us connect to more serious themes, like social responsibility and in our case, punching Nazis. 
Cracking jokes in the face of insurmountable evil is both a Spidey thing and a Noir thing, so the combination really works.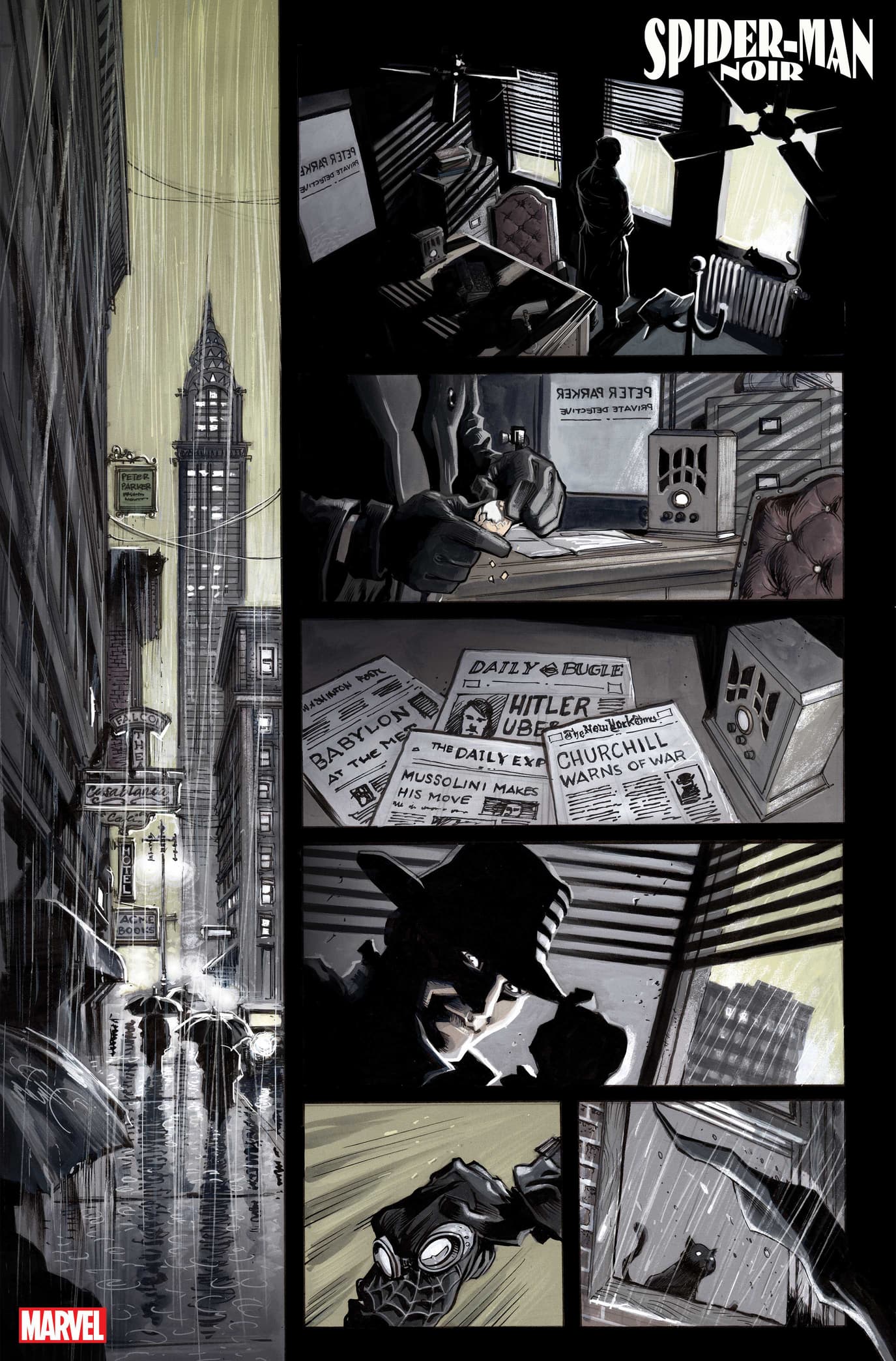 SPIDER-MAN NOIR borrows themes and imagery from Noir movies – are you a fan of those movies, and did you draw any inspiration from any movie specifically?
The language, the rhythm, the humor of Noir banter is one of my favorite parts about both the genre and the Noir Peter Parker character. I've watched -- and more than that, listened -- to hundreds of hours of James Cagney and Edward G. Robinson and Humphrey Bogart.
We've all had a lot of fun with taking Spidey into the genre, with a wink and a nod, so to speak. We'll first encounter our hard-boiled detective peeling an egg in his big black leather gloves at the desk of his detective agency during his lunch hour. Fighting crime, and keeping the friendly neighborhood friendly? Yeah, it isn't over easy. :)
You can find a handful of more specific shoutouts to classic Noir film titles that my creative partner on this project, the genius artist Juan E. Ferreyra, has hidden in the New York streetscape, in the first panel of issue #1.
Although this is still a Super Hero story, is there something grounded in writing a gritty mystery set in a past era?
While the darker themes and visual language of Noir may be different than a mainstream Super Hero story (think: hyper-darkness and hyper-dramatic lighting as opposed to flat, full color) the act of writing those stories has more in common than you might think. Both sorts of stories paint with two basic brushes, dialogue -- specifically, a very funny and very human kind of banter -- and dramatic rising action. Both follow the frenetic "rat-a-tat" back-and-forth rhythm of a Gatling gun, and Juan captures that perfectly. But really, it's the language that transports -- the affection, the speed of the wordplay. I've absolutely loved it.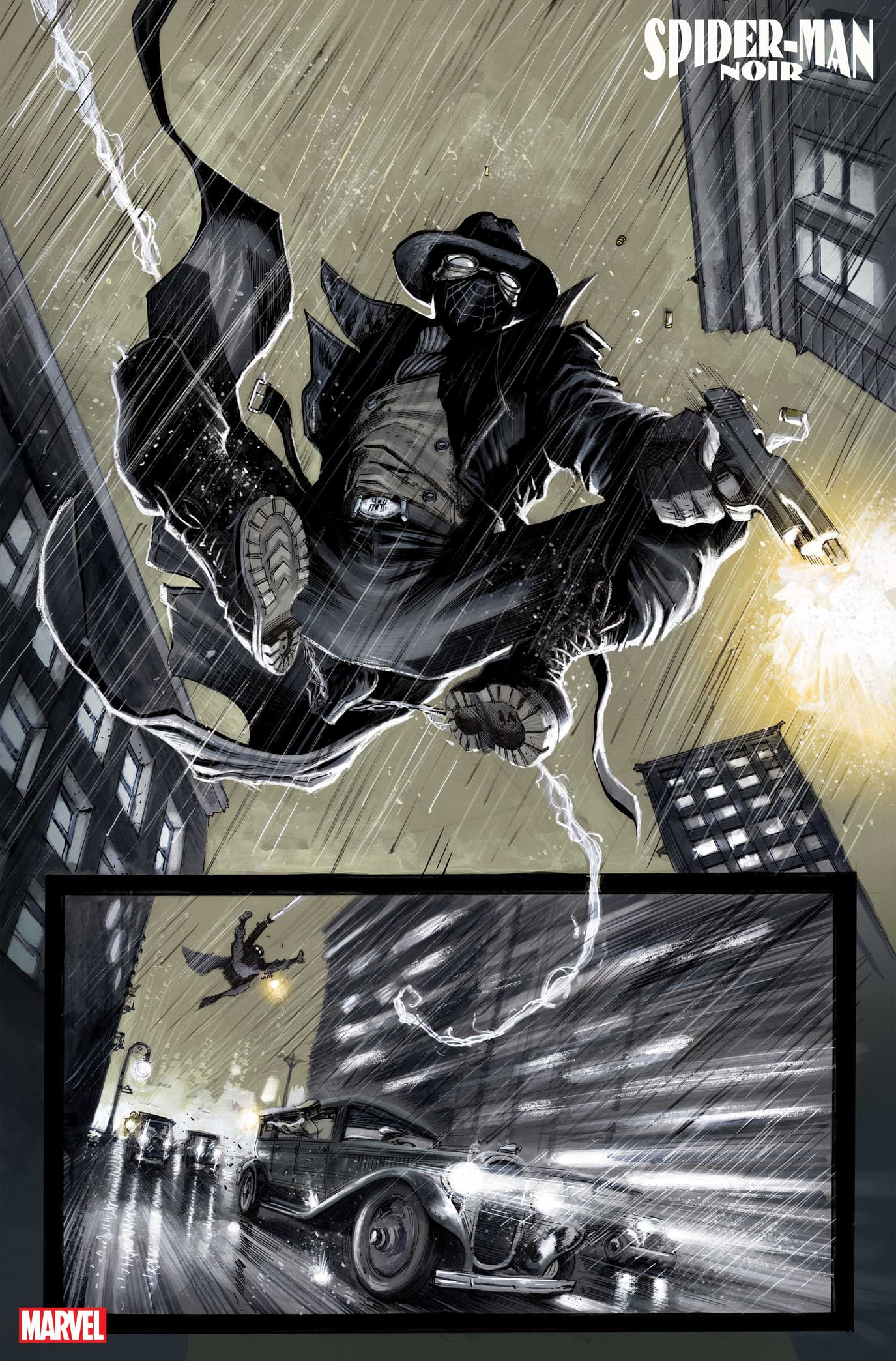 What can we expect from Juan E. Ferreyra's art?
I've gotten a chance to speak to this in a letter that will be included in the back of SPIDER-MAN NOIR #1, but what Juan has done on this project is nothing short of breathtaking. It's the first time in my comics career that I've asked to dial back my own role in storyboarding to work in "the Marvel Style" -- where I write a looser script and leave the panel definition and the calling of each visual shot to Juan. I did that not because Juan asked me to, but because he's just such a genius it seemed almost criminal to not let him drive that. So this is a very exciting and very new kind of collaboration for me. He is truly astounding.
Every creative project is a collaboration, with an artist, a colorist, a cover artist, an editorial team in addition to a writer. This story wouldn't exist if David Hine, Fabrice Sapolsky, and Carmine Di Giandomenico hadn't created the original characters. It wouldn't exist if Devin Lewis and Danny Khazem hadn't come to me and said "Let's let Spider-Man Noir loose in Europe." It wouldn't exist if Juan hadn't led the way with his genius visual vision. It wouldn't exist if our letterer Travis Lanham hadn't shaped the reader's experience with every decision they made. It's really the very best kind of group jam session, so if you love comics, pay attention to all the hands that touch the page. It's truly remarkable. 
Spider-Man Noir isn't a new character, but what will be new about his universe?
I was so excited to bust Noir Peter Parker out of New York City and set him loose on the rest of the world. After we cross the pond from New York to London, we'll head south and east into Sicily, Turkey, Germany and finally Babylon itself. It's absolutely a nod to Indiana Jones and other classic adventure films, and it has been so much fun to explore here for Spidey. We've also had so much fun standing up a rogue's gallery of classic Spidey villains, now done Noir style, as well as a knockouty femme fatale who heads up our hard-boiled mystery. 
Honestly, over the course of a creator's life, we only get a few projects that are this special. I'm particularly grateful for this one.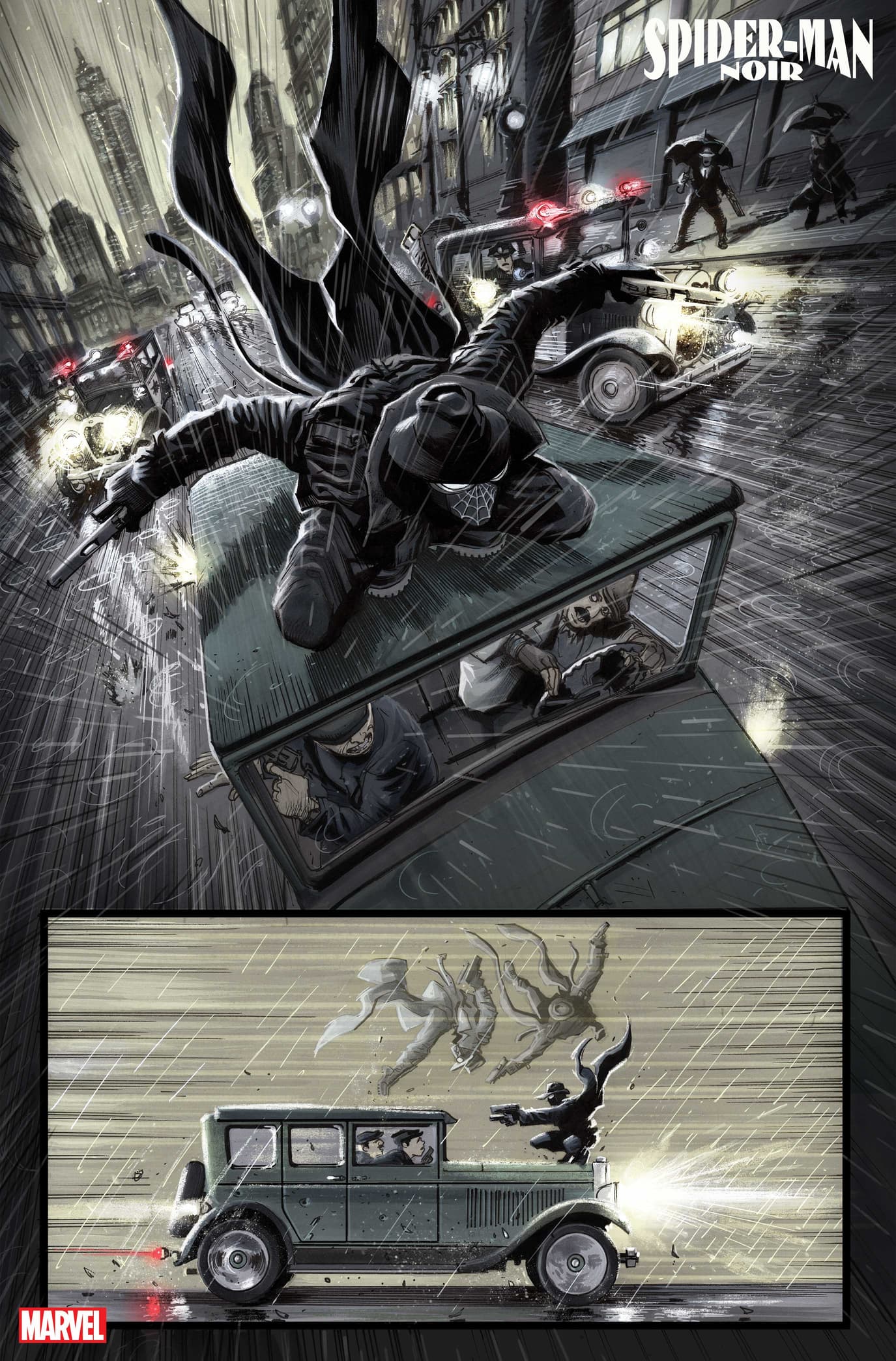 After a dame is murdered at The Black Cat nightclub and all clues point overseas, Spidey will have no choice but to board the next flight to Europe and kick off a globetrotting adventure through yesteryear of the Marvel Universe!
SPIDER-MAN NOIR #1, written by Margaret Stohl with art by Juan Ferreyra, goes on sale Wednesday, March 4. Pre-order your copy today online or at your local comic shop!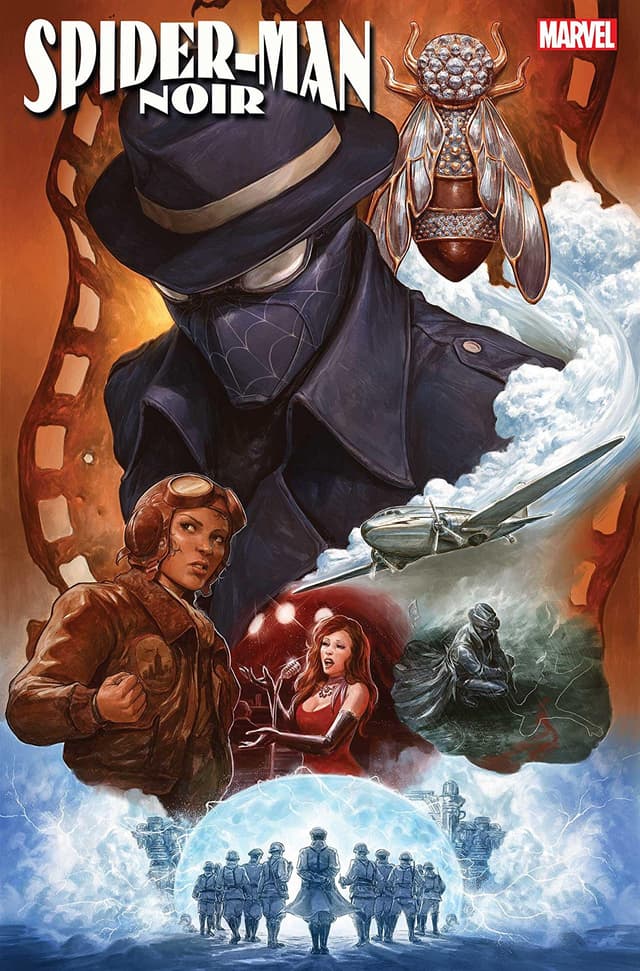 The Hype Box
Can't-miss news and updates from across the Marvel Universe!