Comics
Published October 7, 2020
Marte Gracia Reflects on the 90s Mexican Comic Scene, Rictor, Wickling, and Feeling Seen
The 'Empyre' colorist sits down with Marvel.com to discuss his comics relationship and career.
As mutantkind takes the bold next step in claiming their destiny following the aftermath of X OF SWORDS, Marvel exclusive digital colorist Marte Gracia (EMPYRE, X OF SWORDS) has been forging his own identity since he picked up his first comic at the young age of five-years-old.
Following a social media thread where Gracia shared how comics were a gateway to happiness for him, he now aims to pass on that feeling to future generations of readers. Marvel.com had the opportunity to chat with Gracia about how his love for comics grew, the 90's Mexican comic scene, his Mexican and queer identities, how all those areas inform his work, and what it means to see yourself reflected in media.
Marvel.com: Can you remember what were some of the first comics you read? What is your earliest "Marvel" memory?
Marte Gracia: I remember my mother picking me up after pre-school and buying comics for me; there were also a bunch of other Marvel books at home that my older brothers bought. The earliest one I can remember is an 80's Spider-Man issue where he is going against Silvermane! That old guy seemed very creepy to me as a 5 year old. I just looked it up and found the cover—Cloak and Dagger were there as well!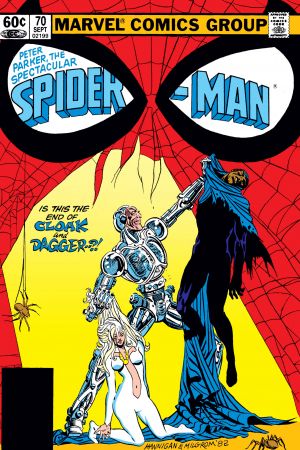 Peter Parker, the Spectacular Spider-Man (1976) #70
published

added to marvel unlimited

inker

penciller

penciller (cover)

letterer

colorist

editor

writer
What is Marvel Unlimited?
Marvel.com: Where in México did you grow up? Was there a big comics scene then? How has the comics scene grown and evolved in México, the U.S., and beyond?
Marte Gracia: I grew up in Monterrey, México, the northwest of the Country, right below Texas. It's a semi-desert area with excellent weather for BBQ and a couple beers. It's funny you ask; Monterrey was part of the Mexican comic book boom in the 90's. A lot of us got together and started creating our own comics. We had little to no Internet access for reference and information. We did what we thought was the right way. There were a lot of flops and great hits, but passion was the common denominator. Many [of my] colleagues started in this era; a few people to mention include Edgar Delgado, Francisco Ruiz Velasco, Dono Sanchez Almara and Aburtov.
Marvel.com: How did you get started as a colorist? Was color theory something you picked up, or had to study?
Marte Gracia: I've always been interested in Arts—my mother loved to paint as a hobby and my older brother studied Industrial design. In my home, there were always pastels, oils, drafting tables, rulers and art books to ruminate non-stop! When the time came, I decided to study Visual Arts with a Design major. A lot of color theory I learned at school, but a lot more came from observation and mostly from working daily on my technique. It's something you never completely dominate, but I try my best.
When I graduated from college, I did one year of commercial work that felt cold and passionless. At the same time, Edgar Delgado and Francisco Ruiz Velasco created Studio F, a studio focused on comics that did work for Marvel and many other big editorials. Around 2003, they needed extra hands because Marvel sent a lot of books and I saw my chance!! I asked to do some coloring tests, they liked my stuff and I have not stopped for 17 years!
Marvel.com: Who are some colorists, or creators, that you admire? Who have you enjoyed working with and coloring for?
Marte Gracia: SO MANYYYY!!!!!! But the guys that made me realize that being a colorist was AWESOME were Steve Oliff, Paul Mounts and Brian Haberlin. I look up to Paul Mounts specially because he colored a lot of the trading cards I collected when I was a kid and he's still doing SOLID work. I wanna be like him! Mega kudos to Edgar Delgado, who was my mentor at Studio F. I learned the craft from him and I will always be ever so thankful. When it comes to coloring people's work, I enjoy anyone who pushes me out of my comfort zone. Marvel has been kind enough to pair me with great artists who do just that like Guiseppe Camuncoli, Pepe Larraz and especially Stuart Immonen.
Marvel.com: How do you find inspiration for your work?
Marte Gracia: When it comes to comics there is little to no time for inspiration. Once you sit down to work on pages, everything needs to be solved as fast as possible. But with my personal work, I do let inspiration take over so I can explore new grounds. Everything I learn from these personal explorations are new tools that I can apply to my coloring, where, as we mentioned, everything should be completed ASAP. But, what inspires me? A lot of things! One of my obsessions, for example, is to try to understand how light affects nature and try to find ways to abstract all this and to apply it in comics.
Marvel.com: What was it like working on EMPYRE? What can we look forward to in your upcoming work with the X-Men?
Marte Gracia: Working on EMPYRE was super fun! I like everything space and sci-fi, but I especially love cosmic Marvel! I really wish to be involved in more space events in the future; I learned a lot during these books!
And oh-boy! What's coming in the X-Men is great, X OF SWORDS is HUGE and the atmosphere is so cool and dark. I like this mix of old gods, technology and esotericism! Jonathan [Hickman] and Pepe [Larraz] are forces to be reckoned with! Both of these events took me out of my comfort zone and I truly appreciate it.
Marvel.com: Are there any specific moments in EMPYRE that especially resonated with you? Why were these moments so meaningful?
Marte Gracia: Oh my!! EMPYRE is full of fantastic moments! Al [Ewing] and the whole ensemble brought down to paper a great Super Hero event. I've loved Billy and Teddy since I crossed paths with them in THE CHILDREN'S CRUSADE; they have been very close to my heart. Never in my life would I have imagined I'd have the opportunity to be a part of their TWO weddings!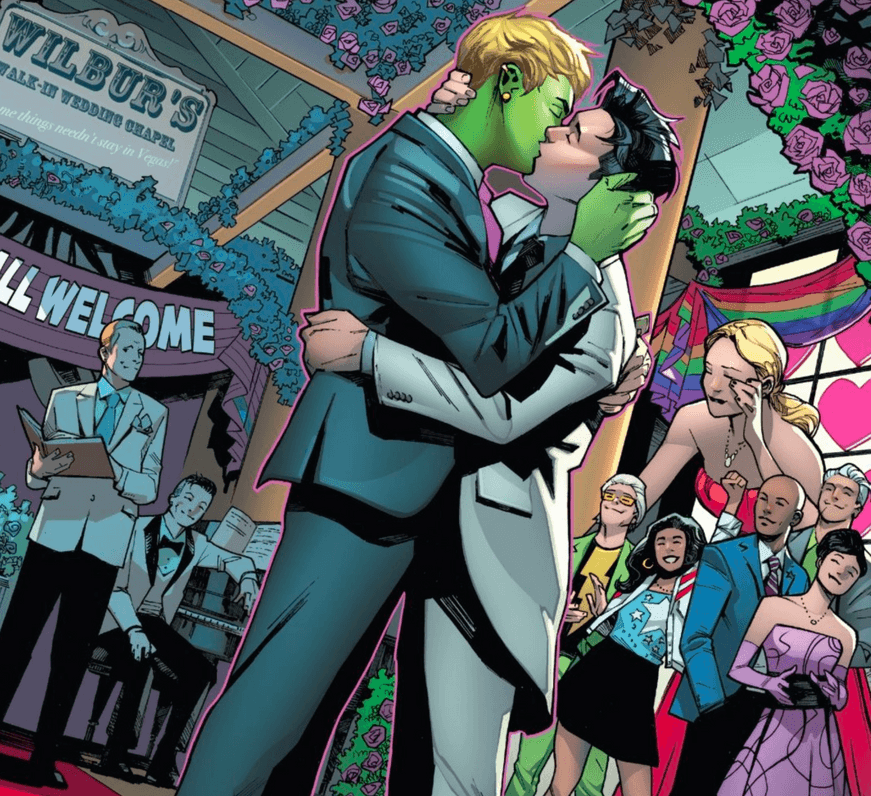 Coloring the first one was very fun, a small event with close friends and authors; it warmed my goth-heart. The second one really moved me—an official-Imperial wedding with EVERY character involved and MORE. What made me truly happy was the moment I opened the final page of the last issue. It's just them—Billy and Teddy—happy, confident, natural, in love, surrounded by friends and important characters and being the center of the whole event. I simply started crying; it's an understatement that this kind of representation is very important. A book like this would have helped a very confused teenager Marte, and I really hope it helps many younglings out there to understand that they are not unnatural, or wrong, or abominations. You are not alone.
Marvel.com: You mentioned that when growing up, comics were a gateway to happiness, but you also wished that more characters looked like you. Were you conscious of this at a young age, or was it gradually something you became aware of growing up?
Marte Gracia: No, it was something I was totally aware of. I remember being in 8th grade going through my X-Men trading cards and being a little sad because Rictor was the only Mexican. Also, back then, it was just a rumor, but he has since became a gay Mexican icon <3. I knew I was gay too, but to find any queer characters in mainstream comics was totally out of the question. All of this made me understand that I was not part of the norm, that media wasn't designed for me, and my environment was pushing me hard to fit in. Sadly, society won and I didn't come out of the closet until my early 20s.
Marvel.com: You've described how "representation in comics is most important." As both an artist and avid comics reader, how did you discover spaces where you felt comfortable being yourself? What would you like to see more of in the future?
Marte Gracia: Particularly, in my environment and generation, there were not many safe spaces; we had to create them. That kind of proactive attitude is what I admire the most about the younger generations; they are building their world as they need it to be, not otherwise. What would I like to see in the future? A truthful representation of minorities in the media, less social polarization and more empathy for everyone who's suffering.
Marvel.com: Thank you so much for sharing your experience and openness with us. Before we wrap up, for any artists starting out, can you give some tips on building a palette? Are you more drawn to certain sets of colors, or does it depend on the scene?
Marte Gracia: My advice for all artist who wanna break into comics is to work daily on your craft, pay attention to nature and your surroundings, study everything you can about your craft, and above all, don't do comics copying other comic works. The results are normally sterile; I learned this the hard way. Style without structure is hollow and will easily crumble. I definitely have a few coloring tropes; many palettes that have proven to work successfully, but in reality, I try to let the art itself tell me what would be the best thing to do with it.
Marvel.com: And lastly, who is your favorite Marvel character and why?
Marte Gracia: Ohh, ahahah, it keeps changing, but my eternal love goes to Norrin Radd, the Silver Surfer!! What is cooler than being a chrome being surfing thru' deep cosmos?
This interview has been edited and condensed for clarity.
In celebration of Hispanic Heritage Month, get to know our Hispanic and Latinx characters! From Araña to White Tiger, here's a handful of heroes who have made their mark on Marvel!
The Hype Box
Can't-miss news and updates from across the Marvel Universe!